The 1920s-British-style Black Douglas Sterling motorcycle built to modern standards in Italy could soon be available in Australia if there is enough interest.
Queensland Imports consultant Bruce Hartwig is organising Australian compliance for two Sterling Countryman Deluxe motorcycles imported by a Sydney rider.
Bruce says that if there is enough interest in the handmade flat-tank motorcycles, he hopes to become the Australian importer and distributor.
He believes he will be able to import the bikes for about $20,000 which seems like a lot, but they retail for €9000 in Europe.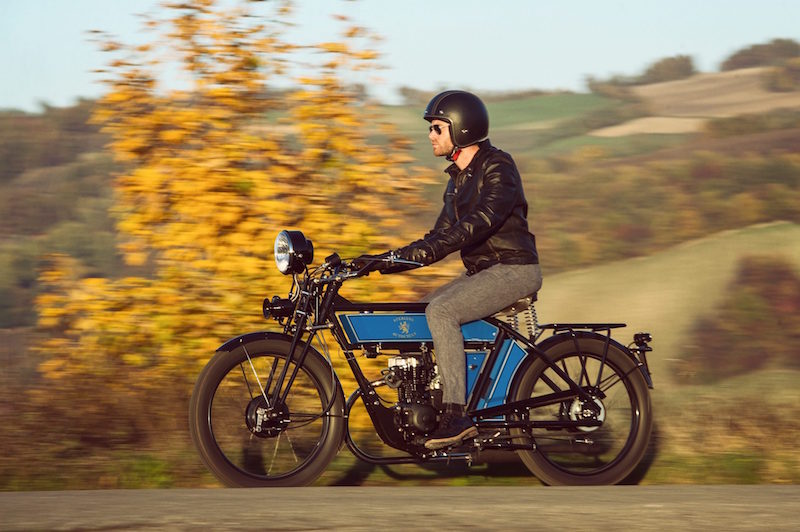 Having seen them in the flesh, there is no doubt that the bikes are high quality. Throw in their rarity and traffic-stopping looks and they should be worth their high price tag.
"They'd be a great bike for the Distinguished Gentleman's Ride," Bruce says.
The motorcycles – or "autocycles" as the makers call them – are available in 125cc and 230cc versions, the latter capable of 115km/h.
Bruce says he believes there will be very little, if nothing, to modify on the bike to attain Australian compliance.
Black Douglas Sterling autocycle
We viewed the bikes in the metal at Queensland Imports and were impressed with the craftsmanship.
Over 90% of the parts are handcrafted in Italy. True to the spirit of the original flat-tank motorcycles, the Sterling has no plastic parts, except for the insulation on the electrical connectors that are hidden within the frame.
In fact, there is a lot of brass and copper parts that exude style and craftsmanship, while the cables on the modes we saw had leather covers.
It features a rigid tubular steel frame with classic leading-link girder-style forks and hardtail rear with sprung rider and pillion saddles.
Power comes from a single-cylinder engine built under licence from Honda, then disassembled, updated and re-assembled by hand at the factory near Milan.
The 230cc engine is an air-cooled four-stroke pushrod producing a modest 10.6kW (14.3hp) of power, but the bike weighs only 98kg.
The 125cc model has overhead valves, produces 9.5kW (12.75hp) and weighs 95kg.
Despite its classic looks and kick starter, there is also an electric starter for modern convenience.
The bike has a 1500mm wheelbase, 860mm adjustable seat height and the traditional flat tank is made with aluminium and magnesium alloy plates with two solid internal compartments.
One compartment holds 8.5 litres of fuel for more than 250km range. The other contains most of the electrical system for indicators, lights and the electric starter.
The front forks are made by milling solid Ergal aluminium alloy, sculpting piece by piece from raw metal. Wheels are 21-inch and brakes are drums front and rear.
There are more than 100 accessories including a picnic basket, saddles, storage boxes, handlebars, headlights, horns and more, with 36 colour options.
Bruce says that when he gains compliance, he will provide us with a test bike.
We will put on our best tweed and jodhpurs and go in search of some smooth streets to suit that hardtail rear and sprung seat!
Black Douglas founders
While the autocycle looks British, it is a joint British/Italian product.
Fabio is the business manager and 30-year riding veteran, while Giuseppe is an established motorcycle engineer, having worked for Ducati Corse and Yamaha racing. Their partner Benny is a UK motorcycle builder.
Fabio says that in 2010 he had grown "bored of too much power, too much weight, too much electronics in modern bikes".
"I had quite a few motorcycles in my garage, but simply didn't like riding them anymore. I also never really enjoyed the hassles that come with true vintage motorcycles: oil leaks, difficulties in starting the engine, fear of damaging un-replaceable parts," he says.
In 2011, he met Benny and they started hand-building the Sterling MK1.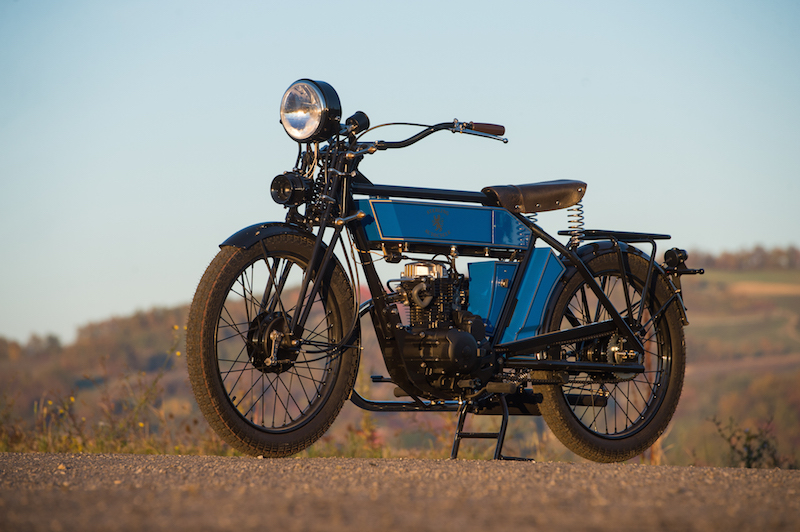 "As soon as I received it in Italy, and started riding it, I found back the joy of motorcycling. Without a destination, without pressure to reach point B fast," Fabio says.
"With the Sterling I rediscovered the pleasure of not having to focus on the road coming towards me at high speeds. Not having to worry about the weight, or the tyres not being warm enough. Everything was just perfect … besides a vast amount of people stopping me at traffic lights asking where they could buy a bike like the Sterling."
In August 2012 The Black Douglas Company was incorporated in the UK with manufacturing in Italy through a partner company.