Warming Heated Clothing Image Gallery
The Mobile Warming "Longmen" battery heated shirt is a comfortable base layer with heating elements along the upper back and upper chest.
The "Softshell" heated vest is also comfortable and stylish; almost too nice to wear under a motorcycle jacket!
Both products seem very well made, with high-quality fabrics and construction.
The battery types have become somewhat standardized, although they still don't put out the power and longevity we'd like.
The Jett battery heated vest (review) was one of the very first "wireless" heated garments for motorcycling use.
That was 2006 and the Jett vest opened up new possibilities for winter motorcycle riding.
Many different heated motorcycle clothing reviews have been published on webBikeWorld since then, which include both wired and battery-powered garments, gloves and more.
Battery technology has improved — slightly — over the years.
Battery type, size and output has become somewhat standardized, and the 7.4 Volt, 2.2 amp-hour rechargeable lithium-ion battery is now used by several different manufacturers.
This is good news, because it helps avoid the custom one-off battery packs that required custom chargers in the past.
The bad news is that for the most part, battery heated clothing still isn't the equal of a wired garment.
But, wireless technology does have its benefits, as long as you understand that there are compromises.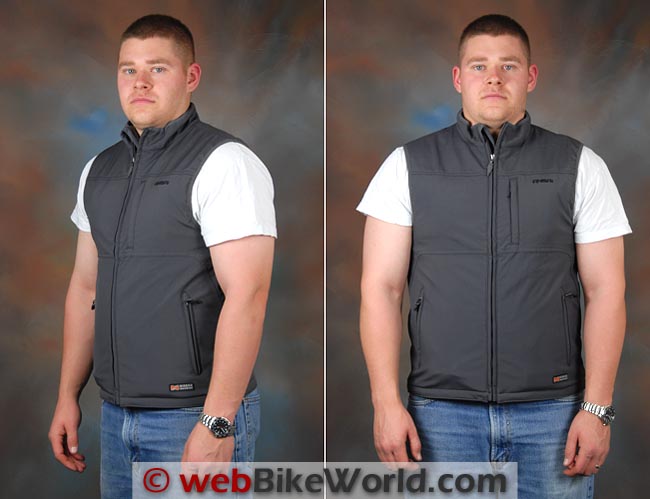 Motorcycle Heated Clothing Primer
Many more choices for heated motorcycle clothing are available in 2012 than there were in 2006.
But one rule is still in place: if you want powerful, break-into-a-sweat, Yeeeeow! style heat — you'll need a wired solution.
Battery heated clothing just doesn't have the oomph of a vest or gloves connected directly to the motorcycle's electrical system. And, despite manufacturers' claims, the batteries last a fraction of the time you might expect.
Now there are two sides to the power argument. Some people want instant, hot, overwhelming heat.
Too much is never enough because you can always lower that dial. But the other faction says that you don't really need oven-hot temps to keep you warm.
All you need is a heated garment to maintain your body temperature, and if you barely feel the heat output, it doesn't matter, as long as you're not feeling the cold.
To be honest, I'm inclined toward the former rather than the latter.
I want to feel that heat seeping deep into my bones within 30 seconds of flipping the switch…with the option of toning it down if and when required, of course.
Battery heated clothing generally does not have the output to do that. Perhaps — with an option of dual, triple or quadruple battery packs — there might be enough output to replicate a wired garment, but that would also add complexity and cost.
Dressing for Warmth With Heated Gear
While we're at it, there's an important factor to remember when wearing heated clothing. You need to get the heating elements as close to your skin as possible — within reason, of course.
Wearing a heated vest over a sweater, for example, isn't going to do you much good. Think about it: one of the primary purposes of any type of clothing is to insulate the body, and insulation goes both ways.
This is why a heated vest or jacket, typically worn over a couple of layers, has to put out an extraordinary amount of heat to be effective.
That doesn't mean there should be nothing between the heated garment and your skin, because the heating elements should not be touching your skin directly — that can be both dangerous and uncomfortable.
A think under layer, like a T-shirt, is recommended.
Heated clothing works best when it's close and snug to the body, without air pockets. It also needs an outer layer pressing it closer. This means that the heated clothing must fit correctly — tight and not loose.
Do not buy a heated garment like you buy street wear, i.e. too large, or its effectiveness could be greatly diminished.
This is an important factor and one reason why the Longmen shirt works better than the vest — it's designed as a form-fit over the upper body, keeping the heating elements evenly and correctly placed.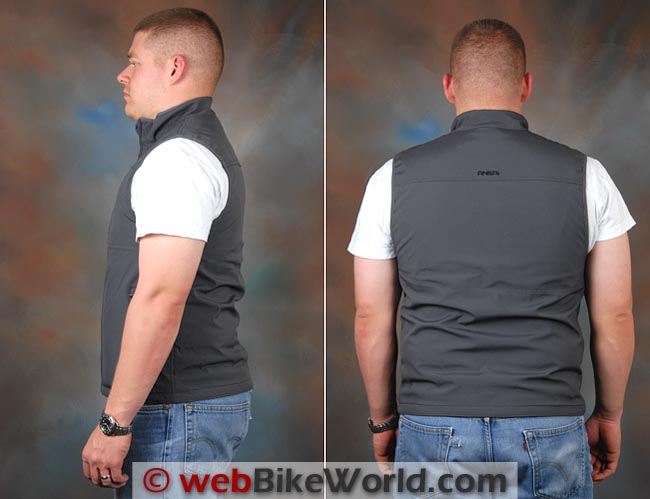 Mobile Warming Heated Clothing
Mobile Warming makes a variety of heated clothing for street and motorcycle use, with a selection of battery heated gear for men and women in a range of sizes.
The prices seem reasonable and, based on the two examples we have here, the clothing seems very well made — better, in fact, than most of the other battery heated clothing we've reviewed, some of which look like they were sewn in your neighbor's basement.
Longmen Heated Shirt
The "Longmen" heated shirt is an interesting variant on a heated garment that we haven't seen before. Basically, it's a heated undershirt, or "base layer", as they're called today (Mobile Warming suggests that you wear a T-shirt underneath and we agree).
The Longmen shirt is a mid-weight stretch fabric that feels and wears like a winter under-layer.
It's comfortable and nicely made, with high-quality materials and construction. It has a zip-up neck with a short collar and it has two heating elements on the upper chest and one in the back.
The shirt is lined with a thin fleece in the back and in the front with the same type of taffeta perforated liner often seen in motorcycle jackets.
It's designed to be worn as a base layer, over a T-shirt and not directly on the skin.
It provides a certain level of comfort even without turning the heating elements on, and the elements are nicely integrated into the fabric, so you really can't tell that it's a heated garment.
Softshell Heated Vest
The Mobile Warming vest is sometimes listed as either the "Classic" vest or the "Softshell" vest, but both names apparently the same product.
The Softshell vest looks just like a nicely styled vest you might wear on the street. It comes in black, gray or blue, with the dark gray color my favorite.
This is a very nicely made garment of the type that might be found in an outdoor clothing store, sans battery. It has double-row stitching and high-quality fabric.
Mobile Warming claims that the vest is both windproof and water-resistant.
The shell fabric is soft but it is not fleece; the shell has a feel something like a cross between cotton and windbreaker nylon. It's also fully lined, with a fleece lining in the rear.
You could easily wear this vest on the street and you'd look good and feel comfortable, no doubt about it.
The shirt does not have a pocket (other than the pocket that holds the battery), while the vest has two zippered hand pockets and an upper chest pocket, also with a zipper.
Even the lining inside the pockets is comfortable, which is a sign of quality and attention to detail.
Sizing and Fit
Both of these garments are size large and fit as expected. The shirt should fit a 43-44″ chest and 33-34″ sleeves. The vest fits snug on a 43-44″ chest size.
Mobile Warming Power Packs
Each Mobile Warming heated clothing item comes with and is powered by a standard 7.4 Volt, 2.2 amp-hour rechargeable lithium-ion battery weighing 111 grams.
We've seen this battery type used on other wireless heated clothing recently (for example, in theGerbing Core battery heated vest review), so apparently it's become somewhat of a standard in the industry, which is a good thing.
The battery has a built-in controller — another nice feature — with an LED readout on one side.
Press and hold the membrane button to fire it up, then press to cycle through 100% power, 75%, 50% and 25%. Press and hold to turn it off.
The battery is located in the left pocket of the vest. It connects to a short length of wire with a built-in jack. On the shirt, the battery fits in a very tight pocket located in an awkward place, under the left arm, about mid-way down the side.
Neither battery is easy to access underneath a motorcycle jacket, but the battery on the shirt is very difficult to access at all times.
The pocket just isn't located in a spot that allows easy access, even using two hands, and the pocket is so small that it's a struggle to get the battery in and out each time and to stuff the wiring under the flap.
No problems accessing the battery in the vest, however — at least when you're not wearing a motorcycle jacket over it.
But neither battery is ideally located for use when you're wearing a motorcycle jacket.
Thus, both are "set and forget" devices; you have to set the power before you start out and hope that you got it right. Most owners will use either full power or 75%, because it's difficult to feel any heat at lower settings.
What I think Mobile Warming really needs to do is offer a longer cable extender for motorcyclists, so the battery, which is also the controller, can be put in an external jacket pocket for easier access.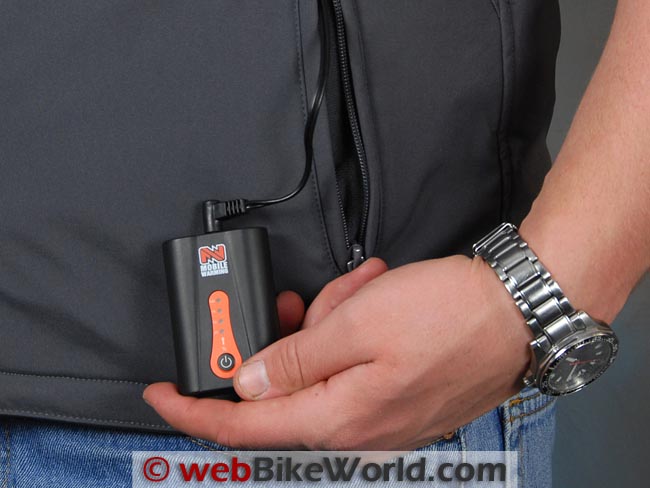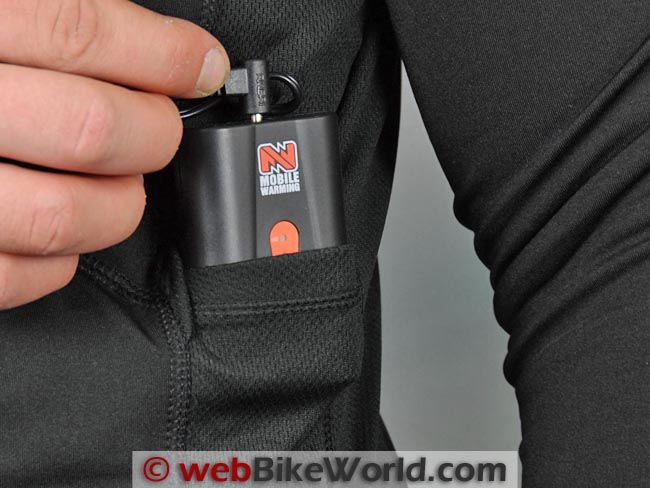 Charging the Batteries
Besides the battery, each Mobile Warming garment also comes with a wall outlet charger.
It takes about 4 hours to charge a battery.
Mobile Warming claims up to 10 hours battery life from a fully charged battery, but we consistently get only about 2 hours using the batteries when switching back and forth between the 100% and 75% setting, which are really the two only useful settings on the garments.
Anything lower than that and chances are you just won't feel any heat.
The batteries have a useful life indicator, activated by pressing the on/off button once before the battery is started.
The LED lights will glow, from one light (battery almost depleted) to 4 lights (full charge). On two different rides, the battery ran out of power after about 2 hours on full power.
Riding With Mobile Warming Heated Clothing
There are advantages and disadvantages to both of these styles.
The Longmen shirt provides more effective warmth because the stretch fabric fits closely to the body and the design is intended to be worn as an under-layer, so any clothing worn over it helps insulate the heat.
The Softshell vest could theoretically be worn over a T-shirt only, but it's a bit too thick for that, so typically the vest is worn over a couple of layers of clothing, which greatly diminishes the perceived heat.
In fact, I have worn the vest over different combinations of layers and I can barely tell that it's working when it's on the highest setting, so it doesn't give you that "hot" feeling, but it does make it seem like it's not as cold as it would if I wasn't wearing the vest.
The Longmen shirt has heating elements in the upper chest and upper back, and it's actually too warm for me at the 100% setting. The 75% setting works better and lengthens the battery life.
The problem is that you'll need to set either of these garments before you put on your motorcycle jacket.
During a couple of rides, I had to stop on the side of the road, get off the bike, take off my jacket, helmet and gloves and dig around for the battery to change the setting, which isn't fun.
Again, a battery extension cord or a remote control switch would be much better.
The battery location on the Longmen shirt is a real problem. It's just in a very awkward location no matter how you slice it. It's just as difficult to access even when you're not wearing anything over the shirt.
Heck, it's hard to get the battery out even when you're not wearing the shirt!
Part of the problem is they made the pocket too small; it just barely fits the battery and the wiring.
Compound this with the stretch fabric that you have to hold open with one hand as you pull out the battery or put it back in. All this fussing means that it's too easy to end up pressing the button by accident and changing the setting without realizing it
The batteries do have a light beep tone when the button is pressed, but it's nearly impossible to hear when you're wearing ear plugs.
The Longmen shirt puts out a good amount of heat, although it's narrowly focused on the upper shoulders.
It would be better if the heating elements ran the length of the back and along the upper arms, which are exposed to the wind when riding a motorcycle.
The Softshell heated vest is less successful. I can barely feel the heat output; I think it's a factor of the vest having its own lining, which seems to block the heat that is felt.
The Gerbing Core battery heated vest (review) uses the same battery and has about the same output, but it's much thinner and has a paper-thin lining, so it's more effective when worn directly over a T-shirt, which helps to make the heat feel more even and more noticeable.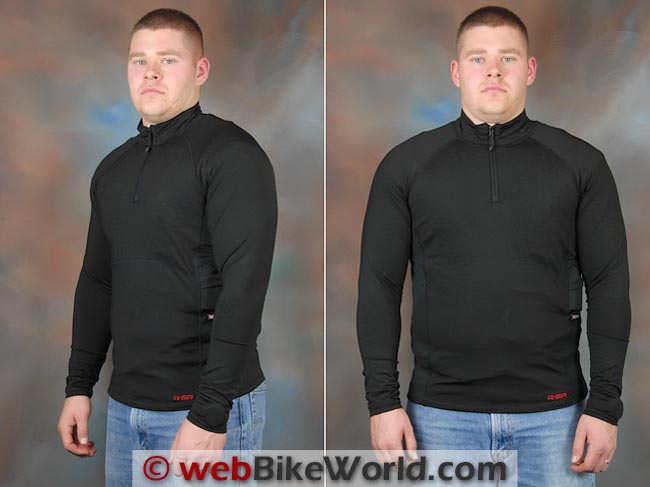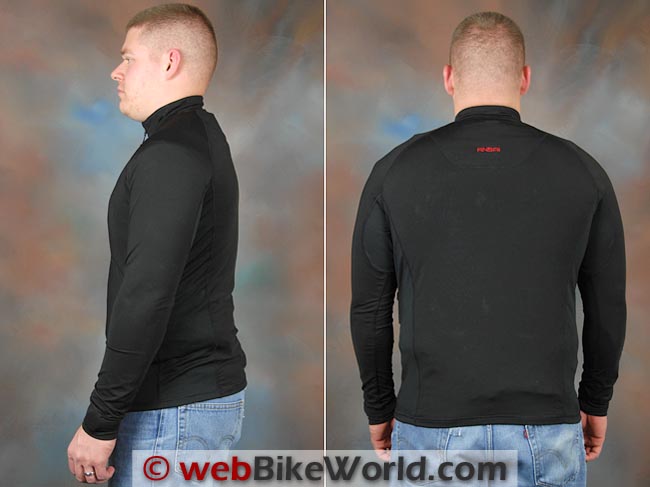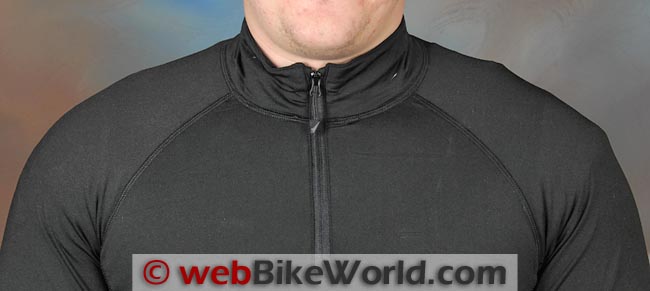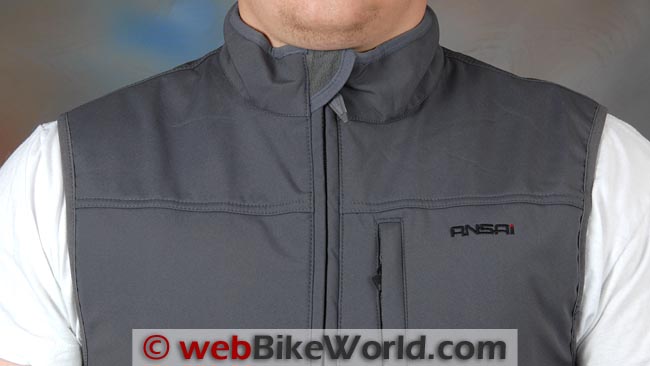 Conclusion
The real take-away here is that purchasing wired or wireless heated gear involves several compromises that must be considered.
There is, as of yet, no "perfect" wireless solution; i.e., a heated garment with the capacity, effectiveness and longevity of a wired garment.
Of these two, the Longmen heated shirt provides more effective warmth and the 75% setting gives some comfort around the shoulders and upper back.
The Softshell vest, while nice looking, just doesn't seem to transfer as much heat, even on the highest setting.
However, the Longmen shirt is basically an undergarment, which means the battery, with its built-in heat controller, is virtually inaccessible once you're wearing the shirt underneath a jacket.
Also, when you get to your destination, you'll have to strip away other clothes to remove it, while the vest can easily slip on and off and it looks good by itself when worn as casual street clothing.
Neither product comes anywhere close to the amount of heat output of the EXO2 StormRider heated vest (review), for example, which also uses a special fabric to transfer the heat rather than wires.
But then again, not every motorcycle has the electrical capacity for a wired heated vest and in that case, wireless may be your only option.
In the end, I think the Mobile Warming Longmen shirt is the better option, as long as you understand its limitations and idiosyncrasies.
More wBW Heated Clothing Reviews  |  Motorcycle Glove Reviews
w

BW

 Product Review: Mobile Warming Battery Heated Vest and Shirt

Manufacturer: Mobile Warming
List Price: $149.00 each.
Colors: Shirt: Black. Vest: Black, Gray, Blue.
Made In: Bangladesh.
Sizes: S to 5XL, tall sizes and women's sizes also.
Rating: 
Review Date: November 2012 Warranty: Lifetime on vest. 90 days on battery and charger.
Note: Item provided by a retailer, distributor or manufacturer with these Terms and Conditions.
Note:
 For informational use only. All material and photographs are Copyright © webWorld International, LLC since 2000. All rights reserved. See the webBikeWorld® 
Site Info page
. Product specifications, features and details may change or differ from our descriptions. Always check before purchasing. Read the
Terms and Conditions
!
Owner Comments and Feedback
---
From "T.B." (January 2013): "This past weekend, I purchased the Mobile Warming Heated Vest and thought I would share my experiences.
I am located in the Portland Oregon Metro Area, and this past weekend, the temperatures were extremely low (highs of 32-33). I had a situation where I needed to ride, and wanted to use a heated jacket.
I have a more traditional heated jacket (thin liners, lots of wires against the body, hardwired to the bike), but I didn't want to use it.
Due to my particular bike, I have to pull the gas tank off to get to the battery, and wasn't prepared to do that just to wire up my jacket at short notice.
On a whim, I purchased a leftover 2012 Mobile Warming Heated Vest (Saved a few $$ cause it was last year's model). I didn't have time to charge it, but they gave me a battery pack that had 3 of 4 bars of charge.
I wore a very thin t-shirt, then the vest, then a thermal long sleeve shirt, and finally my leather jacket.
I rode an hour on the freeway with the battery set to level 2. I did not feel warm, and yet I did not feel cold. I have winter gloves and my hands were very cold in contrast.
After the event, I rode home (another hour on the freeway again) and this time set the battery to level 3. At slow speeds I could feel the warmth, but on the freeway again, I did not feel warm, but never felt cold.
By the time I got home, it was dark, and we encountered freezing fog, but my core never felt cold.
Overall I was very pleased. Normally I would wear 4-5 layers under my winter leather jacket, and this time I did not need to.
In addition, once I got to where I was intending to go, I left the vest heating on for 20 min or so, walking around off the bike, warming up (something I cant do with my traditional wired vest).
I think you made an important distinction in your article, that some people want a jacket that gets very hot, while others simply want a solution where they do not feel cold. I am one the the latter; hot is nice, but all I need is to not feel cold.
Overall I was extremely impressed. By the time I got home (two hours roughly of riding with heat between level 2 and 3), I still had two full bars on my battery remaining.
I look forward to using it again in the near future and I enjoy the flexibility of not needing to be physically tied to the bike for heating now!"
---
From "G.R." (November 2012): "Thanks for the review of the Mobile Warming products. This will be my second season using their jacket (same as the vest but with sleeves) and I really like it.
I agree with much of what you say but I might be able to add a little for those looking at these products.
I don't use the jacket as a be-all, end-all warming device. I still wear my very warm winter jacket (Scorpion XDR Commander (review))) when it's very cold, and my warm Fall/Winter jacket (Olympia AST 2) when it's cold but not freezing.
The Mobile Warming jacket underneath allows me to shed many of the layers I used to wear in order to be comfortable in any conditions. I wear a long sleeve base layer shirt.
Any quality base layer shirt would be fine, in my case I wear an EVS TUG shirt. This gives a thin but warm layer underneath the Mobile Warming jacket so I can feel the heat. Then I wear the Mobile Warming jacket over that.
No longer do I need 3 or 4 layers. The jacket acts as a very nice warming layer by itself, and the added heat it provides is just extra goodness.
These 2 comfortable layers, in addition to the winter jacket, keeps my core warm and allows me to ride in weather as cold as I care to ride in.
As long as I can keep my hands and neck warm, this system works really nicely.
As you mentioned, I did purchase a size that fits me very snugly which makes it more comfortable as a layer underneath my winter jacket.
I agree with you that you really need to run it at 100% or 75% to feel the heat on a cold day, but 50% works nicely on a cool Fall day.
I seem to get more battery time than you do. I haven't timed it, but I've only run out of battery power once, and that was my own fault. I didn't charge it up to full that day and forgot to turn it off when eating, etc. I also don't have issues finding the battery to turn it on and off.
I of course do have to unzip my outer jacket but that's no big deal. The pockets on the Mobile Warming jacket are in the normal place and I just unzip the pocket and do what I have to do with the battery.
For my needs, the Mobile Warming gear works great. I'm not a super serious winter rider but I do have good gear that keeps me warm.
I try to ride every single month through the winter just to stay sane, but I don't ride through the Arctic on a daily basis either.
The super serious winter riders will definitely want to stick with their plug-in gear. I do stay warm when the temperature is in the 20s though, which is all I really care about. I'm in Colorado so I do deal with sub-freezing temps on those winter rides.
An added benefit of the battery-powered gear is that you can wear it anywhere, even on non-riding days. It's comfortable and looks like a normal jacket."