Bike fan Tom Cruise says he does most of his own stunts and the stunts are all real, "not a lot of CGI", in the new Mission Impossible 5 movie.
Mission: Impossible – Rogue Nation begins screening in Australian on August 6 and the trailers and previews we have seen so far seem to have plenty of motorcycle stunt action using BMW S 1000 RR motorcycles.
Tom even appears to almost get his knee down while riding a BMW S 1000 RR on the highway – without a helmet!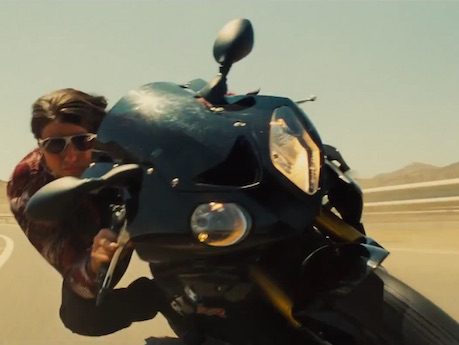 Cynics would say this is done in a studio with a green screen background, but Tom says the stunts are all real and there is "not a lot of CGI" (computer-generated images).
He also says the bikes have been doctored so they can be drifted.
"We've got to make them less safe so we can drift it and keep those bikes on the edge," he says.
Tom began riding at the age of 10 and owns several motorcycles including a Vyrus 987 C3 4V worth more than $100,000.
These days it seems he must include a motorcycle component in any movie contract he signs.
It all started over 30 years ago with Top Gun where he famously races a jet on the tarmac with his Kawasaki Ninja GPz900R.
Other movies in which Tom has starred alongside motorcycles include other Mission: Impossible 2, Oblivion, Knight and Day, Edge of Tomorrow and even when he is not riding bikes in his movies, he often rides to the set on one of his many motorcycles.
Tom seems a capable rider and has done much of the stunts in movies, even with Cameron Diaz on the back in Knight and Day.