The minimum rider age for South Australians will be raised by two years with some concessions, but they have dodged a plan for mandatory hi-vis vests as in Victoria.
Around the nation it is getting tougher and tougher for young people to get motorcycle licences with Queensland even requiring them to first hold a car licence for a year.
The Australian trend to make it more difficult for younger riders runs contrary to Europe.
In Germany, the minimum rider age has recently been lowered from 16 to 15 while the moped and restricted motorcycle licence (up to 125cc) minimum age in Latvia and Estonia is 14; 15 in France, Czech Republic, Spain; and 16 in Portugal, Romania.
These countries believe that getting teenagers on to motorcycles teaches them a sense of vulnerability and roadcraft before they are let loose on larger bikes or cars.
SA Police Minister Corey Wingard said they would introduce the new bill on graduated motorcycle licensing in the next few months.
Minimum age
The Minister said that last year there were 17 fatal motorcycle crashes in SA with 11 aged under 31 while the youngest was 16.
How does increasing the minimum age have anything to do with those figures, except for maybe that one fatality?
He also says that between 2014-18 young motorcycle riders were over-represented in serious crash data with 10% involving riders aged 15-19, 11% involving riders aged 20-24 and 10% riders 25-29.
So those over 29 represented 69% of serious crashes!
In fact, national statistics from 1995 to 2019 show a steady decrease in fatalities among under 30-year-old riders from 562 in the five-year period from 1995 to '99 to 312 from 2015 to '19.
Over the past five years, under 30s have not had the largest number of fatalities, being overtaken for the first time by over 50s with 323 deaths.
This could be the result of tougher licensing laws.
However, it could also be due to the fact that the number of young riders getting licenses has declined while the number of returned riders has increased.
The statistical trends are similar in all states including Queensland and South Australia where under-30s fatalities have halved since 1995.
New rules
The new SA rules will allow various exclusions for students, workers and regional residents.
For example, regional resident aged 16 and 17 can get a restricted motorcycle learner's permit to travel to tertiary education, vocational education and training or for work.
Also 17-year-olds with a current provisional car licence can get a motorcycle learner's permit.
There will also be a night curfew on under 25s from midnight to 5am unless the rider has an exemption which is in line with current rules for p-plate drivers.
Rider advocacy group Ride to Review says the restrictions could have been worse.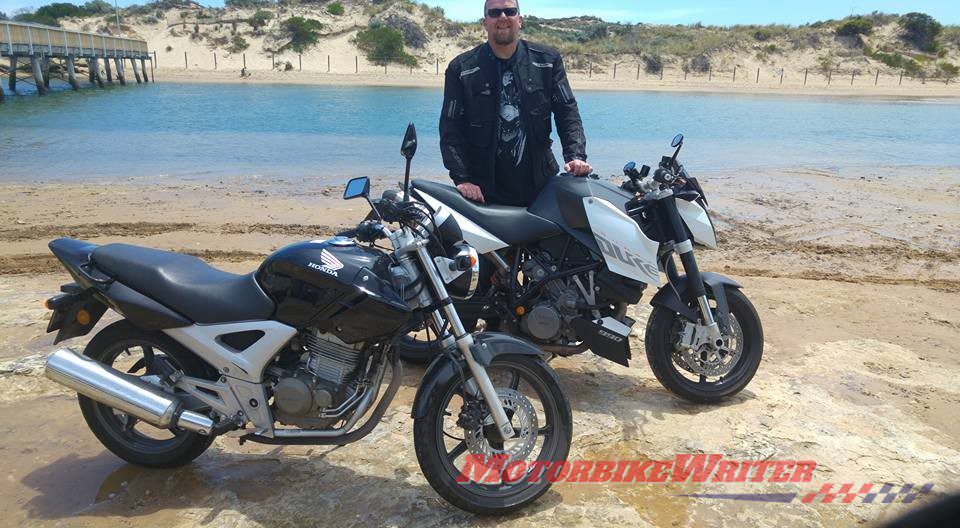 Spokesman Tim Kelly says they worked hard with the government to secure the concessions and to avoid the planned mandatory hi-vests.
Full details of the new Bill have not yet been released, but previous recommendations included: displaying correct plates, restricting pillions, mandatory carriage of licence, zero blood alcohol, a lower demerit point threshold for disqualification and no mobile phones.
Federal Chamber of Automotive Industries (FCAI) motorcycle spokesman Rhys Griffiths says tougher licensing laws across the nation have put the motorcycle industry under "more pressure than we've ever had in the past".
He says the tougher licensing laws have dramatically increased the price of obtaining a motorcycle licence and may have led to an increase in unlicensed riding.