Milwaukee Heated Jacket Review Summary
Milwaukee Heated Jacket Image Gallery
The Milwaukee M12 Heated Jacket is a good looking, high quality jacket.
It uses a standard Milwaukee M12 (12 Volt) battery module to provide even warmth to the upper chest and back.
The jacket may or may not work as a liner for motorcycle use but it's interesting nonetheless.
Milwaukee Electric Tool Corporation isn't the first name you might think of when it comes to jackets. Or motorcycles.
The company, which has been in business since 1924, is best known in the U.S. for its high-quality "industrial strength" power tools.
I also just learned during my research for this article that the parent company that owns Milwaukee, Techtronic Industries Co. Ltd., also owns the Ryobi, Dirt Devil, Homelite, Regina and a few other brands.
I do not own a Milwaukee brand power tool but I'm familiar with them and I've handled them before.
My impression has always been one of solidity and quality — tools made "the way they used to make them".
Friends and relatives who depend on their tools to make a living also tell me that the company is well known and respected for its high-quality, robust products.
If this jacket (and the free LED flashlight that came with it; more on that in a minute) are any indication, I'd say that's a very fair statement.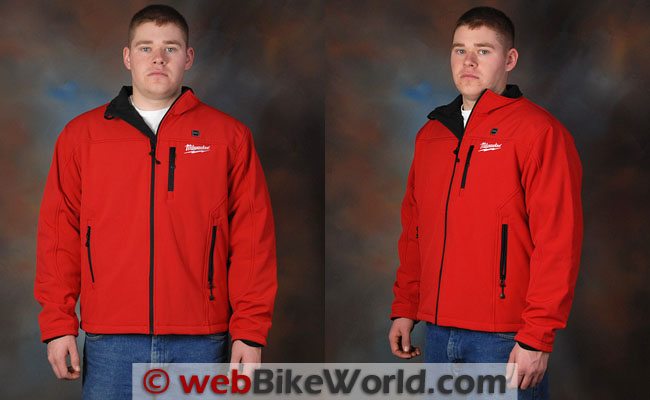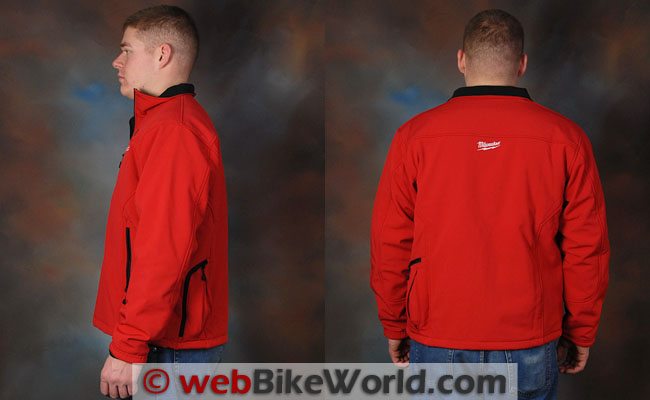 Milwaukee Heated Jacket – Background
An email to the Editor in early November of 2010 from a webBikeWorld visitor asking if we knew anything about the Milwaukee heated jacket prompted this purchase.
The jacket had just been announced and pre-orders were being accepted, with delivery times planned for the holidays.
I placed the order for a jacket sight unseen and other than the order confirmation, nothing else was known.
Time passed and I forgot about the jacket until Christmas week, when a notice arrived, informing me that it finally available and ready for shipment.
The retailer apologized for the long delay and not only did they promise to ship it with free two-day delivery to get it to me by Christmas (which wasn't really necessary on my part), they threw in a Milwaukee M12 Cordless Work Light.
That is a very nice LED flashlight with a rotating head that uses the M12 battery pack (photos below). Sweet!
There wasn't a lot of information available about this jacket, when I ordered it.
Milwaukee only formally announced the jacket on November 12, 2010. So I assumed it would be some type of a heated jacket liner that could be used under a work jacket, similar to other heated jacket liners and vests we've reviewed.
The lack of hard information wasn't a problem though, since we're always experimenting with different gear to see if it might be suited for motorcycle use, I didn't have an issue with ordering a brand-new product sight-unseen.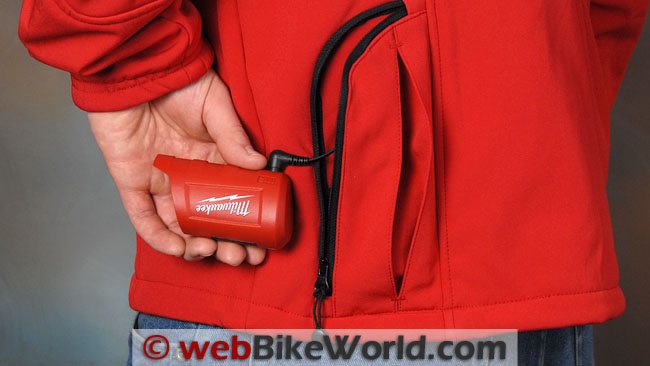 Jacket Features
As it turns out, the jacket is much more than a simple liner — and much nicer than I ever imagined it would be.
It features a very high quality and comfortable soft outer shell made from 95% polyester and 5% Spandex; the Spandex gives it that soft and flexible feel.
It also has an equally nice lining. The shell is water- and wind-resistant, but not fully waterproof.
The trim down the front and around the neck is a soft micro-fleece and the styling, the trim features and even the embroidered Milwaukee logo are outstanding.
Overall I am very impressed with the quality of this jacket — especially considering that in all honesty, I thought it would be one of those cheap-feeling nylon taffeta liners with thread hairs hanging off every seam.
The jacket even has built-in elastic micro-fiber separate sleeve cuffs and large nylon braided rope pulls on all the zippers. There's a pocket on the left side at the upper chest and two hand pockets.
The rechargeable battery fits in a special pocket around the back of the left side and trim cords inside the waistband hem can be used to cinch the jacket to keep the wind from underneath.
The pockets, the stitching around the pockets and everything about this jacket is very high quality. So I'm impressed, and it definitely reinforces my notion equating the Milwaukee brand with quality gear.

The M12 Battery System
The jacket comes in a large box, shown in the photo. It is also supplied with a Milwaukee M12 battery module, which is a lithium-ion rechargeable battery rated at 1.4 Ah and 12 Volts. The battery has a two-year warranty.
The charger that comes with the jacket is a brute; it's the M12 special charger that recharges the battery in a claimed 30 minutes. The charger has a five year warranty.
The M12 system is one of the Milwaukee portable tools power packs; the company also has an M18 (18 Volt) and M28 (28 Volt) system for tools that require more power.
The M12 battery fits into an M12 battery holder and the holder connects to the wiring inside the special rear pocket.
The connector tip is pretty hefty and it looks like the power connectors for a laptop computer and not like one of those small 3.5 mm jacks used in other heated gear we've reviewed.
The M12 battery is much larger than the types used on other battery powered heated motorcycle clothing.
The battery with the holder weighs 240 grams (8.5 oz.) and it's 118 mm long by 50 mm wide. It's not perfectly round, but a triangular shape with rounded edges.
So the only disadvantage in using the round barrel-shaped M12 battery is that it doesn't fit flat inside the jacket, but its location does keep it out of the way for the most part.
The pocket that holds the battery is difficult to access when the jacket is being worn, although it can be done.
But the reality is that there's no reason to access the battery once the jacket is on, because the on/off switch is very unique and one of the coolest things about the Milwaukee heated jacket.

Special Lighted On/Off Switch
The switch to turn the jacket on is actually the little plastic square emblem on the upper left chest.
Press and hold it and it lights up! It glows red and "breathes" as it slowly glows, then recedes, then come on and off while the jacket is warming up.
It glows red when its on high (full power), then it will automatically throttle down to white (half power), the medium setting. Then if it's pressed again it will go down to blue, the coolest setting and 1/4 power. Press and hold it again to turn it off.
This is a very nice feature because it makes it easy to turn the jacket on and adjust the heat, plus the glowing colors attract everyone's attention. I can't tell you how many people have stopped me in stores and other places asking me what it's all about.
The battery is claimed to last up to 6 hours and that's about right, unless the jacket is kept on high all the time, where it lasts about 4 hours for me.

The Milwaukee Heated Jacket for Motorcycle Use?
As I mentioned, there wasn't a lot of information available about the Milwaukee heated jacket when I placed the pre-order, so I didn't know it was going to be a "real" jacket.
I thought instead that it would be a thin heated jacket liner.
It's definitely not a liner, but instead it is meant to be an outwear jacket and it is obviously not designed specifically for motorcycle use.
So on one hand, this is bad news for motorcyclists but on the other hand, that's what we're here for, to try out gear like this and let you know about it so you can make an informed purchasing decision.
As an example of the overall weight and heft of the Milwaukee jacket, it's similar to one of those light soft-shell nylon-covered fleece jackets one might buy from L.L. Bean or Land's End or the like.
One way to consider it is that the Milwaukee jacket provides the warmth of a much heavier jacket with the freedom of a lightweight shell.
Also, if you already own Milwaukee power tools that use the M12 battery pack, you're golden.
Of course, you can always buy more Milwaukee tools that do use the M12 — probably exactly what the company had in mind!
The bottom line is that the Milwaukee jacket is not ideal for wearing under a motorcycle jacket because it's thicker by half than something like a Gerbing or EXO2 heated vest or jacket. It will only fit under a motorcycle jacket that is slightly oversized.
Distribution of Heat in the Milwaukee Heated Jacket
The Milwaukee heated jacket has three heat zones; one on either side of the front of the chest and one along the upper back.
The jacket will not create the type of high heat levels found in a wired heated vest or jacket.
Instead, it's designed to put out a low level of heat that "takes the edge off". This is similar to theGerbing Core Heat battery heated vest I just reviewed.
The reason is that a battery heated garment usually can't compete with a 30- of 40-Watt wired heated garment (although the Gerbing Hybrid heated gloves (review) put out loads of heat when on the battery).
The jacket delivers what I'd characterize as a low level of warmth with the most notable feature being the even distribution of the heat.
I'll have to assume they're not using wires, because I can't feel any, so I'd guess they're using some type of carbon conductive material, similar to that found in the EXO2 StormRider heated vest (review).
If this is the case, then this jacket is even more high-tech than I imagined.
The warmth is gradual and it is very evenly distributed, so it is not like you're going to feel instant heat.
The sensation is more like the jacket will feel like it's insulated much better than a jacket this thin should be, or like you're wearing an extra sweater or layer underneath.
Part of the reason why this jacket doesn't feel "red hot" is that it's lined inside, which keeps the heated areas slightly removed from the body. Plus, it's meant to be worn over street clothing, which also acts as an insulating layer.
I can fit the Milwaukee heated jacket underneath an older Aerostich Darien jacket I own and an equally old Firstgear jacket, both of which have a roomy fit.
The fit is tight in the arms because the Milwaukee jacket, although it's a shell, is still thicker than a typical heated jacket liner made for motorcycle use.
But it works, and I think it works better when it's used as a heated liner because the outer shell of the motorcycle jacket keeps the Milwaukee jacket tight to the body, locking in the heat.
The heat around the neck and back is especially nice and I usually let the jacket throttle down to the middle setting because the highest setting is too warm underneath a motorcycle jacket shell.
The size large shown here should fit a 44-45 chest. The model in the photos normally takes a size XL, so you can get an idea of the fit from the photos.
Conclusion
We took a chance on this jacket based on the request of a webBikeWorld visitor and I'm glad we did.
Although it is much different than I assumed it would be, and probably better suited for street use than for riding a motorcycle, it is at least another solution for keeping warm in what is turning out to be a very cold winter.
It also shows what can be done with modern battery technology and quality materials and construction levels.
Just a few years ago, when we first reviewed the Jett battery heated vest (review), which was one of the first battery powered heated garments made, many webBikeWorld visitors scoffed at the idea of using batteries for heat.
Today it's a reality and becoming the solution of choice for keeping warm. I firmly believe battery heated clothing will be the norm in the not-too-distant future.
In the meantime, the Milwaukee heated jacket is a high-quality, very nice jacket to wear both on and off the motorcycle and it would be even if it didn't have portable warmth!
More wBW Heated Clothing Reviews  |  Motorcycle Glove Reviews
w

BW

 Product Review: Milwaukee Heated Jacket

Manufacturer: Milwaukee Electric Tool
List Price (2011): $199.99
Colors: Red or Black
Made In: China
Sizes: M to XXL
Rating: 
Review Date: January  2011  Warranty: Lifetime on wires; 1 year on vest; 90 days on batteries.
Note:
 For informational use only. All material and photographs are Copyright © webWorld International, LLC since 2000. All rights reserved. See the webBikeWorld® 
Site Info page
. Product specifications, features and details may change or differ from our descriptions.
Owner Comments and Feedback
---
From "B.W." (September 2014): "I bought the Milwaukee M12 Cordless Hoodie version. It's thinner and fits easier under a motorcycle jacket. It has few heater elements than the jacket, basically it doesn't heat the stomach area.
They also have a 12V cigarette adapter, which I purchased, because I feel un-safe with the battery in the left back of the hoodie, if I was to go down.
The hood is also good, because it blocks cold wind entering the back of my neck. Not really much of a feature, because a regular hoodie does that anyway. Cheers!"
---
From "C.D." (January 2012):  "Dear editor, I have purchased the Milwaukee heated jacket and LOVE IT.
I have found it fits comfortably under my riding jacket and provides tons of heat. I ride 120 miles/ day and was always cold and my hands hurt, now with this jacket I am warm and my hands don't hurt, ( due to the warm blood traveling to the extremities).
Thank you for reviewing this jacket, it is well worth the money. Some of my colleagues at the hospital have been so impressed that they also have bought one."