Excellent HD Video Choice
The Midland XTC-300 VP4 continues Midland's tradition for ease of use, now in HD.
The XTC-300 has surprisingly good video for a camera in this price range
The colors are very accurate and the exposure is perfect in daytime lighting conditions.
The camera also couldn't be easier to use, with its big rubber on/off slider switch that's easy to find when wearing heavy motorcycle gloves.
That and the relatively narrow cylinder-like shape of the camera body make it a good choice for helmet mounting.
Plus, the battery lasts longer than most of the other motorcycle video cameras we've reviewed, a definite advantage.
Top it all off with a list price of $199.99 for the full kit, which includes a waterproof housing, a car charger and a wall outlet charger and you have one of the nicest motorcycle video cameras you'll find.
When your intrepid duo reviewed the Midland XTC-100 (review) back in 2011, we said (and I quote):
"This is probably the best camera in this group for "motorcycle video newbies" and for mounting on a helmet. If Midland can make a 720p version in the same package without raising the price too much, they may have a chance at owning the low end of the HD market for sure.
Midland listened, and we now have the Midland XTC-300 VP4, in two-mode HD with 1080p at 30fps and 720p at 60fps capability.
So did Midland hit the HD jackpot? The short answer is yes. The XTC-300 is a very easy-to-use video camera that takes surprisingly good quality video.
Surprising because even Sony — one of the original home video camera icons — couldn't do it better, with the very mediocre Sony Action Cam (review) not coming close to the output of the Midland XTC-300.
The XTC-300 doesn't have all the bells 'n' whistles of the Sony; for example, there's no still photo capability that you don't need anyway, and no slow-mo 120fps feature that is more of a gimmick than anything.
What the XTC-300 does have is that made-for-motorcycles big on/off switch and very smooth video with the most accurate color and exposure renditions this side of the GoPro Hero3 Black Edition (review) but at half the price.
If that isn't a formula for success, we don't know what is…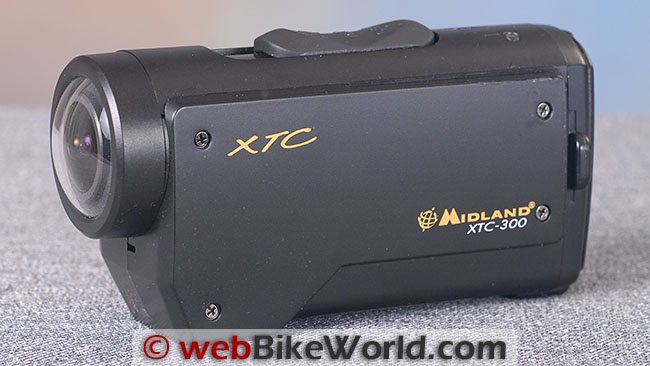 ---
Where to Buy Midland XTC-300
Check Reviews & Prices on Amazon
See More: Motorcycle Accessories, Motorcycle Tire, Motorcycle Helmets
---
In the Box
Apparently, there are two different Midland XTC-300 kits available: our basic kit, which consists of the camera and battery, a USB cable, a helmet mount and instructions (here's a .pdf).
The basic kit is nearly impossible to find, but the "DeLuxe" kit is probably the one you want anyway. It includes all of the above plus the waterproof housing, a goggle mount, handlebar mount (for bicycles) and both a car charger and wall outlet charger.
The list price is $199.99 and it can be found for as low as $189.68 with free shipping.
That's a pretty good deal actually…although we haven't missed the waterproof housing. But without the housing, there's nothing to protect the rounded lens, so caution and care is in order.
Of course, using our basic kit in the rain means trouble. But who takes motorcycle video in the rain? That's not what we call fun.
And besides, the plastic lens on the waterproof housing only degrades the video quality anyway and it can also add a strange tint to the video, which is what happened with the Sony Action Cam.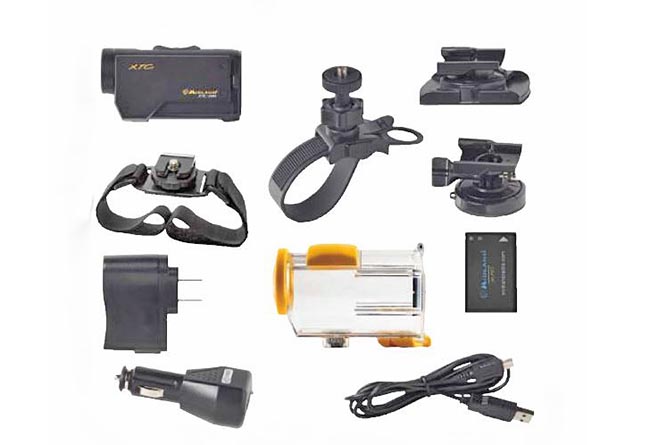 Midland XTC-300 Specifications
The Midland XTC-300 VP4 has three video modes: an SD mode that we haven't tried (does anyone shoot video in SD any more?), 720p at 60 frames per second and 1080p at 30 frames per second.
Midland lists the 1080p vide as 1920x1080p at 30fps, which has a file size of something like 15 minutes of video for every 1 GB. The 720p video is 1280x720p at 60fps, with a 1 GB file taking about 13 minutes.
The 1080p video is taken with the lens automatically set to 127 degrees and the 720p video uses 170 degrees of lens viewing angle.
In either case, the barrel distortion is well muted, noticeable only when overhead electric wires come into view.
TIP: Keep the camera level to minimize distortion. If the camera is tilted up or down, you'll get a lot more distortion (although sometimes this serves as a deliberate editorial effect).
Midland said that the lens is multi-coated tempered glass and the camera has a focus range of 5 inches to infinity. The aspect ratio is standard HD at 16:9 and the files are saved in .mp4 format (MPEG-4) with H.264 compression.
Light sensitivity is listed as 1.4 V/Lux. per second.
The camera with battery and a 2 GB microSD card weighs 114 grams (4.0 ounces). The XTC-300 does not come with a microSD card.
The 1100 mAh rechargeable Li-Ion battery that comes with the XTC-300 is claimed to have up to 5 hours recording time, and — so far — we believe it.
After an initial charge through the computer's USB port, we haven't needed a recharge yet, which is a first for our motorcycle video camera reviews.
Some cameras have a battery that barely lasts long enough to record a few minutes of video before needing a fill-up; a near deal-breaker when you're on the road.
The Midland battery, combined with apparently low power usage for the camera's guts gives a very long run time for this type of camera, and that's a definite plus.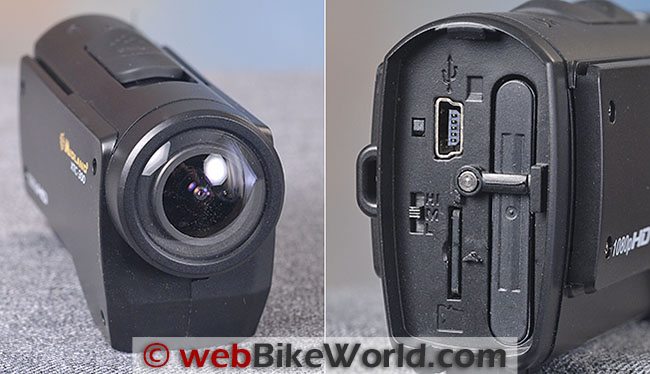 ---
Where to Buy Midland XTC-300
Check Reviews & Prices on Amazon
See More: Motorcycle Accessories, Motorcycle Tire, Motorcycle Helmets
---
Midland XTC-300 Video Quality
The video in either mode appears smooth, with no discernable choppiness or stuttering or pixelation that is sometimes visible in other motorcycle video cameras we've reviewed in this price range.
We were surprised at the results as soon as we played our first captures on the computer.
Also, the color rendition is spot-on, without the phony oversaturation that seems to be the norm in this type of camera and which ruins most video by making it look worse than the output from a cheap cell phone camera.
And the exposure of the XTC-300 is also near-perfect. It's very accurate and the camera isn't tricked into exposure stuttering as the motorcycle moves in and out of the shadows.
Again, this is unusual and a very pleasant surprise for a video camera at this price range.
1080p vs. 720p With the Midland XTC-300
We prefer the 720p video at 60fps though, for its very smooth rendition. More frames per second (usually) means smoother video, all things equal.
The higher frame rate also reduces the "jello" effect of the CMOS sensor which, by the way, is also very well controlled in the Midland XTC-300.
Here's another tip: solid camera mounting in a location that minimizes motion, bumping and travel on the motorcycle will help reduce the CMOS "jello" effect.
You can see the difference in our on-road videos in the samples below between the rougher, vibe-ier Suzuki DR650 (blog) with the camera mounted on the handlebar mount.
Compare that with the smoother video taken on the BMW C 650 GT scooter (blog) with the more solid suction cup mount (here's our Motorcycle Video Camera Mount comparison and review).
The only thing you're giving up is a larger screen size by moving from 1080p to 720p, but we think the slightly smoother video quality more than makes up for it, especially if you're watching the video on a computer monitor.
w

BW

 Video: Midland XTC-300 Plus On-Road Examples
NOTE:
 YouTube compression degrades the quality of the video from the original. Select 720p or 1080p quality under the "gear" icon in the YouTube video for higher quality YouTube video. Here is an unprocessed 
1080p sample (.zip)
 and an unprocessed 
720p sample (.zip)
 taken directly from the Midland XTC-300. Both files are in .zip format, saved in their original .mp4 format.
w

BW

 Video: Vimeo Version of the Midland XTC-300 Video
NOTE: This is a Vimeo Pro version of the same video, using the exact same file as the YouTube version above.
---
Where to Buy Midland XTC-300
Check Reviews & Prices on Amazon
See More: Motorcycle Accessories, Motorcycle Tire, Motorcycle Helmets
---
Using the Midland XTC-300
Similar to the Midland XTC-100 we reviewed, the XTC-300 continues Midland's preference for ease of use.
The XTC-300 is incredibly easy to operate: after the battery is charged, pop in a microSD card and push the big rubber slider on top forward and you're taking video.
There are no settings to mess with, no still or time-lapse photos or other fussing around; the only thing you can change is the video mode.
The 720p/1080p (or SD) switch is inside the back of the camera in the battery compartment, which also contains the standard-sized USB port.
To repeat from the XTC-100 review:
When the slider is pushed forward, the camera turns on and it starts recording. Push the slider back and the recording stops and the camera shuts off. Couldn't be easier!
The XTC-300 also has the three small LED lights; the red light is the recording light. It comes on briefly when the camera is first turned on, then it flashes while recording.
A battery light goes from green to red to blinking red to off to indicate battery life in descending order, and the microSD card light indicates how much space is left on the memory card.
The Midland XTC-300 will take up to a 32GB size microSD card. We're not sure what the maximum file size is for each recording, but here's another tip: only turn the camera on and off for short videos.
The smaller files are much easier to work with.
The battery compartment cover is a bit fussy and feels slightly wobbly, so be careful and make sure it clicks closed.
We usually remove the microSD card and place it in a microSD-to-SD card adapter and then put the SD card adapter into the multi-card reader.
We had no trouble connecting or reading the microSD card on the computer and uploading the files.
The .mp4 files are easily edited in Adobe Premiere Elements 11 ($69.99), something you should definitely have if you're at all serious about motorcycle video.
The software allows you to easily edit your video and save it in multiple formats.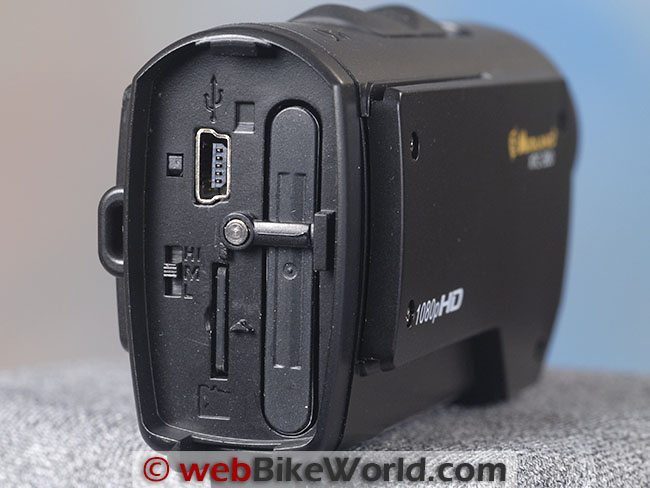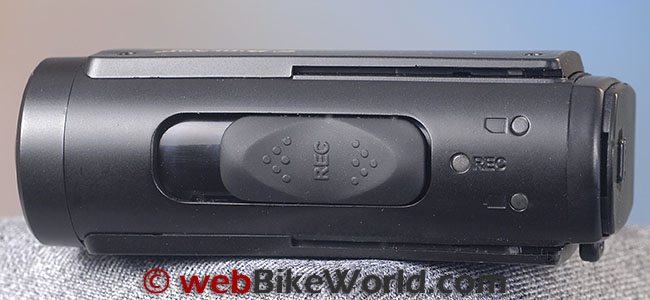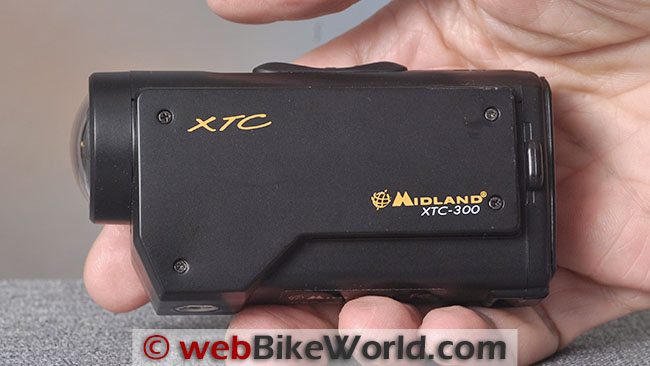 Conclusion
The Midland XTC-300 VP4 improves on everything we didn't care for in the XTC-100 SD version, but without adding too many hard-to-use features.
The most important thing is the video quality, which is excellent and probably better than any other video camera we've reviewed so far just south of the very expensive and clumsy GoPro Hero3 Black Edition (review).
We can definitely recommend the Midland XTC-300 as one of the easiest-to-use, straightforward motorcycle video cameras available.
It can get you up and running almost immediately with no prior experience required.
Ease of use can't be overlooked, because it's all about the ride, so quickly getting a camera going is paramount.
But the quality of the video also counts and that's something that is a very nice surprise from the Midland XTC-300, our new favorite motorcycle video camera.
More: wBW Motorcycle Video Camera Reviews  |  Midland XTC400VP Review
Note:
 For informational use only. All material and photographs are Copyright © webWorld International, LLC since 2000. All rights reserved. See the webBikeWorld® 
Site Info page
. Product specifications, features and details may change or differ from our descriptions. Always check before purchasing. Read the
Terms and Conditions
!
---
Where to Buy Midland XTC-300
Check Reviews & Prices on Amazon
See More: Motorcycle Accessories, Motorcycle Tire, Motorcycle Helmets
---
Owner Comments and Feedback
---
From "H.S." (November 2013): "Before I begin, I'd like to take a moment and say "Thank You" to you and your staff for your great reviews!
As an owner of a Midland XTC-300, I too have experienced issues like "T.H." described (below) with my camera.
The first few times I used the camera it worked great. I was able to do record three twenty minute track sessions without any issue. However, when I've used the camera to record street rides, I find that the camera either keeps turning itself on/off, or failing to record at all.
I have full charged the battery and re-formatted the SanDisk Ultra 32GB microSD card each time before usage and still experience this problem.
I re-read the owners manual and found that if you remove the battery from the camera, it erases all data on the SD card.
This would explain why some of the videos are missing when I go to upload them on to my computer (I carry a spare fully charged battery with me), but I can't understand why the camera turns on/off several times, then records flawlessly for several minutes.
The camera takes great quality videos but I'm disappointed by its inconsistent performance."
---
From "T.H." (September 2013): "I'm a long-time reader and fan of webBikeWorld.com.
I think I've read every review you've ever published, and purchased several products based on your positive reviews (and avoided others because they failed to meet your standards). I'd like to thank you for all the great work that you do 🙂
I'm writing to share my experience with the XTC-300. I purchased the camera in late June.
As I wanted the camera to catch the highlights of long distance rides, my primary concern was battery life and this products seemed to have the best reviews for that use.
I didn't have a chance to play with it until early August.
Before using it I charged the battery with the included wall-mount-to-USB charger, waiting overnight until the light went solid green.
I also inserted a 64GB Class 10 MicroSD card. This turned out to be a mistake, as the XTC-300 can use cards only up to 32GB in size.
I can report that their support respond fairly promptly and helpfully to emails, however, and the online FAQ now appears to state the 32GB maximum explicitly.
After picking up a SanDisk Class 10 32GB card I tried again, in the "m"/720P mode setting.
The included handlebar mount worked great on my bike.
While I was concerned that the mount didn't seem to be able to tighten down enough to truly hold the camera still, I didn't encounter any unwanted movement when actually riding with it, including times when I manually re-aimed the camera by simply twisting it to my desired direction.
I was testing it on a ride to a mountain town about an hour from where I live and it did successfully roll over to a new file after hitting the 2GB limit.
However, it only did so once as the camera unexpectedly turned itself off before I arrived at my destination. The switch was still on, but all the lights were off.
Trying to switch the camera off and on again had no result, as if the camera was completely drained. I stopped for supper, leaving the camera turned off a while, then tried it again on the ride home.
It powered up and recorded for perhaps 20 minutes before powering off again.
A week later I tried again. I fully charged the camera through the USB port before the ride but it didn't make it to the next town, only 28km down the road. Again, leaving it off for a bit seemed to allow it to recover.
I started to suspect that maybe the battery wasn't making good contact with the pins so I removed it, cleaned the contacts off, and reinserted it.
I then left the camera on the restaurant table recording a salt shaker for almost an hour and, while the battery light turned red, it seemed to be recording fine.
On the way home it again died, within minutes of leaving the restaurant.
Last night I charged the battery overnight, wiped the SD card fresh, and set the camera on the table recording a wall to see how long the battery would last.
The battery light went from green to solid red in a little over 30 minutes for which the manual states "indicates low battery life". It finally beeped and shut down a few moment ago, at almost exactly 150 minutes after starting.
The battery light was solid red for all but the first half hour of that time.
I found that a bit misleading, but at least it didn't spontaneously turn itself off.
The battery life story is baffling to me. I can't tell if it's under 20 minutes or 3+ hours. I'm starting to wonder if the battery loses firm connection with the contacts due to vibration (though my Multistrada1200 is very smooth at the handlebars), which would make this camera unsuitable for many uses.
Perhaps the other fellow who wrote in was experiencing something similar and that would explain his random shutdowns, similar to what I was seeing when the camera was on the bike rather than sitting still on a table?
I don't believe it to be the MicroSD card as it both exceeds the minimum required (Class 10 versus Class 4) and would not result in the camera turning itself off (and that only when mounted on the bike).
Yet the battery spring seems very firm and the battery has no slop in it's mount.
Like I said, I'm baffled and don't have a lot of confidence it what is otherwise a delightful device.
Pros:
I love the form factor. I'm impressed with the video quality and lens angle for motorcycle use. I love the ease of use, even with gloves on.
The price, especially considering the variety of mounts that cam included, is also impressive. I like having a standard camera mount on the bottom.
Cons:
I'm somewhat disappointed in the maximum storage capacity, though I can deal with that by carrying multiple MicroSD cards. I'm much more disappointed in the battery life/turning off problem.
When I'm riding all day long through amazing natural scenery I'd like to be able to turn the camera on to capture highlights throughout the day.
Unlike carrying multiple MicroSD cards, carrying multiple batteries won't work for that usage as the battery won't last as long as I ride between gas stops.
And even if the battery should have plenty of use left in it, I can't trust it to stay on. The battery light is misleading, moving to "red" far to quickly for what it's life may actually be.
The camera doesn't name it's files in a very intuitive way, though that's a minor annoyance and not a serious problem if a person to going to be editing the video later anyway."
---
From "B.M." (May 2013): "I bought this cam directly from the manufacturer in February of 2012 through the sales rep. Initially I was excited. The GoPro just wasn't streamlined enough.
My excitement was quickly tempered when I found no rhyme or reason for the archaic labeling of the files.
I've used the camera to film several trips in the area but my greatest disappointment was this weekend on a three day dealer ride to Torrey, Capitol Reef and Bryce Canyon on Utah 12.
This was the most spectacular ride I have ever taken, yet only a few seconds of some of the video segments actually recorded.
I should have spent the money on the GoPro. Lessoned learned. Pick the best tools for the job. Cost is not a factor when failure is assured by an inferior product and the Midland is set up for disappointment.
1. The files are dated haphazardly with no connections to the correct date other than in chronological order. One taken on Saturday, May 4, 2013 is dated: Aug 23, 2011 10:51 PM.
Far better to just name them "1, 2 or 3" and be done with it. I wrote to the rep when I first received the cam and the response was "that's just the way it is."
Same response to my then, 5 year old daughter when I could not explain some esoteric phenomena.
2. Video quality is very good when it works. I have had the cam about 16 months and have used it, maybe 12 or 13 times.
I have to keep it in the weather proof case as the spring loaded door failed sometime in the last month. It is mounted right on my handlebar, behind the windscreen on my BMW F800GT, easily in reach.
Prior to that I used a helmet mount.
3. When switched on, a light illuminates. I can't see it in direct sunlight.
It could be a battery issue or even a micro SD issue but it doesn't follow that the cam works for 15 to 20 seconds then shuts off. I feel a battery issue would result in complete shutdown but that hasn't happened.
I'm obviously not an engineer so have little knowledge on how they work.
I'm very frustrated with it as valuable footage has been lost. I believe the GoPro also uses an archaic DOS based file system but at least the video works.
I really wanted this to work. I bought the cam because the manufacturer offered a great deal through our club, Beehive Beemers, but a tool that fails at critical times or is sporadic is even worse than nothing at all.
By the way, as soon as I read your review, I immediately emailed the rep with elation (this prior to my trip this past weekend) but my email was returned as invalid so he has left Midland.
One last thing, when I was concerned about the tinny sound (away from the motor on my bike, with the cam helmet mounted) I was told to put a piece of duct tape over the mike, which I did.
I totally understand that your evaluations are based on many factors and over time some products can fail.
I also am grateful for your tests and have bought helmets, boots, gloves and other products solely on your recommendations.
I take very good care of my equipment but you don't know that. Thank you for the best site in the industry."
Editor's Reply: We never noticed the file naming issue, as we bring each file into Adobe Premiere Elements for post-processing anyway, and the files are then renamed based on their content.
Regarding the loss of video after a few seconds, this sounds exactly like the problem common with an HD video camera when using a memory card that is too slow.
Midland recommends a minimum of a Class 4 microSD memory card but we have found that brand-name cards of Class 10 work much more reliably with HD video cameras.
Also, the card must have a large memory capacity, around 8 GB or higher.
Other WebBikeWorld Video Camera Posts