Good Results and Reasonable Price But SD Only
The Midland XTC-100 VP2 is the ease of use champ in this group and it takes decent quality video but it's SD only.
It tended to overexpose in bright sun in our comparison and it has some lens flare and fairly extreme barrel distortion in some situations.
It comes with a nice array of mounts, but they work only in the vertical plane.
The camera also has a metal tripod mount and a waterproof housing is optional, but available.
This is probably the best camera in this group for "motorcycle video newbies" and for mounting on a helmet.
If Midland can make a 720p version in the same package without raising the price too much, they may have a chance at owning the low end of the HD market for sure.
Midland XTC 100 Specifications
Midland is probably best known for its radios and motorcycle intercoms like the Midland BT-2 (review). The Midland XTC100VP2 has been available for about a year but we just discovered it recently.
This is an SD only video camera, with 640×480 VGA resolution at a standard 30FPS (Frames Per Second) display rate.
The files are saved in the .AVI format. The video quality is decent, but certainly not up to the average HD standard, even at 720p.
The camera is relatively petite at 86 grams (3.0 oz.) with batteries and the MicroSD card installed. It measures approximately 85 mm long by 26 mm wide by 40 mm tall.
The Midland XTC is fairly inexpensive and it can be found for about $85.00 in the webBikeWorld Amazon.com store. It comes with a few good quality mounts that are suited for helmet use, although mounting a video camera on a helmet can be problematic.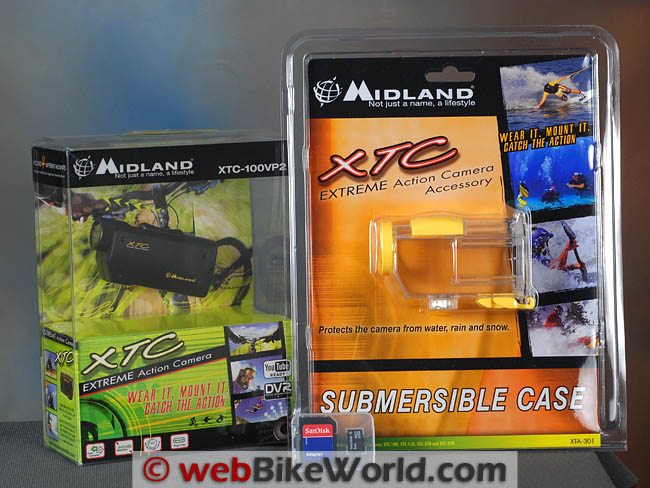 ---
Where to Buy Midland XTC 100 Video Camera
Check Reviews & Prices on Amazon
See More: Motorcycle Accessories, Motorcycle Tire, Motorcycle Helmets
---
In the Box
The two mounts that come with the camera move in the vertical plane only and the camera has a vertical orientation, so mounting on the side of a helmet or motorcycle works best.
Optional mounts are available and the Midland XTC does have a threated metal tripod mount, which is always helpful.
The mounts slide into two thin slots on either side of the camera, but overall the system feels a bit weak. Also, on the battery side, the slots are built into the battery door, which seems destined for problems.
The battery door really needs some serrations or rubber finger grips on it to make it easier to remove.
The camera also comes with a strap-type bar mount that we didn't find very useful and a strap type helmet mount that we also didn't use.
The camera body is not waterproof and an optional waterproof housing is available also.
The Midland XTC uses a MicroSD memory card but no memory is provided with the camera. The video camera runs on two AAA batteries. Two no-name AAA alkaline batteries are supplied with the camera.
A good set of Li-Ion will last about 2 hours, but they're very expensive at around $20.00 for a pack of four.
The camcorder also comes with a black and white printed owner's manual that, while not fancy, does a good job at describing all the features.

---
Where to Buy Midland XTC 100 Video Camera
Check Reviews & Prices on Amazon
See More: Motorcycle Accessories, Motorcycle Tire, Motorcycle Helmets
---
Using the Midland XTC 100
This is the easiest camera in the group to operate, having only a single button or slider. When the slider is pushed forward, the camera turns on and it starts recording. Push the slider back and the recording stops and the camera shuts off.
Couldn't be easier!
It has three small LED lights; the red light is the recording light. It comes on briefly when the camera is first turned on, then it flashes while recording.
A battery light goes from green to red to blinking red to off to indicate battery life in descending order, and a MicroSD card light indicates how much space is left on the memory card.
The Midland XTC will record up to a maximum of 2GB file size and then will split the file if it's larger.
A rubber cover in the rear of the camera hides the memory and the USB 2.0 port. We had no trouble connecting the camera to the computer and uploading the files.
The .AVI files are easily edited in Photoshop Premiere Elements 8.0 or 9.0 or Microsoft Movie Maker.
w

BW

 Video: Four Motorcycle Video Cameras – Details
w

BW

 Video: On-Road Comparison of Four Motorcycle Video Cameras
---
Where to Buy Midland XTC 100 Video Camera
Check Reviews & Prices on Amazon
See More: Motorcycle Accessories, Motorcycle Tire, Motorcycle Helmets
---
Pros and Cons of the Midland XTC 100
The pros for the Midland XTC 100 include its relatively low price; ease of use; seamless connectivity for uploading and decent (for Standard Definition) video.
It's also relatively small and smaller is better when it comes to motorcycle video cameras. And the metal tripod mount is a definite plus.
The video seemed relatively immune to the "rolling shutter effect" during our trials
The cons include a somewhat weak-feeling battery door, basically zero waterproof integrity without the optional waterproof housing (although this isn't that important unless you plan on taking video in the rain) and the vertical-only video capability.
There is no way to rotate the lens or mount the camera on its side without affecting the orientation of the video.
The lens exhibits some flare and extreme barrel distortion that becomes more noticeable at closer ranges. Also, since the Midland XTC does not come with memory, that must be added in as an extra cost.
The file size seems large with this video camera, at about 1GB every 15 minutes of video.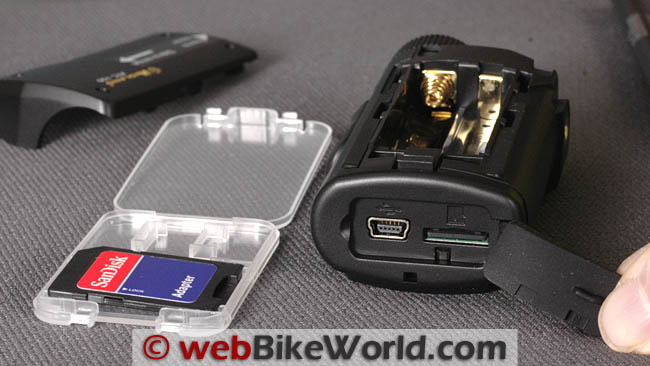 Conclusion
The Midland XTC100VP2 is a decent video camera but by time you add the memory and waterproof housing and maybe another mount, the price can almost double.
It would have been an excellent choice about 3-4 years ago, but the era of cheap HD is here and this camera, like just about every other SD video camera, is nearly obsolete.
There just doesn't seem to be enough here to make this an overwhelming choice for motorcycle video. Here's hoping they can pump it up to 720p without raising the price too high…
UPDATE: Midland XTC-300 Review
More webBikeWorld: 
▪ Video Action Camera Reviews
▪ Intercom and Radio Reviews
w

BW

 Review: Midland XTC100VP2 Video Camera

Manufacturer: Midland Radio Corporation
List Price: $99.99 USD, depending on source.
Colors: Black.
Made In: China
Review Date: March 2011
Note:
 For informational use only. All material and photographs are Copyright © webWorld International, LLC since 2000. All rights reserved. See the webBikeWorld® 
Site Info page
. Product specifications, features and details may change or differ from our descriptions. Always check before purchasing. Read the
Terms and Conditions
!
---
Where to Buy Midland XTC 100 Video Camera
Check Reviews & Prices on Amazon
See More: Motorcycle Accessories, Motorcycle Tire, Motorcycle Helmets
---
Owner Comments and Feedback
---
Other WebBikeWorld Video Camera Posts