Metzeler Tourance Image Gallery
The Metzeler Tourance Next tires are a 90/10 street/dirt tire for large dual-sport motorcycles.
Metzeler claims improved wet grip and stability from previous Tourance tire versions and the Tourance Next rear has a dual compound.
The Metzeler Tourance Next tires have noticeably faster turn-in and side-to-side transitioning than the Bridgestone Battle Wing tires that came with the Suzuki V-Strom 1000 ABS (Blog).
The difference on this particular bike is so dramatic that some owners may not like the increased sensitivity, as the V-Strom goes from La-Z-y Boy relaxed to sportbike sharp.
There is one idiosyncrasy with the Tourance Next tires on the V-Strom however.
They cause the bike to go into an "interesting" oversteer moment if the bike is leaned over slightly in a turn and the throttle is rolled back too fast.
This causes the rear of the bike to feel like it's continuing to turn after the front settles, giving a sort of "hinged in the middle" sensation.
This was very disconcerting at first until I understood what was happening. Now it still feels unusual but so far, not a problem.
Note that since the V-Strom wasn't specifically designed for the Metzeler tires, so these effects may differ, depending on the motorcycle.
The Tourance Next front seems to have a noticeably "sharper" profile than the Battle Wing front and this seems to cause a less "planted" feel when riding on loose gravel.
Wear rates are unknown at this point but Metzeler claims improved mileage over the previous Tourance tires.
Bottom line? The Tourance Next tires have positively cured the slow response and understeer I felt with the Bridgestone Battle Wing tires that came with the V-Strom.
It's an altogether noticeably different riding experience but I'm not sure that I'd go with the Tourance Next tires again on this bike.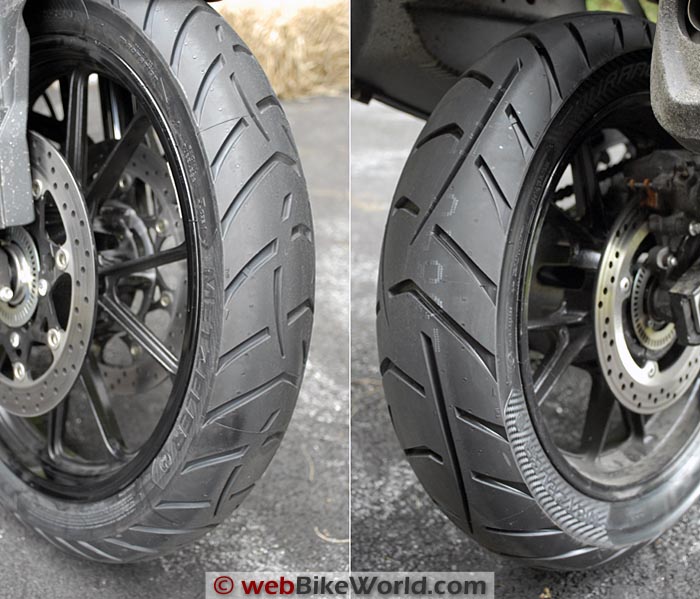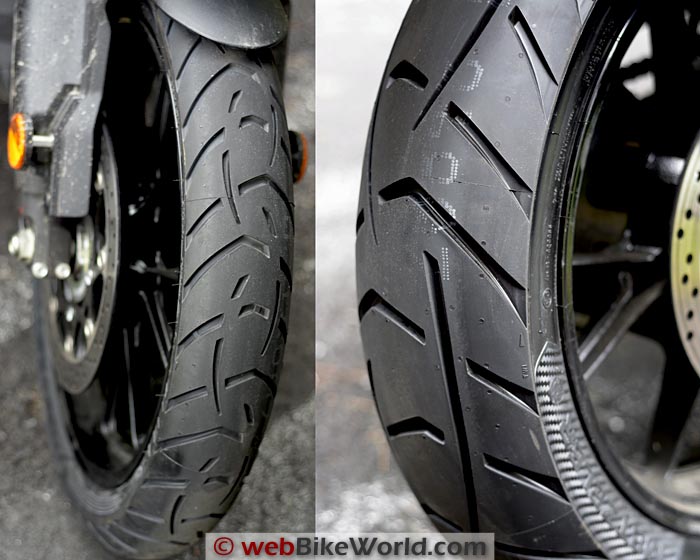 Reviewing Motorcycle Tires…
Most of the time, it's pretty difficult to understand the real difference(s) made by new set of motorcycle tires.
Here's what happens: you wear down an old set that have flat ridges around the center from too many Interstate miles. Or, the front tire is cupped and the rear looks like a slick.
So you spoon on a set of those brand-new RoadMaster Mileage Kings you found on eBay and lo and behold, all of a sudden the bike feels like new! These tires are great — the bike corners and stops like a champ!
But reality usually sets in after about the 500th mile or so…
To paraphrase Richie Brockelman, Jim Rockford's sometimes sidekick, "The point of it is, is…" that first you get used to the way the old tires felt, then you quickly forget how the old tires felt.
This adds an aspect of complexity to any motorcycle tire review.
Moving right along with Brockleman-speak, the other problem is that there's really no real way to really "test" the tires.
Take braking, for instance. How are you going to compare braking distances of a set of worn-out tires with a new pair? Like apples and oranges or chalk and cheese.
And one more thing: those new RoadMaster Mileage Kings may feel great on your HondaSaki 938 Bullet, but they're the worst thing since polyester retreads on my dual-sport DKW.
So how does one review tires? With great difficulty… In the end, it all comes down to subjectivity. Thus, I can only relate one rube's experience — mine.
Metzeler Tourance Next vs. Bridgestone Battle Wing
The original equipment Bridgestone Battle Wing tires on my new Suzuki V-Strom 1000 ABS (Blog)are in perfectly good shape, but just for the sake of science, I figured I'd replace them to see what happened.
I did whinge about the Battle Wings at first because they seemed to add a definite feeling of understeer to the big, heavy V-Strom.
In this case, understeer means that I felt like I had to work the bike more than normal and really lean it over to get it to go around the corners.
Every once and a while, I'd be thinking "OK bike, you can turn now, any time, let's make it happen…" before it finally reacted.
But as the Battle Wings became broken in, the understeer started to disappear. Either that or I got used to it — probably a combination of both.
Nevertheless, the V-Strom still seemed like a lazy turner compared to many of the other bikes that have come through the garage.
I raised the forks in the triple clamp by 10 mm and that made a definite improvement, but I was still looking for more.
Not that I was trying to turn the V-Strom into a sportbike, but I just felt the need to sharpen up the handling to help counteract the bike's mass and height.
As they say, your mileage may vary, so other owners may not feel the need to do anything at all to the V-Strom's cornering prowess.
Now remember that my impressions on the Tourance Next tires are only based on the comparison to the Battle Wing tires and the new V-Strom. Both tires may (and probably will) react very differently on other bikes.
Bridgestone's marketing propaganda is basically the same vanilla wording that Metzeler gives for the Tourance Next:
"Battle Wing BW501/502 tires are designed for growing number of committed adventure bikers looking for maximum sensation without sacrificing durability, stability, and all-weather grip."
Thanks Bridgestone, that really tells me a lot!
Metzeler Tourance Next Details
I don't have a lot of technical details on the relatively new Metzeler Tourance Next tires either, other than the generic marketing blurb from Metzeler that claims this is "The Enduro street tyre that dares you to challenge any weather condition and any road."
I have never tried a set of the original Tourance tires so I can't say anything about a comparison to them, but know quite a few BMW GS owners that have.
Metzeler also says that the Tourance Next tires are original equipment on the newer BMW R 1200 GS, but I don't recall seeing a GS in the showroom fitted with them.
If it's a new tire, then it has to have a wacko new tread pattern. I've always felt that tread patterns make little difference, otherwise we'd see some standardization and consistency after all these years for a pattern that worked.
I think it's more or less marketing stuff — you have to have a wild new tread pattern to make the tire look "new" and "different".
And so it is with the new Tourance Next tires, which have a very unusual "differentiated groove" tread pattern that looks like someone took a knife to the tire and hacked a series of random slashes in various orientations.
Of course, there must be more to it than that and Metzeler is a well-respected motorcycle tire manufacturer, so I assume there's deep (pun) meaning in the pattern.
Actually, Metzeler says the pattern is designed to evacuate water more efficiently. The two main selling points used by Metzeler are increased wear and improved wet grip.
I can't tell you much about either though, with only a few hundred miles on the tires and lots of dry weather recently, there's not much I can say.
Also, the rear uses a dual compound, with what I assume is harder rubber in the center and softer on the sides for leaned-over grip.
And by the way, there were no sprue nubs on these tires and I didn't notice any mold release compound, but I took it easy for the first couple hundred miles anyway just to be sure.
Sizes
The Tourance Next tires are primarily designed for the larger, heavier dual-sport bikes, like the V-Strom, GS and KTM Adventure.
The V-Strom takes the 110/80R19M/C 59V front tire and the 150/70R17M/C 69V rear. Metzeler Tourance Next tire sizes include the following:
Front
120/70 ZR 17 M/C (58W)
100/90 – 19 M/C 57V
110/80 R 19 M/C 59V
110/80 R 19 M/C 59V (BMW F700GS)
120/70 R 19 M/C 60V
90/90 – 21 M/C 54V
Rear
140/80 R 17 M/C 69V
150/70 R 17 M/C 69V
150/70 R 17 M/C 69V (BMW F800GS/Adventure)
160/60 ZR 17 M/C (69W)
170/60 R 17 M/C 72V
180/55 ZR 17 M/C (73W)
180/55 ZR 17 M/C 73W
190/55 ZR 17 M/C (75W)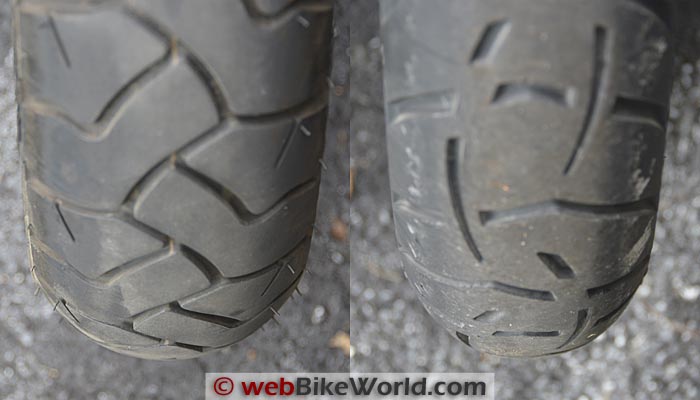 On the Road With the Metzeler Tourance Next Tires
I noticed a difference immediately the first time I climbed on the V-Strom after the Tourance Next tires were mounted, balanced and installed.
The bike turns in much more quickly — or should I say easily? Side-to-side transitions are noticeably easier and slow-speed startups are more confidence-inspiring because the bike actually responds to inputs.
The first thing that came to my mind was "It's like the bike suddenly has power steering."
But the traction while cornering feels no different; the new tires still give the bike a confident feel in the corners, it's just that you get there quicker and easier.
That impression has not changed in several hundred miles since, but there are a few caveats. First of all, the change on the big V-Strom with the Tourance Next tires is different enough that I'm sure some owners won't like it.
In fact, it took me some time to really get used to the feeling.
The bike is definitely easier to "pick up" after leaning in a turn.
The handling reaction times with the Tourance Next tires have dramatically improved, but again, that may not be a characteristic that everyone is looking for.
In fact, it borders on possibly too radical actually, even for me, who was looking for sportier handling.
Road Notes on the Metzeler Tourance Next Front Tire
I think most of this new-found quick handling is due to the noticeably different tire profile of the Tourance Next front tire compared to the Battle Wing front.
I noticed right away that the Tourance Next front tire looked narrower; I should have used a caliper to measure the inflated and installed Battle Wing front just to compare, but I didn't unfortunately.
The photo above illustrates the point (another pun!), however.
This narrowness also makes the V-Strom feel a bit more nervous on gravel roads. I specifically took the bike on several of the hard-packed gravel (but street legal) roads we have nearby and also on some loose gravel and dirt in the field.
While the bike never felt out of control, it did not feel as "planted" as it did with the Battle Wing tires…but that's not saying much, because I've completely given up on any pretense whatsoever that the V-Strom is off-road capable.
I do feel like the quicker turn-in, faster lift-up and the difference in feel on the gravel is a direct result of the narrower, "point-ier" profile of the Tourance Next front tire. As for that sci-fi tread pattern, well, who knows if it does anything, pro or con?
Notes on the Metzeler Tourance Next Rear Tire
In contrast to the front, the rear Tourance Next does feel "planted" and provides all of the traction of the Bridgestone.
But, I do think it contributes to what is probably the most noticeable quirk with these tires on the V-Strom — what I'd call "trailing throttle oversteer".
When I enter a (not too sharp) turn, if I roll back the throttle, the rear end of the bike feels like it continues going to the outside of the turn, even after the front takes a set.
I only vaguely noticed this at first and only on occasion, but it was pretty scary. I don't often change the throttle setting once I'm committed in a turn, so it didn't happen often and I wondered if I was imagining it or not.
But after it happened a few times, I started to try and deliberately make it happen in an attempt to figure out what was going on.
That's when I discovered that it only happens on trailing throttle and only in a mild turn, with the bike leaned over maybe about 10 degrees or so.
Once I discovered that I could initiate the feeling, I actually rode the bike into the garage and checked the torque settings on the front and rear axle bolts, just to make sure something wasn't loose! There wasn't…
During the next few rides, I experimented with many different lean angles, throttle settings, throttle changes in the turn and weight distributions to get to the bottom of this.
I was thinking it might be some strange mis-match between the V-Strom and the new tires — which can easily happen because modern motorcycles can be optimized for a specific brand and model of tire.
After a lot of doodling around and experimenting, I discovered that this quirk only arises when the throttle is rolled off during a lean. Once I understood what was happening, it wasn't as scary as it was originally and this characteristic can actually be useful in tightening up the cornering once committed to a turn, if necessary.
But, I'm sure some owners will not like this feeling at all. It reminds me very much of the "Gummi Milchkuh" (rubber milk cow) "hinged in the center" handling characteristic familiar to '70's era BMW Airhead owners.
In trying to figure this out, I do think the quirk may be caused by the long vertical sipes in the Metzeler Tourance Next rear tire.
You can see in the photos that these long sipes are placed so that they will be encountered just about when the bike is at a 10 degree or so lean.
I almost feel like hitting the long sipe is what causes the oversteer but I haven't heard of this happening with other bikes that have the Tourance Next tires.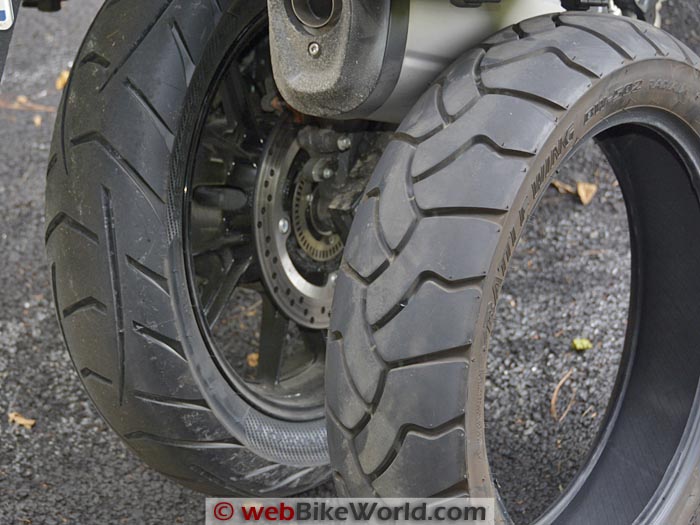 Also…
A couple more things I have noticed: the Tourance Next tires seem "harder" than the Battle Wings and they don't seem to smooth out the small road imperfections as much.
In other words, the Battle Wing tires feel more plush.
The Tourance Next tires follow rain grooves and pavement cracks more readily than the Battle Wing tires; again, I chalk this up to the sharper "pyramid shaped" tire profile of the former.
And finally, there is a slight high-frequency vibration through the bike and the handlebars that seems to come from the Metzelers. It starts around 100 KPH and I never noticed this before with the Bridgestones.
Again, all of this may be specific to the way the Tourance Next tires perform on the 2014 V-Strom 1000 ABS only. With other motorcycles, "Your mileage may differ".
Conclusion
It took me several hundred miles to get used to the Tourance Next tires on the V-Strom, which is much longer than it usually takes me to become familiar with a new set of tires.
The tires have a lot going for them; the V-Strom definitely handles more responsively and it's noticeably easier to initiate a turn and to pick the bike up when the turn is completed.
The side-to-side transitioning is also much quicker and more responsive than it was with the stock Bridgestone Battle Wing tires mounted and that's something I was hoping for.
However, these changes — and the oversteer quirk — may be too much for some owners.
At this point, I'm planning on keeping the Tourance Next tires on the V-Strom for the duration. That was doubtful at first until I fully understood how these tires work on this bike.
I'm interested in hearing from other 2014 V-Strom 1000 ABS owners who have replaced the stock Bridgestone Battle Wing tires with the same or with other brands.
w

BW

 Review: Metzeler Tourance Next Tires
List Price (2014): $197.95 – $276.95
Review Date: September 2014
Note:
 For informational use only. All material and photographs are Copyright © webWorld International, LLC since 2000. All rights reserved. See the webBikeWorld® 
Site Info page
. Product specifications, features and details may change or differ from our descriptions. Always check before purchasing. Read the
Terms and Conditions
!
Owner Comments and Feedback
---
From "P" (May 2016): "Thanks for the review. Firstly, I should say I am an experienced rider with 35 years of road and dirt riding.  Like you have I owned many bikes, including the DR650.
Currently I ride a V-Strom 1000 and absolutely love it for many of the reasons you initially didn't. I find the engine particularly tractable and a blast.
However, on to the tire review: My only complaint with the Bridgestone Battlewings is an unfair one: they're noisy.
I didn't buy the V-Strom for any off road use at all: like you I firmly believe that anything over a 650 is fundamentally contrary to tackling gnarly trails, so I ride a Husaberg 390 for the dirt with sub 10 psi pressures in tubed tires; try doing that on KTM 1190, GS1200 or VStom1000!
I bought the big V2 Strom for touring the road exclusively, after having enjoyed the 2013 WeeStrom650 immensely, and test riding the 1000, I decided it was a bike I wanted (apart from the god-awful screen — again we disagree!).
I rode the Weestrom through some incredible down pours a couple of years ago, and the Battlewings it was shod with were superb at pumping out the water and keeping the bike rock solid on the twisties of SR20 in Washington State.
Consequently, I will use the Battlewings on the big Strom until they are worn and then move on.
I find the Battlewings to be plush, rock solid in the turn and quick enough to initiate. I have ridden lots of bikes, and perhaps the worst was the Kawasaki H1 3 cylinder 2 stroke widowmaker.
It was awful, and my one abiding memory of it was the heart stopping "hinged in the middle" feel when cornering at speed.
Various other mid 70s Japanese and early 60s British bikes had the same feel: they gave you a warning that you were flirting with a wallow, headshake or terminal high-side if you pushed any harder.
So the idea of shodding my V-Strom with the Metzlers is most definitely out.
The other thing that would make me leery about the Metzlers is the hardness you mention. Tires get harder with age, and, although it isn't a direct correlation, harder tires usually mean less grip, particularly in the wet. I value grip (and my life) much more than tire longevity.
As I come from a dirt background, I am used to a set of true knobbies lasting only a few hundred, maybe a thousand km (not miles). So replacing road tires every 3-8 thousand KM is nirvana for me.
The other thing I have learned is that I am an aggressive rider, probably because of my dirt background. On the road I aggressively countersteer and shift weight on the pegs. Perhaps this is why I find the 2014+ V-Strom 1000 to be lively enough for me?
Although, I agree with you, that the factory settings on the suspension are too firm. I find the suspension very good though.
After having read many reviews, and knowing that I won't be taking this bike off-road at all, I am heading in the direction of Michelin Pilots for exclusive road use. We'll see."
---
From "G.F." (October 2014): "I replaced my Bridgestones with Shinkos and your review exactly reflects my Shinko experience! Thanks for the review. My biggest dislike with the Shinko is the less than plush ride compared to Bridgestone.
Like you, I've not determine the mileage but the Shinko prices are a super deal. Keep the rubber side down, 06′ DL1000.
I forgot, the serious problem about the Shinkos on my DL 1000 — the closest size front tire is with a 90 sidewall which leaves the front leading edge of the fender with only 1/8″-3/16″ clearance. I live one mile on a gravel road, the center groove catches small rocks which click as the tire rotates until I hit pavement and throw it out with speed.
Additionally, this wears the fender thin from the grinding(the fender has a larger clearance at it's backside closest to the exhaust and gradually reduces to its front pressing in the small gravel-sometimes these small rocks don't throw out until 60+mph)."
Editor's Reply: I always recommend going with the manufacturer's recommended tire widths, speed ratings and sizes…