Manufacturer's Information
Category:  Motorcycle metal cleaner & polish
Type:  Plastic Bottle, 8 oz. & 16 oz.
Manufacturer:  Metal Master/Britemax
Made In:  U.S.A.
Retail Price: $14.95/$24.95
More Britemax Products:  Britemax Black Max Swirl Remover  | Britemax Review Intro  |  Britemax Metal Polish  |  Britemax Spray & Shine  |  Grime Out
Claims – "Metal cleaner for multiple types of bare metal surfaces."
For Use On – Aluminum, brass, copper, magnesium, gold, silver and blended metals.
Claimed Features – "Cleans light to heavy oxidation easily…"  "Removes harsh staining from stainless steel. Removes surface rust from chrome quickly."  "…contains a combination of solvents, chemicals that react to break down oxidation…"  "…quickly remove most surface problems…"  "What used to take hours to clean with most currently available metal cleaners can be done in minutes with relative ease and amazing results."
Application –  Shake well.  Apply and rub in with medium pressure.  Allow to dry to a haze and buff out with separate cloth.  Apply twice to aluminum.  Use Final Shine for final polish and sealant.
Our Opinions
More:  Owner comments comparing Metal Master with other chrome polishes on the Blue Diamond polish page.   |  wBW YouTube video:Cleaning and Polishing Chrome Wheels With Noxon and S100 Polishing SoapMetal Master Easy Cut and Final Shine look, feel and smell different than any of the similar types of products that we've tried.  Their purpose is to polish bare metal or chrome and the formula includes some precipitates, so the bottles must be shaken thoroughly prior to and during application.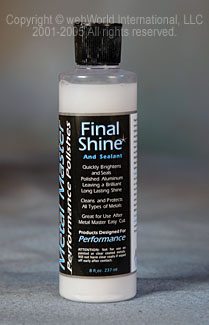 They use petroleum distillates, which apparently endow them with better cleaning properties than other metal polishes, but which also give them a heavy chemical smell.  We recommend using these products in a well-ventilated area!
Although we still haven't found a "rub on buff out" product that will restore bare semi-rough oxidized aluminum castings, such as cylinder heads and engine casings, Easy Cut and Final Shine do a remarkable job on most bare metals, especially aluminum.
The liquid is very thin, so a little will go a long way.  It doesn't take much effort to apply either product.  They seem to produce an outstanding shine on chrome and aluminum, two of the most common metals used on motorcycles.
Easy Cut is designed to clean light to heavy oxidation, while Final Shine and Sealant can be used alone as a metal cleaner and polish to remove light oxidation on chrome and stainless steel or as a follow-up after an initial treatment with Easy Cut.
We found Final Shine to be the fastest and easiest to use chrome polish of any that we've tried, and it produces an outstanding shine on most metals, especially chrome exhaust pipes and aluminum pieces.  We were not able to remove exhaust pipe bluing with either product, but they were not explicitly designed for that.
Final Shine leaves a slippery, "waxy" feel on the chrome that we assume is the claimed protective finish.  The metal parts that we treated developed a deep shine very quickly.
We did notice that it isn't as effective on some metals (albeit with unknown properties), such as the metal body of a Progressive shock absorber.  We're not sure if the shock absorber body is made from aluminum or if it's clear-coated, but the deep shine effect wasn't as noticeable as it was on mufflers and other chrome bits.
We created a new category, called "Chrome/Aluminum Polish" in our "Best in Class" list for this pair.
Score:  5/5
Note:  For informational use only.  All material and photographs are Copyright © webWorld International, LLC – 2000-2011.  All rights reserved.  See the webBikeWorld® Site Info page.  NOTE:  Product specifications, features and details may change or differ from our descriptions.  Always check before purchasing.  Read the Terms and Conditions