Motorcycle Jacket & Pants Review Summary
Motorcycle Jacket & Pants Image Gallery
Can there ever be too many choices for warm weather clothing?  I'm not sure if the "perfect" mesh combo exists just yet, but the evolution of the technology to produce these materials will surely give us more options.
The mesh motorcycle clothing phenomenon is relatively new, but the basic mesh jacket has evolved beyond the novelty stage and is now readily available, so what's next?  What new mesh products will the manufacturers develop to help distinguish themselves from the competition?
The shorter length mesh jacket has proven to be very popular.  It's design is based on the traditional leather Sportbike jacket, and they've been offered at prices low enough to attract many takers.
Matching mesh pants don't seem to be as common for some reason.  Some manufacturers of mesh jackets don't even offer matching pants, and others offer pants with uninspired features and styling.
Mesh clothing has both revolutionized and revitalized the warm weather motorcycle clothing market.  Mesh has become my favorite summer outfit and in the hot and sticky climate I live in, it's extended my riding season by providing comfort on days when I wouldn't think of riding in leather.
But if I had a wish, it would be for a high-quality, cool-looking mesh jacket and pants outfit that's equivalent in both style and protection to a set of leathers.  Add a full-length zipper attachment between the jacket and pants and a full set of armor and I'd be very happy.
One would think that there is also a market for a mesh jacket and pants outfit designed with the touring rider in mind.  The 3/4-length "enduro" styled jackets are very popular with touring and adventure bike owners, so why a mesh jacket in that style isn't yet available is a mystery.
The Roadgear "AirTek" mesh jacket and pants is a step in that direction.  The design and the fit of this matched set bridges the gap between snug-fitting sportbike wear and the 3/4-length touring jacket and pants combinations.
The AirTek jacket is stylish without being too "boy racer", it's comfortable for touring, and its zip-in nylon liner also makes it suitable for use when the weather turns cool.  The matching AirTek pants are made almost entirely of mesh fabric.  They look and feel like a mesh version of a comfortable pair of relaxed fit cargo jeans, complete with slash-cut front pockets, belt loops and even a coin pocket.  And yes, they also have those big cargo holds attached to each leg.
The Roadgear brand has been with us for many years and is well-known and accepted in the motorcycling community.   Mansoor Shafi, Roadgear's founder and owner, has made huge numbers of friends over the years through his interactions with his many customers and his regular attendance at more motorcycle rallies and events than I can count.  His products are tested and proven in the real world and it shows in the thoughtful designs.
Roadgear's product line now includes accessories, luggage, gloves and leather, in addition to the familiar Roadgear selection of clothing.  The Roadgear website has recently been updated, and the new AirTek line of clothing is a featured addition.  The AirTek jacket and pants have several unique features that distinguish them from the competition.
The Roadgear AirTek Mesh Motorcycle Jacket

The primary purpose of mesh motorcycle clothing is to offer a minimum level of protection for the rider while also providing good air flow in hot weather.  Heavy motorcycle riding leathers and windproof textiles offer very poor air flow, which meant that motorcyclists were riding without protective gear in hot weather.
The first generation of mesh motorcycle jackets were characterized by a very open weave that looked like they'd make good fish nets.  It became apparent that a completely open weave isn't really necessary for good air flow — after all, air molecules can squeeze through some very small holes.
An open weave has a greater chance of getting caught on something during a slide. So the second generation of mesh fabrics used a tighter weave, which provided the theoretical benefit of better performance during a fall and slide.
The ideal protective clothing would allow the fallen rider to slide and come to a reasonable stop without tumbling, because tumbling can cause broken bones.  But reduce the friction too much and the rider may slide too far without slowing down, which can be just as dangerous.
Mesh motorcycle clothing has been great news for riders who want at least a minimum amount of protection when riding in hot weather.  But when you think about it, a completely open weave really isn't necessary to allow air to flow through, especially at speed.
The AirTek jacket feels more substantial than other examples of mesh motorcycle clothing we've seen.  I'm not sure if substance equates to higher levels of protection, but with the lack any scientific proof, subjectivity is all we have.  The jacket weighs about 2 kg (4.4 lbs.) with the liner, and 1.5 kg (3.5 lbs.) without.
The AirTex jacket uses a tightly woven but breathable mesh fabric called "MaxTex" that on close inspection looks like tiny chain mail in a herringbone pattern.  The knit gives the fabric a 3-dimensional look; the woven links appear to be raised off a flat backing.  If the jacket is held up to a light source, the mesh appears opaque when looking from the outside in, but open when viewed from the inside out.
It would be nice to find a scientific analysis comparing mesh fabrics with leather and other textiles, but we're not aware of any studies that have been commissioned.  Some motorcyclists find it difficult to believe that see-through mesh fabric can offer any protection during a fall.  If you're one of them, perhaps you'll be convinced by the opacity of the AirTek's mesh material.
Even though the AirTek's mesh is more tightly woven than other types, the jacket still provides a large volume of air flow.  The chest and back areas are primarily composed of the MaxTex fabric, while the back of the arms and the shoulders covered in non-mesh, windproof textile.  We've had a run of 32-degree C (90 Fahrenheit) days recently with high humidity, but the AirTek's mesh seems to be located in just the right places to offer a cooling breeze when riding.  The non-mesh fabric around the back of the arms, which covers the elbows and shoulders, doesn't seem to affect the jacket's ability to keep the rider cool.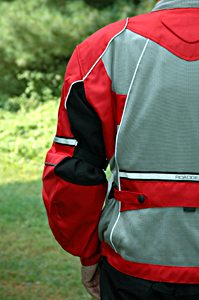 The front of the jacket has two slash pockets with zippers and nice, big rubberized zipper pulls.  The pockets open to about 175 mm  (~6-3/4″, all inch measurements approximate) and 205 mm (8″) deep.
The pockets are lined with nylon, and the zipper travels upwards to close the pocket, hiding in a little rubberized "zipper garage", which is a nice detail.  Quality YKK zippers are used throughout, and the pocket zippers are covered by fabric in a contrasting color to the silver mesh.
The back of the jacket has a hidden pocket down around the kidney area that's about 170 mm (6-3/4″) wide by 170 mm deep.  It's covered by a textile flap that has three snaps which are also used to cinch the waist.
This pocket is designed for carrying the attached nylon jacket liner, but it also can be used to carry a pair of gloves or other items.  Our advice is to avoid carrying anything hard in any motorcycle jacket or pants which might cause injury during a fall.
All of the fabric sections that make up the jacket are sewn using single-needle stitching, and our example had no hanging threads or misaligned stitches, which give the jacket a quality appearance not often found in mesh apparel.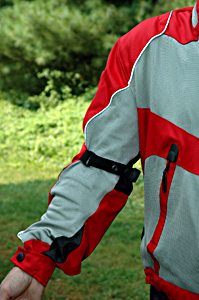 Inside the left jacket breast area is a pocket that opens with a zipper to about 130 mm wide (5″) by 150 mm (6″) deep.  This should be adequate for holding a wallet or ID.  The right internal breast pocket appears to be designed to house a thin mobile phone; it opens to about 50 mm (2″) wide, 140 mm deep (5-1/2″) and it's expandable to about 50 mm (2″).  It has a flap that secures via a "hook and loop" fastener.
The collar is covered in a very soft velvet-like material and is comfortable next to the skin.  There's an additional 140 mm long (5-1/2″) lined flap just behind the top of the neck in front, which helps keep a draft from the rider's neck.  The neck closes with a single snap; there's no provision for adjustment, but it seems to have enough room for even the thickest sized neck.
The jacket's cuffs also close via a snap, with three positions for adjustment.  When closed, the cuffs have a minimum of extra material, which allows them to fit inside the gauntlet of most motorcycle gloves.  The outside of all of the snaps are covered with a rubberized material to help prevent scratches.
The inside of the jacket includes a permanently attached perforated nylon-type full length lining.  Each AirTek comes with a windproof liner that attaches using a single zipper that travels up one side, across the back of the neck and down the other.
The liner has two snaps at the bottom of each arm, and it's fairly easy to remove or insert.  The outside of the liner seems to be treated with some type of rubberized coating, but Roadgear makes no claims on its website as to its water resistance or lack thereof.  The liner is effective at blocking the wind, making the jacket useful in a wide range of temperatures.
The AirTek jacket includes CE-approved firm padding in the elbows and shoulders and a full-length softer foam padding in the back.
The styling of the jacket is contemporary and not overdone.  The AirTek jacket sizing seems to run slightly large, and the jacket also has a loose fit, similar to that found in a 3/4-length Enduro-style jacket.  This may be desirable for touring riders, but based on our example, you may want to consider one size smaller than normal.  Riders carrying a few extra pounds and who have experienced trouble finding motorcycle clothing that isn't too snug may find that the AirTek line is perfect.
The arms have adjustable cinch straps to keep the extra fabric from flapping in the breeze and to help keep the elbow padding in place, but the padding remains relatively loose even with the arm cinched to its maximum on our example.  The jacket does not have any provision for attachment to the pants.
The AirTek jacket is available in a Red/Silver or Black/Silver combination in sizes 38-52 and S, M and L women's sizes.  There's lots of Scotchlite reflective piping, and the jacket shows up well when illuminated at night.  Roadgear also offers a 3-year warranty on this product.
 Roadgear AirTek Mesh Motorcycle Pants

We're not sure why mesh motorcycle pants don't seem to be worn as frequently as mesh jackets.  It may be because there simply haven't been very many good designs available.
Some manufacturers have taken versions of their textile or Cordura pants and adapted them for use with a mesh jacket, but there just doesn't seem to be much enthusiasm for making a truly great pair of all-mesh pants.  Roadgear's AirTek pants are one of the few 100% mesh designs available; hopefully, this will start a trend.
If you own a comfortable pair of relaxed-fit jeans or cargo pants for the street, you'll probably feel at home in the these.  The cut and style of the AirTek pants was apparently modeled directly from street wear, right down to the small details like a change pocket that lives above the right-hand slash cut pocket.  Slide out the knee and hip padding and no one would know that these pants were made for motorcycling.
The loose fit is comfortable, but like the AirTek jacket, it seems to have been developed for touring rather than scratching the back roads on a sportbike.  The AirTek pants also use the MaxTex mesh fabric, which gives them a comfortable feel that's reminiscent of something like a cross between cotton and polyester.
The wide belt loops on the AirTek pants will hold a 1-1/2″ (37 mm) belt, and the waist closes with a button similar to that found on a pair of jeans.  The two slash-cut front pockets are about 140 mm wide and deep (5-1/2″), and the right pocket also carries the typical jean-style change pocket.
The backside of the pants have two straight cut jean-style pockets; each about 140 mm wide (5-1/2″) and 150 mm deep (5-7/8″) at the center.  These pockets even have the typical "V" shaped stitching sewn onto the outside, which reinforces the idea that the AirTek pants were meant to duplicate both the look and the comfort of street wear.  There are also two small pieces of removable soft padding on either side of the hips.
One cargo pocket is located on the outside of each thigh.  The cargo pockets are huge, measuring about 150 mm wide (6″) by 220 mm deep (8-3/4″), and they have expandable sides that allow them to open to about 75 mm (3″) at the top.  Each pocket has a flap secured by two snaps which are coated with a rubberized material.
The AirTek pants are sold in exact waist sizes, from 28-34 for women and 30 to 42 for men.  The leg length, regardless of the waist size, is 36″ (91.5 cm).   The legs are designed to be hemmed to length by the owner.  This is actually a useful feature, because the owner can custom-tailor the legs to fit exactly to their individual specifications.  The downside is that the owner will have to pay to have the pants cut and hemmed to length.  Remember that riding pants are usually about 50 mm (2″) or so longer than street pants to account for the riding position.
Depending upon the rider's inseam length, the standard 36″ inseam on the AirTek pants can result in an incorrect position for the knee armor, because the armor is located in a fixed position.  The knee padding on our 36″ waist AirTek pants starts at a distance of 30 cm (1 ft.) from the crotch and extends down about another 30 cm.  I have a 30″ (76.2 cm) inseam, which means that the padding starts below my knee and covers my shin.
A single inseam length probably decreases the overhead for the manufacturer and retailer, and that's fine, but it would be nice to have some provision for adjusting the padding to fit a wide variety of leg lengths.  This could probably be relatively easy to do by using a series of hook and loop fasteners inside the pant leg that would allow the owner to adjust the location of the padding.
We're big believers in using soft backed hard armor, but to be honest, the AirTek pants would probably more successful without the padding.  If padding or armor isn't robust enough to offer much protection, and if it doesn't stay in place during a fall, it's value is debatable.
We think the pants would also be just as successful with a tighter cut, although heavier riders will probably disagree.  The bottom line is that the pants offer plenty of room, and if you've found that most motorcycle clothing is too tight no matter what the size, you'll probably really enjoy wearing these.
Conclusion
The AirTek mesh jacket and pants are well-made and have contemporary styling.  The build quality and the quality of the materials is very high.  Both the jacket and the pants offer very good air flow, and the pants are one of the few all-mesh designs available.
The fit of both the jacket and pants is more relaxed than normally found in this type of motorcycle clothing, but this may be a benefit to riders who don't have the body shape for tighter fitting sportbike designs.  Touring riders who spend lots of time in the saddle may also find that the relaxed fit is perfectly satisfactory.
wBW Product Review:  Roadgear AirTek Mesh Jacket – AirTek Mesh Pants

Available From:  Roadgear
Suggested Retail Price:  Jacket $169.90; Pants $139.90.
Colors:  Red/Silver, Black/Silver, Black Pants
Made in:  Pakistan
More:  

w

BW

 Motorcycle Clothing Page
Note:  For informational use only.  All material and photographs are Copyright © webWorld International, LLC – 2000-2011.  All rights reserved.  See the webBikeWorld® Site Info page.  NOTE:  Product specifications, features and details may change or differ from our descriptions.  Always check before purchasing.  Read the Terms and Conditions!
Owner

 Comments and Feedback

Comments are ordered from most recent to oldest.

Not all comments will be published (

details

).  Comments may be edited for clarity prior to publication.