Melting tar which caused a least one motorcycle accident on famed Mt Glorious behind Brisbane has been identified in several new areas and is now being treated thanks to lobbying by a group of local riders.
After several months of pressure on State MPs and the Department of Transport and Main Roads, Motorcycle Advocacy Group spokesman David White says the original problematic 160m section of Northbrook Parkway on the western side of the mountain is now "safer".
However, TMR has now identified other areas on Northbrook Parkway and across Mt Glorious Rd that have similar "bleeding" tar problems.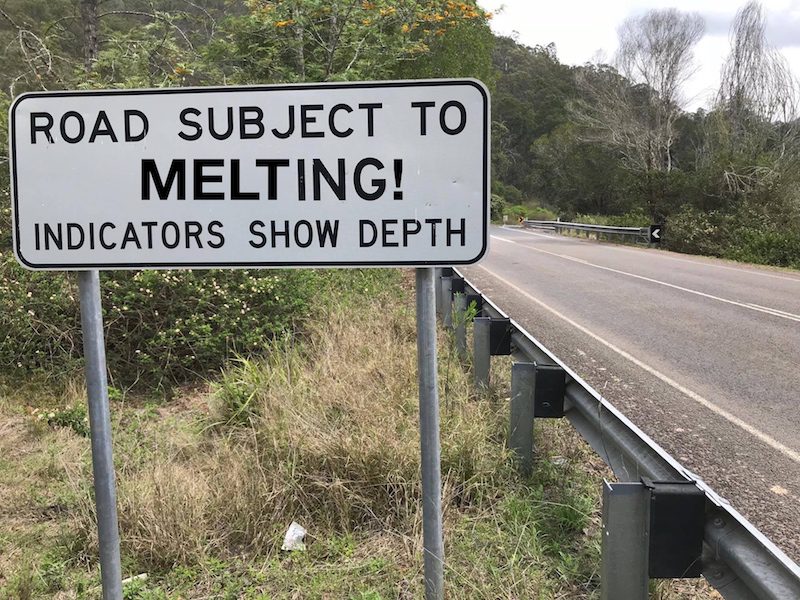 In an email to David, department spokesperson Leah McKenzie says their contractor has continued to monitor the bitumen seal on the other sections of Mount Glorious Road:
We identified that the seal is now showing signs of bleeding in other areas, with high daytime temperatures contributing to the problem.

On 5 January 2018, extra signage was placed in both directions on Mount Glorious Road and the speed limit was reduced from 80km/h to 60km/h to alert motorists of the changed conditions.

On 8 January 2018, during night works TMR's contractor conducted surface texturing on Mount Glorious Road to treat some areas of bleeding seal. I can report that this work had some success in treating the bleeding seal, and improving overall grip on the road surface.

Further surface texturing was conducted during night works on 1 February 2018.

I am pleased to advise that more surfacing treatment works are planned for the coming fortnight.

In the meantime, TMR's contractor is on site daily, monitoring the road temperature and water trucks are being used to cool the road surface to prevent further excess bleeding of the seal until the final treatment is completed."
David says MAG appreciates the high standard of remedial work done on the Northbrook Parkway.
"I have spoken to many riders and drivers who have used this road since the remedial work has been completed and they are all very pleased with the results," he says.
"The Northbrook Parkway is now considerably safer than it was prior to road works commencing."
The result and the ongoing work shows how persistent and responsible rider advocacy can reap rewards.