Melbourne City Council plans to restrict motorcycle parking on footpaths near train stations and on narrow streets and increase street parking.
The plan to "free up space for pedestrians" will turn 36 car street car parking spaces into 151 free, unmetered motorcycle spaces.
Under the "Managing motorcycle parking on overcrowded footpaths" plan, motorcycles would be prevented from parking on footpaths on either side of the road in these areas:
Sections of Little Bourke, Little Collins Streets and Flinders Lane to create more space in the City's narrow Little Streets; and

Sections of Flinders, Collins, Bourke and William Streets to create more space around Flinders Street Station, Southern Cross Station and Flagstaff Station.
Street parking offset
Victorian Motorcycle Council former chair Professor Richard Huggins, who attended a discussion of the plan in November, says the pavement areas scheduled for restriction were well researched.
"The Council had done a survey of the areas to determine how many motorbikes were parking there and plan to put in that many on street spots," he says.
"And as they pointed out at the meeting plenty of nearby streets have footpath parking. Remember we can only legally park on the footpath if we don't obstruct people.
"To some extent the problems come from riders commuting into the city and parking on a clear footpath at 7.30am say that becomes very crowded closer to 9am and at lunchtime.
"As far as I know Council haven't been fining people for this as it's a bit of a legal grey area and so far we've been given the benefit of the doubt.
"Council have a difficult job managing the footpaths in the CBD as usage changes and most of the footpath furniture is under review, not just us.
"They could easily have gone in heavy handed but have consulted and negotiated and we appreciate that. The real battle may be yet to come."
Future pavement cleanup plans include other street obstructions such as bicycle hoops, cafe furniture and possibly even trees.
The plan will be considered by the Future Melbourne Committee on Tuesday evening (18 February 2020).
Council responds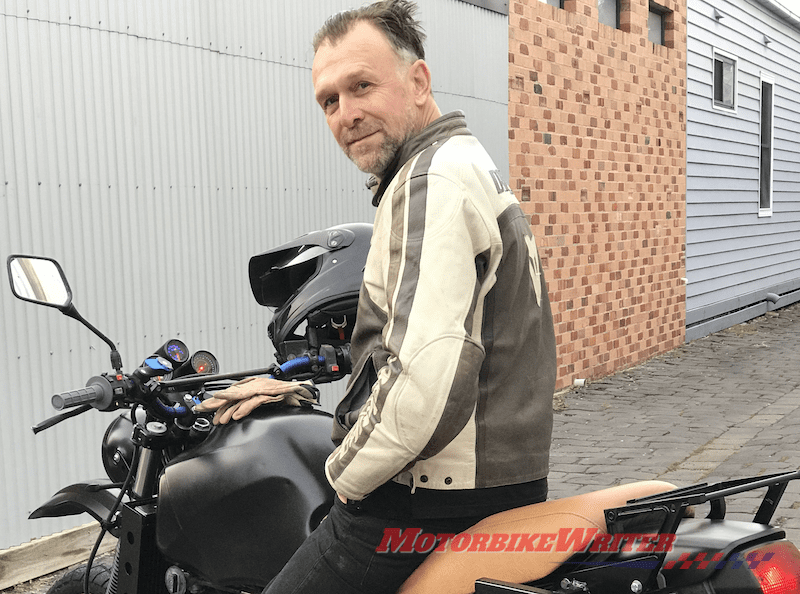 Transport Portfolio Chair Councillor Nicolas Frances-Gilley said Victoria is the only state in Australia that allows motorcycles to park on footpaths under the road rules.
"We welcome motorcycles to the city, but as our city becomes increasingly busy we need to reduce overcrowding on certain busy footpaths," says Cr Frances Gilley.
"If the plan is endorsed, the areas where motorcycles would no longer park will be clearly signposted and correspond to the areas where we're creating motorcycle parking spaces.
"While a motorbike or scooter might not be in the way when it first pulls up early in the morning, a row of motorbikes parked throughout the day can create a real hazard during the commuter and lunch rush when people are often forced onto the road to get past. Overcrowding creates a real challenge for people with reduced mobility and those using wheelchairs.
"We're creating more safe space for people and providing an alternative place for motorcycle riders to park. As a rider I understand the need for dedicated motorcycle parking and I look forward to using it."
Encourage riders
Victorian Motorcycle Riders Association spokesman Damien Codognotto says riders should be encouraged into the CBD, not discouraged.
He says council has removed off-street and on-street motorcycle parking in recent years with little on-street and no off-street replacement.
Damien also says council's failure to educate new riders, couriers and fast food delivery companies about footpath rules "puts pressure on our footpaths".
"This pressure is not the fault of riders who commute and/or visit the CBD; it is the fault of city planners," he says.
"With the number of students, residents and visitors increasing and car parking space decreasing, Melbourne has failed its current rate payers.
"Failure to plan for population increase, which means many more motorcycles in and around Melbourne means major CBD problems for both riders and pedestrians in the city."