Melbourne's famous Elizabeth St motorcycle precinct is dwindling as shops close and move online to reflect the current trends of riders shopping on the web rather than in shops.
Modak Motorcycles is closing shop and moving its business totally online while Spot On Motorcycles is moving out of Elizabeth St to Hoddle St to bigger and cheaper premises.
That leaves only Mars Leathers, Yamaha City and Peter Stevens in the original motorcycle precinct which was a major part of Australia's motorcycle history.
Modak history
Modak Motorcycles began in 1903 and is one of the oldest small businesses in Melbourne city.
It was bought by the Beanham family in 1955 and Mrs Jean Beanham worked there  right up until her death in 2016 aged 91.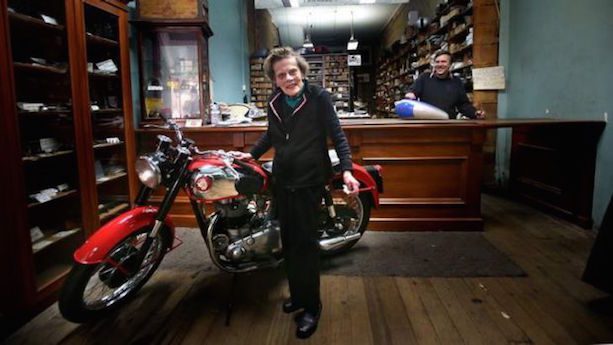 She received a Lord Mayor's platinum award for 50 years of service to the city.
Her son, David, 62, has also worked there since he was a kid too small to see over the counter.
He says riders don't go out to shop anymore, using online instead.
So his business will continue but only online.
He blames the rise in land taxes for their move. Their premises will be leased out.
Spot On history
Spot On Motorcycles was rented about 40 years ago by motocross racer Jack Pengally from Modak.
"The city is changing," says Jack.
"I love the city, but the land tax has increased so it's now too expensive.
"There is still some walk-in traffic, but there is that much construction work around so it is hard to get into the city.
"Also online has become a bigger part of the business over the past 15 years. We have everything on line.
Elizabeth St history
The first motorcycle shop in Elizabeth Street, and probably Australia, was opened by the Milledge Brothers in 1903.
Elizabeth Street is built on a creek and was the place to catch a coach to the gold fields in the 1800s. It then became a gathering place for horsemen and riders.
It was also a recruiting place for riders for Victoria's WW1 motorcycle regiment. Riders took their own bikes to war.
After WW1 it became a social hub for the motorcycle community when motorcycle competition was a huge spectator sport in Melbourne. Harold Parsons blew the world away on his Indian.
After WW2, Elizabeth Street boomed with prosperity as new bikes became available.
In the early 1980s the original Motorcycle Riders Association established its headquarters there.
This was a time when riders' rights were important. Just one of the legacies from those years is Victoria's footpath parking law.
In 1988 it hosted the Bicentenary MRA TOY RUN with World Champion Wayne Gardner on stage.
In 2003, the Centenary of Motorcycling was held in Elizabeth Street with a motorcycle on display from each year since 1903 courtesy of the Veteran, Vintage and Classic Clubs.