MECUM AUCTIONS MONTEREY 2011 –
200 CLASSIC MOTORCYCLES ON THE BLOCK
Mecum Auctions put on one heckuva show, this past Thur-Sat, August 18-20 in Monterey CA at the gorgeous Hyatt Regency Hotel & Spa. On the lush, sprawling grounds of the Del Monte Golf Course, over 600 classic cars & trucks lined up to be auctioned off, over the course of the 3-day sale. Starting at 2:00 pm on Thursday, Mecum Collector Car Auctioneers rolled 200-some gorgeous Classic Motorcycles across the auction block. All of this while the legendary Concours d'Elegance car show was being held at nearby Pebble Beach.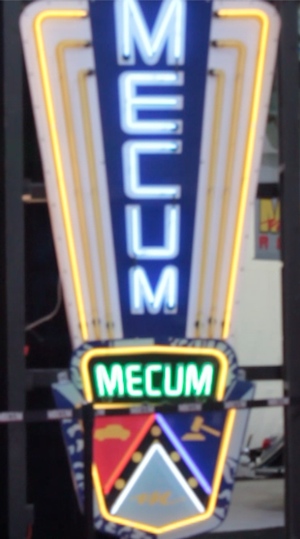 NEW GROUND FOR MECUM
This MECUM AUCTIONS MONTEREY 2011 event is a first for the 25-year-old classic car auction firm. Until now, as the name implies, they have been concentrating primarily on classic & collector cars. Started by Dana & Patti Mecum on their dinnner table in Marengo, Illinois in 1986, the company has grown over the years. They went from hand-writing all their sales invoices to doing 12 auctions a year today. Projected to sell 9,000 lots this year alone, with 10,000 expected for 2012, they're poised to expand into more than just classic muscle cars & foreign exotics. Over the years, they've had classic motorcycles sprinkled in among all the cars they were auctioning of, but at this Mecum Auctions Monterey 2011 sale, they put together a dedicated half-day auciton just for classic bikes. But, that's not all: They are now selling boats (and had some lovely mahogany CrisCrafts on display), vintage aircraft, even vintage tractors. Their auction show is ready to start their fifth season on HD Theater & the Discovery Network. Sounds like they're on a roll!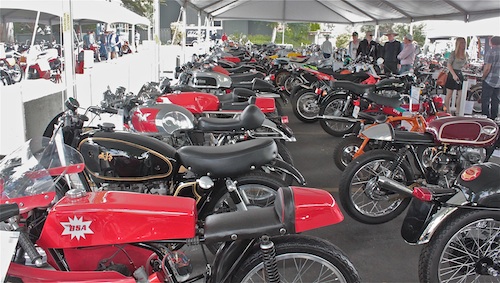 MECUM AUCTIONS MONTEREY 2011 –
A $30 MILLION SALE
Counting the 600 cars, boats, etc. & the 200 classic motorcycles, Mecum Auctions Monterey 2011 is expected to break $30 Million in sales over the 3 days. Expect more & bigger Classic Motorcycle Auctions from Mecum Auctions in the future.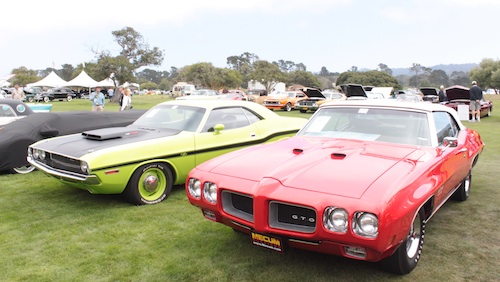 LIFE'S A CAR SHOW…
As is the case with any large classic car auction, you can really enjoy one fantastic car show. That is if you're not a buyer or a seller at the sale, because then you can never relax. But, I was neither, although I was hobbling around in a cast on my fractured right foot. Mecum Auctions was nice enough to provide me with a golf cart driven for me by my personal valet. It was very nice & they took great care of me. As you may recall, I have an extensive background in the classic car business & I love to look at them. Oh, and I also have a website very much like this one about muscle cars.  Please check it out sometime: www.american-muscle-cars.net
So, Let's Look at some Bikes, already!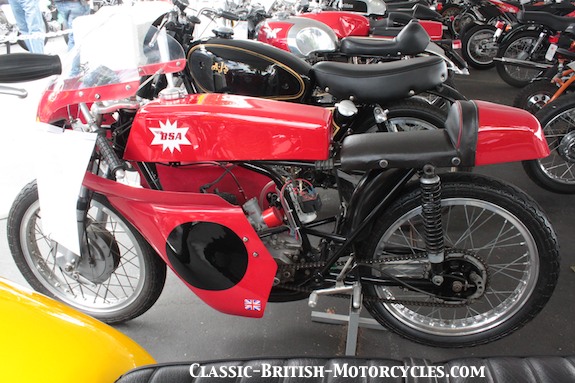 1960 BSA BANTAM 250 ROAD RACER – SOLD FOR $5,000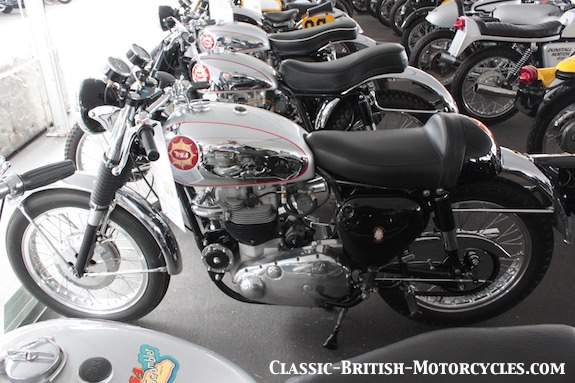 DID SOMEONE SAY BSA? WE GOT A TON OF 'EM!
Front: 1962 BSA Rocket Gold Star – SOLD $18,000
Middle: 1963 BSA C15 250 Scrambler – SOLD $14,000
Back: 1957 BSA DBD34 500 Gold Star – SOLD $27,000
Seeing all those gorgeous Beezers all lined up in a row, with matching paint, it did the heart good. As do those prices…if you're a seller.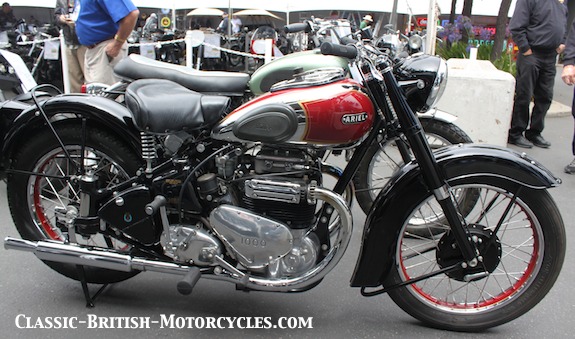 1948 ARIEL SQUARE FOUR – NO SALE, BID TO $23,000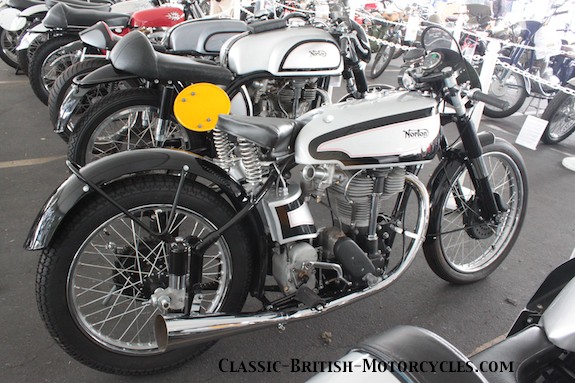 A LINE OF NORTON MANXES – A SIGHT TO BE SEEN!
The front one is a 1949 Norton Manx OHC with a "Garden Gate" Frame, SOLD for $31,000.As you can see, the Mecum Auction Monterey 2011 was as good as most Classic Motorcycle Shows.
…AND ONE MATCHLESS AFTER ANOTHER…
This front one is a 1956 Matchless Matchless G-45 500cc twin Road Racer. It sold for $40,000.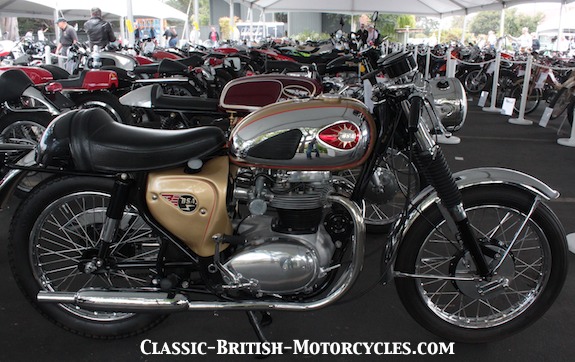 This drop-dead gorgeous 1966 BSA A65 LIGHTNING CLUBMAN SELLS FOR $17,000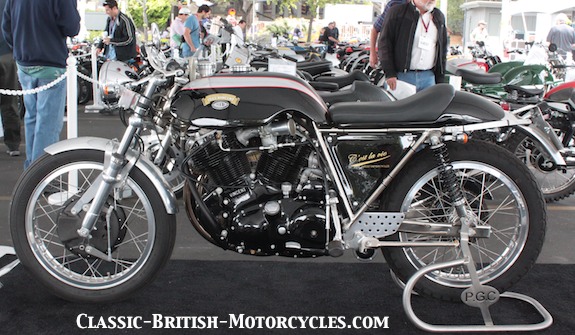 This amazing EGLI- VINCENT WAS BID TO $47,000 & DIDN'T SELL!
MECUM AUCTIONS MONTEREY 2011…WHAT A DAY!
While the weather was foggy & cold, at least it wasn't hot. The auction itself was a blast, with lots of noise & excitement. While bidding wasn't furious, it was healthy enough to bring good prices & a strong sales ratio. Now that Mecum Auctions is going to be doing more classic motorcycle auctions, I'm sure I'll be there. Their friendly, professional staff made me feel welcome & accommodated me nicely with my leg cast & cane. Thank you again. And special thanks goes out to Christine Giovingo, their gracious customer service rep, who made certain that things went well for me that day. For more info on future auctions, go to Mecum Auctions website at Mecum.com.