Interesting cable lock with features designed for motorcyclists.
Removable cable is available in several lengths and it has a vinyl coating to prevent scratching.
I discovered the Master Lock Python locking cable system at the 2005 Dealer Expo in Indianapolis, Indiana.
They had a display showing how a Python cable and lock system could be used to secure a jacket and helmet to a motorcycle, and the Python looked perfectly suited to that task.
I've been searching for a Python ever since, and finally found one on display at the local hardware store.
I've previously used a simple cable with looped ends and a combination lock to secure my jacket or helmet to my motorcycle, so the concept is not new, but the Python does have some unique features.
In fact, I have a 30-odd-year-old cable and lock device that was once sold as an accessory for old BMW "Airheads".
It folds in two and is stored inside the frame tube in my '86 R65. I guess it can be considered as the Grandaddy of the Python. It even has it's own tube-like canvas bag with zipper for storage.
Cable Locks for Motorcycle Helmets
If you haven't used a cable and lock, you may not know that they're perfect for events like rallies or bike nights at the local hangout. You can lock your goods to your bike and mingle with the crowd without having to schlep the load.
There must be a motorcyclist in the design department at Master Lock, because the Python seems like it's perfectly suited for motorcycle use.
The cable is relatively pliable and is completely covered in a gray tinted vinyl coating, right up to and over the tip. Each of the two small keys that are supplied with the unit are covered with soft vinyl protectors.
The Python's locking head is made from "Weather Tough" aluminum, and it's located at one end of the cable on a swiveling boss, and it can be rotated back and forth 360 degrees in all directions for convenience.
The special cable has a boss fastened to one end so that acts as a stop for the locking head.
But the head can be easily removed from the 3/8″ (10 mm) "cut resistant" cable by sliding it off the opposite end, which makes it easy to store the lock and the cable separately, if desired.
Master Lock has accessory cables available that will fit the Python in 6, 12 and 30 foot lengths, which is a nice feature. The entire unit, including the 6 foot cable, weighs 13 oz. (369 g), and it comes with a piece of Velcro to hold the cable in a loop when not in use.
The Python works by sliding the cable a hole in the center of the lock; the cable can only be pulled one way, indicated by a big arrow on the back.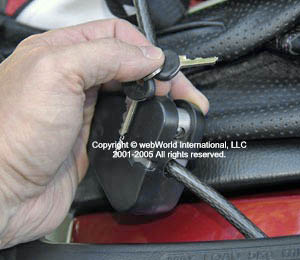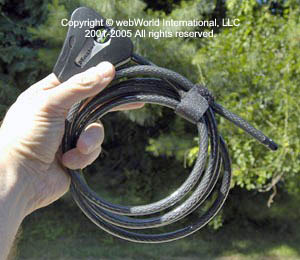 This allows the cable to be cinched up tight without having to use the key to unlock the unit. If the unit is locked, it isn't even necessary to use the key to unlock it before inserting the cable.
This makes it very easy to quickly lock up the bike or anything else.
The Python shown here can be used as a light motorcycle lock for securing the bike to a pole, but I will admit that it's probably a bit of overkill for just locking a helmet and jacket to a bike.
It works, no doubt, but a lighter weight cable and smaller locking head would work just as well, and I wish Master Lock made a variety of different sizes. After all, I wouldn't expect a thief to be walking around with a pair of cable cutters at bike night, but maybe it's just the laid-back places I patronize.
Conclusion
But overall, the Master Lock Python is a nice motorcycle accessory. It's made in China "to Master Lock specifications" — some websites claim that it's made in the U.S.A., but not according to the packaging on my Python. It carries a lifetime warranty.
Despite the motorcycle display at the Dealer Expo, Master Lock seems to be aiming the Python at the bicycling market, and it can be found in most bicycle shops.
The prices I've seen run all over the place, from a high of $24.95 down to the $12.99 I paid at the local hardware store, which is the lowest price I've found, and may even have been a pricing mistake.
w

BW

 Review: Master Lock Python Cable Lock
Manufacturer: Master Lock
List Price (2005): $24.95
Colors: Black
Made In: China
Review Date: June 2005
Note:
 For informational use only. All material and photographs are Copyright © webWorld International, LLC since 2000. All rights reserved. See the webBikeWorld® 
Site Info page
. Product specifications, features and details may change or differ from our descriptions. Always check before purchasing. Read the
Terms and Conditions
!
Owner Comments and Feedback
---
From "H.S." (October 2015): "I have just read your review Master Lock Python Cable Lock and I thought I'd add my recent experience to the conversation.
I have used the Python cable lock that you review and would agree that it's a flexible and useful piece of kit — but not the best of its kind for a helmet lock.
Over the years I have experimented with different types of helmet lock in addition to the Python (which I thought had a shorter cable than ideal, it's certainly strong but a bit on the heavy side).
The Helmetlok 4101, for instance, is not bad either, a completely different model than the Python. t is lightweight and easy to carry around. It attaches the helmet via the helmet buckle to the handlebar.
A better and more flexible device that I recently acquired is also in the Cable Lock style. This time from a company called BigPantha helmet lock (I've never heard of them either!).
Why this is my current favorite is that I can attach two helmets at a go to my bike so is great when I've got my wife riding with me. It's a carabiner style PIN lock with a cable. And the cable is 6 feet long.
Admittedly the cable is just 3 mm thick, but it's plenty tough enough to dissuade an opportunity thief.
And if I riding solo the cable is long enough to lock my helmet and my jacket to my motorcycle. Hope this helps!"
---
From "B.M." (05/11): "I've been searching for something to use as a helmet lock on my new bike, and came across your review. You mention in the review that a lighter cable and head would work just as well. It appears Master Lock heard you.
They now have a 3/16″ inch version, half the diameter of the one you tested."