Surely the Master Lock Combination Cable Lock must be one of the world's cheapest yet most useful motorcycle accessories?
This is a basic, inexpensive cable with built-in lock.
It's easy to use and it might prevent casual walk-away spontaneous theft of a helmet or jacket.
It obviously is not a substitute for a robust motorcycle and accessory security system.
Let me first say that this isn't an original idea, nor is it a revolutionary concept.
But this is a very inexpensive product that I use almost every day, and it struck me that it would be useful to write it up for other webBikeWorld readers to read.
The idea of using a cable lock for motorcycle use was described in this article about the Master Lock Python in 2005.
Master Lock is still making that one and the prices are all over the place, just as they were when the article was written. I've seen the Python for sale for about $9.00 all the way up to $35.00!
The Python is an interesting device for sure: it's a cable and a two-sided lock. The cable can be fed through one side of the lock, where it can then be cinched up tight as you'd like to secure loads of various sizes.
No problem with that, except the 10 mm thick cable is 1.8 m long (6′), making it a bit on the hefty side for securing a helmet and/or a jacket to a motorcycle.
But the biggest negative in my opinion is that the Python cable lock uses a key. If there's one thing I don't need to carry, it's another key.
The "Self-Coiling Combination Lock With Cable"
So along comes the Master Lock "Self-Coiling Combination Lock With Cable".
The marketing department must have been out to lunch that day — they couldn't even come up with a catchy name for it!
"Combination Lock With Cable"? C'mon, who's the customer for this thing, the government??
This one's much smaller and perfect for motorcycle use. It's only 1.2 m long, which is 4 feet in that old-fashioned measurement system. The cable is 8 mm thick (5/16″).
Those few mm's here and there make a big difference, because you can fit the Combination Lock With Cable in your pocket or wrap it around a frame member or grab bar or whatever. And 1.2 meters is about the perfect length too.
And — here's the big plus — it has a built-in combination lock (hence the name!) that's super-easy to use.
Each Combination Lock With Cable (let's call it a CLWC) has its own unique combination, pasted on the back on a piece of foil tape. I took the tape off and stuck it under my seat, just in case I forget the combo.
I've seen luggage locks like this where the combination can be changed, but apparently not on the CLWC, so you'll have to remember the combination or you're…out of luck.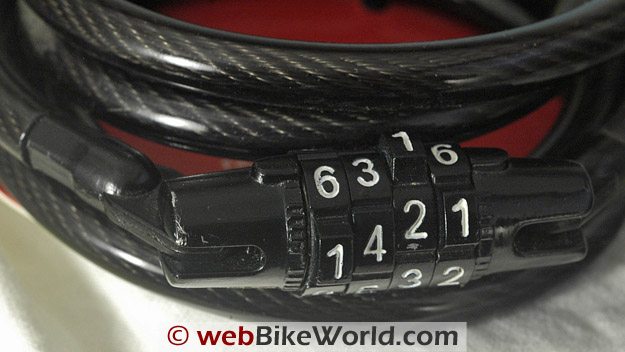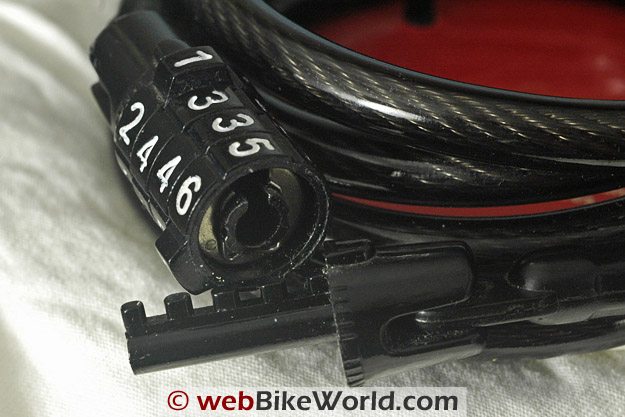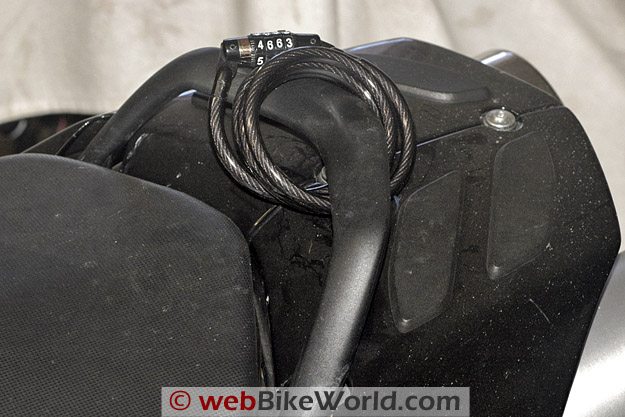 Cable and Lock Details
The cable is coated in a translucent black vinyl, just like the Python, so it shouldn't scratch anything.
The lock isn't the most robust thing in the world, but the tumbler numbers are very nice — they're big and easy to read and each number "1" is raised, as is the indicator along the sides where you're supposed to line up the numbers.
This makes it easy to use even in the pitch dark.
The combination has 4 numbers and it rotates very easily but with enough friction at each rotation to keep the tumblers in place. I spray some WD-40 in there every once and a while just to make sure it stays lubed.
Warranty
OK, here's the best part — or parts actually:  Master Lock gives a lifetime warranty on the Combination Lock With Cable, and I bought this one for $4.95! You can't beat that with a stick, as they say…
Security?
Note to naysayers: Yes, I can positively take a cheap pair of cable cutters and slice through this thing faster than I can butter one half of a bagel.
But who cares?
It's absolutely not designed to protect a motorcycle. It will, however, deter casual theft of a motorcycle helmet or jacket while you go into the Stop 'n' Slurp for a bag of crisps.
It's so easy to store and use, every motorcyclist should have one. I've spent more than 5 bucks on two bottles of water!
There are plenty of other things you need this for: locking a tank bag or saddlebags to the bike; locking a spare tire to a motorcycle trailer and more.
Maybe you don't live in a neighborhood where you need to lock your helmet to the bike every time you walk in the store, but I sure do.
There isn't much hard-core, big-ticket theft around here, but a helmet or jacket will disappear from a motorcycle faster than hot dogs at a summer picnic.
Editor's Note: After all these years, you can still buy can buy a Master Lock 8143D Self-Coiling Cable Lock on Amazon.com for around six bucks! Yes, we'll make about 3 cents on the deal, which will help run the site for another 3.2 milliseconds!
Also: wBW Alarms, Locks, Immobilizer Reviews
w

BW

 Review: Master Lock Combination Lock With Cable
Available From: Master Lock
List Price (2009): $8.99
Colors: Black
Made In: China
Review Date: March 2009
Note:
 For informational use only. All material and photographs are Copyright © webWorld International, LLC since 2000. All rights reserved. See the webBikeWorld® 
Site Info page
. Product specifications, features and details may change or differ from our descriptions. Always check before purchasing. Read the
Terms and Conditions
!
Owner Comments and Feedback
---
From "S.L." (3/09):  "Having read this article, I decided to stop by the Master Lock section on my next Home Depot visit.
I ended up getting a slightly larger version (part #8119D) than the one tested. I chose it because it was a foot longer, a good bit thicker, has a re-settable combination, and most importantly, covered hinges on each end of the lock.
The exposed hinges on the one reviewed looked like a weak point to me.
The penalty on the 8119D is in it's weight, although only in comparison to the smaller one. I paid $13 for it. Either way both these locks are worth it in peace of mind."
---
From "E.H." (3/09):  "I use a ski lock like this one from REI for my jacket and helmet. It is retractable and does not take up much space in the jacket pocket or the top case."
---
From "K.M." (3/09):  "Great article on the "Master Lock with cable". I have been using this lock for over a year and a half with no problems.
Mine is "Master Lock", but slightly different. I, too, have the 4 ft version but it has rubber sleeves covering where the cable meets lock portion. I think the version you show may be the older version.
Like stated, it's not a security lock, merely a theft deterrent. I bought it, specifically, for locking my helmet (through chin bar) and jacket (through sleeve) and it has worked great for that.
I simply run the cable through chin bar and sleeve and between handle bar risers. It's small and $5 beats seeing a kid run off with $900 worth of helmet/jacket!"
---
From "A" (3/09):  "Master Lock must be dusting the shelves off because I swear I saw this in the 1970s. Doesn't mean its a bad idea and your application for small stuff makes a lot of sense. Its a whole lot cheaper than a top case!"
---
From "T.S." (3/09):  "Your review is correct: this is not a motorcycle security lock and cable: it is a deterrent to helmet and/or jacket theft.
Moderate stress resulting in an unrelieved pull on the cable will part the cable from its anchor in either end of the locking mechanism. That's what the one I had did.
This item looks much better than a $4.72 lock and cable…but functions just about like a $4.72 lock and cable could be expected to function.
A well-formed cable with a correctly formed loop on either end along with a padlock would be immensely stronger…and not astronomically more expensive if higher-confidence theft prevention is the goal."
Glenn's Reply:  True, but a larger cable, larger lock and key sort of defeats the purpose of this small, lightweight, easy to carry and use simple cable with built-in lock.