MADSTAD Windshield Image Gallery
The MADSTAD windshield comes in many different sizes and tints.
Custom brackets are available for a wide variety of motorcycle makes and models.
The MADSTAD windshield for the 2014 Suzuki V-Strom 1000 ABS (Blog) is the latest addition to the product line.
It comes with a set of adjustable mounting brackets that bolt to the stock windshield brackets.
The MADSTAD windshield comes with mounting hardware.
The bolts have a rubber washer on either side of the windshield and they screw into rubber well nuts in the MADSTAD brackets.
Installing the system on the V-Strom 1000 ABS is very easy. Also, there are hand wheels on either side of the MADSTAD brackets that allow the windshield to be raised or lowered.
The stock Suzuki windshield can also be used with the adjustable brackets and the stock bracket fore/aft movement also works fine with either the stock or MADSTAD windshield and with the MADSTAD brackets installed.
The combination of the new brackets mounted on the existing brackets gives the windshield a wider range of adjustment and positions.
The MADSTAD windshields are made from cast acrylic, not the more common polycarbonate.
MADSTAD says that "cast acrylic is more rigid, more optically clear, has better scratch resistance, better chemical resistance for cleaning, easier to mold, less costly, and does not cloud or become hazy over time like polycarbonate can."
They use 4.5 mm thick minimum cast acrylic for the windshields and they also said that cast acrylic is the material used for the F/A-18 Hornet fighter jet, so it's tough stuff!
Let's take a look in photos: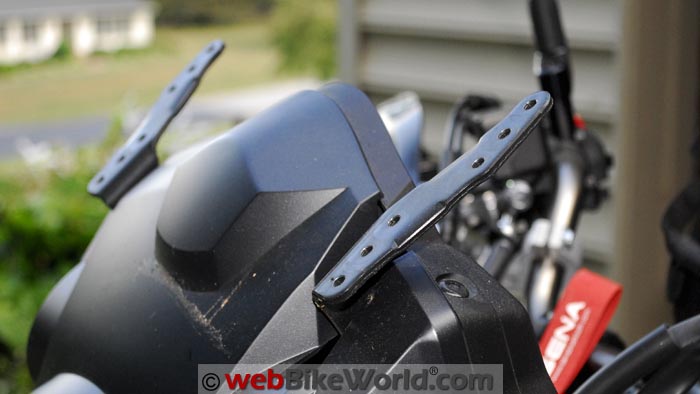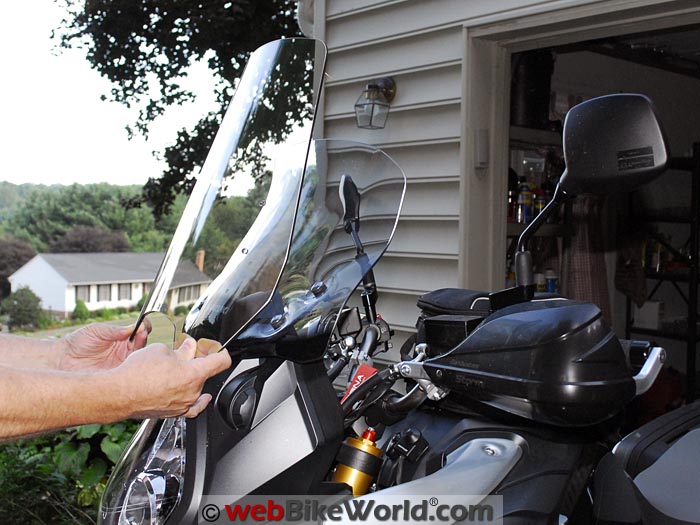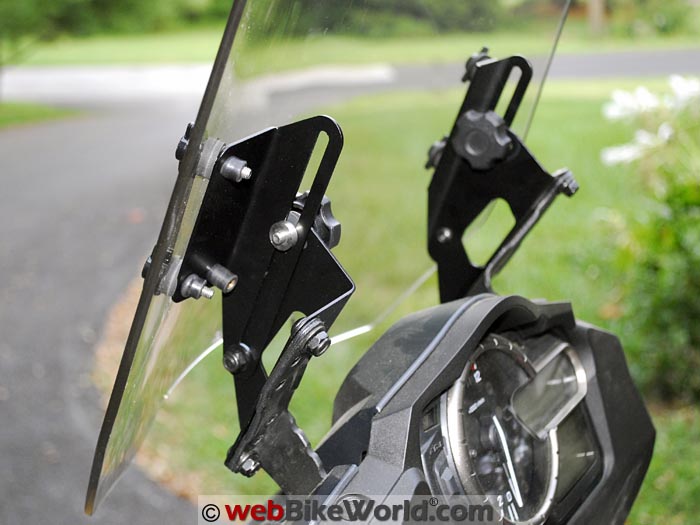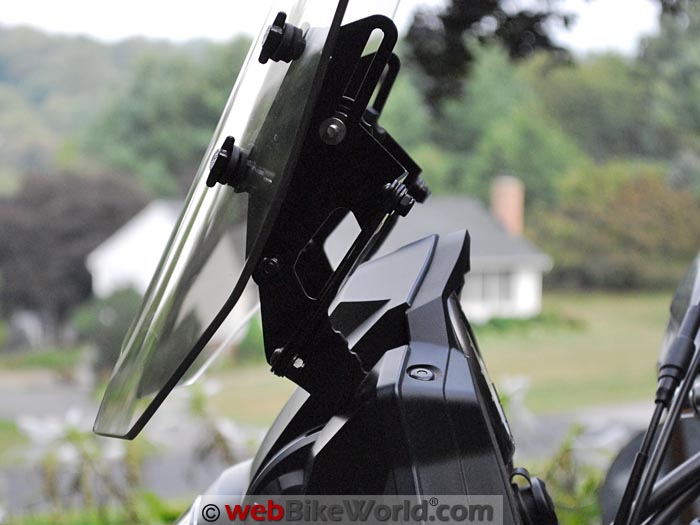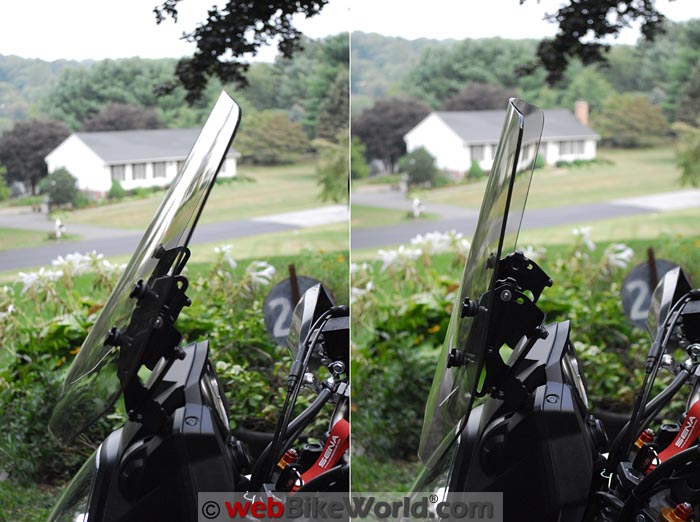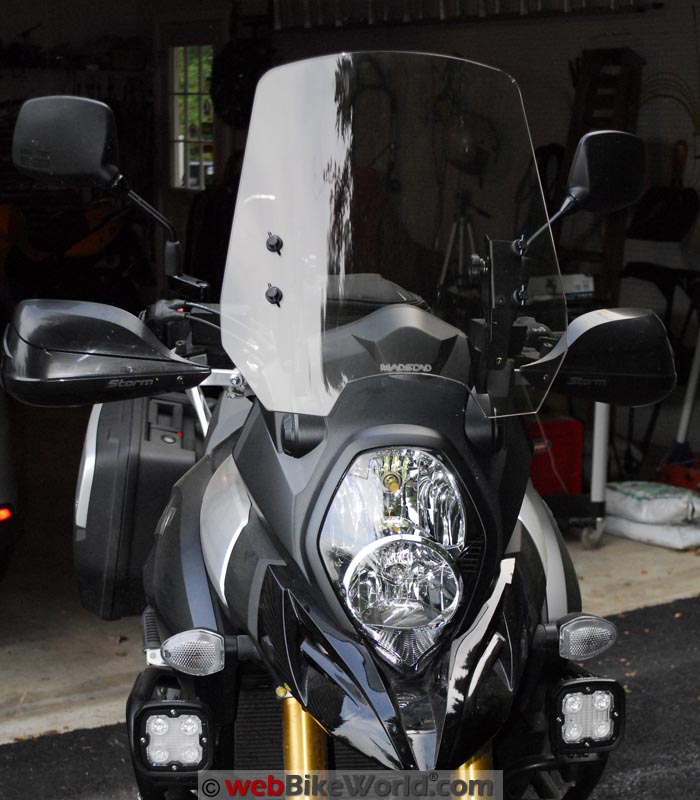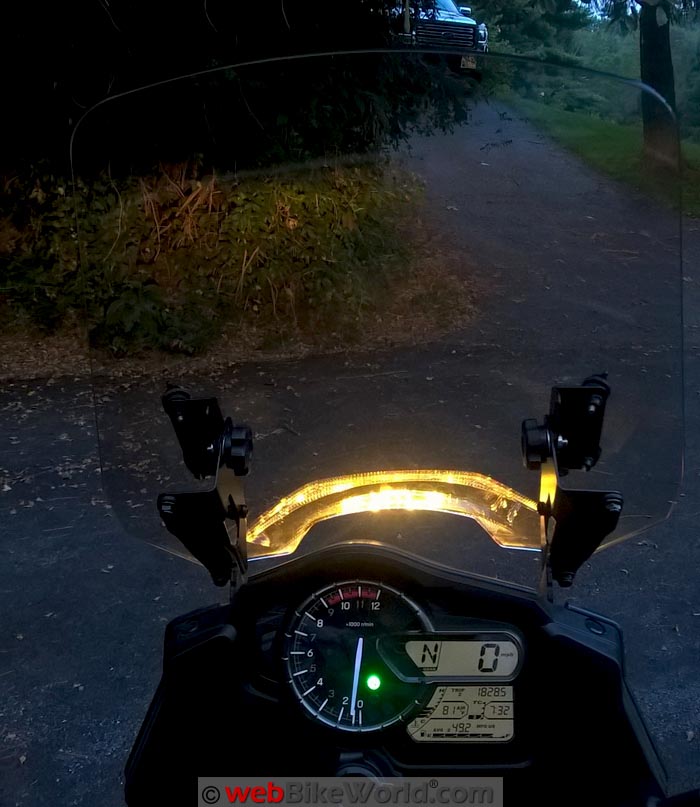 Riding With the MADSTAD Windshield
Installing the MADSTAD windshield is very easy.
All you have to do is remove the four bolts holding the stock windshield and bolt the MADSTAD windshield to the existing brackets using the supplied bolts and Nylock nuts (4 flat washers are also included).
MADSTAD says that the optimum angle for a motorcycle windshield is between 55 and 65 degrees included, which translates to about a 30 degree angle back from vertical.
I experimented with various positions and decided on setting the top of the windshield so that it lies just under my line of sight.
It turns out that the best angle for me is about 26 degrees, but this will depend on your height, seating position and preferences.
The difference in noise levels, turbulence and wind blocking is dramatic compared to the stock Suzuki windshield.
For me, the stock windshield isn't the worst I've encountered, but it did direct a lot of air at the top half of my helmet, causing buffeting and noise.
I have the MADSTAD windshield set so the air just touches the top of my helmet, to allow some air to flow into the top vents of the helmet.
But I can duck down just a bit or adjust the windshield higher and pretty much completely eliminate any buffeting and most wind noise.
This is a major improvement for the V-Strom but will, of course, differ for each rider.
Conclusion
I can say that I was initially skeptical about the MADSTAD windshield.
That was based on many years' worth of experience with stock and custom windshields of all shapes and sizes on many different motorcycles.
The MADSTAD windshield on this V-Strom anyway works beautifully, blocking the wind and greatly reducing the buffeting and noise levels.
The only slight issues are the fact that the windshield now sits about 5-6″ out from the stock location, which gives the front of the bike a bit of an odd look until you get used to it.
Also, the headlight can reflect on to the lower rear of the MADSTAD windshield at night.
This could probably be resolved with some masking tape or even painting the lower portion with a non-reflective clear paint or matte black paint.
There are many different fitments for this windshield, so I can't really comment on how it might work on other bikes. But it's a huge improvement when fitted to the new V-Strom and I can definitely recommend it for that.
Master Listing of All wBW Motorcycle Product Reviews
w

BW

 Review: MADSTAD Windshield
List Price (2015): Around $259.00 and up.
Made In: U.S.A.
Colors: Clear, Light Gray, Bronze Smoke, Medium Gray and Dark Gray.
Sizes: Fits many motorcycles.
Review Date: September 2015
Note:
 For informational use only. All material and photographs are Copyright © webWorld International, LLC since 2000. All rights reserved. See the webBikeWorld® 
Site Info page
. Product specifications, features and details may change or differ from our descriptions. Always check before purchasing. Read the
Terms and Conditions
!
Owne Comments and Feedback
---
From "P.H." (December 2015): "I got a Madstad windscreen for my Yamaha WR250R, after buying, then selling 2 screens from other well known brands.
Madstad's setup is superior in performance and flexibility. And their service is really outstanding! I won't look elsewhere for any of my future screen shopping."
---
From "R.J." (December 2015): "I recently purchased a Madstad windshield for my 2013 Yamaha FZ1.
The original windshield forced massive amounts of air into my chest and created huge helmet noise. I tried a 20" National Cycle windshield which worked satisfactorily on my 2002 FZ1.
However, on the new bike the National Cycle shield diverted the air from my chest to my head. Good try, no cigar.
I installed my Madstad windshield the other day. All parts were there and installation fit was great and quite easy.
I expected it to prevent air from hitting me in the face and it performed just as I expected. Mark (Madstad) told me I would experience more air underneath, between the tank and the new shield, I do.
However it is not turbulent air and much easier on the mid-section of the body than blasts of air in the face.
Even this may be resolved by some adjusting, I just did a little adjusting on the day I had to ride.
I would recommend this windshield to anyone with a "crotch rocket" that drives like an old man (I am an old man).
Remember, a bike weighs about 500 pounds, a car over 3,500 pounds and trucks weigh more. They win in an accident most every time."
---
From "K" (November 2015): "I own a 2014 Honda NC700XD with the Madstad windshield.
The light from the headlight not only reflected back into my eyes but light also emanated from the upper edge of the shield which made riding after dark difficult as I could not see past the glare.
I cured these two problems by spray painting the lower third of the shield on the inside and bottom edge with flat black Plasti-Dip paint."
---
From "C.A." (October 2015): "Regarding the Madstad windshield you recently reviewed, is there any provision in the design to allow it to break-away or deflect if the rider were thrown forward into it?
I know some bike (including the one I currently ride) use nylon bolts that would, hopefully, shear off in a crash.
The edge of a strong, rigid windshield could do some real damage if it impacted a vulnerable area like the neck and throat. Thanks for the great reviews!"
Rick's Reply: The bolts screw in to rubber well nuts, so I'd assume that the screen would pop off. That should be much better than OE windscreens, on any bikes I've owned, I've never seen a breakaway feature.
---
From "G.G." (September 2015): "These windshields are awesome and the service and support from the MADSTAD team is amazing.
I live in New Zealand and had one of these on a 2008 Buell Ulysses and it was so good I purchased one recently for my Triumph Tiger 800.
After looking at all options the MADSTAD had the best reviews and support.
The screen arrived promptly and was easy to fit, the precision build and finish on these is great and everything is in the kit.
The new shield is brilliant in all weather, at minus 2 degrees the wind is minimal enough that I don't get the cold up under my chin and rain / hail is easily deflected. A great product from a great team."
---
From "H.F." (September 2015): "I've been using the Madstad windshield system on my 2014 KLR for over a year now.
It's ingeniously engineered, solid hardware and construction, and probably the first windshield "system" that does exactly what it promises to do and comes in a variety of shapes, sizes, and tints. Well worth the investment."
---
From "B.P." (September 2015): "I've been using the Madstad windshield (11″, light gray tint) and bracket system for three seasons on my 2012 Victory Cross Country Tour (after using another aftermarket windshield for the first season).
see attached photo (below).
The Madstad has performed as advertised, rain or shine (and in fact, the first time I rode with it on in the rain, I used my left hand to map out the water pattern, over and under the windshield, which turned out to be the same as the normal dry air flow).
Its adjustability is a nice feature, too, especially as the weather changes or when riding two-up.
The Madstad bracket system, with a Madstad windshield or with windshields from other vendors, has a decent following among Victory riders.
On the other hand, there are also some who feel that those same brackets are too ugly to mount on their bikes.
In my case, I don't think the brackets detract much from the bike's looks, and I'm pretty much a function-over-form guy, anyway."
---
From "D.L." (September 2015): "I'm very pleased to see these folks getting good press. They deserve it.
A few years back, I was experimenting with angles of attack to cure my Bimmer wind problems and came across these guys at a relatively early stage in their development.
I bought one and I was astounded at how well it worked.
I'm now on number three for a KTM Adv. This beats any other windshield, FULL STOP!  And NO, I don't work for them."
---
From "D.H." (September 2015): "I have 13k miles behind my Madstad on a 2012 Versys.
With hard bags and the Madstad it looks like a pregnant guppy with glasses, but it transformed my ride into the lightweight tourer I wanted.
With its great adjustability it can meet just about any need."