Unlike many other sets of electric heated motorcycle gloves, Macna Neutron wireless heated gloves don't have to be plugged into a bulky power supply.
The waterproof gloves come with a discrete, wireless, rechargeable lithium battery in the cuff that lasts for four hours.
Keeping your hands warm and dry is not just a matter of comfort, but also safety. If you have cold hands, you can't control the throttle and levers as well. The pain from the cold can also divert your attention from the road ahead.
Wireless connection
Macna Neutron gloves are not cheap at $399.95, but they would be far more convenient to use than others that need to be plugged in.
These heated gloves have a three-setting regulator on the top side of the cuff.
Even when the heater is switched off, the Bemberg thermal lining should keep your hands warm while their Outdry system should keep them dry.
It's the outside that is heated. Heated grips keep the inside of your hands warm the cold blast is to the outside of your hands. With heated gloves you virtually don't need heated grips, but combined together it makes riding it extreme cold conditions far more comfortable.
The Outdry  water-impregnable membrane is laminated directly to the inside surface of the outer shell of the glove.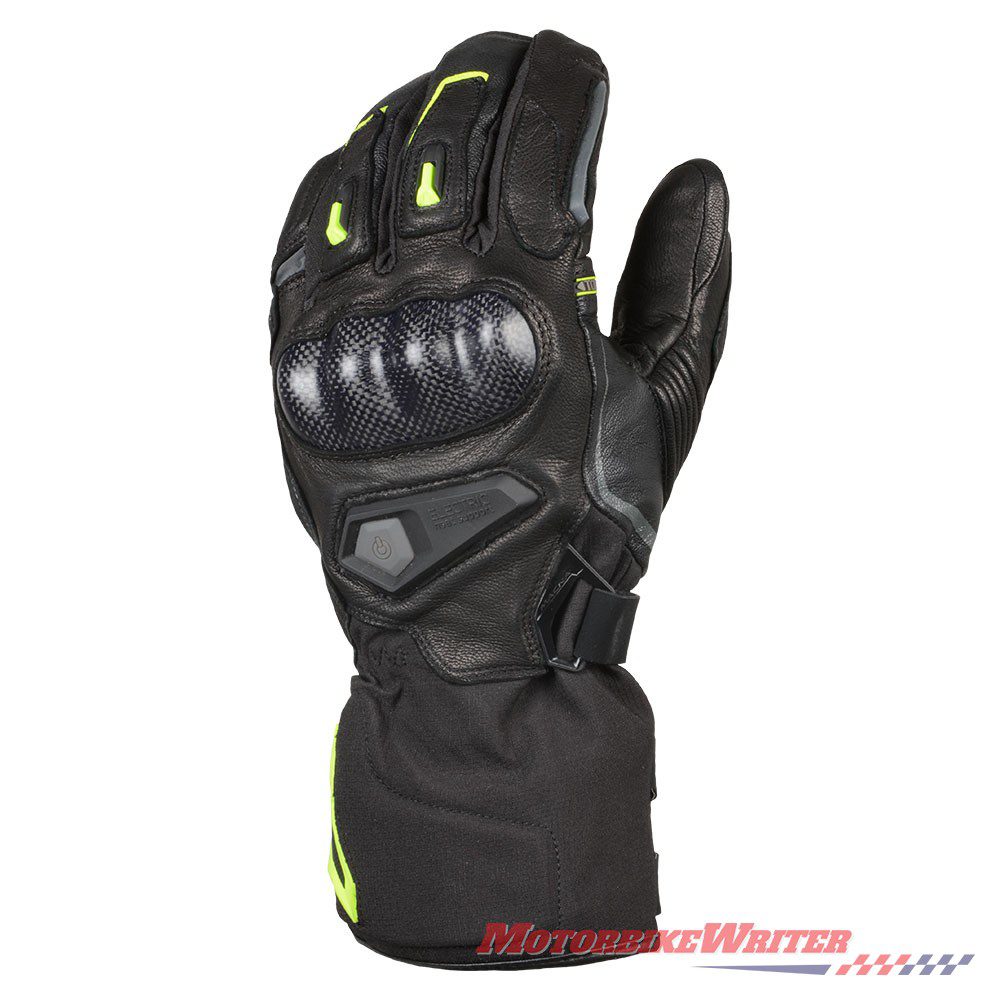 They say it is 100% waterproof because the membrane prevents the gloves from becoming waterlogged.
I've ridden with other waterproof gloves that don't let your hands get wet, but the outer glove still absorbs water which makes your hands cold.
It also means you don't have to hang your gloves over a heater overnight to dry them out for the next day's ride.
Glove construction
Macna Neutron gloves are made from tough but flexible goat leather with a nylon upper cuff.
They come with R.I.S.C. carbon knuckle protection, EVA padded palms and TPR padded fingers.
They have a 30-degree closure strap and buckle with wrist and cuff straps, a visor wipe on the left index finger, an ergo-thumb design and "touch tip" in the fingers for operating smart screens without having to remove your gloves. 
We've tried this touchscreen feature on other Macna gloves and it works ok, but not all the time.
Macna Neutron is available in black only from selected motorcycle retail outlets in sizes S to 4XL.