MachineArt Moto Mud Sling Image Gallery
The MachineArt Moto MudSling is the perfect accessory for the BMW R1200GS, GS Adventure and F650/800 GS models.
For what it costs vis-à-vis what it does, it should probably be the first accessory installed.
I first became aware of the MudSling some years ago while looking for a simple and hopefully inexpensive shock and battery guard for a new 2006 R1200GS Adventure.
BMW has, by design, left both critical and expensive components well exposed to the elements; not always a good thing given sustained off-road use and the installation of knobby tires.
So I subsequently ordered my first MudSling from MachineArt, an industrial design and product development company located in Frenchtown, New Jersey.
Little did I know then that my relationship with the MudSling product was going to be longer term.
MachineArt Moto focuses on specialized components for the BMW R 1200, R 1200 GS and GS Adventure and the F 650 and F 800 GS models.
The products, which are marketed under the "machineartmoto" or "mamo" logo, include the X-Head cylinder guard (review), the MudSling rear fender and the Slipscreen sport flyscreen.
The Fenda front fenders for the R 1200 GS and the Avant series of front fender extenders for the F 650, F 800 and R 1200 GS series bikes are also available.
Over the past four years, three GS Adventures and two F 800 GS machines have or currently occupy space in the garage and all have been equipped with the MudSling.
Each MudSling purchased has come packed in a box with everything sealed inside a large plastic bag. The kit is comprised of the MudSling, a simple single instruction sheet with relevant pictures, two Allen head screws and four long zip-tie straps.
Form
To my moto-oriented eyes the form of the MudSling is just bang on — sleek, superbly executed and visually pleasing; a true work of art. Each GS variant is styled so as to be a perfect complement with the motorcycle.
Precision moulded from high impact ABS plastic, the MudSling is typically finished in matte black or matte metallic black. It is very light and somewhat flexible, but once mounted it is an absolutely solid component that integrates perfectly.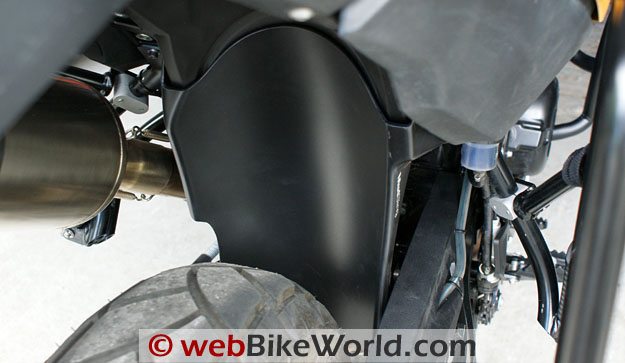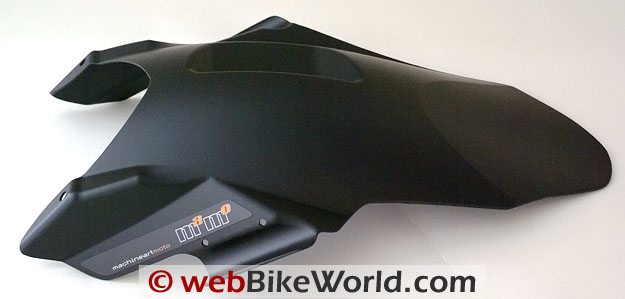 Fit and Fitment
Fitment of the MudSling is not much of a challenge. About the only requirement, other than a T25 Torx tool and perhaps a 4 mm Allen head tool, is to have the motorcycle clean enough to find the screw mounting points.
With access to the under-fender area, remove the two T25 head screws located on each side just in front of the threaded accessory mount holes. Depending on mounted accessories and reach, working from the right side and avoiding the left-side exhaust is recommended.
Take the MudSling and fit it into place by aligning the two mounting holes up against the T25 mounting points and make sure the widest points of the MudSling are resting up against the frame rails on each side. In most instances the component sits in place while you find the T25 screws again…
Reinstall the screws or if for some reason a longer screw is needed, the two Allen head screws included in the kit can be used — which I do. With the screws tightened up, there is enough flexibility to allow minor adjustment of the outer curved edges for a precise fit against the frame tubes.
Once satisfied with positioning, the left side is secured with a tie-strap to the frame. If you don't want the head of the zip-tie to show, position it behind the frame before cinching it up.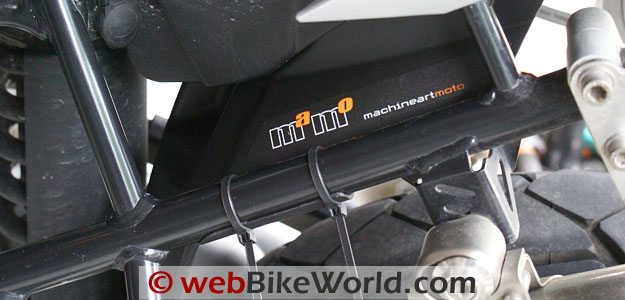 On the right side, feed the zip-tie up from the bottom through the back hole and when you can see it behind the square frame tubing, pull it towards you and feed it down through the front hole. Now the tie can be cinched up tightly (it will be out of sight). Don't forget to cut off excess material – neatness counts.
As mentioned, the longer screws can come in handy. While installing a MudSling on my second GS Adventure, the 'Sling needed to be set out from the fender by about three millimetres to satisfy other requirements. Accordingly, a spacer bolt between the two surfaces and the longer Allen head screws did the trick for that job.
The only other fitment issue encountered with the F 650 and F 800 GS model was a slight overlap of the left side frame mount with the BMW Adventure luggage bracket. After explaining the situation and sending some close-up shots to Andrew at MachineArt Moto, a modification sheet with a cut-diagram was subsequently provided.
The modification was easily done with a Dremel blade and drill bit, allowing a perfect fit on my 8GS. This and subsequent interaction with company representatives serves to illustrate the level of service that so many buyers experience when dealing with machineart.
MudSling variants are available for ESA-equipped R1200GS and Adventure models and the newer '12J' variant is for the big GS Boxers with Jesse Odyssey II panniers installed.
Function
The MudSling is as effective as it is simple. Once it is mounted and anything that was removed is put back on, the MudSling becomes part of the machine. Most people don't even notice it unless pointed out to them, especially once dirt and mud accumulates underneath.
But trust me, the user will know it is there, providing solid protection for the shock and battery and as well minimizing wheel spray and fender splatter. The MudSling is just the ticket for alleviating so many points of concern.
And speaking of concerns, none of the MudSlings I have installed have ever broken in any way — not even a tie-strap. Removal and reinstallation if needed for any other work is a simple and quick task and at most may necessitate two new tie-straps.
Conclusion
With having installed and used five MudSlings on five different GS machines, I remain extremely impressed with their simple design and utter functionality.
The MudSling, in all iterations, does exactly what it is supposed to do — what more can one ask of such a valuable accessory?
See Also: MachineArt Moto Avant Review  |  MachineArt Moto X-Head Cylinder Guards Review
w

BW

 Review: MachineArt Moto MudSling
Manufacturer: MachineArt Moto
List Price (2010): MudSling for 2005 to 2010 GS and GS Adventure Boxers – $149.00 USD. For all F800/650GS twins – $139.00 USD.
Colors: Matte black or matte metallic black
Made In: U.S.A.
Review Date: July 2010
wBW Owner Reports: Flip-Up Helmet Latch Failure  |  DIY Helmet Sun Blocker  |  Diadora Xtreme Boots  | JC Whitney Top Case  |  GT1000 Seat Comparison  | Caswell Fuel Tank Sealer  | HealTech GIpro Gear Indicator  |  Joe Rocket Cleo Women's Gloves  |  Frey Daytona Lady Star GTX Boots  | Hornig Mudguard Hugger  |  Echo Quick Release Buckle  |  Hornig BMW Hubcap  |  K&N Air Filter  |  Platinum Burner Driving Lights  |  Motorcycle Crash Bars Installation  |  Draggin' Liners  |  Parabellum Windshield  |  TCX Jupiter Boots  |  Mounting Avon Storm ST Tires  |  Olympia 710 Gel Protector Gloves  |  Vendramini VR 500 Boots  |  Rjays Striker Helmet  |  Michelin Pilot Road 2 Tires  |  Zeus ZS2100B Helmet  |  Shark RSR2  |  Shark RSX Helmet  |  Ixon X-Pand Tank Bag  | ROOF Boxer and Roadster  |  KBC Racer 1 Helmet  |  Zeus Helmets  |  FM Helmets  |  Aerostich Darien  |  Motoport vs. Aerostich  |  Teknic Road Iron Gloves  |  Dymag Carbon Fiber Wheels  | FAMSA Tank Bag on Tour  |  Luggage Locker Tail Bag  |  Moto Guzzi Griso
Note:
 For informational use only. All material and photographs are Copyright © webWorld International, LLC since 2000. All rights reserved. See the webBikeWorld® 
Site Info page
. Product specifications, features and details may change or differ from our descriptions. Always check before purchasing. Read the
Terms and Conditions
!
Owner Comments and Feedback