LS2, a popular helmet manufacturer, headquartered in Spain, can offer you the perfect helmet you need for your next ride. While many helmet manufacturers focus on cutting costs to make things more budget friendly for you, LS2 is known not to compromise on safety.
While the helmets are all made in Chinese factories, the quality is on par with the best manufacturers today. To suit the needs of different bikers, LS2 makes various types of helmets that are priced differently.
Don't worry if you intend to choose a budget-friendly helmet model – there are good quality control checks.
The LS2 strobe solid modular helmet review gives you an insight into the features that make this helmet a popular option.
Benefits
The full face helmets are ideal if you just want to concentrate on the road while riding. The open faced helmets are useful if you enjoy off-road riding more.
Sometimes, you want the ability to talk to your fellow bikers without having to yell through the helmet. The modular helmets have opening chin bar that combines the power of both full faced and open faced helmets.
The various features of the riding gear also give you additional safety and protection from weather elements. It is a multi-use helmet which you can use in different riding conditions perfectly.
Features
The LS2 strobe reliable modular helmet is designed to be a comfortable helmet to wear all day long. The full face helmet is carefully designed to eliminate pressure points because you don't want the helmet pressing against your face while you ride your bike.
The interior is designed carefully to provide maximum comfort. The shell is strong enough to protect you during a collision, and the product weight is 4 pounds.
Twin Shield System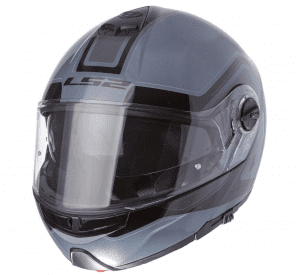 If you like riding the bike during the day and night, you know how annoying it would be to change the visors every time. Traveling with a helmet that doesn't adapt to the light conditions can be painful, especially if you want to explore new roads.
The Strobe solid modular helmet eliminates this annoyance by combining sun protection visor and clear visor in one helmet. The sun protection shield can be activated by flipping a switch, and it works even with a heavily gloved hand. The clear visor is 3D optically correct, and it is made of 'A' class Polycarbonate.
It avoids distortion and provides clarity while riding at high speeds.
Ventilation
When you plan to ride your bike all day long, you first have to invest in a helmet that keeps you fresh throughout the day. The Strobe solid helmet has a dynamic flow through ventilation with fully adjustable vents. The top and chin vents can be manipulated to allow the exact amount of air you need.
The exhaust ports ensure noise reduction along with ventilation of hot air. You should, however, be careful if you ride in the rain. Some bikers have reported that the helmet leaks inside during heavy downpour. Fogging is also a problem in certain weather conditions. It can be resolved by adjusting the chin vent that eliminates fogging.
Comfort Fit
The comfort factor with the helmet depends on how it fits on you. The LS2 helmet has cushion cheek pads that adjust to your face after a few uses.
Other helmet manufacturers use more than one piece of foam to provide cushioning. But LS2 always uses 3D laser technology to create cheek pads from a single block of high-quality foam. It provides ultimate cushioning without annoying pressure points.
The inner fabric liner gets rid of moisture quickly to keep you dry all through your ride. The liner is washable, enabling you to avoid the stinky sweat smell every time you wear the helmet. You should, however, choose the right size for your helmet and it can be useful if you order a size up.
Safety
All LS2 helmets are popular for their safety features. You can rest assured knowing that your helmet is DOT and ECE approved.
On-road safety is the most important feature you must look for in any helmet. Bikers who have met with collisions have expressed their satisfaction with the sturdiness of LS2 helmets. The Strobe solid modular helmet has multi-density EPS and neck roll to support your neck. The reinforced chinstrap provides reliable protection, and quick release strap makes it easy to use the helmet.
Other Factors for Consideration
The helmet safety depends on how well it places itself against your head. The Strobe solid helmet size does have mixed reviews among bikers. Many have said that the size is too small for them as standard sizes are not followed. You can check the size chart at the LS2 website and measure your head before buying your helmet. However, you won't have a problem if you just order a size up. Since it doesn't cost more for that, it's a thing you should be looking at.
While riding for long hours, it is impossible to ignore the importance of Bluetooth connectivity. The modular helmet is not Bluetooth ready which essentially means that you have to park your motorcycle safely to attend an important call. Some bikers prefer to listen to music while riding and in that case, you can install a Bluetooth speaker externally.
Even though the clear visor is fog resistant, many bikers have continuously reported that the visor fogs up in cold weather conditions. The fog doesn't block the view, but it can distract you. It can be addressed by adjusting the chin vents.
Finding a helmet that caters to all your requirements is always tricky, especially if you have a limited budget. The LS2 strobe solid helmet is a great looking helmet available in multiple colors. White is often a choice of bikers with classic taste in helmets. You can always decorate it with your favorite graphics. This helmet can also be purchased in attractive colors to suit your taste.
[table id=75 /]