British hand-built sportscar manufacturer Lotus has revealed its production-prototype C-01 superbike powered by a 200hp 1.2-litre V-twin.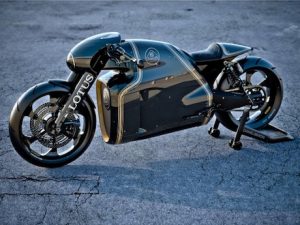 While the road-ready project was actually designed, engineered and produced by German motorsport company Kodewa under licence to Lotus, it features livery that pays homage to the Formula 1 legends and has the Lotus trait of being a relatively lightweight of 181kg.
Colin Kolles of Kodewa hatched the idea for a Lotus motorbike that was "great to ride" as well, as "a piece of art in motion". From the pictures, it looks lime they have achieved the latter, at least. "Over the years I have seen my fair share of style over substance, what this bike brings to the market is a unique combination of both: state of the art technology with a truly jaw-dropping aesthetic.," Colin says.
CHECK OUT ALL THE IMAGES IN FULL SIZE ON MY PINTEREST BOARD
The Lotus C-01 will go into a limited production run of just 100 bikes and will be exported to anywhere in the world that can afford it. Lotus Motorcycles communications boss Liz Brooks says it's €100,000 which is about $A150,000 and $US137,000. She adds, "plus taxes dependent on were you are importing to". it might sound expensive, but it is made of exotic materials including carbon fibre, titanium and aerospace quality steel. Strangely, it has a 19-inch front wheel and 17-inch rear and the rear suspension is old-school double shocks.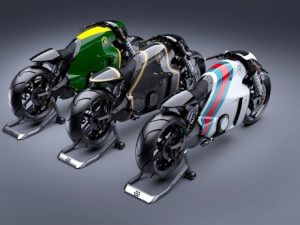 This isn't the only small-build motorcycle to come out of Britain recently. Caterham has announced it will also make motorcycles including an electric model, Lord Hesketh's brand has been resurrected for a limited-edition run, Brough has released its first new bike for 70 years and Gladstone have also decided to make a small number of bespoke motorcycles. (See the pix below)
Perhaps the British motorcycle industry is ready to fire again.
Lotus C-01
Engine: 1195cc, 4-stroke, water-cooled, 75° V-twin
Bore x stroke: 105x69mm
Power: about 200hp
Transmission: 6-gear jaw-type shift, hydraulic anti-hopping clutch
Frame: Aero tech steel/titanium/carbon fibre

Brough SS100

Suspension: USD forks, 80mm travel; twin strut rear, 70mm travel
Brakes: 320mm discs, 4-piston calipers (front); 220mm disc, 2-piston calipers
Wheelbase: 1645mm
Clearance: 90mm
Seat: 710mm
Fuel: 10.5-litre tank
Dry weight: 181kg
Wheels: 3×19; 6×17
Tyres: 120/70 ZR19; 190/55 ZR17