I attended the international media launch for the LiveWire in Portland, Oregon, in July 2019, and it has taken almost almost two years before I could get one in Brisbane for a local road test.
It's certainly been worth the wait.
The 100km launch ride was electrifying with the LiveWire living up to its name as a lively motorcycle capable of reaching highway speed in just three seconds. And that wasn't on a drag strip with a professional racer aboard and a high wind at his back. We were able to do it easily on a quiet stretch of highway.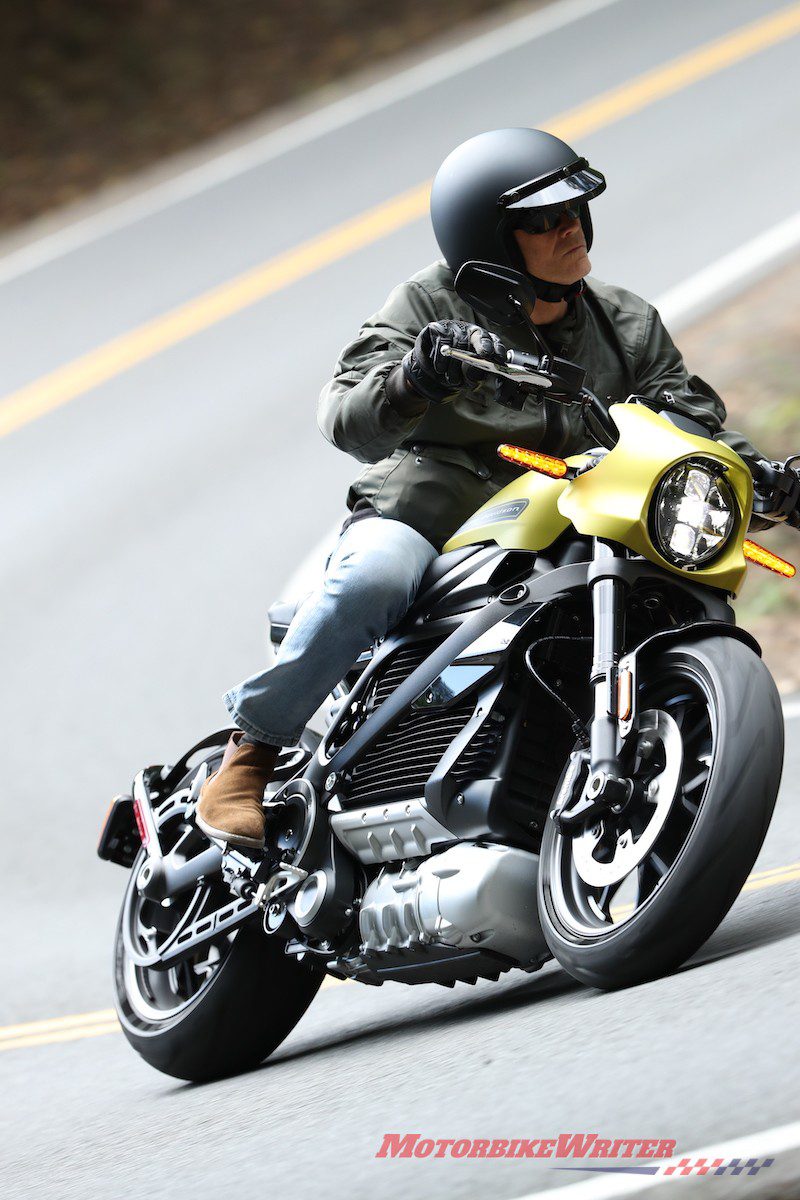 This is not an electric toy! It's a real bike.
The LiveWire also impressed with its build quality, handling, technology, braking and sheer stunning looks.
It took 17 months before the first LiveWire was available to buy in Australia at a whopping $A49,995 (plus $295 if you want the orange one, not the plain black). Only their limited edition CVO models and Tri Glide trike are more expensive.
Here is what I found living with the bike on a two-week road test.
Living with a LiveWire
After two weeks of riding the LiveWire, I found there is a lot more to like about the experience of living with an electric motorcycle, especially the high-performance, hi-tech LiveWire.
Despite the absence of the traditional Harley sound, I actually enjoyed the mindfulness and alertness of riding around town in near silence.
Harley has given the motor a slight "pulse" to try to satisfy traditional riders who like an engine to have some "feeling" and installed a bevel geared primary drive to provide a whining sound. 
But ironically the ringing in my ears caused by years of riding loud bikes is actually louder than the LiveWire's Revelation motor.
Out on the highway all you hear is the wind noise. It's like flying a glider close to the ground.
The experience magnifies your joys of acceleration and moving through the rolling landscapes.
It also means you can hear music, GPS directions or phone calls on your helmet intercom at lower and safer levels.
Steering the bike up my favourite piece of road to Mt Glorious, the near-silent LiveWire is in harmony with the pristine forest and in sync with the twisting tarmac.
It handles and performs as well as most litre-plus naked bikes; better in some respects.
Although it's on the heavy side at 251kg, it feels quite nimble. One of the benefits of electric motorcycles is the weight distribution is more flexible and Harley has centred the weight down very low.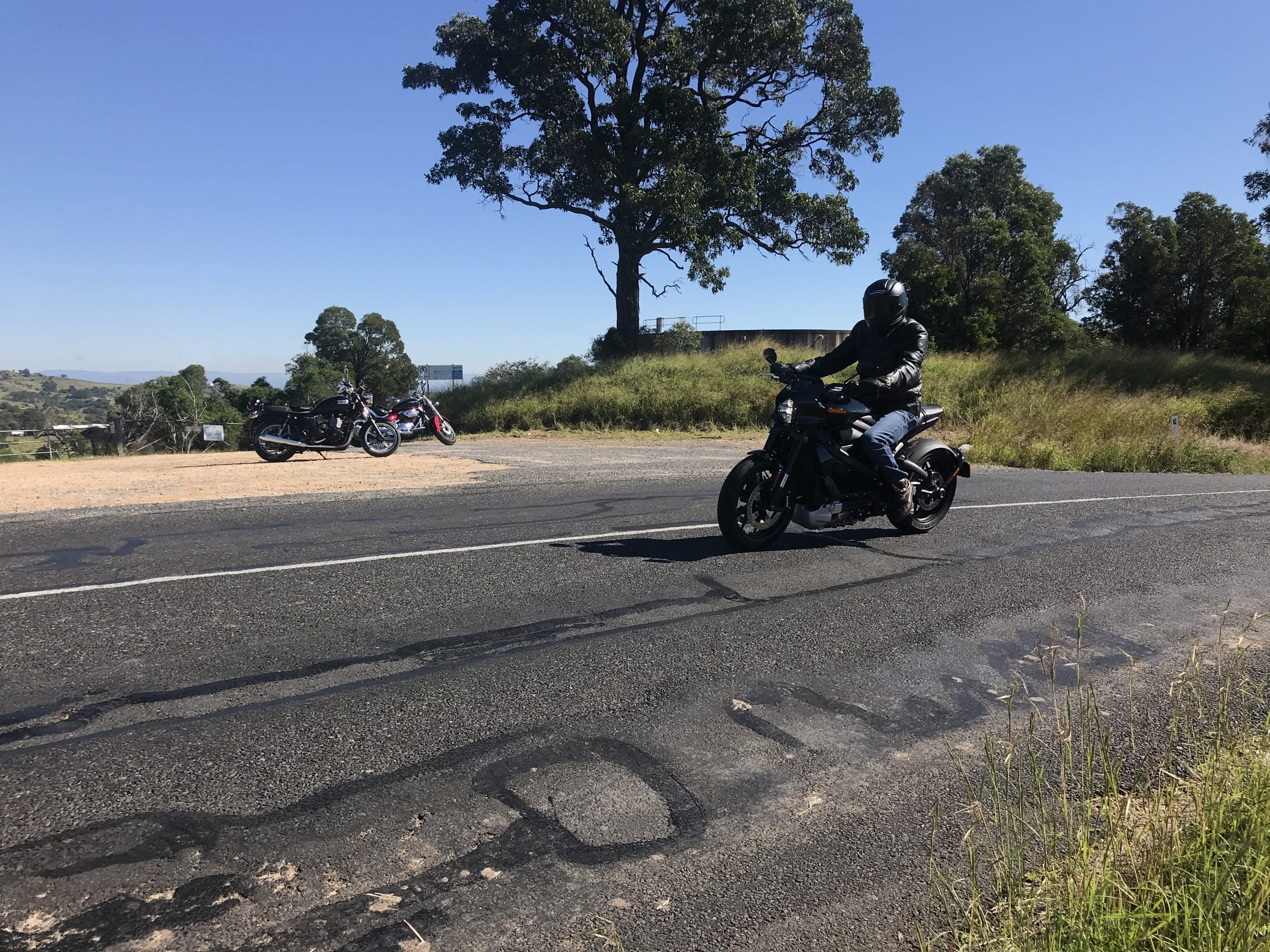 It steers with precision and there is little centrifugal mass to overcome when turning. However, the front wheel will follow longitudinal cracks and there is some bump-steer.
Showa suspension provides crisp handling, if a little abrupt over high-frequency bumps.
LiveWire simply loves corners and the sticky purpose-built and Harley-labelled Michelin Scorcher tyres are well up to the task.
The Brembo brakes are excellent and ably assisted by the motor resistance or "engine braking" when you wind off the throttle. This also helps to regenerate power back to the battery.
In fact, I rode all the way up and down the mountain with rare brake application because of the strong regenerative braking effect. That means no brake fade and long brake pad and disc life.
Since engine braking is so significant, the rear stop lights flash when you roll off the throttle to warn those following.
There are no gears and therefore no clutch; just a twist-and-go throttle which results in instant acceleration at any speed and makes it eminently suitable for a complex series of turns.
I didn't miss changing gears and only reached for the clutch once in my two-week stint with the bike.
It all adds up to an electrifying experience on your favourite stretch of winding tar.
It's also a hi-tech experience with cruise control, self-cancelling indicators and Bluetooth capability.
You can pair with a "HD Connect" Android and iOS phone app that will remotely check battery and charging status, show the nearest charging stations, provide service reminders and notify you if your bike is being tampered with. If it is stolen, a GPS tracker will follow its location.
Another cool feature is the fact that the water-cooled motor and battery is cool to the touch.
So it doesn't just look cool and represent a cool trend in motorcycling, it's literally cool on your legs on a typical Queensland summer commute!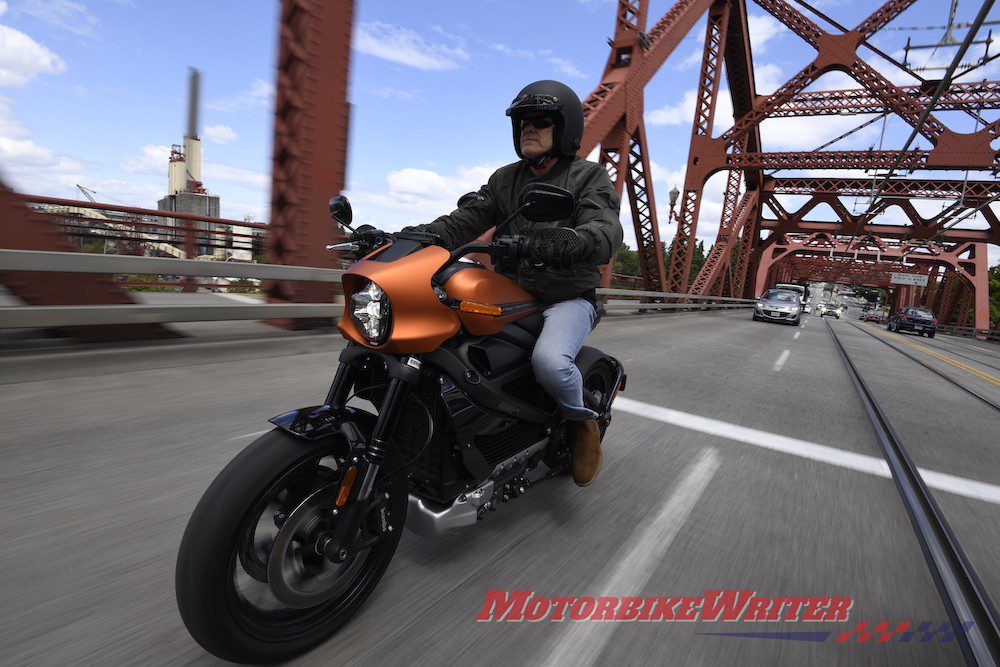 LiveWire quirks
But there are quirks to living with the electric LiveWire, too.
The LiveWire comes with a 3m charging cable under the seat that costs a whopping $A1100 to replace, so make sure you always lock the seat with the key.
I also found it difficult to fit the charger and cable in the limited space and close the seat without pinching and damaging the expensive cable.
At $1100 you would think Harley could make a more convenient charging module with retractable cables that easily and neatly fits under the seat.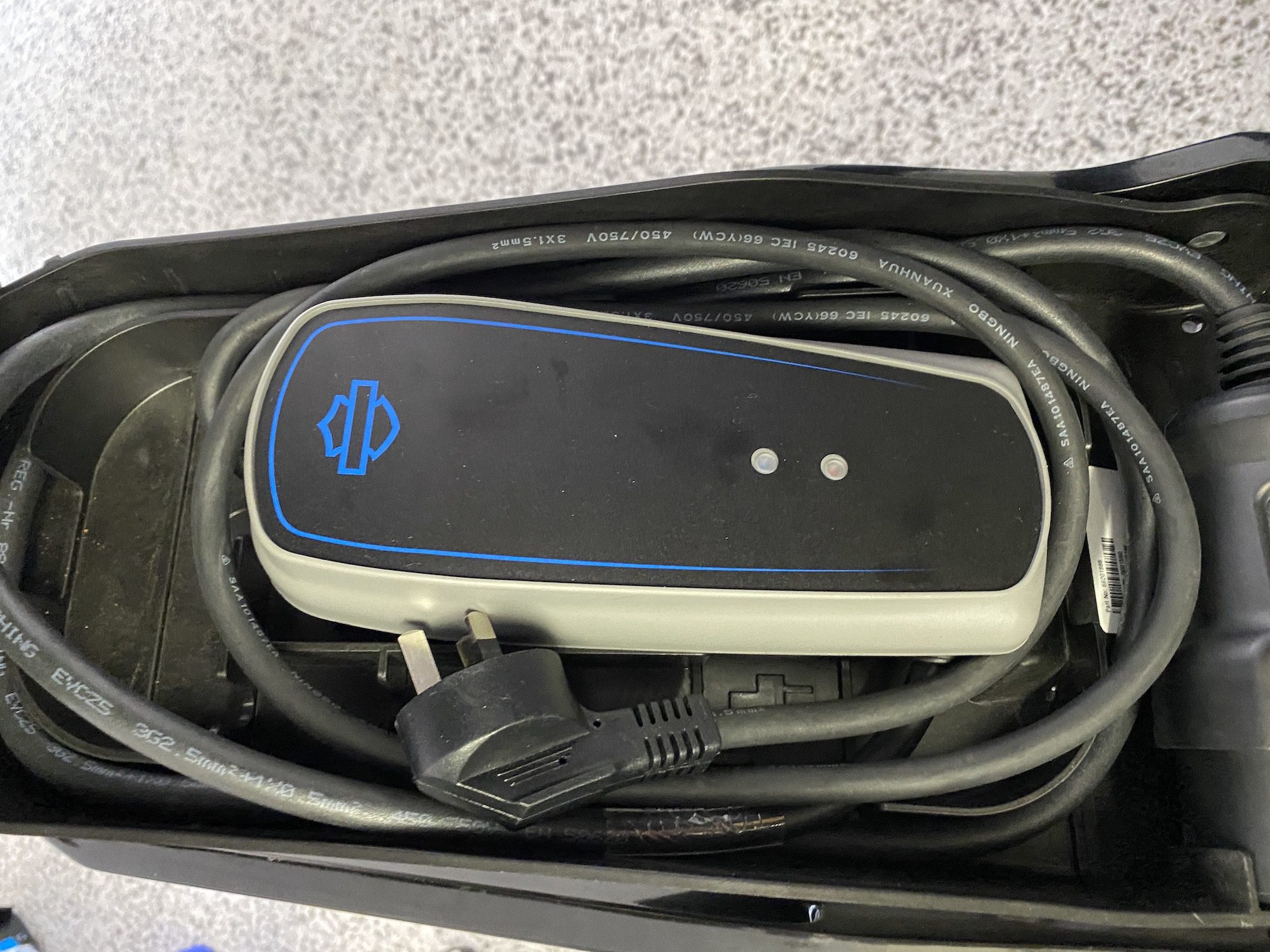 Since many Australian houses have lock-up garages with mains power, it is convenient to park and charge an electric vehicle. It may be more difficult without a secure garage.
The supplied type 2 charging cable plugs into the AC mains wall socket at one end and at the other end it goes into a socket on the bike where a normal petrol cap would be.
The charge cable is also CCS2 for DC Mennekes quick charging.
Harley says it will not operate on the free Tesla charging network that can be found at many urban shopping centres.
However, the plug and socket look the same as the Universal Mobile Connector (UMC) used by Tesla, so I tried it and on two occasions it worked.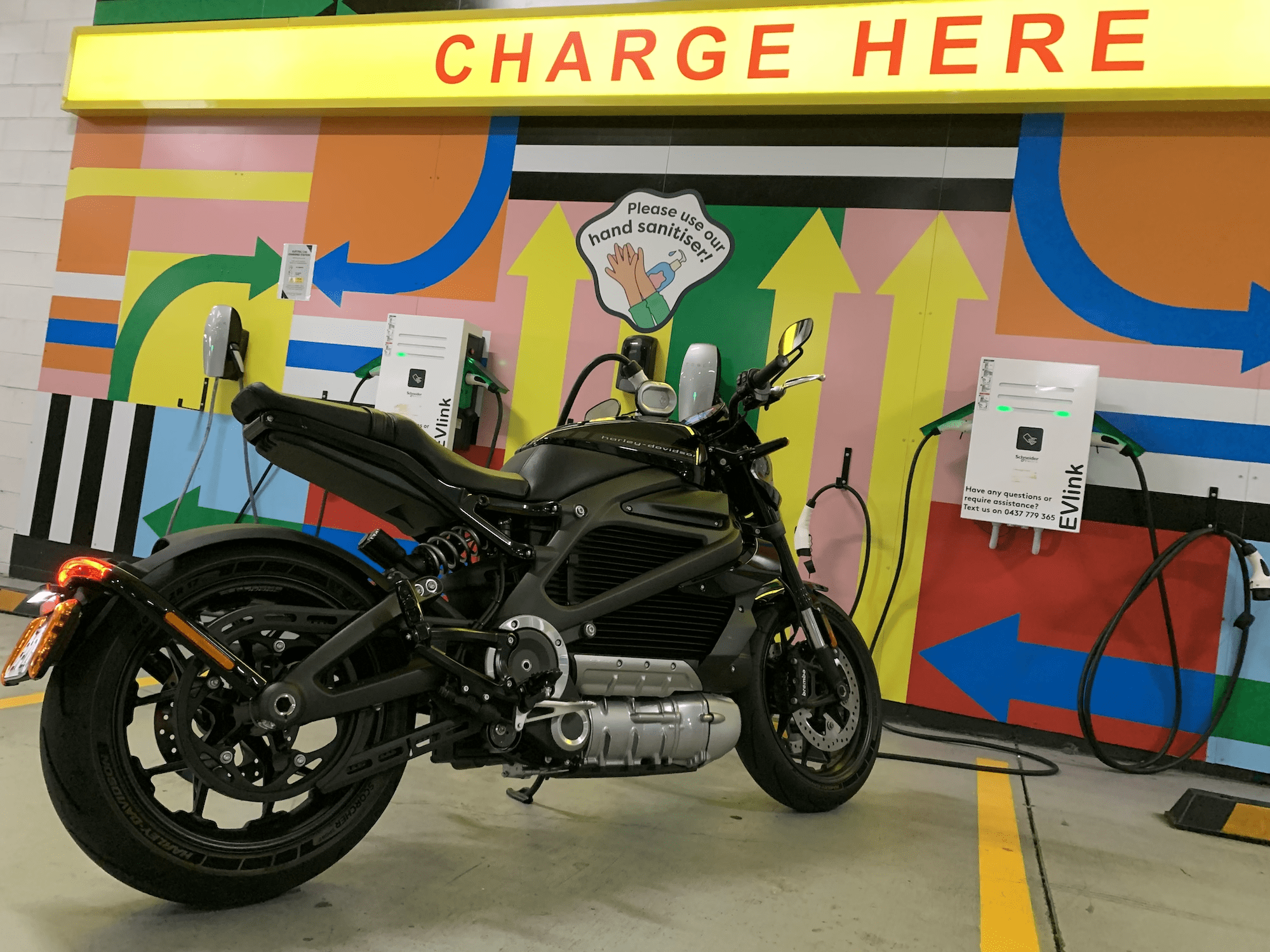 On a third occasion it threw up an error message and failed to charge.
This was when I discovered that the so-called issue of EV "range anxiety" is real.
Harley claims LiveWire's 15.5kWh Samsung battery is good for 235km of city range or 152km of highway range.
That should make it suitable for a narrow range of activities such as cafe runs, short blasts up your favourite mountain road and commuting. Mind you, $50k is a lot to pay for a commuter bike.
Noting the range limitations, I still experienced range anxiety because of the unique realities of riding an electric motorcycle and the variables that can have a huge impact on your journey.
For example, I rode 20km to meet a mate for coffee, but the stylish tablet-style instruments showed I had ridden almost 30km and used almost 15% battery because I was riding mainly on the highway.
On another occasion I rode 23km through the suburbs for a coffee, but the battery charge indicator showed I had used only 18km of range and 10% of the battery.
These quirks mean you are constantly making calculations in your mind to determine whether you will reach your next destination and get home again.
It all gets even more complicated factoring in your rider behaviour, carrying a pillion and the engine mode you select which not only varies the ABS and traction levels, but also throttle response and engine braking.
There are seven rider modes to choose from: eco, sport, rain, highway and the three customisable modes.
On a recent open-roads ride with some mates, I had to leave early when I became anxious about being able to get home, even though I had been riding in "eco mode".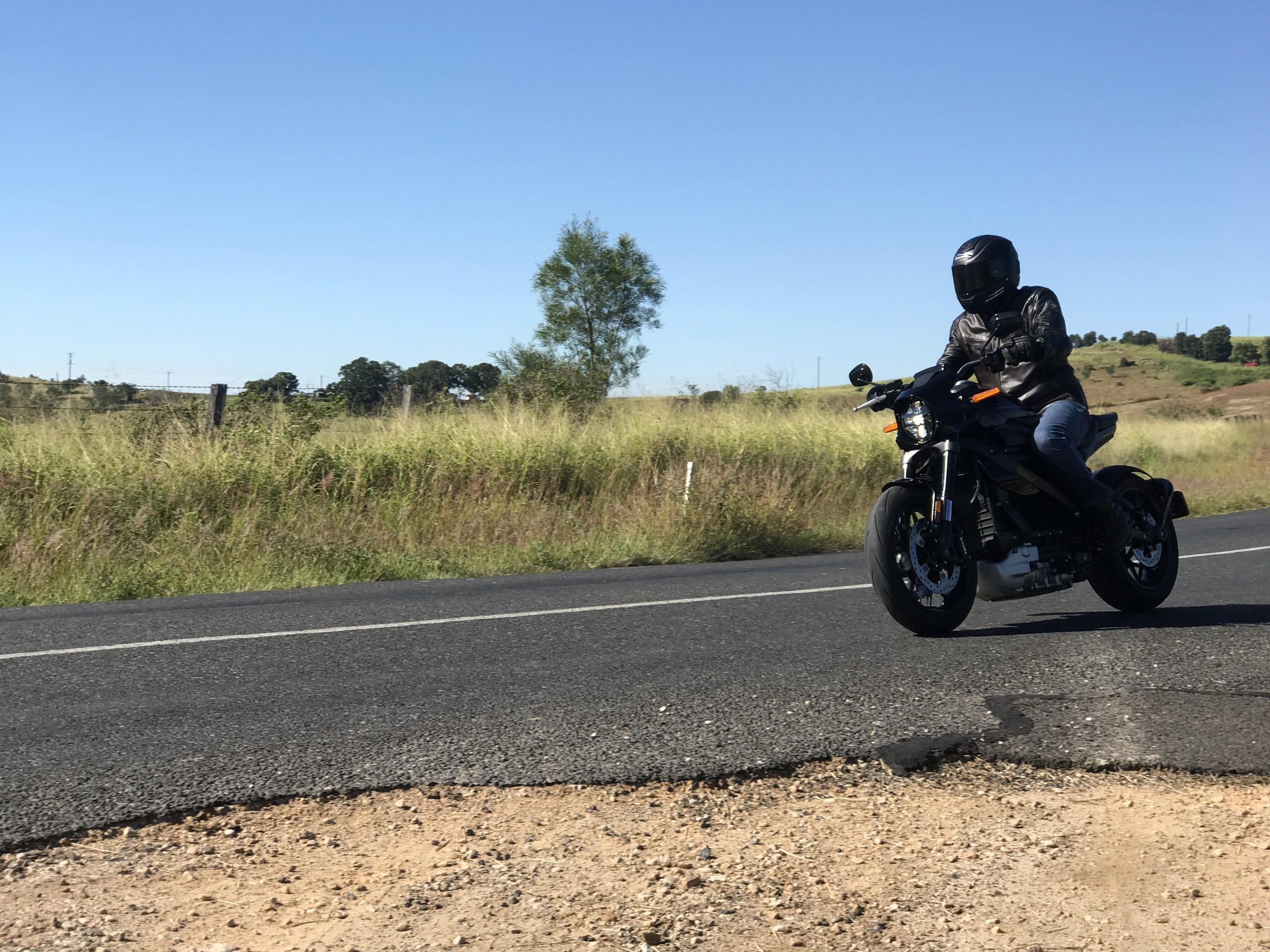 As it turned out I made it home with just 14km of range and 7% battery remaining, so it was wise to prematurely cut from the pack.
On a traditional internal-combustion-engined motorcycle, it wouldn't really matter if I ran out of fuel. I could walk to the nearest petrol station and get a 5-litre jerry of fuel, or a mate could do it, or I could phone the RACQ breakdown service as many thousands of members do when they run out of fuel.
On the electric LiveWire, I would have to find the nearest level-one 240V mains charging points with the HD proprietary app or any of the many other available apps such as PlugShare, ChargePoint, NextCharge, Chargemap, etc. 
There is a surprisingly large number of these points available in urban areas, but not in the bush.
Once I found the charging point, it would take about 90 minutes to replace enough charge for about 20km worth of charge.
That's not so bad, as you can grab a coffee or a meal while you wait and answer the many questions about the bike from interested bystanders. 
A full charge on 240V mains power takes about 11 hours, but if you can get to a level-three quick-charge point, you can charge the battery to 80% in 40 minutes and 100% in 60 minutes. The RACQ also has some rescue vehicles with quick chargers.
However, it should be noted that while the "Rechargeable Energy Storage System" does not limit the number of times a Level 3 DC fast charger (480V) can be used, Harley warns that more frequent DC fast charging will "stress the battery more than Level 1 charging". 
They recommend you avoid using DC fast charge, exclusively. 
The suggested best practice is to alternate charging between Level 1 and Level 3 DC Fast Charge in a 4:1 ratio (4 Level 1 charges to every 1 Level 3 fast charge).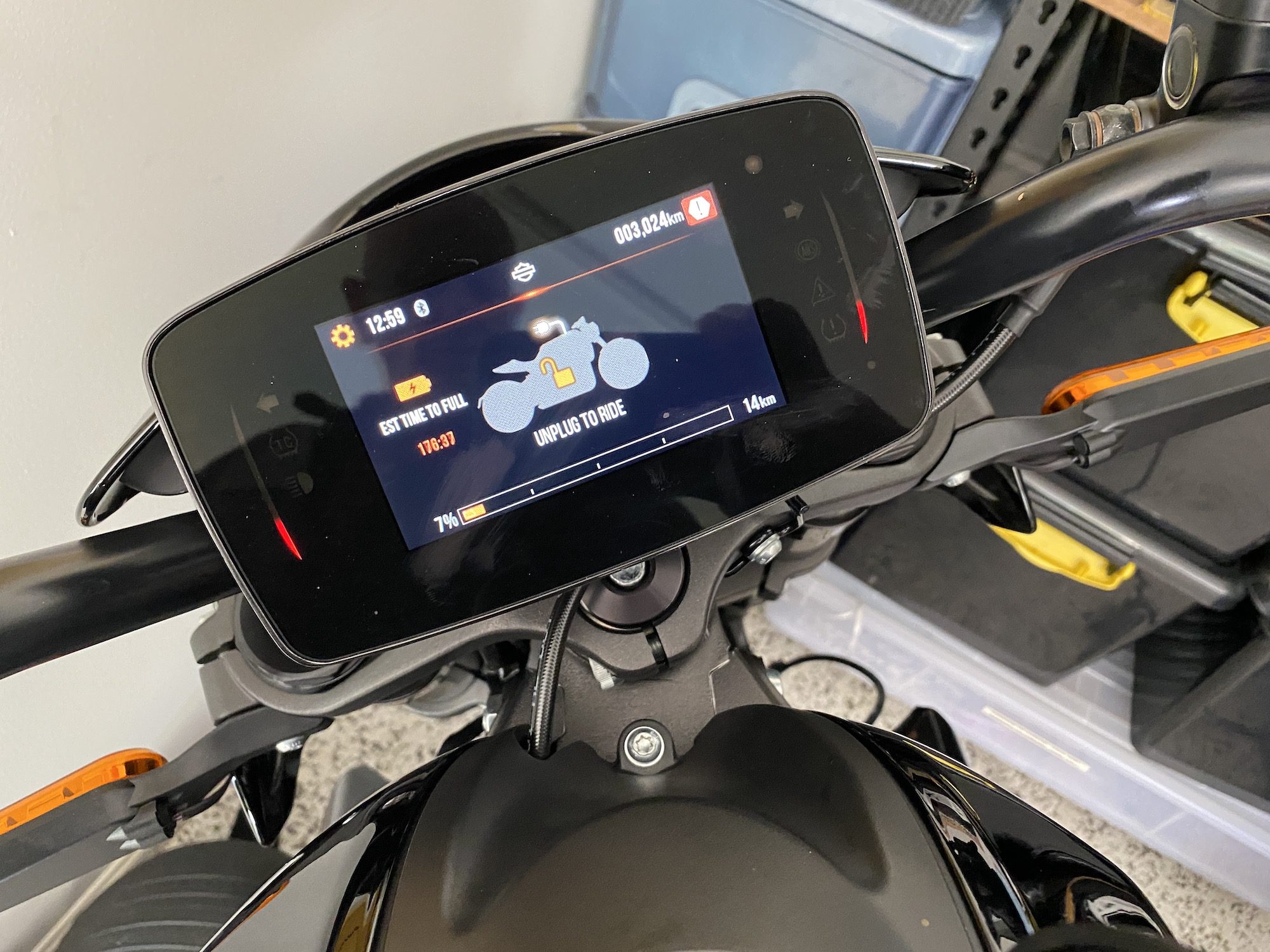 The big high-voltage Lithium-ion recyclable battery made up of Samsung battery modules has a five-year/unlimited kilometre warranty.
Harley says it should last 10 years without significant loss of capacity unless it is frequently quick-charged, not treated well or used extensively in extreme cold conditions.
The company could not tell me how much a replacement main battery will cost, probably because you won't need to pay for one if you need a replacement in the next five years as they are covered by warranty. They may also not be able to predict the retail cost of a battery five years from now, as it would be a lot cheaper!
While 235km sounds like good range, that's purely for riding around the city where there is a lot of regenerative braking.
If you want to go for a ride with your mates, don't count on riding 152km with them as you may already have ridden 20km or more just to meet up for the ride.
Conclusion
If you love the sound of a Harley and the flexibility of long-range touring, the LiveWire is not for you.
In fact, it is so far removed from the type of bike so beloved by traditional Harley diehards that the company is creating a separate LiveWire brand for their urban electric motorcycles.
Harley doesn't really state a financial case for the LiveWire, either. That's because the colossal initial purchase cost far outweighs the economic advantages of low running and servicing costs.
The cat of fully charging the bike is less than $4 at Queensland's rate of 25c/kWh. That's about a quarter of the cost of an equivalent-range, high-performance ICE bike.
Harley says an 8000km service will cost about $400 plus any consumables such as tyres, brake pads and a drive belt.
As for the environmental benefits, it depends on how you derive your electricity, but at least it adds no tailpipe emissions to polluted urban areas.
Harley is simply targeting cashed-up early adopters who will appreciate the thrill of a unique riding experience.
LiveWire may have limited urban uses, but it performs those tasks in an exhilarating manner. Yes, it's electrifying.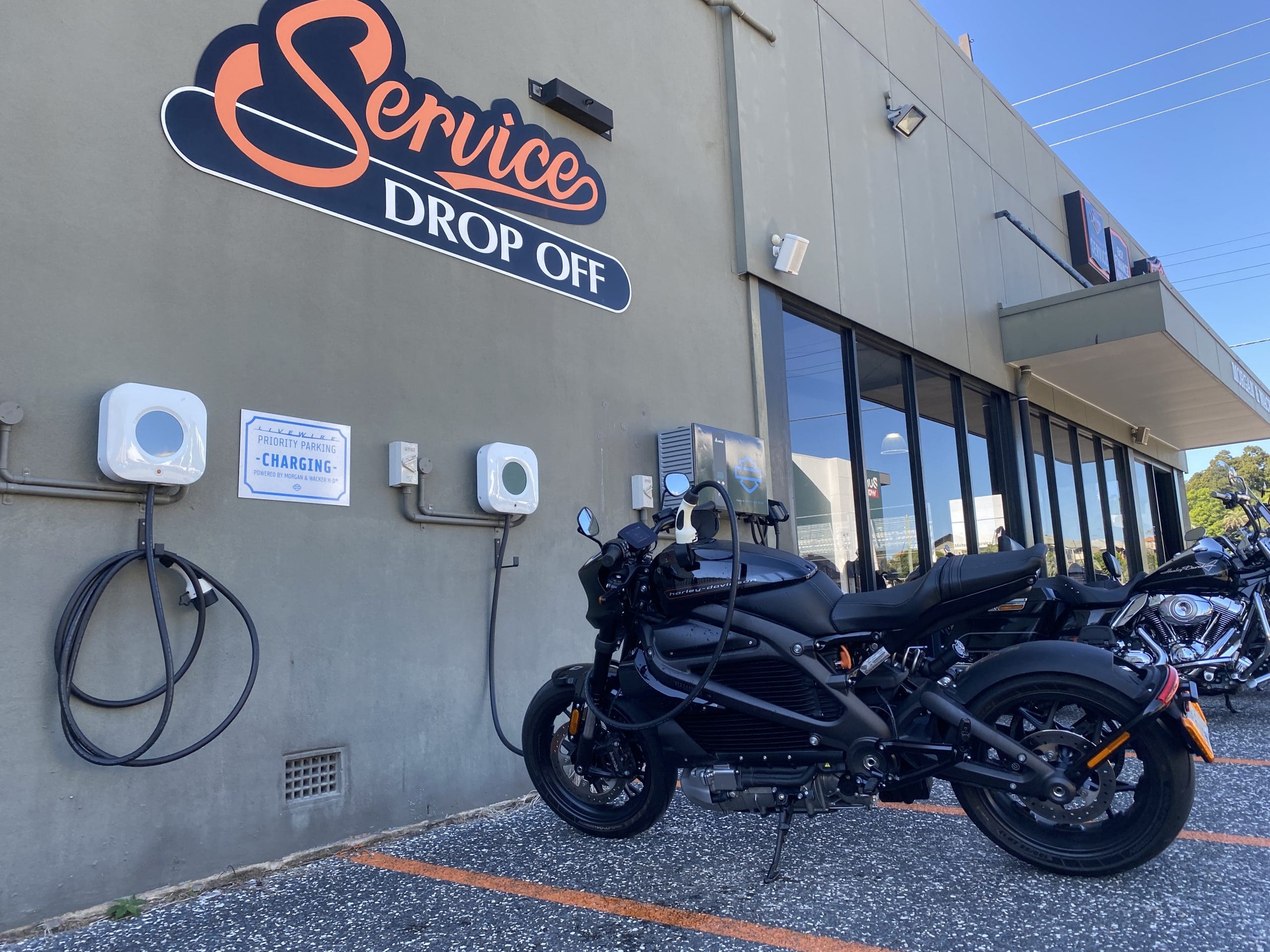 Key facts
Price: $49,995 ride-away (+ $295 for orange).
Warranty: 5 years/unlimited km on main battery, 2 years on bike.
Service: 1600km/ 800km
Motor: Water-cooled internal permanent magnet synchronous.
Power: 78kW @ 15,000rpm.
Torque: 116Nm from 0-15,000rpm
Gearbox: N/A
Weight: 251kg.
Suspension front/rear: 43mm upside-down Big Piston Showa forks/fully adjustable rear Showa shock.
Brakes front/rear: 4-piston caliper, 300mm dual discs/4-piston caliper, 260mm disc, ABS.
Dimensions: 2135mm (L); 830mm (W); 1080mm (H); 1490mm (WB); 780mm (S)