While most motorcycle gear has reflective material for better night visibility, few motorcycle helmets do. But now you can switch on your helmet and turn it into a visual safety device at night.
The LightMode full-face motorcycle helmet includes a electroluminescent (EL) element which wraps all the way around the helmet and lights up at the push of a button. You can either buy a LightMode helmet with EL built in or get an accessory kit to add it to your existing helmet.
Rather than a dorky looking hi-vis vest, this bit of safety kit actually looks quite cool; like Tron meets Iron Man.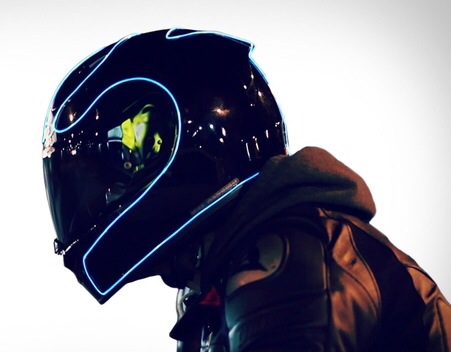 The kit consists of the EL wire, which attaches with superglue, and a small rectangular control box about the same size as most helmet Bluetooth units. The control box is designed to clamp or stick on to the right side so you can also add a Bluetooth on the left. Although, I must admit it may look a little dorky with two units attached to your helmet.
You can operate the unit in three modes: constant glow, blinking or off. It runs on 2 AA batteries last 13 hours when using 2000mAh NiMH rechargeables.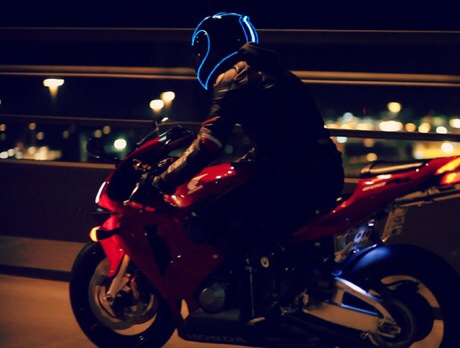 The company is based in Canada and is the lightbulb idea of Thomas Plywaczewski, an engineering physicist, motorcycle rider and fan of the film, Tron. He designed and developed his first LightMode helmet in 2013 to increase his visibility while riding his 2003 Honda CBR 600RR.
After inquiries from other riders about his innovative motorcycle helmet, he decided to take the product to market. His kickstarter program was fully funded within a week.
The EL wire kit will cost a pledge of $69 with 3m of EL wire, $72 for 4.5m (add $15 for postage outside USA and Canada), or you can choose from a selection of five fully-kitted-out HJC, Icon and Shoei helmets ranging in price from $290 to $770. All prices are in Canadian dollars. Thomas say prices "may change slightly" after the Kickstarter campaign.
The helmets are only DOT and SNELL approved, so they can't legally be used on Australian roads. "We're basically modifying existing helmet models, not manufacturing a helmet from scratch, although, this is our long-term goal," he says. Although the helmets aren't suitable in some countries, you can still buy the kit.