Motorcycle LED lights have been a popular topic on webBikeWorld since we first started investigating them way back in… could it have been 7 years ago?  Wow!  Time sure flies…
Seven years ago I thought for sure that, seven years hence, LED lights would have completely replaced incandescent bulbs for motorcycle lighting, except maybe for the headlight, which I figured would be probably be powered by something like a cold fusion LED.
And here we are, back to the future — but what happened?  Yep, there are a few bikes here and there with a LED brake lights as original equipment, but surely by now an incandescent bulb would be more of a curiosity than current best practice?
LED lights have very interesting theoretical potential for motorcycle use; they are nearly unaffected by vibration, they don't get hot, they draw very little current, they last virtually forever and they're theoretically more resistant to moisture incursion.  And when viewed well within their "cone of visibility" they're very bright.  Perfect for motorcycles!
But, as we discovered during our many motorcycle LED lighting reviews (see the right column for links), there are two basic problems.  First, LED lights are, by their nature, very directional.  For example, a typical 1157 replacement LED light might have a beam pattern (what we call the "cone of visibility") of around 18 degrees in the running light mode and 100 degrees for the brake light, compared to an incandescent that has, oh, 300 degrees of total visibility?
The second related problem is that the motorcycle tail light, brake light or turn signal reflectors must be designed and built specifically for LED lights to exploit their limited beam pattern.
But the motorcycle manufacturers (their suppliers actually) don't seem all that interested in busting up the status quo; after all, they have zillions invested in the tooling required to make the basic 50-year-old chrome plated plastic 1156 or 1157 receptacles.  They're dirt cheap (the receptacles and the manufacturers) and — let's face it — old style incandescents actually do a super job of firing up your typical brake light and turn signal.  So what's to change?
Well, motorcyclists love to tinker, customize and personalize, and webBikeWorlders are always looking for the best and brightest when it comes to motorcycle visibility.  So off we go to our favorite LED store, SuperBrightLEDs (see below) to see what's new and try once again to beat the hoary old 1157 at its own game!
We've tried many different flavors of LED lights over the years with lots of stories to tell.  Like, for example, my recent tale of woe, which is familiar to the the readers of my Ducati GT1000 blog.  You may recall that I spent about $300.00 on two separate LED light orders from SuperBrightLEDs with nothing to show for it!
The first box was stolen from my mailbox, and the second box, well, I guess it disappeared somewhere in the house, never to be found!  By the way, this isn't the first time this has happened to me — I lost a brand-new set of Pazzo adjustable levers recently when my wife tossed the box into the garbage, not realizing the levers were still inside…
Anyway, if you're not a GT1000 blog or Multistrada 620 blog reader you may want to refer back to those pages to take a look at our most recent motorcycle LED articles.  We had installed auxiliary LED lights on the Multi and we also reviewed the Spider LED Light brake light, which is a very interesting folding 1157 LED replacement, along with another batch of SuperBrightLED lights on the GT1000.
So this most recent batch of LED lights includes our third and finally successful attempt at procuring a LX-3 Luxeon LED (red bulb) 1157 replacement; a 19-LED 1157 replacement; a 24-LED 1157 replacement and, for something new and different, four 12-LED 921 "wedge" bulb replacements for the turn signals on the GT1000.
The premise of this comparison was just to see if anything's changed in the world of basic LED 1157 replacements recently.  We compared the Luxeon to the 19- and 24-LED 1157 replacement LED lights, using the original equipment 1157 incandescent brake/tail light and 921 incandescent turn signal bulb as the "control", or baseline, but since the 24-LED didn't compare to the brightness of the 2397 incandescent, we didn't even bother mounting the 19-LED equivalent.
Note that I did replace the standard 1157 on the GT1000 with a 2397, which I think is very slightly brighter than a normal 1157.  See the wBW article comparing several different incandescent bulb equivalents for more information.  The GT1000 is actually a good testbed for comparing LED and incandescent lighting because of its very plain and round tail light and turn signal reflectors.  The basic round design helps to get the most out of each light and avoids any potential hot spots or other lighting aberrations that might be caused by more adventurous reflector styles.
The interesting but super-expensive ($24.95!) Luxeon LED had been suggested by several webBikeWorld visitors.  It uses a 3-Watt LED light and has a claimed 130-degree "cone of visibility" or beam pattern.  It's a very compact LED light, so it should fit just about any 1157 receptacle out there.
The Luxeon has an operating range of -30 to +85 degrees C; it puts out 35 and 90 lumens for its running light and brake light respectively and it has a claimed 50,000 hour operating life, which should keep it going in stop and go traffic into the next millennium!
Here's a photo of the unique Luxeon LED (left) next to the 24-LED 1157 replacement: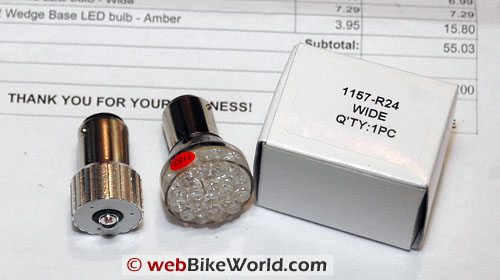 The GT1000 uses the 921 "wedge" bulb as its original equipment turn signals; I'm not sure why Ducati uses the wedge type bulb, maybe because it's slightly smaller and the bulb holder may be more secure than a "twist 'n' turn" 1156 type.
Here's a photo of the 921 LEDs compared to the standard incandescent (right), followed by a photo of the 921 in its wedge holder on the GT1000's turn signal: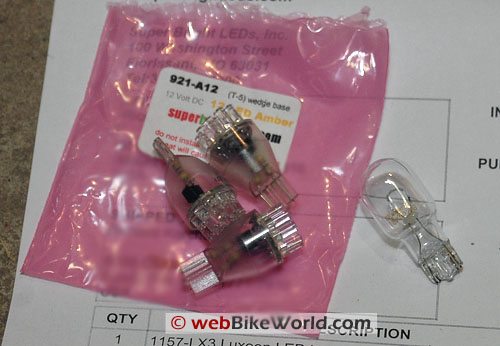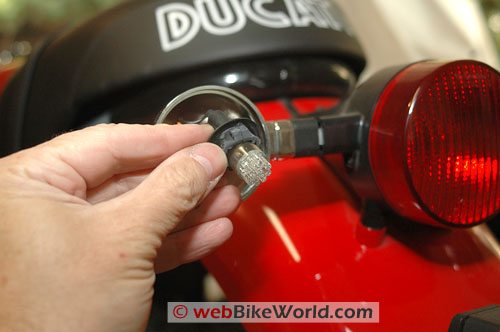 OK, so what's the bottom line?  We compared all of these lights to the standard incandescent bulbs and dragged several victims through the garage to watch the light show.  The consensus is that although the LED lights have a noticeably quicker on/off cycling time, in this application they just don't put out the same quantity and brightness as the standard bulbs.
The LX3 Luxeon is way too expensive for what it does, which is not much in this particular application.
The 921 LED turn signal lights have a faster on/off cycle time than the seemingly slow incandescents, which may make them more noticeable by attracting the attention of other drivers, but that's a complete guess.
Our conclusion is that there is still room for improvement in LED lighting for motorcycles and, based on this small sampling, there isn't much new to report on the LED front.  LED lights may be the equivalent or better of an incandescent bulb only in certain instances, but they aren't yet a complete replacement for every incandescent motorcycle light that is housed in an old-style reflector.
Here's a brief video we put together that compares the original equipment lights to the LEDs used in this article:

wBW Video: Motorcycle LED Brake Light, Tail Light and Turn Signal Comparison
Product Review:  Motorcycle LED Brake Light, Tail Light and Turn Signal

Available From:  SuperBrightLEDs

List Price:  Luxeon – $24.95; 19-LED 1157 – $6.99; 24-LED 1157 – $7.29; 12-LED 921 – $3.95
Colors:  Various LED colors incl. white, red, yellow.
Made in:  Unknown
Review Date:  November 2007
Note:  For informational use only.  All material and photographs are Copyright © webWorld International, LLC – 2000-2011.  All rights reserved.  See the webBikeWorld® Site Info page.  NOTE:  Product specifications, features and details may change or differ from our descriptions.  Always check before purchasing.  Read the Terms and Conditions!
Owner Comments and Feedback
Comments are ordered from most recent to oldest.
Not all comments will be published (
details
).  Comments may be edited for clarity prior to publication.
---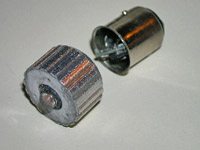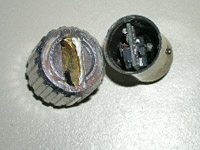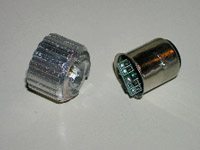 From "D.B.":   "Here's a little supplement to your LED lighting article.  These are 3 watt Luxeon LED's from Superbrightleds.com.  They were approx $24 each plus shipping.  I -did- find them to be just as bright as the stock bulbs that my VTX1300 came with, and – was- quite satisfied with them.  However, as you can see, they proved to be less than durable.  They lasted 13 months.
I found myself riding down the road and hearing some sort of buzzing noise that I had had not heard before.  It was subtle through the wind and my helmet, but it was audible.  A short time later, I observed that my front right turn signal was no longer functioning.  I put 2 and 2 together and, sure enough, the bulb had broken. It had actually fallen into 2 pieces!  Poor quality indeed!
Due to the fact that they were so costly, I was stunned to see them fail so soon and even more stunned at the lack of good will shown to me by SBL.  While they did fail just outside of their warranty period, I did somewhat expect SBL to show me at least some sort of consideration as I felt that I certainly had not got my money's worth out of these bulbs.  The VTX is a very smooth bike, so I cannot see excessive vibration or anything like that being the cause of the bulb's premature demise.
My bike has had -every- light on it, with the exception of the headlight, converted to LED's.  These are the only ones that were not supplied to me by Custom Dynamics, and the only ones to have failed so far.  My rear turn signals are Custom Dynamics Dynamic Clusters, and I am very satisfied with them.
Their LED products are first rate and most of them have a lifetime warranty.  However, unfortunately, Custom Dynamics charges its Canadian customers exorbitant shipping charges that are way out of line for the size and values of the products being shipped, and that leaves a very bad taste in my mouth as I feel I am being taken advantage of.
We have been using New Enough as our exclusive helmet, glove, boot, and m/c outerwear supplier for years around here. I've had New Enough ship us packages that contained multiple jackets and a full face helmet, and paid similar amounts for shipping to what Custom Dynamics charges me for shipping just a couple of LED's."