We tried everything we could think of but just can't seem to get any heat from these socks.
Battery heated clothing has been evolving and improving each year.
I have no doubt that one day we'll have thin, flexible, light weight and warm clothing that maintains exact temperatures with miniature controllers and tiny batteries that last for hours.
But we're not there yet.
The Jett battery heated vest (review) is still one of our favorites for winter motorcycle riding, but we haven't found an acceptable pair of battery heated gloves — or even wired gloves, for that matter.
And we hadn't really thought about battery heated socks until some of your emails prompted us to take a look and see what we could find.
I normally don't have trouble keeping my feet warm; nice thick wool socks and good quality motorcycle boots take care of that.
And tucking my tootsies behind the big jugs of my BMW R 1100 RS seems to help also.
But I thought it might be interesting to find a pair of battery heated socks just to see if they would add anything to the mix and to report back to our interested readers.
Lectra Sox Battery Heated Socks
After some inquiries, I discovered these "Lectra Sox" battery heated socks in the Cabela's catalog for $19.99, so I figured "What the heck" and ordered a pair.
The socks are made by Nordic Gear, which, as I discovered, is one of several companies in the Turtle Fur group.
Motorcyclists may be familiar with the Turtle Fur brand, which is a line of cold-busting products like neck warmers, balaclavas and more.
But don't expect to find much info on the Turtle Fur website.
I can't get past the Flash animation on the opening page to learn any more information about any of their products. A curious web strategy, to say the least…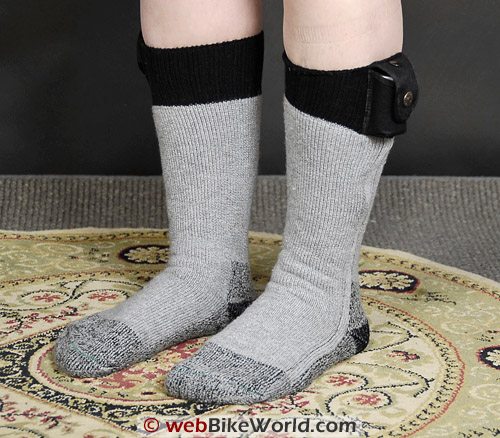 Lectra Sox Details
Anyway, the Lectra Sox arrived soon enough and they looked interesting.
They're a rather typical winter hiking sock, about calf height at 12″ from the center of the heel to the top of the cuff. They seem to be well made, with a reinforced sole and heel and a 2.5″ band of elastic along the top.
The box says that the fabric is a blend of 36% virgin wool, 33% winter acrylic (huh?), 22% polyester and 9% Nylon (used in the cuff).
So even if the battery doesn't provide heat (which it doesn't, as you'll soon learn), you'll actually end up with a decent pair of winter socks for not really all that much more than any other decent pair of winter socks.
I'm not sure if you've priced socks lately, but they're expensive!
As a "control" for this evaluation, I also purchased a couple of pairs of high-quality, name-brand non-battery heated winter socks just to try, and I'll be reporting on those soon.
One pair cost me $12.99 and the other pair was $9.99 on sale.
I normally buy a 5-pack or something of el Cheapo cotton socks, so it hurt to pay 23 bucks for 2 pairs of socks!  But I'm a cheeeeeapskate…
OK, back to the Lectra Sox. Each sock has a Cordura-like battery pocket at the top of the cuff, located on the outside. The pocket has a small spring at the bottom for the negative contact, kind of like the inside of a flashlight.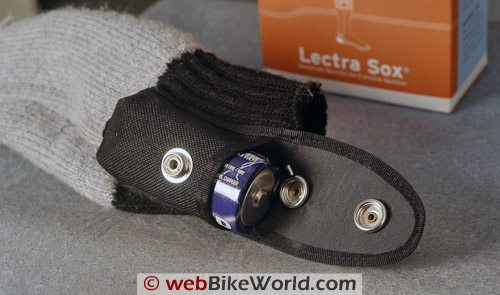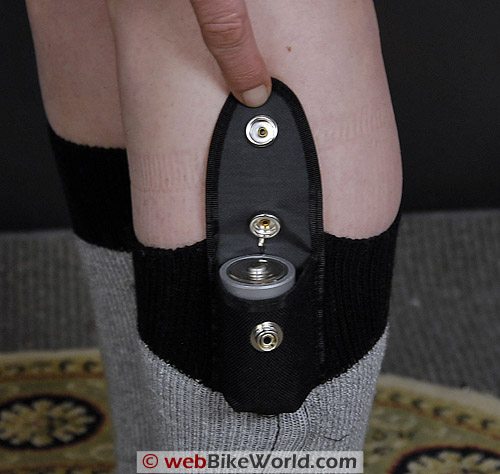 Battery Power
The pocket has a fabric flap that has a metal snap to contact the positive end of the D-cell battery, and then the pocket has an additional snap to close the flap over the top of the battery and secure to the outside of the battery pocket.
These battery heated socks have no controller; the instructions recommend removing the battery to control the heat: "Maximum benefit will be obtained by turning the socks on and off often."
Turning them on or off means removing the battery, because there is no switch or controller.
When installed, the battery feels slightly insecure, because the battery doesn't really snap into a holder, but that's the way it's designed, and I checked several times to make sure the contacts were touching and they were.
Also, remember that the big "D" cell sticks out about 40 mm or so, which means that the socks and battery may not fit under a tight pair of pants.
To evaluate the heat difference that these socks might offer, I inserted a battery on one battery heated sock on my right foot and I put the other sock on my left foot, but without a battery.
I figured this would definitely allow me to compare and contrast any differences in heat levels.
After dressing as I normally do for a winter ride (temperature was 41 degrees F), I put an old pair of Dainese touring motorcycle boots over the socks.
These boots aren't anything special, just a basic pair of touring boots without much in the way of insulation, but I've owned them for years and they're nice and comfy — but not very warm in the winter.
Unfortunately, as hard as I tried, I could not tell one bit of difference between the sock with the battery and the sock without.
I then switched the battery over to the other sock — same result.
Just to be sure, I bought a brand-new set of Energizer batteries and tried again. Nothing.
A few days later, my wife was going out riding on her horse with some friends in 24-degree weather, so she also tried one sock with the battery and one sock without.
She reported that she could feel no difference in heat between one and the other.
The company claims that the socks can be worn when wet and that the "wiring and connections are positioned to prevent rubbing and chafing."  They can be hand washed. Thickness is 1/4″.
Conclusion
I'm not sure what to say; yes, the possibility exists that we have a defective pair, but based on our experience with some other battery heated garments lately, which just don't come close to meeting their claims.
It's also likely that they just don't work as advertised.
In the end, they're a decent pair of winter socks, and they're certainly better than a pair of cotton socks, but neither of us feel any extra heat whatsoever coming out of them when the batteries are installed.
I think most people will expect that when they put on a battery or electrically heated garment that they will feel some difference.
I'd suspect that owners want to feel heat — and lots of it — almost immediately and then crank it down a notch until it feels comfortable.
But if you have to sit there concentrating, wondering if or when you'll feel the heat, the product has disappointed, in my opinion.
By the way, the fabric seems to pill rather easily; after wearing them only 4-5 times, there are some pulls and loose threads on the surface.
More wBW Heated Clothing Reviews  |  Motorcycle Glove Reviews
w

BW

 Review: Lectra Sox Battery Heated Socks
Manufacturer: Turtle Fur
List Price (2008): $19.99
Colors: Black and gray.
Made In: Mexico
Review Date: January 2008
Sizes: S (7 to 8), M (9 to 10), L (11 to 14).
Note:
 For informational use only. All material and photographs are Copyright © webWorld International, LLC since 2000. All rights reserved. See the webBikeWorld® 
Site Info page
. Product specifications, features and details may change or differ from our descriptions. Always check before purchasing. Read the
Terms and Conditions
!
Owner Comments and Feedback
---
From "T.B." (11/09):  "We bought the same pair that you tested and had the same lack-luster experience.
no heat… but nice socks
Solution for us was to cut off the useless battery compartment and stop carrying around 2 D sized batteries 😉 "
---
From "S.O.":  "My uncle owns a farm in Minnesota. I usually visit every Christmas to see the family and…ride snowmobiles! LOL!
I have a pair of electric socks I bought up there, they look almost identical to the ones in the review, but they are lighter in color and a different brand (though I am not sure what that is, I've had them for years).
Those socks get so hot in my snow boots they will quite literally burn your toes.
That's great if you're sledding in 20 below 0 temps, but when you stop, you have to pull the batteries because they WILL burn you. Even if it's 20, 30 below 0, you can't have the batteries in if you aren't moving.
There's a wire just over the toes that gets very hot, it keeps the toes toasty while underway, but just remember to yank the batts when you stop. Seeing that you could tell no difference between the powered and unpowered socks, you must have defective pair or possibly a bad brand.
I assure you, not only do they work, they work too well. I use rechargeable batteries in mine, in part because they don't last that long, but mostly because the lower voltage of the rechargeables help to keep the over-eager socks from melting your toes.
They spend the rest of the year put up because here in Texas, it would never get cold enough to not get burned.
The care is somewhat difficult, however. You must wash them in cold water on the gentle cycle and let them air dry, regardless of the instructions. Washing them and drying them as you would a regular pair of socks destroys them."
---
From "P.M.":  "I tried the same battery heated socks and when I first used them they worked. Heat was there. Then they stopped working. Battery changes made no difference.
I disassembled the sock and checked for a broken wire or a bad connection.
There were no open wires and the connections ohm-ed OK. Then I hooked up a DC power supply and applied 1.5 volts. Nothing. 2 volts, HEAT.
I soldered the wire connections to make sure the connections were good. No heat at 1.5 volts. I think the resistance in the wires may be increasing as the wires bend (as in when you walk) or corrosion is betting into the connections.
At any rate the manufacture has some work to do so this will be a workable product."