2011 Powersports Dealer Expo Live Report
A Leatt Brace for Street Riders
The Leatt Brace is designed to help prevent neck and spinal injuries that might occur during a crash.
These injuries have scary medical names like hyperflexion, hyperextension and lateral hyperflexion; axial loading and posterior hypertranslation.
I hate it when I get posterior hypertranslation (i.e., whiplash); it just ruins my entire day!
Basically, these all refer to the head moving in places and ways that it shouldn't be, like extreme forward, backward and sideways movement; compression of the spine.
None of these maladies are good news and all of them should be avoided — and prevented.
That's where the Leatt Brace comes in. The device, which looks just like, well, a horse collar, has become very popular with motocross and street racers, off-road plunkers and adventurous touring types. Most riders claim "You don't even know it's there".
The new Leatt STX "Street" Brace was just announced yesterday at the 2011 Powersports Dealer Expo and it will be ready for retail in early April. Our old friend Teri Lynn (née Gorrell), who is well-known to the motorcycling community with her work at Icon and Scorpion, will be sending an STX Brace for a webBikeWorld review, so stay tuned for the full report!
The differences in the STX Brace from the original Leatt brace include two scapula "wings" in the rear that fit over an aerodynamic hump or back protector. The STX Brace has a lower profile and it's also adjustable — the scalpula wings can be moved in and out to accomodate riders with different chest/shoulders/back distances and the neck can be adjusted for diameter.
The new brace also folds into a smaller and flatter size to allow easier storage on or off the bike.
I look forward to trying the new STX Brace, but in the meantime, here are some photos and a quick video with Jason McCune of the Leatt Corporation giving us a quick walk-through of the device. The new brace is an amazing piece of engineering, with some unique features making it well suited for street riding.
By the way, Leatt also has a couple of new jackets that are specifically designed to wear with the brace. The jackets include a water-resistant collar that covers the brace. In addition, Leatt has a very nice-looking hydration bladder with a quick disconnect and a chest/back protector that works with the original Leatt braces that have the thorax pieces in the front and rear.
Here are photos and a video and the Leatt press release is included below. We now also have a Leatt STX Brace Review.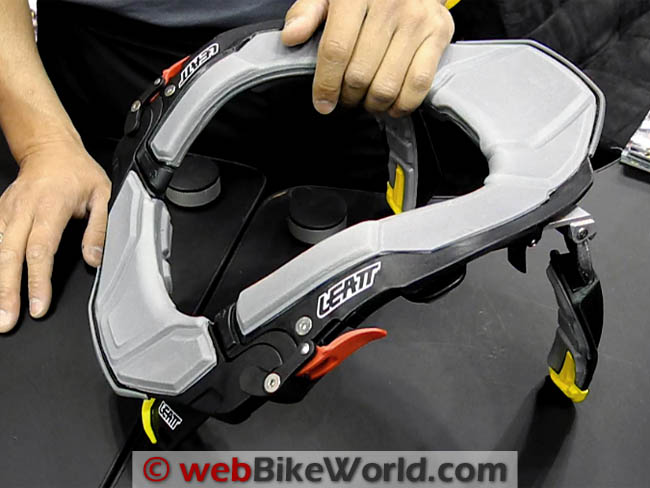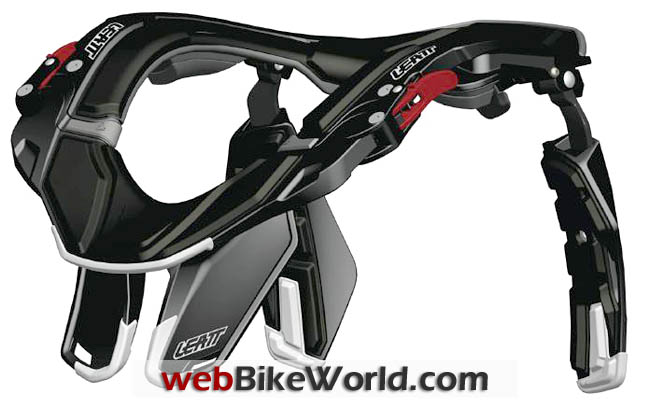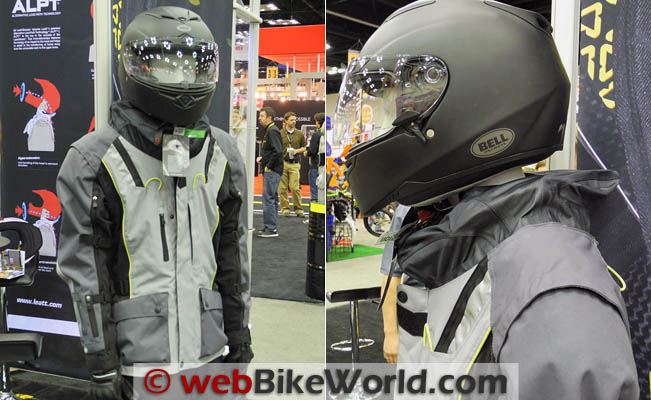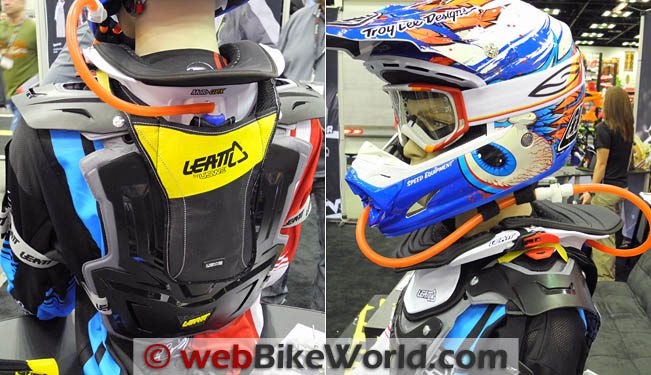 w

BW

 Video: Leatt STX Brace
The Leatt STX Brace (Press Release Edited by webBikeWorld.com)
The Leatt Corporation has been the U.S. leader in motorsports neck protection since its release in 2006, with the exception of the street and sport market.
Due to body positioning and gear selection, the current Leatt GPX brace models have not been widely worn by the street and sport riding community. Understanding the need for neck protection, for all motorcycle riders, the Leatt Corporation has developed the STX Brace. The STX is the world's only sportbike specific neck brace.
The STX brace has a radically different design, to accommodate a speed hump or back protector, which are standard equipment for street and sport riders. Riders will also immediately notice lower front and rear table assemblies, which provide ample range of motion, while in a full-tuck or looking through a turn. The STX Brace will be available to the retail customer April 2011; the STX is offered in three sizes, two color options, and will retail for $395-$410.
Leatt Corporation is the only neck brace company that has a testing facility to properly design and develop neck protection products. With a medical doctor, Mr. Chris Leatt, and a team of biomedical engineers on staff, you can be confident that the STX brace, and all Leatt products, are produced with rider safety in mind.
"Leatt has sold well over half a million motorcycle neck braces and is proud of how many potential injuries (we have prevented)", says Phil Davy, Leatt Corporation General Manager. "We are now very excited to be offering the street riders a specifically designed neck brace and hope to add many more riders to the list of 'saved by Leatt' motorcyclists".
Return to 2011 Powersports Dealer Expo Home – Stay tuned for more!
Publication Date: February 18, 2011
Note:
 For informational use only. All material and photographs are Copyright © webWorld International, LLC since 2000. All rights reserved. See the webBikeWorld® 
Site Info page
. Product specifications, features and details may change or differ from our descriptions. Always check before purchasing. Read the
Terms and Conditions
!
Other WebBikeWorld Articles Posts