Leather motorcycle chaps may be of peripheral interest to many webBikeWorld visitors, but they enjoy a dedicated following among touring riders, so we decided to give 'em a go.
Motorcycle riding pants seem to be about the second-to-last clothing article to accumulate in a new rider's wardrobe, after a helmet, gloves and a jacket and before the purchase of a good pair of boots.  I
'm not sure how leather chaps became popular with motorcyclists, but I'll surmise that it's an American tradition, probably a carryover from horseback riding, where chaps are used to protect the rider from getting gored by brush and thorns whilst chasing down errant heifers.
Probably back in the old days some cowboy bought a Harley or Indian and started the chaps trend by using the only riding gear he had available.
I'll be honest and say that I couldn't quite wrap my mind around wearing chaps, I mean with the front and back sort of highlighting a couple of personal areas that I'd just as soon leave unnoticed.  And although I've never (knock wood!) been in a serious pavement slide, I have this phobia about getting what little butt hide I have scraped off, and chaps don't offer much protection for those nether regions.
But after wearing this pair of chaps for a while, I can see why they're popular.  They're comfortable, and once you get the hang of putting them on, they're fast and easy to wear.  They surely must offer more protection than just a pair of jeans, and they can be slipped off and stuffed into pretty much any old saddlebag once you arrive at your destination, leaving you free to stroll around in denim.
And these aren't just any old leather chaps, these are Fox Creek Leather chaps!  They continue the Fox Creek Leather tradition (and our experience with their products) of high-quality materials and workmanship.  I don't know how they do it, and I've tried to find out where they source their leather, but it's a trade secret.  It's been almost impossible to find leather and craftsmanship of this quality that's also made in the U.S.A., but Fox Creek Leather somehow does it.
The leather used in their apparel has a soft buttery feeling that's comfortable right from the start.  This has been our experience with the other Fox Creek Leather products we reviewed, the Vented Racing Jacket and Women's 3/4 Length Leather Jacket.  Fox Creek uses 1.6 to 1.8mm thick leather in these chaps, which is "race grade" thickness, just like the hide used in jackets and pants designed for motorcycle racing.
Finding the correct size for a set of motorcycle chaps includes measuring the waist diameter, leg length and thigh diameter.  Fox Creek Leather offers their chaps in 130 different sizing combinations, which means there's a fitment for just about anyone.  Many different combinations of waist, length and thigh diameter are available, not just the "S, M, L, XL" available with off-the-shelf chaps.  Fox Creek has an online leather chaps worksheet where customers can enter their waist, leg and thigh diameters to come up with the correct fit.
Chap measurements should be taken over a pair of jeans or whatever type of pants you'll be riding in.  The thigh measurements are taken from the widest part of your thigh while sitting down.  I followed the instructions and my chaps came perfectly sized — just a touch long, which is necessary so that they have enough room to fit over my bent legs when riding.  The thighs are supposed to be a little bit tight, because they will stretch with use.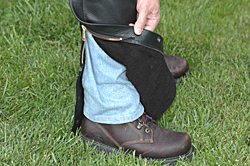 There's a trick to suiting up with a pair of chaps.  Each leg on these men's chaps has a heavy-duty YKK brass zipper at the rear.  I found that it's easiest to first secure the belt, then wrap one chap around one leg and start the zipper, then do the same with the other leg.
The zippers run about 3/4 of the length down the leg, leaving the lower portion of the chaps to be secured via three metal snaps.  The snaps allow some adjustability for different sized boots.  It takes a few tries to figure out the moves to get the zippers started, because they're behind you so you have to get them started by feel and you can feel like you're playing a one-person game of "Twister" until you get used to it.
The zippers are covered by a "weather flap" that hides the brass and provides a seamless look.  The front leg of the chaps is made from seamless leather, and the backs are made from two sections of leather.
Fox Creek Leather motorcycle chaps are available with either a plain or braided top (shown here).  The braids form a nice yet subtle decoration along the edges of the wrap-around attached belt.  The back of the chaps are connected using a lace-up with metal eyes, so there's some adjustability in the waist diameter.
Things can get a bit toasty when riding in hot weather, especially with jeans underneath.  But wear a pair of these with a Fox Creek Leather matching jacket and a pair of engineer boots from Stomper's, throw in a pair of TiMax "Mad Max" gloves, shades and a leather captain's hat, and you'll be starring in your own "The Wild One" redux.  I have to admit that after wearing all the hoity-toity Euro textile stuff that it feels good to blast around in some classic American duds.
If you're in the market for a pair of chaps, I suggest you give these a try.  Fox Creek Leather makes some top-notch leather apparel; they're focused on customer service; they have a wide selection of sizes; their products are made in the U.S.A. and all of their apparel carries a lifetime guarantee.
Note:  For informational use only.  All material and photographs are Copyright © webWorld International, LLC – 2000-2011.  All rights reserved.  See the webBikeWorld® Site Info page.  NOTE:  Product specifications, features and details may change or differ from our descriptions.  Always check before purchasing.  Read the Terms and Conditions!