Learner motorcycle training was improved with an overhaul in Queensland last year, but could do better, says Motorcycle Riders' Association of Queensland president Chris Mearns.
He is calling for Queensland to follow other states in allowing learners to ride solo without a licensed accompanying rider and for a more robust graduated licensing step-up that emphasises "riding attitude and self ability".
Chris says the ongoing requirement for learners to have a fully licensed accompanying rider is "potentially limiting on the learner getting more riding experience".
He says there is no evidence from the other states that do not have this requirement that there is any increase in risk to learner riders. (Western Australia also requires learners to be accompanied.)
"We have notified the QTMR that we will be requesting evidence based data on both of these items as the system grows in maturity which we expect to be in the next 12-24 months," he says.
The MRAQ was a representative on the working committee for last year's overhaul of the Q-Ride licensing system along with the QTMR, RACQ, QLD police, and training organisations.
Chris says he was pleased to see that committee members showed their dedication by being either licensed riders or learner riders.
The Q-Ride curriculum was overhauled to focus on competency, increase training time and address rider attitude.
Trainers rechecked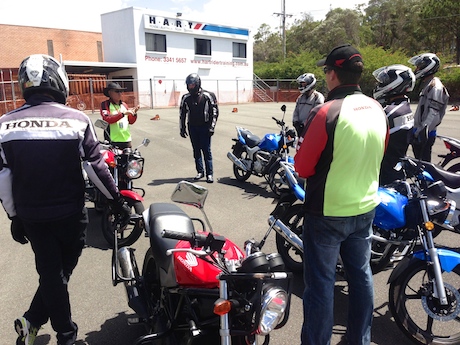 Chris says the overhaul also required trainers to be rechecked because of evidence of substandard trainers.
"It is clear that this has been happening from the reports of some trainers being found not complying and or dealing corruptly and hence having their training accreditation revoked," he says.
There are currently 36 Q-Ride Registered Service Providers (RSPs) and 111 Accredited Rider Trainers (ARTs) in Queensland.
In the past three years, the Transport and Main Roads Department has cancelled the accreditation of one provider and two trainers.
One of the trainers whose accreditation was cancelled said he now stands to lose his house over an inflexible technicality.
He says he issued a licence to a motocross racer in four hours instead of eight because he did not have to teach the rider basic controls.
The former trainer says he is considering legal action against TMR, claiming "no mediation or opportunity to fix through audits or meetings etc".