Western Australia could soon become the final state to introduce lane filtering as well as move to a graduated motorcycle licensing system.
But rather than introducing both schemes to come into line with other states, the WA Government has issued a Motorcycle Safety consultation paper and incited "all road users" to complete an online survey on the rule changes.
Motorcycle Riders Association of WA safety officer Dave Wright urges all WA riders to participate so the survey is not skewed against the reforms by car drivers.
"If we get this out to all of our motorcycle contacts it won't be an issue," he says. "Most car drivers don't care one way or the other as it is being done already by many riders," he says.
Click here to fill out the survey. The consultation period ends on 23 July 2018.
(Even though I don't live in WA, I filled out the survey using a Perth post code.)
Support lane filtering
Dave says lane filtering would bring the state into line with all other states and provide a buffer of safety for riders in traffic.
"We hear some horrific stories of motorcyclists being rear-ended and sandwiched between two cars because drivers don't see the motorcycle in the queue," says Dave who would also like to see riders allowed to ride in bus lanes as in NSW and the ACT.
The survey says the lane filtering rules would harmonise with other states.
However, it does not propose exact laws nor penalties which are widely varied across the states.
In fact, penalties are up to four times higher in NSW than in Victoria and Tasmania which have the lowest penalties.
Click here to read about the varied lane filtering rules across the states.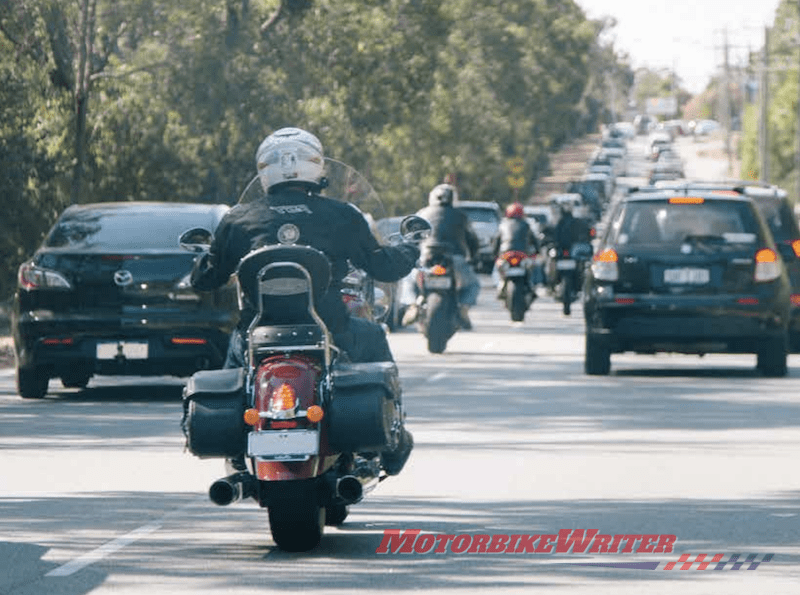 Graduated licensing
The consultation paper also covers graduated licensing.
It points out that WA has no minimum learner period for R-E class learner riders if they have a car or moped driver's licence.
"All other Australian jurisdictions require a learner period of between three to six months," it says.
The consultation paper also suggests:
a pre-licence motorcycle specific Hazard Perception Test (HPT)

a minimum two-year restricted licence (LAMS) phase on R-E class motorcycles; and

increasing the rigour of the two motorcycle PDA (for R-E class and R class vehicles). Assessments for R class vehicles to be more rigorous than that of R -E class vehicles, reflecting the higher order skills required for a more powerful motorcycle.
Dave supports moves for increased training and monitoring in the gradated licensing system.
The WA consultation paper comes after an already lengthy consultation period involving key stakeholders back to 2015.
This despite the fact lane filtering rules have been around for almost four years.
Varied lane filtering rules