KTM Australia is recalling 683 of its new 790 Adventure and Adventure R models over a rear brake overheating issue.
The official notice issued through the Australian Competition and Consumer Commission says the 2019-2020 models experience a material failure of the rear brake line as a result of overheating.
"If the rear brake system fails due to continuous heavy braking there is reduced braking ability or effectiveness," it says.
"This can increase a risk of an accident to the rider, pillion passenger or other road users."
To fix the issue, the brake line that leads from the rear brake caliper to the ABS modulator has to be replaced.
During repair, it will also be necessary to replace the round head Torx screw on the rear brake lever with a new screw.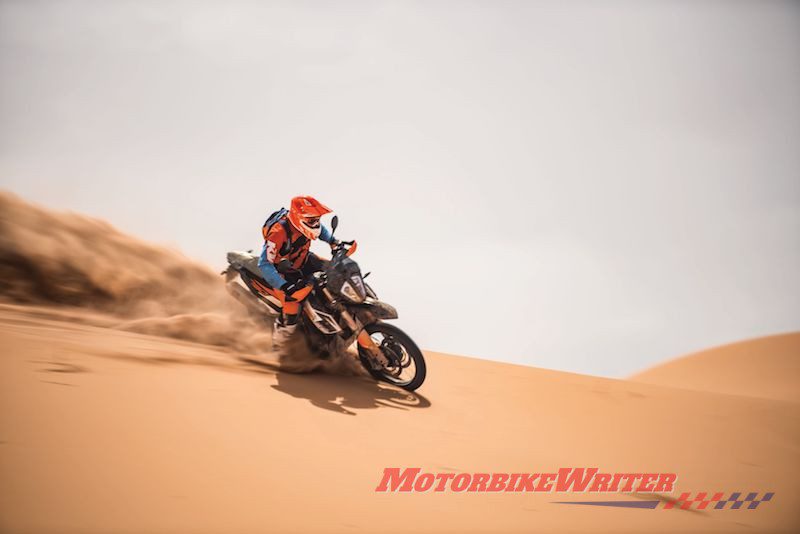 Consumers will be contacted by direct mail notifying them of the recall. Consumers should contact an authorised KTM dealer.
The vehicle identification numbers of affected bikes is listed at the end of this article.
Dealers will arrange an appointment to inspection your bike and order replacement parts.
The free fix takes about 85 minutes and can only be carried out by an authorised KTM dealer.
For further information, consumers can contact KTM Australia on 1800 644 771 or find their nearest authorised dealer using the online dealer search option.
KTM only had one recall last year.
Most recalls are issued voluntarily and posted online by the Australian Competition and Consumer Commission.
Even though manufacturers and importers usually contact owners when a recall is issued, the bike may have been sold privately to a rider unknown to the company.
Therefore, Motorbike Writer publishes all motorcycle and scooter recalls as a service to all riders.
If you believe there is an endemic problem with your bike that should be recalled, contact the ACCC on 1300 302 502.
To check whether your motorcycle has been recalled, click on these sites:
• USA
• Canada
VINS of affected bikes
| | |
| --- | --- |
| VINS: | MODEL: |
| VBKTS3409LM774455 | 790 Adventure 2020 |
| VBKTS3403LM774452 | 790 Adventure 2020 |
| VBKTS3404LM774413 | 790 Adventure 2020 |
| VBKTS3401LM774420 | 790 Adventure 2020 |
| VBKTR3406KM773709 | 790 Adventure R 2019 |
| VBKTR3406KM773631 | 790 Adventure R 2019 |
| VBKTR3401KM773696 | 790 Adventure R 2019 |
| VBKTR3407KM773699 | 790 Adventure R 2019 |
| VBKTR3403KM773022 | 790 Adventure R 2019 |
| VBKTR3402KM773691 | 790 Adventure R 2019 |
| VBKTR3400KM773639 | 790 Adventure R 2019 |
| VBKTR3409KM773705 | 790 Adventure R 2019 |
| VBKTR3406KM773712 | 790 Adventure R 2019 |
| VBKTR3404KM773711 | 790 Adventure R 2019 |
| VBKTR3403KM773702 | 790 Adventure R 2019 |
| VBKTR3400KM773706 | 790 Adventure R 2019 |
| VBKTR3400KM773690 | 790 Adventure R 2019 |
| VBKTR3402KM773545 | 790 Adventure R 2019 |
| VBKTR340XKM773633 | 790 Adventure R 2019 |
| VBKTR340XKM773602 | 790 Adventure R 2019 |
| VBKTR3409KM773641 | 790 Adventure R 2019 |
| VBKTR3409KM773638 | 790 Adventure R 2019 |
| VBKTR3409KM773610 | 790 Adventure R 2019 |
| VBKTR3409KM773607 | 790 Adventure R 2019 |
| VBKTR3408KM773629 | 790 Adventure R 2019 |
| VBKTR3407KM773640 | 790 Adventure R 2019 |
| VBKTR3407KM773637 | 790 Adventure R 2019 |
| VBKTR3406KM773628 | 790 Adventure R 2019 |
| VBKTR3405KM773636 | 790 Adventure R 2019 |
| VBKTR3404KM773627 | 790 Adventure R 2019 |
| VBKTS3402KM747998 | 790 Adventure 2019 |
| VBKTR3403KM773635 | 790 Adventure R 2019 |
| VBKTR3403KM773621 | 790 Adventure R 2019 |
| VBKTR3402KM773626 | 790 Adventure R 2019 |
| VBKTR3401KM773620 | 790 Adventure R 2019 |
| VBKTR3400KM773625 | 790 Adventure R 2019 |
| VBKTR340XKM773597 | 790 Adventure R 2019 |
| VBKTR3409KM773526 | 790 Adventure R 2019 |
| VBKTR3408KM773615 | 790 Adventure R 2019 |
| VBKTR3408KM773601 | 790 Adventure R 2019 |
| VBKTR3408KM773596 | 790 Adventure R 2019 |
| VBKTR3406KM773614 | 790 Adventure R 2019 |
| VBKTR3406KM773600 | 790 Adventure R 2019 |
| VBKTR3406KM773595 | 790 Adventure R 2019 |
| VBKTR3404KM773613 | 790 Adventure R 2019 |
| VBKTR3403KM773604 | 790 Adventure R 2019 |
| VBKTR3402KM773612 | 790 Adventure R 2019 |
| VBKTR3402KM773609 | 790 Adventure R 2019 |
| VBKTR3401KM773598 | 790 Adventure R 2019 |
| VBKTR3400KM773611 | 790 Adventure R 2019 |
| VBKTR340XKM773535 | 790 Adventure R 2019 |
| VBKTR340XKM773521 | 790 Adventure R 2019 |
| VBKTR340XKM773518 | 790 Adventure R 2019 |
| VBKTR340XKM773499 | 790 Adventure R 2019 |
| VBKTR3409KM773493 | 790 Adventure R 2019 |
| VBKTR3408KM773534 | 790 Adventure R 2019 |
| VBKTR3408KM773520 | 790 Adventure R 2019 |
| VBKTR3408KM773503 | 790 Adventure R 2019 |
| VBKTR3408KM773498 | 790 Adventure R 2019 |
| VBKTR3406KM773533 | 790 Adventure R 2019 |
| VBKTR3406KM773502 | 790 Adventure R 2019 |
| VBKTR3406KM773497 | 790 Adventure R 2019 |
| VBKTR3405KM773524 | 790 Adventure R 2019 |
| VBKTR3405KM773491 | 790 Adventure R 2019 |
| VBKTR3404KM773532 | 790 Adventure R 2019 |
| VBKTR3404KM773529 | 790 Adventure R 2019 |
| VBKTR3404KM773501 | 790 Adventure R 2019 |
| VBKTR3404KM773496 | 790 Adventure R 2019 |
| VBKTR3404KM773479 | 790 Adventure R 2019 |
| VBKTR3403KM773523 | 790 Adventure R 2019 |
| VBKTR3402KM773531 | 790 Adventure R 2019 |
| VBKTR3402KM773495 | 790 Adventure R 2019 |
| VBKTR3401KM773522 | 790 Adventure R 2019 |
| VBKTR3401KM773519 | 790 Adventure R 2019 |
| VBKTR3401KM773486 | 790 Adventure R 2019 |
| VBKTR3400KM773530 | 790 Adventure R 2019 |
| VBKTR3400KM773527 | 790 Adventure R 2019 |
| VBKTR3400KM773494 | 790 Adventure R 2019 |
| VBKTR340XKM773485 | 790 Adventure R 2019 |
| VBKTR3409KM773476 | 790 Adventure R 2019 |
| VBKTR3408KM773484 | 790 Adventure R 2019 |
| VBKTR3407KM773492 | 790 Adventure R 2019 |
| VBKTS3401KM748222 | 790 Adventure 2019 |
| VBKTR3407KM773489 | 790 Adventure R 2019 |
| VBKTR3406KM773483 | 790 Adventure R 2019 |
| VBKTR3405KM773488 | 790 Adventure R 2019 |
| VBKTR3405KM773474 | 790 Adventure R 2019 |
| VBKTR3403KM773490 | 790 Adventure R 2019 |
| VBKTR3403KM773487 | 790 Adventure R 2019 |
| VBKTR3403KM773473 | 790 Adventure R 2019 |
| VBKTR3409KM773445 | 790 Adventure R 2019 |
| VBKTR3409KM773378 | 790 Adventure R 2019 |
| VBKTR3408KM773453 | 790 Adventure R 2019 |
| VBKTR3407KM773444 | 790 Adventure R 2019 |
| VBKTR3407KM773413 | 790 Adventure R 2019 |
| VBKTR3407KM773377 | 790 Adventure R 2019 |
| VBKTS3404KM748215 | 790 Adventure 2019 |
| VBKTR3406KM773452 | 790 Adventure R 2019 |
| VBKTR3406KM773404 | 790 Adventure R 2019 |
| VBKTR3406KM773399 | 790 Adventure R 2019 |
| VBKTR3405KM773457 | 790 Adventure R 2019 |
| VBKTR3405KM773443 | 790 Adventure R 2019 |
| VBKTR3404KM773451 | 790 Adventure R 2019 |
| VBKTR3403KM773456 | 790 Adventure R 2019 |
| VBKTR3403KM773442 | 790 Adventure R 2019 |
| VBKTR3403KM773392 | 790 Adventure R 2019 |
| VBKTR3403KM773389 | 790 Adventure R 2019 |
| VBKTR3403KM773182 | 790 Adventure R 2019 |
| VBKTR3402KM773447 | 790 Adventure R 2019 |
| VBKTR3401KM773455 | 790 Adventure R 2019 |
| VBKTR3401KM773441 | 790 Adventure R 2019 |
| VBKTR3401KM773410 | 790 Adventure R 2019 |
| VBKTR3405KM770865 | 790 Adventure R 2019 |
| VBKTR340XKM770800 | 790 Adventure R 2019 |
| VBKTR3408KM770813 | 790 Adventure R 2019 |
| VBKTR3404KM770808 | 790 Adventure R 2019 |
| VBKTR3400KM770806 | 790 Adventure R 2019 |
| VBKTR340XKM770635 | 790 Adventure R 2019 |
| VBKTR3409KM770643 | 790 Adventure R 2019 |
| VBKTR3409KM770626 | 790 Adventure R 2019 |
| VBKTR3407KM770639 | 790 Adventure R 2019 |
| VBKTR3406KM770633 | 790 Adventure R 2019 |
| VBKTR3405KM770641 | 790 Adventure R 2019 |
| VBKTR3405KM770638 | 790 Adventure R 2019 |
| VBKTR3405KM770624 | 790 Adventure R 2019 |
| VBKTR3404KM770646 | 790 Adventure R 2019 |
| VBKTR3404KM770632 | 790 Adventure R 2019 |
| VBKTR3403KM770637 | 790 Adventure R 2019 |
| VBKTR3402KM770631 | 790 Adventure R 2019 |
| VBKTR3400KM770644 | 790 Adventure R 2019 |
| VBKTR340XKM770618 | 790 Adventure R 2019 |
| VBKTS3408KM770024 | 790 Adventure 2019 |
| VBKTS3406KM770023 | 790 Adventure 2019 |
| VBKTS3404KM770019 | 790 Adventure 2019 |
| VBKTS3400KM770051 | 790 Adventure 2019 |
| VBKTS3409KM769612 | 790 Adventure 2019 |
| VBKTS3409KM769562 | 790 Adventure 2019 |
| VBKTR3407KM769300 | 790 Adventure R 2019 |
| VBKTR3405KM769294 | 790 Adventure R 2019 |
| VBKTR3403KM769293 | 790 Adventure R 2019 |
| VBKTR3402KM769267 | 790 Adventure R 2019 |
| VBKTR3400KM769266 | 790 Adventure R 2019 |
| VBKTR3409KM769251 | 790 Adventure R 2019 |
| VBKTR3408KM769256 | 790 Adventure R 2019 |
| VBKTR3407KM769250 | 790 Adventure R 2019 |
| VBKTR3401KM769258 | 790 Adventure R 2019 |
| VBKTR3404KM769058 | 790 Adventure R 2019 |
| VBKTR3403KM769147 | 790 Adventure R 2019 |
| VBKTR340XKM769145 | 790 Adventure R 2019 |
| VBKTR3408KM769144 | 790 Adventure R 2019 |
| VBKTR3405KM769151 | 790 Adventure R 2019 |
| VBKTR3405KM769148 | 790 Adventure R 2019 |
| VBKTR3403KM769150 | 790 Adventure R 2019 |
| VBKTR3402KM769138 | 790 Adventure R 2019 |
| VBKTR3401KM769146 | 790 Adventure R 2019 |
| VBKTR3401KM769132 | 790 Adventure R 2019 |
| VBKTR3400KM768988 | 790 Adventure R 2019 |
| VBKTR340XKM769131 | 790 Adventure R 2019 |
| VBKTR3408KM769130 | 790 Adventure R 2019 |
| VBKTR3407KM769135 | 790 Adventure R 2019 |
| VBKTR3406KM769143 | 790 Adventure R 2019 |
| VBKTR3405KM769134 | 790 Adventure R 2019 |
| VBKTR3404KM769139 | 790 Adventure R 2019 |
| VBKTR3402KM769141 | 790 Adventure R 2019 |
| VBKTR3400KM769140 | 790 Adventure R 2019 |
| VBKTR3400KM769137 | 790 Adventure R 2019 |
| VBKTR3405KM769067 | 790 Adventure R 2019 |
| VBKTR3406KM764363 | 790 Adventure R 2019 |
| VBKTR3407KM764405 | 790 Adventure R 2019 |
| VBKTR3403KM764255 | 790 Adventure R 2019 |
| VBKTR3402KM764327 | 790 Adventure R 2019 |
| VBKTR3401KM764366 | 790 Adventure R 2019 |
| VBKTR3409KM764406 | 790 Adventure R 2019 |
| VBKTR340XKM764396 | 790 Adventure R 2019 |
| VBKTR340XKM764382 | 790 Adventure R 2019 |
| VBKTR340XKM764379 | 790 Adventure R 2019 |
| VBKTR340XKM764365 | 790 Adventure R 2019 |
| VBKTR3409KM764390 | 790 Adventure R 2019 |
| VBKTR3409KM764387 | 790 Adventure R 2019 |
| VBKTR3409KM764373 | 790 Adventure R 2019 |
| VBKTR3409KM764356 | 790 Adventure R 2019 |
| VBKTR3409KM764244 | 790 Adventure R 2019 |
| VBKTR3408KM764395 | 790 Adventure R 2019 |
| VBKTR3408KM764381 | 790 Adventure R 2019 |
| VBKTR3408KM764378 | 790 Adventure R 2019 |
| VBKTR3408KM764364 | 790 Adventure R 2019 |
| VBKTR3408KM764333 | 790 Adventure R 2019 |
| VBKTR3407KM764386 | 790 Adventure R 2019 |
| VBKTR3407KM764372 | 790 Adventure R 2019 |
| VBKTR3407KM764369 | 790 Adventure R 2019 |
| VBKTR3407KM764338 | 790 Adventure R 2019 |
| VBKTR3406KM764394 | 790 Adventure R 2019 |
| VBKTR3406KM764380 | 790 Adventure R 2019 |
| VBKTR3406KM764377 | 790 Adventure R 2019 |
| VBKTR3405KM764404 | 790 Adventure R 2019 |
| VBKTR3405KM764385 | 790 Adventure R 2019 |
| VBKTR3405KM764371 | 790 Adventure R 2019 |
| VBKTR3405KM764368 | 790 Adventure R 2019 |
| VBKTR3404KM764376 | 790 Adventure R 2019 |
| VBKTR3404KM764359 | 790 Adventure R 2019 |
| VBKTR3404KM764328 | 790 Adventure R 2019 |
| VBKTR3403KM764403 | 790 Adventure R 2019 |
| VBKTR3403KM764398 | 790 Adventure R 2019 |
| VBKTR3403KM764384 | 790 Adventure R 2019 |
| VBKTR3403KM764370 | 790 Adventure R 2019 |
| VBKTR3403KM764367 | 790 Adventure R 2019 |
| VBKTR3403KM764322 | 790 Adventure R 2019 |
| VBKTR3402KM764408 | 790 Adventure R 2019 |
| VBKTR3402KM764392 | 790 Adventure R 2019 |
| VBKTR3402KM764389 | 790 Adventure R 2019 |
| VBKTR3402KM764361 | 790 Adventure R 2019 |
| VBKTR3402KM764358 | 790 Adventure R 2019 |
| VBKTR3401KM764402 | 790 Adventure R 2019 |
| VBKTR3401KM764397 | 790 Adventure R 2019 |
| VBKTR3401KM764383 | 790 Adventure R 2019 |
| VBKTR3401KM764335 | 790 Adventure R 2019 |
| VBKTR3401KM764240 | 790 Adventure R 2019 |
| VBKTR3401KM763833 | 790 Adventure R 2019 |
| VBKTR3400KM764407 | 790 Adventure R 2019 |
| VBKTR3400KM764391 | 790 Adventure R 2019 |
| VBKTR3400KM764388 | 790 Adventure R 2019 |
| VBKTR3400KM764360 | 790 Adventure R 2019 |
| VBKTR340XKM764334 | 790 Adventure R 2019 |
| VBKTR3406KM764332 | 790 Adventure R 2019 |
| VBKTR3406KM764329 | 790 Adventure R 2019 |
| VBKTS3402KM748553 | 790 Adventure 2019 |
| VBKTR3405KM764337 | 790 Adventure R 2019 |
| VBKTR3405KM764323 | 790 Adventure R 2019 |
| VBKTR3403KM764336 | 790 Adventure R 2019 |
| VBKTR3400KM764357 | 790 Adventure R 2019 |
| VBKTR340XKM764320 | 790 Adventure R 2019 |
| VBKTR340XKM764317 | 790 Adventure R 2019 |
| VBKTR340XKM764303 | 790 Adventure R 2019 |
| VBKTS3404KM748540 | 790 Adventure 2019 |
| VBKTR340XKM764298 | 790 Adventure R 2019 |
| VBKTR340XKM764284 | 790 Adventure R 2019 |
| VBKTR340XKM764236 | 790 Adventure R 2019 |
| VBKTR3409KM764325 | 790 Adventure R 2019 |
| VBKTR3409KM764311 | 790 Adventure R 2019 |
| VBKTS3406KM748538 | 790 Adventure 2019 |
| VBKTR3409KM764308 | 790 Adventure R 2019 |
| VBKTR3409KM764227 | 790 Adventure R 2019 |
| VBKTR3408KM764316 | 790 Adventure R 2019 |
| VBKTR3408KM764302 | 790 Adventure R 2019 |
| VBKTR3408KM764297 | 790 Adventure R 2019 |
| VBKTR3408KM764283 | 790 Adventure R 2019 |
| VBKTR3408KM763814 | 790 Adventure R 2019 |
| VBKTR3407KM764324 | 790 Adventure R 2019 |
| VBKTS3408KM748542 | 790 Adventure 2019 |
| VBKTR3407KM764310 | 790 Adventure R 2019 |
| VBKTR3406KM764301 | 790 Adventure R 2019 |
| VBKTR3406KM764296 | 790 Adventure R 2019 |
| VBKTS3409KM748551 | 790 Adventure 2019 |
| VBKTS3409KM748680 | 790 Adventure 2019 |
| VBKTR3406KM764251 | 790 Adventure R 2019 |
| VBKTR3405KM764306 | 790 Adventure R 2019 |
| VBKTR3405KM764225 | 790 Adventure R 2019 |
| VBKTR3405KM764211 | 790 Adventure R 2019 |
| VBKTR3405KM764208 | 790 Adventure R 2019 |
| VBKTR3404KM764331 | 790 Adventure R 2019 |
| VBKTR3404KM764314 | 790 Adventure R 2019 |
| VBKTR3404KM764300 | 790 Adventure R 2019 |
| VBKTR3404KM764295 | 790 Adventure R 2019 |
| VBKTR3404KM764250 | 790 Adventure R 2019 |
| VBKTR3403KM764319 | 790 Adventure R 2019 |
| VBKTR3403KM764305 | 790 Adventure R 2019 |
| VBKTR3403KM764238 | 790 Adventure R 2019 |
| VBKTR3403KM763655 | 790 Adventure R 2019 |
| VBKTR3402KM764330 | 790 Adventure R 2019 |
| VBKTR3402KM764313 | 790 Adventure R 2019 |
| VBKTR3402KM764215 | 790 Adventure R 2019 |
| VBKTS4400KM743258 | 790 Adventure 2019 |
| VBKTR3401KM764321 | 790 Adventure R 2019 |
| VBKTS4401KM743267 | 790 Adventure 2019 |
| VBKTR3401KM764318 | 790 Adventure R 2019 |
| VBKTR3401KM764304 | 790 Adventure R 2019 |
| VBKTR3401KM764299 | 790 Adventure R 2019 |
| VBKTR3401KM764285 | 790 Adventure R 2019 |
| VBKTR3401KM764223 | 790 Adventure R 2019 |
| VBKTR3401KM764206 | 790 Adventure R 2019 |
| VBKTR3400KM764326 | 790 Adventure R 2019 |
| VBKTR3400KM764312 | 790 Adventure R 2019 |
| VBKTR3400KM764309 | 790 Adventure R 2019 |
| VBKTR340XKM764219 | 790 Adventure R 2019 |
| VBKTS4400KM743261 | 790 Adventure 2019 |
| VBKTS4400KM743289 | 790 Adventure 2019 |
| VBKTR3409KM764230 | 790 Adventure R 2019 |
| VBKTR3408KM764249 | 790 Adventure R 2019 |
| VBKTR3400KM764231 | 790 Adventure R 2019 |
| VBKTR3408KM764221 | 790 Adventure R 2019 |
| VBKTR3407KM764212 | 790 Adventure R 2019 |
| VBKTR3407KM763660 | 790 Adventure R 2019 |
| VBKTR3405KM764239 | 790 Adventure R 2019 |
| VBKTS4403KM743271 | 790 Adventure 2019 |
| VBKTR3409KM763854 | 790 Adventure R 2019 |
| VBKTR3407KM763822 | 790 Adventure R 2019 |
| VBKTS4404KM743277 | 790 Adventure 2019 |
| VBKTR3409KM763689 | 790 Adventure R 2019 |
| VBKTR3408KM763845 | 790 Adventure R 2019 |
| VBKTR3408KM763831 | 790 Adventure R 2019 |
| VBKTR3406KM763844 | 790 Adventure R 2019 |
| VBKTR3404KM763843 | 790 Adventure R 2019 |
| VBKTR3403KM763851 | 790 Adventure R 2019 |
| VBKTR3403KM763686 | 790 Adventure R 2019 |
| VBKTR3401KM763847 | 790 Adventure R 2019 |
| VBKTR340XKM763829 | 790 Adventure R 2019 |
| VBKTR340XKM763815 | 790 Adventure R 2019 |
| VBKTR3409KM763806 | 790 Adventure R 2019 |
| VBKTR3407KM763819 | 790 Adventure R 2019 |
| VBKTR3406KM763830 | 790 Adventure R 2019 |
| VBKTR3406KM763682 | 790 Adventure R 2019 |
| VBKTR3405KM763821 | 790 Adventure R 2019 |
| VBKTR3405KM763818 | 790 Adventure R 2019 |
| VBKTR3403KM763820 | 790 Adventure R 2019 |
| VBKTR3403KM763817 | 790 Adventure R 2019 |
| VBKTR3400KM763824 | 790 Adventure R 2019 |
| VBKTR340XKM763653 | 790 Adventure R 2019 |
| VBKTR3409KM763661 | 790 Adventure R 2019 |
| VBKTR3408KM763635 | 790 Adventure R 2019 |
| VBKTR3406KM763665 | 790 Adventure R 2019 |
| VBKTR3406KM763648 | 790 Adventure R 2019 |
| VBKTR3405KM763656 | 790 Adventure R 2019 |
| VBKTR3404KM763664 | 790 Adventure R 2019 |
| VBKTR3404KM763647 | 790 Adventure R 2019 |
| VBKTR3402KM763663 | 790 Adventure R 2019 |
| VBKTR3402KM763405 | 790 Adventure R 2019 |
| VBKTR3400KM763662 | 790 Adventure R 2019 |
| VBKTR3409KM763658 | 790 Adventure R 2019 |
| VBKTR3408KM763652 | 790 Adventure R 2019 |
| VBKTR3408KM763649 | 790 Adventure R 2019 |
| VBKTS4408KM743590 | 790 Adventure 2019 |
| VBKTR3408KM763439 | 790 Adventure R 2019 |
| VBKTR3407KM763657 | 790 Adventure R 2019 |
| VBKTR3407KM763643 | 790 Adventure R 2019 |
| VBKTR3406KM763651 | 790 Adventure R 2019 |
| VBKTR3406KM763634 | 790 Adventure R 2019 |
| VBKTR3406KM763441 | 790 Adventure R 2019 |
| VBKTS4400KM743275 | 790 Adventure 2019 |
| VBKTS4403KM743268 | 790 Adventure 2019 |
| VBKTR3406KM763407 | 790 Adventure R 2019 |
| VBKTR3405KM763642 | 790 Adventure R 2019 |
| VBKTR3405KM763639 | 790 Adventure R 2019 |
| VBKTR3404KM763650 | 790 Adventure R 2019 |
| VBKTR3404KM763633 | 790 Adventure R 2019 |
| VBKTR3403KM763641 | 790 Adventure R 2019 |
| VBKTR3403KM763445 | 790 Adventure R 2019 |
| VBKTR3402KM763632 | 790 Adventure R 2019 |
| VBKTR3401KM763654 | 790 Adventure R 2019 |
| VBKTR3401KM763640 | 790 Adventure R 2019 |
| VBKTR3401KM763637 | 790 Adventure R 2019 |
| VBKTR3401KM763444 | 790 Adventure R 2019 |
| VBKTR3400KM763645 | 790 Adventure R 2019 |
| VBKTR3400KM763631 | 790 Adventure R 2019 |
| VBKTS4400KM743616 | 790 Adventure 2019 |
| VBKTS3405KM760423 | 790 Adventure 2019 |
| VBKTR340XKM757769 | 790 Adventure R 2019 |
| VBKTS3404KM759182 | 790 Adventure 2019 |
| VBKTR3408KM758063 | 790 Adventure R 2019 |
| VBKTS4402KM743620 | 790 Adventure 2019 |
| VBKTR3404KM751871 | 790 Adventure R 2019 |
| VBKTS3405KM759028 | 790 Adventure 2019 |
| VBKTS340XKM758716 | 790 Adventure 2019 |
| VBKTS3408KM758715 | 790 Adventure 2019 |
| VBKTS3408KM758696 | 790 Adventure 2019 |
| VBKTS3407KM758706 | 790 Adventure 2019 |
| VBKTS3406KM758714 | 790 Adventure 2019 |
| VBKTS4405KM743255 | 790 Adventure 2019 |
| VBKTS3406KM758695 | 790 Adventure 2019 |
| VBKTS3405KM758705 | 790 Adventure 2019 |
| VBKTS3404KM758713 | 790 Adventure 2019 |
| VBKTS3404KM758694 | 790 Adventure 2019 |
| VBKTS3404KM758212 | 790 Adventure 2019 |
| VBKTS3402KM758726 | 790 Adventure 2019 |
| VBKTS3402KM758693 | 790 Adventure 2019 |
| VBKTS3401KM758717 | 790 Adventure 2019 |
| VBKTS3400KM758708 | 790 Adventure 2019 |
| VBKTS3406KM758194 | 790 Adventure 2019 |
| VBKTR340XKM758064 | 790 Adventure R 2019 |
| VBKTR340XKM758050 | 790 Adventure R 2019 |
| VBKTR340XKM758033 | 790 Adventure R 2019 |
| VBKTR340XKM758002 | 790 Adventure R 2019 |
| VBKTR3409KM758038 | 790 Adventure R 2019 |
| VBKTR3409KM758024 | 790 Adventure R 2019 |
| VBKTR3408KM758015 | 790 Adventure R 2019 |
| VBKTR3408KM757995 | 790 Adventure R 2019 |
| VBKTR3407KM758054 | 790 Adventure R 2019 |
| VBKTR3407KM758040 | 790 Adventure R 2019 |
| VBKTR3407KM758037 | 790 Adventure R 2019 |
| VBKTR3406KM758045 | 790 Adventure R 2019 |
| VBKTR3406KM752035 | 790 Adventure R 2019 |
| VBKTR3405KM758053 | 790 Adventure R 2019 |
| VBKTR3405KM758022 | 790 Adventure R 2019 |
| VBKTR3405KM758019 | 790 Adventure R 2019 |
| VBKTR3404KM758058 | 790 Adventure R 2019 |
| VBKTR3404KM758044 | 790 Adventure R 2019 |
| VBKTR3404KM758013 | 790 Adventure R 2019 |
| VBKTR3403KM758052 | 790 Adventure R 2019 |
| VBKTR3403KM758021 | 790 Adventure R 2019 |
| VBKTR3403KM758018 | 790 Adventure R 2019 |
| VBKTR3402KM758060 | 790 Adventure R 2019 |
| VBKTR3402KM758026 | 790 Adventure R 2019 |
| VBKTR3401KM758051 | 790 Adventure R 2019 |
| VBKTR3401KM758048 | 790 Adventure R 2019 |
| VBKTR3400KM758056 | 790 Adventure R 2019 |
| VBKTR3400KM758042 | 790 Adventure R 2019 |
| VBKTR3400KM758039 | 790 Adventure R 2019 |
| VBKTR3400KM758025 | 790 Adventure R 2019 |
| VBKTR3400KM758008 | 790 Adventure R 2019 |
| VBKTR340XKM757996 | 790 Adventure R 2019 |
| VBKTR3409KM757813 | 790 Adventure R 2019 |
| VBKTR3408KM758001 | 790 Adventure R 2019 |
| VBKTR4409KM743898 | 790 Adventure R 2019 |
| VBKTR3407KM758006 | 790 Adventure R 2019 |
| VBKTR3407KM757809 | 790 Adventure R 2019 |
| VBKTR3406KM758000 | 790 Adventure R 2019 |
| VBKTR3406KM757994 | 790 Adventure R 2019 |
| VBKTR3405KM758005 | 790 Adventure R 2019 |
| VBKTR3405KM757811 | 790 Adventure R 2019 |
| VBKTR3404KM757993 | 790 Adventure R 2019 |
| VBKTR3403KM758004 | 790 Adventure R 2019 |
| VBKTR3403KM757998 | 790 Adventure R 2019 |
| VBKTR3403KM757810 | 790 Adventure R 2019 |
| VBKTR3402KM757992 | 790 Adventure R 2019 |
| VBKTR3402KM757779 | 790 Adventure R 2019 |
| VBKTR3401KM758003 | 790 Adventure R 2019 |
| VBKTR3400KM757800 | 790 Adventure R 2019 |
| VBKTR340XKM757805 | 790 Adventure R 2019 |
| VBKTR340XKM756864 | 790 Adventure R 2019 |
| VBKTR3409KM757794 | 790 Adventure R 2019 |
| VBKTR3409KM757780 | 790 Adventure R 2019 |
| VBKTR3409KM757777 | 790 Adventure R 2019 |
| VBKTR3409KM757763 | 790 Adventure R 2019 |
| VBKTR3408KM757785 | 790 Adventure R 2019 |
| VBKTR3408KM757771 | 790 Adventure R 2019 |
| VBKTR3408KM757768 | 790 Adventure R 2019 |
| VBKTR3407KM757793 | 790 Adventure R 2019 |
| VBKTR3407KM757776 | 790 Adventure R 2019 |
| VBKTR3406KM757798 | 790 Adventure R 2019 |
| VBKTR3405KM757789 | 790 Adventure R 2019 |
| VBKTR3405KM757419 | 790 Adventure R 2019 |
| VBKTR3404KM757797 | 790 Adventure R 2019 |
| VBKTR3404KM757783 | 790 Adventure R 2019 |
| VBKTR3404KM757766 | 790 Adventure R 2019 |
| VBKTR3403KM757760 | 790 Adventure R 2019 |
| VBKTR3402KM757801 | 790 Adventure R 2019 |
| VBKTR3402KM757796 | 790 Adventure R 2019 |
| VBKTR3402KM757782 | 790 Adventure R 2019 |
| VBKTR3402KM757765 | 790 Adventure R 2019 |
| VBKTR3400KM757781 | 790 Adventure R 2019 |
| VBKTR3400KM757778 | 790 Adventure R 2019 |
| VBKTR3400KM757764 | 790 Adventure R 2019 |
| VBKTR340XKM757481 | 790 Adventure R 2019 |
| VBKTR340XKM757478 | 790 Adventure R 2019 |
| VBKTR340XKM757464 | 790 Adventure R 2019 |
| VBKTR340XKM757433 | 790 Adventure R 2019 |
| VBKTR3409KM757486 | 790 Adventure R 2019 |
| VBKTR3409KM757472 | 790 Adventure R 2019 |
| VBKTR3409KM757424 | 790 Adventure R 2019 |
| VBKTR3408KM757480 | 790 Adventure R 2019 |
| VBKTR3408KM757477 | 790 Adventure R 2019 |
| VBKTR3407KM757762 | 790 Adventure R 2019 |
| VBKTR3407KM757485 | 790 Adventure R 2019 |
| VBKTR3407KM757471 | 790 Adventure R 2019 |
| VBKTR3407KM757468 | 790 Adventure R 2019 |
| VBKTR3406KM757753 | 790 Adventure R 2019 |
| VBKTR3406KM757476 | 790 Adventure R 2019 |
| VBKTR3405KM757744 | 790 Adventure R 2019 |
| VBKTR3405KM757484 | 790 Adventure R 2019 |
| VBKTR3405KM757470 | 790 Adventure R 2019 |
| VBKTR3405KM757467 | 790 Adventure R 2019 |
| VBKTR3405KM757453 | 790 Adventure R 2019 |
| VBKTR3404KM757749 | 790 Adventure R 2019 |
| VBKTS4405KM743577 | 790 Adventure 2019 |
| VBKTR3404KM757489 | 790 Adventure R 2019 |
| VBKTR3404KM757458 | 790 Adventure R 2019 |
| VBKTS4409KM743288 | 790 Adventure 2019 |
| VBKTR3403KM757743 | 790 Adventure R 2019 |
| VBKTR3403KM757483 | 790 Adventure R 2019 |
| VBKTR3403KM757466 | 790 Adventure R 2019 |
| VBKTR3403KM757452 | 790 Adventure R 2019 |
| VBKTS4403KM743609 | 790 Adventure 2019 |
| VBKTR3402KM757751 | 790 Adventure R 2019 |
| VBKTR3402KM757488 | 790 Adventure R 2019 |
| VBKTR3402KM757474 | 790 Adventure R 2019 |
| VBKTR3402KM757457 | 790 Adventure R 2019 |
| VBKTR3402KM757443 | 790 Adventure R 2019 |
| VBKTR3402KM756843 | 790 Adventure R 2019 |
| VBKTR3401KM757756 | 790 Adventure R 2019 |
| VBKTR3401KM757482 | 790 Adventure R 2019 |
| VBKTR3401KM757479 | 790 Adventure R 2019 |
| VBKTR3401KM757465 | 790 Adventure R 2019 |
| VBKTR3400KM757750 | 790 Adventure R 2019 |
| VBKTR3400KM757747 | 790 Adventure R 2019 |
| VBKTR3400KM757490 | 790 Adventure R 2019 |
| VBKTR3400KM757487 | 790 Adventure R 2019 |
| VBKTR3400KM757473 | 790 Adventure R 2019 |
| VBKTR3400KM757425 | 790 Adventure R 2019 |
| VBKTR340XKM757450 | 790 Adventure R 2019 |
| VBKTR3409KM757455 | 790 Adventure R 2019 |
| VBKTR3408KM757463 | 790 Adventure R 2019 |
| VBKTR3407KM757454 | 790 Adventure R 2019 |
| VBKTR3406KM757462 | 790 Adventure R 2019 |
| VBKTR3406KM757459 | 790 Adventure R 2019 |
| VBKTR3406KM757445 | 790 Adventure R 2019 |
| VBKTR3404KM757461 | 790 Adventure R 2019 |
| VBKTR3402KM757460 | 790 Adventure R 2019 |
| VBKTR3401KM757434 | 790 Adventure R 2019 |
| VBKTR3400KM757456 | 790 Adventure R 2019 |
| VBKTR3400KM757439 | 790 Adventure R 2019 |
| VBKTR340XKM756492 | 790 Adventure R 2019 |
| VBKTR340XKM756458 | 790 Adventure R 2019 |
| VBKTR3407KM756496 | 790 Adventure R 2019 |
| VBKTR3407KM756448 | 790 Adventure R 2019 |
| VBKTR3405KM756612 | 790 Adventure R 2019 |
| VBKTR3405KM756450 | 790 Adventure R 2019 |
| VBKTR3404KM756486 | 790 Adventure R 2019 |
| VBKTR3403KM756611 | 790 Adventure R 2019 |
| VBKTR3401KM756610 | 790 Adventure R 2019 |
| VBKTR3401KM756459 | 790 Adventure R 2019 |
| VBKTR3400KM756498 | 790 Adventure R 2019 |
| VBKTR3400KM756467 | 790 Adventure R 2019 |
| VBKTR3400KM756310 | 790 Adventure R 2019 |
| VBKTR3402KM756485 | 790 Adventure R 2019 |
| VBKTS3402KM747838 | 790 Adventure 2019 |
| VBKTR3402KM756308 | 790 Adventure R 2019 |
| VBKTR3409KM756435 | 790 Adventure R 2019 |
| VBKTR3408KM756443 | 790 Adventure R 2019 |
| VBKTR3407KM756451 | 790 Adventure R 2019 |
| VBKTR3406KM756456 | 790 Adventure R 2019 |
| VBKTS3404KM747842 | 790 Adventure 2019 |
| VBKTR3406KM756442 | 790 Adventure R 2019 |
| VBKTR3406KM756439 | 790 Adventure R 2019 |
| VBKTR3406KM756313 | 790 Adventure R 2019 |
| VBKTR3406KM756294 | 790 Adventure R 2019 |
| VBKTR3405KM756447 | 790 Adventure R 2019 |
| VBKTR3404KM756441 | 790 Adventure R 2019 |
| VBKTR3404KM756438 | 790 Adventure R 2019 |
| VBKTR3404KM756309 | 790 Adventure R 2019 |
| VBKTR3403KM756446 | 790 Adventure R 2019 |
| VBKTR3402KM756454 | 790 Adventure R 2019 |
| VBKTR3402KM756440 | 790 Adventure R 2019 |
| VBKTR3402KM756437 | 790 Adventure R 2019 |
| VBKTR3401KM756445 | 790 Adventure R 2019 |
| VBKTR3400KM756453 | 790 Adventure R 2019 |
| VBKTR3400KM756436 | 790 Adventure R 2019 |
| VBKTR340XKM756301 | 790 Adventure R 2019 |
| VBKTR340XKM756296 | 790 Adventure R 2019 |
| VBKTR340XKM756282 | 790 Adventure R 2019 |
| VBKTR3409KM756306 | 790 Adventure R 2019 |
| VBKTR3409KM756273 | 790 Adventure R 2019 |
| VBKTR3409KM756113 | 790 Adventure R 2019 |
| VBKTR3408KM756300 | 790 Adventure R 2019 |
| VBKTR3408KM756295 | 790 Adventure R 2019 |
| VBKTR3408KM756278 | 790 Adventure R 2019 |
| VBKTR3408KM756264 | 790 Adventure R 2019 |
| VBKTR3407KM756305 | 790 Adventure R 2019 |
| VBKTR3407KM756272 | 790 Adventure R 2019 |
| VBKTR3406KM756280 | 790 Adventure R 2019 |
| VBKTR3406KM756277 | 790 Adventure R 2019 |
| VBKTR3405KM756304 | 790 Adventure R 2019 |
| VBKTR3405KM756268 | 790 Adventure R 2019 |
| VBKTR3404KM756293 | 790 Adventure R 2019 |
| VBKTR3403KM756303 | 790 Adventure R 2019 |
| VBKTR3403KM756298 | 790 Adventure R 2019 |
| VBKTR3403KM756284 | 790 Adventure R 2019 |
| VBKTR3403KM756270 | 790 Adventure R 2019 |
| VBKTR3402KM756292 | 790 Adventure R 2019 |
| VBKTR3401KM756302 | 790 Adventure R 2019 |
| VBKTR3401KM756297 | 790 Adventure R 2019 |
| VBKTR3401KM756266 | 790 Adventure R 2019 |
| VBKTR3400KM756274 | 790 Adventure R 2019 |
| VBKTR3400KM756260 | 790 Adventure R 2019 |
| VBKTR340XKM756279 | 790 Adventure R 2019 |
| VBKTR340XKM756122 | 790 Adventure R 2019 |
| VBKTR340XKM756119 | 790 Adventure R 2019 |
| VBKTR3409KM756130 | 790 Adventure R 2019 |
| VBKTR3408KM756281 | 790 Adventure R 2019 |
| VBKTR3408KM756118 | 790 Adventure R 2019 |
| VBKTR3408KM755924 | 790 Adventure R 2019 |
| VBKTR3407KM756269 | 790 Adventure R 2019 |
| VBKTR3407KM756126 | 790 Adventure R 2019 |
| VBKTR3407KM756112 | 790 Adventure R 2019 |
| VBKTR3407KM756109 | 790 Adventure R 2019 |
| VBKTS3401KM748365 | 790 Adventure 2019 |
| VBKTS3401KM748687 | 790 Adventure 2019 |
| VBKTS3401KM748690 | 790 Adventure 2019 |
| VBKTR3406KM756263 | 790 Adventure R 2019 |
| VBKTR3406KM756117 | 790 Adventure R 2019 |
| VBKTR3406KM756098 | 790 Adventure R 2019 |
| VBKTS3402KM748679 | 790 Adventure 2019 |
| VBKTR3406KM755582 | 790 Adventure R 2019 |
| VBKTR3405KM756271 | 790 Adventure R 2019 |
| VBKTR3405KM756125 | 790 Adventure R 2019 |
| VBKTS3403KM748691 | 790 Adventure 2019 |
| VBKTR3405KM756108 | 790 Adventure R 2019 |
| VBKTS3404KM748683 | 790 Adventure 2019 |
| VBKTR3404KM756133 | 790 Adventure R 2019 |
| VBKTR3404KM756116 | 790 Adventure R 2019 |
| VBKTR3403KM756267 | 790 Adventure R 2019 |
| VBKTR3403KM756138 | 790 Adventure R 2019 |
| VBKTR3402KM756275 | 790 Adventure R 2019 |
| VBKTR3402KM756261 | 790 Adventure R 2019 |
| VBKTR3402KM756132 | 790 Adventure R 2019 |
| VBKTS3406KM748684 | 790 Adventure 2019 |
| VBKTR3402KM756129 | 790 Adventure R 2019 |
| VBKTR3402KM756115 | 790 Adventure R 2019 |
| VBKTR3401KM756283 | 790 Adventure R 2019 |
| VBKTR3401KM756137 | 790 Adventure R 2019 |
| VBKTR3401KM756123 | 790 Adventure R 2019 |
| VBKTR3401KM756106 | 790 Adventure R 2019 |
| VBKTR3400KM756131 | 790 Adventure R 2019 |
| VBKTS3408KM748704 | 790 Adventure 2019 |
| VBKTR3400KM756100 | 790 Adventure R 2019 |
| VBKTR3404KM756097 | 790 Adventure R 2019 |
| VBKTR3403KM756107 | 790 Adventure R 2019 |
| VBKTS3406KM755182 | 790 Adventure 2019 |
| VBKTS3401KM748544 | 790 Adventure 2019 |
| VBKTS3408KM754826 | 790 Adventure 2019 |
| VBKTS3401KM754828 | 790 Adventure 2019 |
| VBKTS3409KM754821 | 790 Adventure 2019 |
| VBKTS3409KM754818 | 790 Adventure 2019 |
| VBKTS3407KM754817 | 790 Adventure 2019 |
| VBKTS3405KM754833 | 790 Adventure 2019 |
| VBKTS3405KM754816 | 790 Adventure 2019 |
| VBKTS3404KM754824 | 790 Adventure 2019 |
| VBKTS3408KM754163 | 790 Adventure 2019 |
| VBKTS3406KM754162 | 790 Adventure 2019 |
| VBKTS3404KM754161 | 790 Adventure 2019 |
| VBKTS3401KM754165 | 790 Adventure 2019 |
| VBKTR3402KM751352 | 790 Adventure R 2019 |
| VBKTR3401KM751360 | 790 Adventure R 2019 |
| VBKTS3403KM750165 | 790 Adventure 2019 |
| VBKTS340XKM750146 | 790 Adventure 2019 |
| VBKTS340XKM750017 | 790 Adventure 2019 |
| VBKTS340XKM750003 | 790 Adventure 2019 |
| VBKTS3409KM750008 | 790 Adventure 2019 |
| VBKTS3408KM750016 | 790 Adventure 2019 |
| VBKTS3408KM749979 | 790 Adventure 2019 |
| VBKTS3408KM749867 | 790 Adventure 2019 |
| VBKTS3407KM750153 | 790 Adventure 2019 |
| VBKTS3407KM750007 | 790 Adventure 2019 |
| VBKTS3406KM750144 | 790 Adventure 2019 |
| VBKTS3405KM750006 | 790 Adventure 2019 |
| VBKTS3404KM750143 | 790 Adventure 2019 |
| VBKTS3403KM750148 | 790 Adventure 2019 |
| VBKTS3403KM750005 | 790 Adventure 2019 |
| VBKTS3402KM750142 | 790 Adventure 2019 |
| VBKTS3401KM750150 | 790 Adventure 2019 |
| VBKTS3400KM750155 | 790 Adventure 2019 |
| VBKTS3400KM750009 | 790 Adventure 2019 |
| VBKTS3400KM749992 | 790 Adventure 2019 |
| VBKTS3409KM750011 | 790 Adventure 2019 |
| VBKTS3409KM749991 | 790 Adventure 2019 |
| VBKTS3406KM750015 | 790 Adventure 2019 |
| VBKTS3404KM750014 | 790 Adventure 2019 |
| VBKTS3404KM749865 | 790 Adventure 2019 |
| VBKTS3403KM749999 | 790 Adventure 2019 |
| VBKTS3401KM750018 | 790 Adventure 2019 |
| VBKTS3400KM749989 | 790 Adventure 2019 |
| VBKTS3409KM749988 | 790 Adventure 2019 |
| VBKTS3408KM750002 | 790 Adventure 2019 |
| VBKTS3408KM749996 | 790 Adventure 2019 |
| VBKTS3408KM749982 | 790 Adventure 2019 |
| VBKTS3407KM749990 | 790 Adventure 2019 |
| VBKTS3406KM750001 | 790 Adventure 2019 |
| VBKTS3404KM750000 | 790 Adventure 2019 |
| VBKTS3404KM749994 | 790 Adventure 2019 |
| VBKTS3401KM749998 | 790 Adventure 2019 |
| VBKTS340XKM749045 | 790 Adventure 2019 |
| VBKTS3409KM749036 | 790 Adventure 2019 |
| VBKTS3407KM749052 | 790 Adventure 2019 |
| VBKTS3407KM749049 | 790 Adventure 2019 |
| VBKTS3406KM748880 | 790 Adventure 2019 |
| VBKTS3405KM749051 | 790 Adventure 2019 |
| VBKTS3404KM749042 | 790 Adventure 2019 |
| VBKTS3403KM749047 | 790 Adventure 2019 |
| VBKTS3402KM749038 | 790 Adventure 2019 |
| VBKTS3401KM749046 | 790 Adventure 2019 |
| VBKTS3408KM749030 | 790 Adventure 2019 |
| VBKTS3405KM748904 | 790 Adventure 2019 |
| VBKTS3402KM748911 | 790 Adventure 2019 |
| VBKTS3400KM749037 | 790 Adventure 2019 |
| VBKTS3400KM748907 | 790 Adventure 2019 |