With May being national bike month, riders out there are looking to revamp their products and go head on into this month. With this in mind, the Klim K1R Raw Karbon helmet has all the features you're looking for. It's lightweight, with a comfortable lining and amazing ventilating properties which makes it one of the most sought after helmets.
In this review, we are going to look at some of the amazing features of the Klim K1R Raw Karbon Helmet and gauge if this Helmet is the one for all your riding needs.
When the review is over, you're going to want to buy the Klim K1R Raw Karbon Helmet for sure. Check price here.
Why the Klim K1R Raw Karbon Helmet?
The main feature which is going to attract customers to this helmet is that it is super light in weight which is going to sit comfortably on your head be it on long journeys or short commutes. Another excellent feature which makes this helmet superior is its full-face shield lens with an impressive pinlock feature. Great for bright days to keep the sun out of your eyes while also giving you a great field of view.
The noiseless feature gives you the ultimate relaxing ride and it has amazing ventilation. The matte black finish and updated paint scheme gives you a helmet which makes you look good while feeling good too. This is the helmet to get, and at its price point you know you're getting your money's worth.
Read more on the features and what makes this a great helmet for riding.
Benefits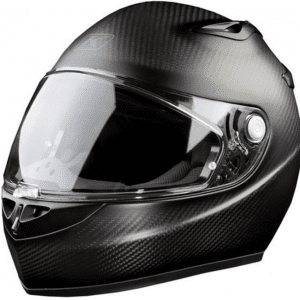 Weight and Versatility
The first thing that stands out with this helmet is that it is so light, it doesn't make the wearer aware of its presence. With an autoclaved pure pre-impregnated carbon fibre weave, this helmet uses the aegis liner which keeps your head cushioned and comfortable while going on long rides and doesn't make for a stiff neck. It has a detachable neck roll with reflectivity built on, and has a removable chin skirt. It also has basic chin venting which is on the front of the helmet, easy to find and very dependable.
Field of Vision
The Klim K1R Raw Karbon Helmet has a transition clear shield lens which allows for a wide field of view. Its anti-fogging properties make this helmet an optically correct full-face lens. The transition lens can go from clear to medium smoke in less than 20 seconds, based on the UV rays of the sun. Its pinlock feature maximizes vision and allows for a great wide view without any discomfort or glare. An additional feature is the 360-degree button built into the shield on the side which allows for lens replacement; though this lens will hold well for a long, long time.
Ventilation and Airflow
This helmet has a great ventilation system as seen from the 10 millimeter vent holes, which suck air at the front into the top of the helmet, circulates it to your head, and extracts it out the back. It pulls in enough air to make sure that you're cool and has a moisture wicking feature.
It is extremely versatile in vent positioning and the addition of the chin venting switch makes the helmet a desirable one.
Noise and Fit
With an aero-acoustic tuned interior, the Klim K1R Raw Karbon Helmet is a noiseless helmet that allows for a smoother ride. It eliminates any noise which allows you to have a relaxing ride, be it in the open outdoors or on the commute on your way to work.
It has a great fit, which makes it feel snug around your head and will not sway unnecessarily. It has an intermediate to neutral fit which has more room at the temples. It is ideally, but not limited to, a more rounded face shape and gives you the best feeling while wearing it.
Safety
It meets both the DOT standards in the United States and ECE 22.05 standards in Europe. This helmet has been designed to keep your safety in check while delivering at a reasonable price.
Pros
It is extremely lightweight at 2 pounds 14 ounces and thus does not cause discomfort due to heaviness
The transition shield lens including a pinlock insert provides for a great field of view and anti-fogging
There is a lot of airflow through the helmet, which has a moisture wicking feature
It has speaker cut out pockets in the helmet if you want to listen to music
Removable and washable parts, and an aegis liner which provides comfort to the wearer
Reasonably priced and worth the investment
Cons
Occasional issues with the noise seeping in and being too loud despite the acoustic tuned interior.
Conclusion
The Klim K1R Raw Karbon Helmet has a lot of features that it can boast. If you're looking for something sturdy that is versatile and you can rely on in the long term, then the Klim K1R Raw Karbon Helmet is the helmet for you.
It's lightweight, smartly designed, and comes in the color of matte black. Beauty is an understatement! Also, its reasonable price makes the helmet a worthwhile investment that will leave you with a satisfactory smile. With its transition lens and autoclaved carbon fibre weave, this is one helmet that will let you enjoy riding your motorcycle anywhere and throughout any season, be it sunshine or rain!