Kia may be moving into the motorcycle industry, or at least moped manufacture. The South Korean automotive manufacturer began in 1944 making bicycle parts and moved into motorcycles in 1957, trucks in 1962 and cars in 1974. Now it looks set to return to its manufacturing roots.
Kia showed two prototype electric bikes or mopeds at the Geneva Motor Show under the brand name Kia Electric Bicycle (KEB). However, there is no word from Kia Australia whether the mopeds will go into manufacture or whether they would be considered for sale in Australia, however with the growing number of mopeds on the roads and Queensland and Western Australia having relaxed licensing for riding mopeds, it would be a smart move.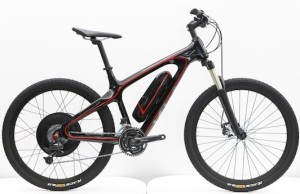 The KEB prototypes, City and Mountain Bike (MTB), can be pedalled but are also powered by a 250 watt hub motor. It runs off a 36 volt, 10 amp lithium-ion polymer battery pack which can be removed for charging, and recharged inside four hours from a domestic powerpoint. The bikes weigh only 20kg and have a top speed of 25km/h, 40km of range and feature Shimano brakes and gears.
But the most interesting component is their monocoque metal frame made by combining an advanced metal stamping technology and a robotic automated welding process. Kia has invested heavily in these production techniques at their Namyang R&D Centre. While these bikes are the first made with these production techniques, it appears likely they will be used in other lightweight vehicles.
Kia has advanced rapidly in the past decade and is now sitting just outside the top 10 car brands in Australia, behind Subaru. While the new car market has slowed this year, down 3.5%, Kia sales continue to climb, up 8%. There is no reason the automotive giant couldn't begin producing motorcycles. Honda, Suzuki and BMW have thriving car and motorcycle businesses and Audi is so envious of its German counterpart's Motorrad arm, it bought Ducati.
Motorcycles give a car brand street creed, as well as the opportunity to develop lightweight materials and highly efficient small-capacity engines, which are now flowing into car manufacture. Given the high build standard of Kia cars (I have to declare my wife owns a Cerato), I would be quite happy to ride a Kia motorcycle. Would you?