Key Work Wear Dungarees Image Gallery
An inexpensive double-front jean that could be used for riding, but are they the bargain they appear to be?
Unreasonable demands!
Yep, I said it and here's why: It's unreasonable to expect denim jeans to take the place of pants designed specifically for motorcycling.
I'll admit I've done it, and there are probably more people out there wearing jeans of some type right now while riding than any other type of pants (I try not to think about anyone riding in shorts).
Denim just isn't a very good material to stand between your skin and pavement in a crash.
Over the years there have been several advances to jean designs that add things like Kevlar, leather, and other materials to make them more durable while allowing us to remain stylish.
These enhancements have helped make jeans more acceptable for the safety conscious, but the prices on some of these high-tech denim hybrids will still keep many in their Wranglers.
Examples?  Last year I reviewed some jean alternatives along with a pair of the aforementioned "enhanced" jeans, the Cortech DSX jeans.
A couple of months after those reviews our Editor asked me if I would check out a pair of double-fronted denim dungarees from a company called Key Work Wear.
I had not heard of the company before (where does he find this stuff?), so I checked out the link he sent me and I immediately understood the reason these dungarees rated a look. They sell for less than $30.00 dollars and they have features that seemed very similar to the Carhartt andDuluth Trading pants I had reviewed!
Nearly half the price as the other competitors?  That made me think of two things:  1) How did I miss out on such a deal?, seeing as how I am always looking for the low cost (cheap) solution; and 2) What's wrong with them?".
I have no answer for the first, but the answer to the second one is…well, I'll suggest you read on.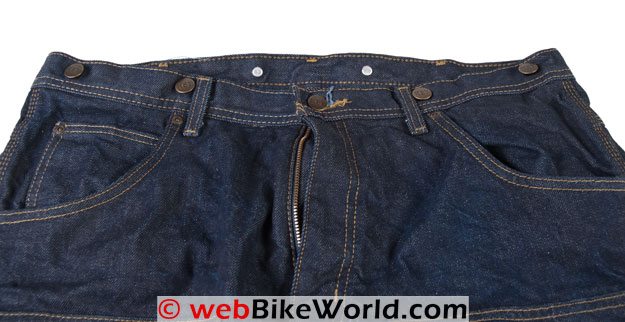 Key Indigo Denim Logger Dungarees
Upon removing the Key Indigo Denim Logger Dungarees from their large, padded envelope, the first thing that struck me was how stiff they were. Unfolding them was not unlike unfolding a large piece of denim origami. Obviously, they were going to make a trip through the washer and dryer before I could even think of trying them on.
After a washing and drying cycle I expected them to have softened up a bit and ready to wear. But it turns out that while they were no longer as flat as a board, they were still pretty stiff. What's more is that the material had taken on a rather wrinkled appearance.
You can see in the photos how they looked after coming out of the dryer. I've never seen a pair of denim jeans wrinkle like this — and it's not like they sat in the dryer after the cycle was finished.
It is my understanding that if the material has inconsistencies across its weave it can cause it to wrinkle like this. As the fabric stretches and/or contracts from getting wet and then dried, it won't do so uniformly and this is what may result.
At the time of this writing the jeans still come out of the wash looking much like the photos shown here. Over time they seem to have "relaxed" a bit, but they still don't come out looking as smooth as any other jeans or dungarees I own.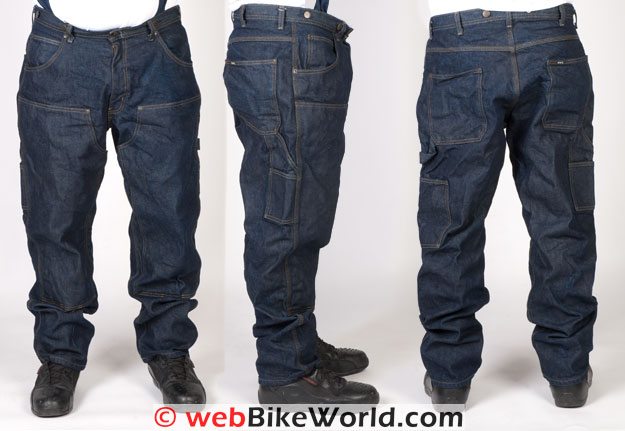 Fit and Comfort
The Key Indigo Denim Logger Dungarees are available in sizes ranging from 30″ by 30″ (waist/inseam), all the way up to 52″ by 32″. Some of the Key jeans are available in sizes ranging from 28″ by 30″ to a 66″ waist by 32″ inseam.
Also, if you're a fan of suspenders, you're in luck, as metal buttons are provided on the jeans for attachment.
The jeans fit pretty close to size and they're also a bit generous on the dimensions. I ordered 38″ waist and 30″ inseam and checking the measurements, I found that both are about 1/2 inch larger than specified (Note: Cotton will shrink up to 5% in washing and drying – Editor).
The leg openings are about 17 inches, not quite enough to put on or remove a knee/shin protector without removing the pants.
The overall cut seems rather average to me as they are not remarkably comfortable or uncomfortable in the way they "wear" however, I found that the material itself is somewhat of a letdown. Against the skin, the denim has a rather rough texture which is quite unexpected for jeans. Similar to the way these dungarees became wrinkled when they came out of the wash, this could be due to the type or quality of the textile fabric.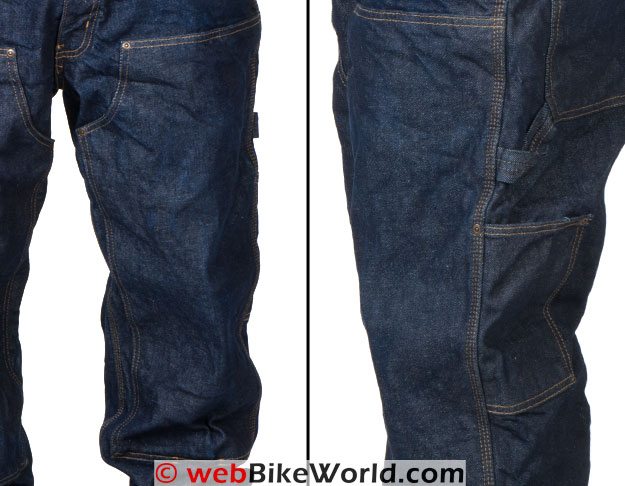 Riding in the hot weather (90+ F) we've had here in the southeast United States this summer has allowed me to evaluate how well the material "breathes". I can say that they do seem to allow the air to pass through as well as any other jeans. Even with the extra layer of denim on the front of the legs doesn't seem to make the jeans feel too hot, which is welcome.
At a passing glance, the Key Indigo Denim Logger Dungarees don't really look any different than a regular set of blue jeans. The styling is conservative enough that you can feel comfortable riding to a destination where motorcycle gear would otherwise stand out.
Construction and Protective Features
The Key Indigo Denim Logger Dungarees follow the same design cues as the other chap-style dungarees, like the Carhartt Dungarees (review) or the Duluth Trading Company Fire Hose Loggers (review) that I reviewed previously.
Constructed from 14.75 oz. denim, the Key dungarees have the standard 5 pockets (with a rather large coin pocket) plus additional pockets on the sides of the legs. These pockets plus a hammer loop on the left leg are designed for carrying tools and such when on "the job" which, of course, is what these dungarees were really designed for.
The main seams are triple-stitched and most others are double-stitched. Rivets are used for additional strength at the top of each pocket and the tops of the chaps. Most of the rivets are not going to cause a problem but the rivet on the chaps could contact the paint on the motorcycle fuel tank, depending on the individual's riding position and type of motorcycle.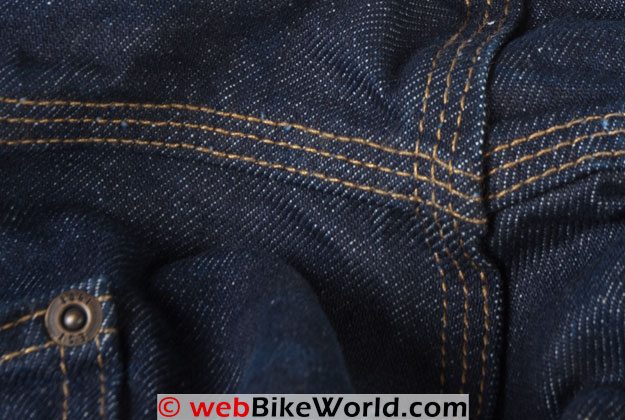 While these features should instill confidence in the durability of the dungarees, the low price rears its ugly head when you take a close look at the workmanship. The stitching is not very uniform at all and is particularly noticeable in the triple-stitched areas. This less-than-ideal stitching could also be responsible for the odd wrinkling of the material.
Further inspection finds the Key Indigo Denim Logger Dungarees are plagued with loose threads in numerous locations. Little sprigs of yellow stick out from corners of pockets, the button hole for the main fastening button, and many other other places. Some blue threads can also be found trying to escape around the belt loops and also near the main button.
Like their competitors, the front chaps cover most of the front leg and include a opening at the bottom to allow dirt and grit to fall out if it ends up collecting there.
With two layers of this heavy denim on the front of the leg they should stand up to abrasion better than regular jeans. The "cleanout" opening in the chaps is rather small though and doesn't really allow one to place armor in this area.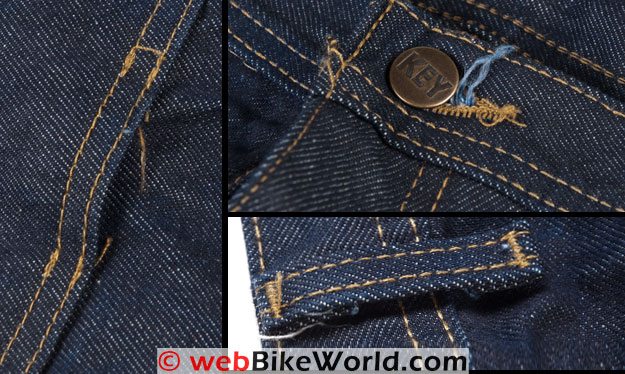 Using armor that directly straps to the leg would be ideal, as any armor that could be forced into the chap would most likely not stay in the correct place in a crash. As mentioned earlier, the 17-inch opening at the bottom of the leg could be a problem if you go this route depending on the armor and the diameter of your leg.
For example, I slid up the pants leg and strapped my Shift Racing knee/shin guard to my leg and then tried to pull the pants leg down around it. This was not a success.
So the rider would need to put the armor on first and then put on the pants. While this isn't a problem if you are just going out for a quick ride, if you are going to work/dinner/movie/etc. and don't have a convenient place to change you're stuck wearing the armor under your dungarees during the outing.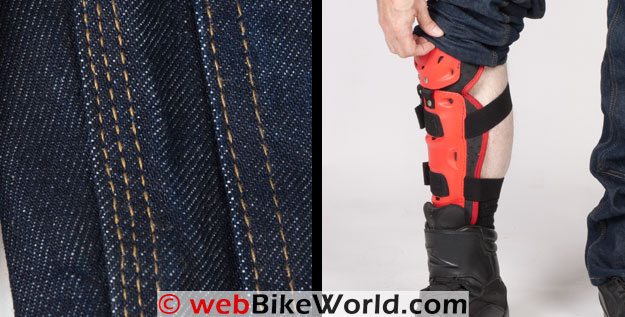 Conclusion
I'm underwhelmed with the performance of the Key Dungarees for motorcycle use. Unreasonable expectations? Perhaps…
On paper they seem like a bargain, being nearly half the price of similarly designed dungarees, but the corners that have been cut to reach the price point let them down.
The workmanship and what I feel is the suspect quality of the denim itself does not inspire my confidence that these dungarees would be a good choice for motorcycle riding. They would be best suited for working around the house, garden, or any other non-professional level of work which, to be fair, is exactly what they're designed for. However, that these jeans are targeted to forestry and similar workers seems a bit optimistic in my opinion.
Are they better than wearing shorts when riding?  Sure. Are they better than wearing regular jeans that don't have the chap style front?  Possibly. Personally, I am glad my evaluation of these jeans is complete, as I don't feel comfortable wearing them on the road (in more ways than one). If you're considering an inexpensive alternative to real motorcycle specific pants, I would suggest looking elsewhere.
More wBW Motorcycle Jeans Reviews  |  Motorcycle Clothing Reviews
w

BW

 Review: Key Work Wear Logger Dungarees
List Price (2010): $27.50
Note:
 For informational use only. All material and photographs are Copyright © webWorld International, LLC since 2000. All rights reserved. See the webBikeWorld® 
Site Info page
. Product specifications, features and details may change or differ from our descriptions. Always check before purchasing. Read the
Terms and Conditions
!
Owner Comments and Feedback
---
From "R.W." (10/10):  "Just wanted to add my two cents. I've been wearing these for years, buying 4-5 at a time, and loved them but Key recently recut/restyled the jean, as well as cheapening the details, however they didn't change their style numbers.
I placed my latest order and noticed the minor changes (cheaper buttons, fabric tag on the back pocket instead of leather, smaller side pockets) immediately after opening but didn't think much about it. Only after washing did I find they fit different as well!
They used to be a boot cut with a 19″ leg opening but are now more of a straight leg with a 17″ opening. I'm tall, thin and in shape but these things make me look like I have a fat backside plus, more importantly, forget leg armor, they no longer fit easily over the tops of my logger boots, so much so I either had to tuck them in (yeah right) or have the leg seams split and denim added to the lower leg/opening.
I had a local lady do the latter for me. So steer clear of these, whether for riding OR for work. I no longer buy them."
---
From "J.W." (8/10):  "The way you describe the jeans is the way they all used to be made back in the day when kids couldn't wear jeans to school – they were work wear only. No fashion pretensions whatsoever.
I myself prefer the more expensive Duluth products (Duluth Fire Hose Loggers review), also made off shore, then Key. I normally ride in jeans versus motorcycle specific pants."
---
From "B.C." (8/10):  "Key is a very old brand that has obviously shifted production offshore. I haven't thought about Key for years. I am 52 and my grandfather wore Key overalls to work in his shop. Thanks for the review. I won't be buying any, but those whose budget barely extends beyond $19.99 (USD) Wranglers might."