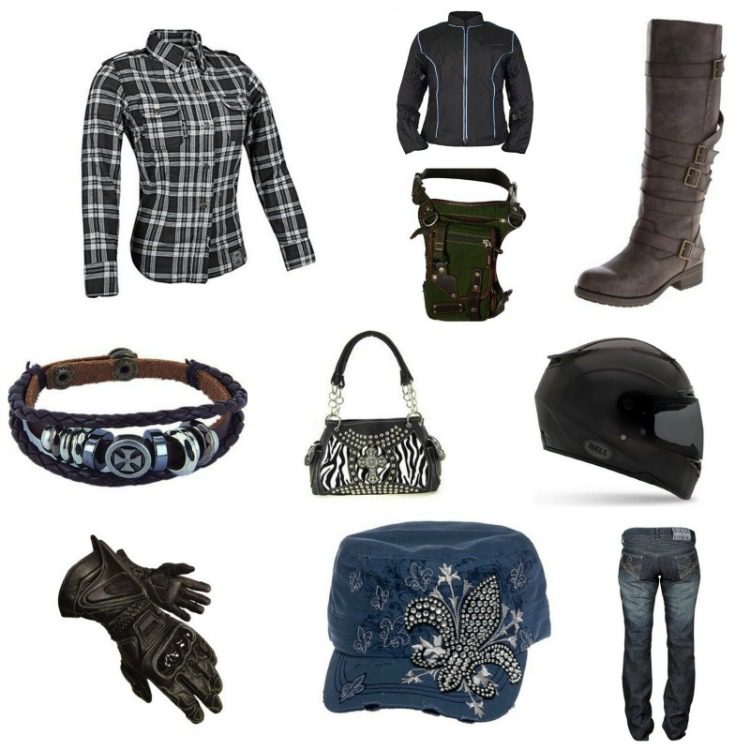 So the theme we are working with here is Armor and Kevlar. The bad boy that keeps you bad boys from getting torn up from road rash, handling impacts and kicking asphalt's behind and calling it names. Well that and a bit of retro-future meets leather-bling. We should just get started cause it will make more sense then.
This is the Kevlar Riding Gear for the Ladies. Oh Yeah! So let's put that together for you and maybe you can surprise her with it. She will appreciate that you want her to be safe and comfortable and still look good. Tough, safe and sexy. Three good words.
SPEED AND STRENGTH MOTOLISA WOMENS KEVLAR REINFORCED PANTS/JEANS – List Price: $99.95 Price: $89.95 & FREE Shipping
Let's start with the first essential. The base of any good outfit. The riding jeans. This piece is straight, a rugged blue and boot-cut. It has kevlar reinforced knees and seat to keep the high impact areas safe. The rear and the knees are not nice places in a spill so we got that covered. The bonus is these are subtle enough that she can wear them for normal every day things too, like work, mall, or archery or whatever the heck she likes to do in her spare time.
Speed and Strength Women's Smokin' Aces Shirt – List Price: $99.95 Price: $89.96 & FREE Shipping.
So this is an interesting bit. It's totally retro. A movement that is making its comeback. The shirt is flannel and loose if you want to go with the standard fit. She can easily wear a thing or two under it. For a bit of sexy she can go with a size of two smaller and still fit a T-shirt under. Depends on her build and preferences. Either way it is a nice pice that she will like.
So what else is cool about this one. Front zipper zips up keep it snug in a crash with snap on buttons to keep the zipper hidden and complete the retro look. Inside is a mesh for breathability. She could always just unzip it at the pub to just chill and hang. This one says practical and comfort all the way and back. The kevlar in in the elbow and shoulder areas the usual high impact areas. Roll-up sleeves have snap-ons for the style. So this is pretty smokin' overall.
Madden Girl Women's Lilith Motorcycle Boot – Price: $39.71 – $99.95 & FREE Returns
Next up, the boots. The ones that come with their own soundtrack and it sounds a lot like "Bad to the Bone". They are totally badass. These are the boots that say "These boots are made for kickin' and kickin' is what I'll do". A lot of songs with these (soundtrack not included).
So enough chatter. They are tall boots, like few inches from her knees tall. Black or brown with a zipper in the back for easy in and out. Soft lining and padded bottom for comfort. Heels and sturdy sole. They also have a whole lot of criss-crossing straps that give this set their "don't mess with me" look and also allow you to tighten them as needed. By default, that boot cut jeans from above will slide right inside of these boots. They are not form-fitting but a bit loose for that purpose. Once you adjust the straps to tighten them though the jeans should fit over. Try it out and see what she likes.
Olympia 340 Vented Kevlar Protector Motorcycle Sport Gloves – List Price: $89.95 Price: $80.94 & FREE Shipping
Did I say Gloves? I meant Gauntlet. They take a bit of breaking into but these are quite badass, rugged and serious about protection. High-end stuff. They have layers of leather. Double layers of leather everywhere stitched with kevlar. Each finger has two layers of leather, especially the pinky where the dual layer rolls onto the back. It has a padded reinforced palm. Also a double-velcro wrist to secure it. A carbon reinforcement for the knuckle area and an air vent to keep it feeling comfy on hot days too. She will like this. Robust gloves that match the whole eating asphalt and taking names look. They also are quite stylish.
LED Lighted "Illuminated" Kevlar Ce Armor Motorcycle Jacket  – List Price: $320.00 Price: $220.00 & FREE Shipping
Now we come to the main show. The center stage and we go a little futuristic with it. Illuminaddic jacket for comfort. Well not just comfort. The theme is protection. It has CE approved armor and is kevlar lined. And best of all, a battery pack with LED piping light front and back. Choice of colors in the line up too but stuck with white for this. You will be seen at night no doubt about it. The best way to block a punch is to not be there. That is what the LED light does. Well at least shows the motorist there you are so where he shouldn't be.
There is a battery on/off so she isn't like a human lava lamp when you hangout and not on the beastmaster bike. You'll probably have a bit of "I am Ironman" run through your head but a girl-version when you see her in this. It's also good against the elements: wind and water-proof. Zippered pockets on the sides and top and a phone slot. Straps to tighten it. It comes in two styles: a sleeker summer option or a puffy winter version. You are going to ride in style. The past and preset and everything in between are going to collide here.
Bell RS-1 Helmet – List Price: $399.95 Price: $369.95 & FREE Shipping
This is the masterstroke of safety for any motorcyclist. This make a donor cycle a motorcycle. Be safe out there and keep that brainpan of yours intact. And her head safe and whole as well. For that you want something sleek and sexy. I could go into the whole kevlar fiberglass composite, anti-scratch, aerodynamic, etc., etc. But really when you are looking at the item you will see it has a lot of nice things. What she will care about besides safety and general good quality is comfort, ventilation, looks and the visor for comfort for the eyes. It has all that. Looks are totally A++++. The venting is top-notch temperature control. The other two I already said, sexy and UV-protected. You can't go wrong with this. Also pretty economical for high quality. So get to it man.
Okay so far we have been going all about protection, armor, kevlar and comfort. Taking a tumble and getting up and being all good. Hope you never ever get to test it out for real, man. That would suck. So anyhow, Let's make things pretty unless you want her to look like Robocop inside a pub. Time to add a bit of bling and a bit of a sexy tough gal style to make your lady really shine. We are going from the practical fashion to fashion fashion. This is the one that's rough for men or so they say. Get in touch with your feminine side, bucko.
Black Zebra Rhinestone Cross Studded Satchel Chain Handle Purse – List Price: $64.99 Price: $49.99 & FREE Shipping
The hat is an army style hat in shape only. After what happens to it, it is army no more. What happens is pretty cool and girls will like it. It's cotton and comfy with an adjustable buckle. It has imprints and is blinged out with rhinestone designs that would make a gal really standout. It's all about the sexy cute style.
The handbag has zebra stripes, like a lioness hunted the zebra and turned it into a bag just for you to give to her. So do it already. It has a large cross on one side blinged out cause that's what this one is all about. Also a lot of rhinestone studs all over cause the other ones were feeling lonely. Side pockets, inner pockets, chain handle. Essentially, bling fashion meets african safari. Where am I going with all this. It will all make sense at the end when it all comes together. The rhinestones match nicely with the hat; that's a hint for what's to come.
Crystal Case Womens Cotton Rhinestone Fleur de Lis Cadet Cap Hat – Price: $14.99 & FREE Shipping
Time to get hip. Don't leave. Come on. You gotta admit that was kinda punny. No stop. I'll stop. Moving on. This is a pretty slick and practical canvas bag with several and I do mean several pockets. Six in all. You know like space for a phone, wallet, purse, space for a water bottle, snacks, knick-knacks and heck the endless amount of stuff girls can cram into their purses. It can work as a sexy hip bag for climbing, hiking, riding, or at a restaurant. It can be slung across the body like a courier. Things pretty snazzy and practical. She may use this or the purse above depending on the mood or both depending on how much stuff she likes to lug around.
Hip Mall Metal Cross Studded Leather & Braided PU Bracelet Wristband Cuff – Price: $7.59 & FREE Shipping
Now we are getting close to the final sections. Adorning her wrist. She can't be wearing those beefy gauntlets and drink with them. Or look like she is afraid the bar will go skidding down the highway. There is safety and then there is living inside a bunker for the rest of your life. So let's stay away from the bunker. For the delicate non-bunker fashion we have these two lovely pieces. They look like they belong with the rest of the outfit, a little tough, a little leather, and a little metal. They mingle well.
The first is a leather-braided bracelet that looks a little tribal. It has a metal chunk with a stylized cross and it just has sexy written all over it, well figuratively. Just give it to her by itself and she will love it. Give it with the rest of the outfit and she will be blown away.
3″ WIDE BLACK LEATHER HARLEY WATCHBAND,WRISTBAND – List Price: $59.90 Sale: $35.90 & FREE Shipping
The final piece. The cherry on top. The 3-inch wristband. The watch. The one that looks a little badass, a lot sexy, tells time and goes with the motif of leather, studs and cross. So one wrist is sexy and tribal and the other is the tough rider.
Ukoala Thrill Hands-Free Bag Leg Waist Straps, Unisex, 100%Cotton w/Leather Accents – Price $76.99 & FREE Shipping
Just bag it.
So the shopping is hopefully complete for you. You can mish-mash colors as you like but here is how this ensemble works. It is protection and safety with a tough and sexy meets retro-future look.
The Blue cap works with the blue jeans, and the bling on the cap works with the handbag and the the wrist accessories. The black jacket works with the black boots and the black bag. The black and white of the bag works with the black and white flannel. Black and white shirt meets black boots and jacket both matching and contrasting. The leather of the bag, the wrist accessories and shoes work together. The Cross motif matches the handbag and the wrist bands. The buckles on the jacket, boots, handbag, hipbag, wrist band all work in tandem as well. The hip bag also brings together the outfit's overall casual look. The matte black helmet binds it all into one sexy badass outfit. Get it? Take it from me, it will make sense to her.