Kawasaki has been watching too many Transformers movies judging by this video on their USA YouTube channel of an electric three-wheeled Transformer.
It starts with a recap on Kawasaki innovations over the years. Halfway through it transforms to focus on a computer-generated leaning three-wheeled transformer powered by an electric motor.
Kawasaki transformer
But this is different from other leaning three-wheelers. It is not only electric, but transforms from a narrow-track three-wheeler into a wide-track version.
We see the rider charging through a futuristic urban landscape with Kawasaki's planned artificial intelligence system, called RIDEOLOGY, talking to the rider and showing information in a head-up display.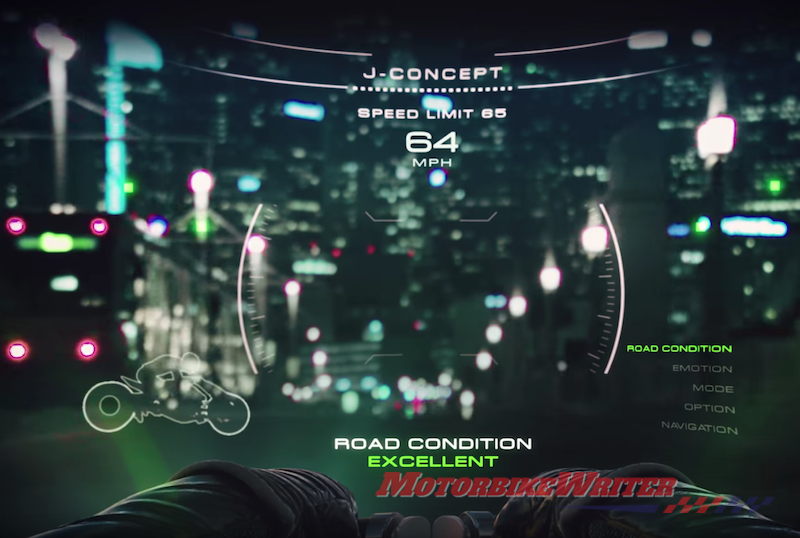 The rider is crouched in a sportsbike position which they call "attack mode" with a narrow track for the three wheels.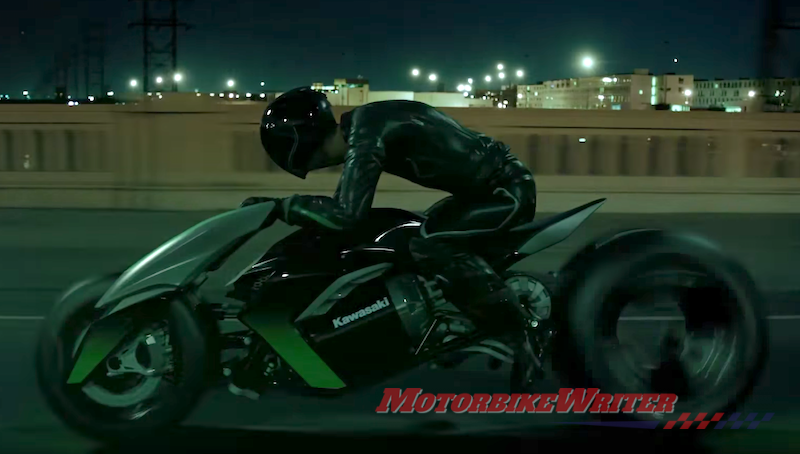 Then it transforms to "upright mode". The bike's wheel track widens, the rear wheel splits in two and the bike shortens with the rider moved into an upright position.
We're not so sure about the narrow handlebars and what effect that would have on stability. Perhaps the extra front wheels provide stability.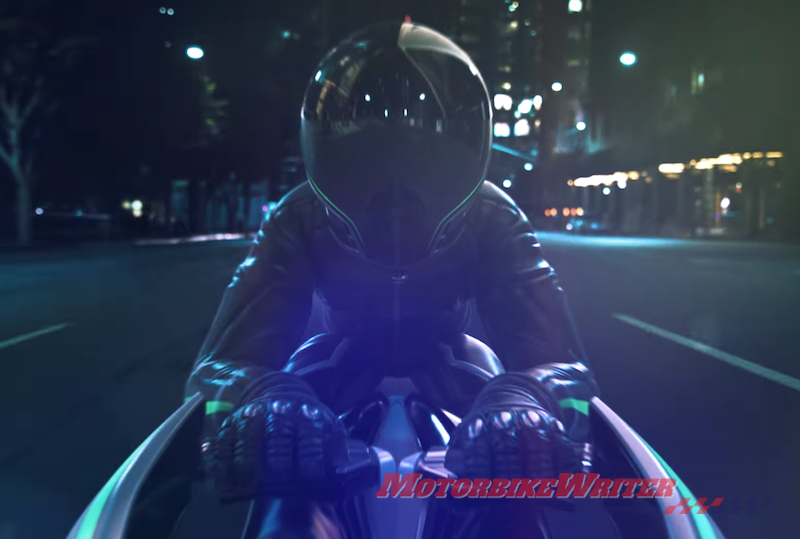 It's all very futuristic. However, we wonder how long it will be before Kawasaki joins Yamaha in offering electric three wheelers like their Niken.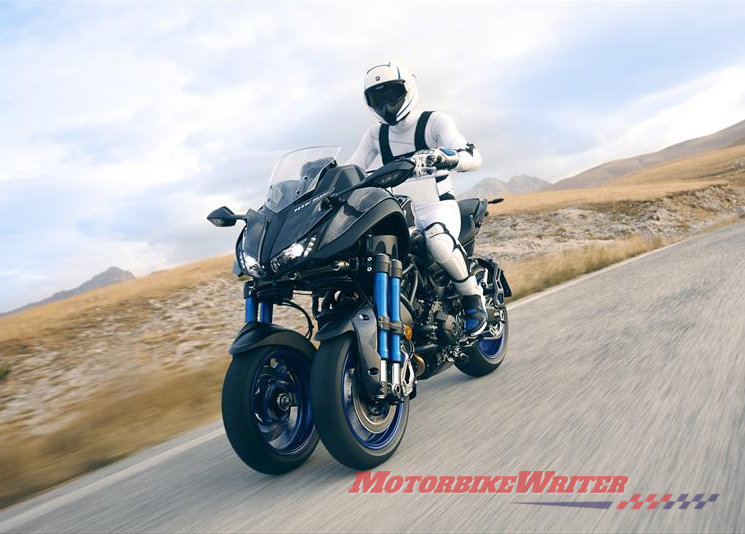 Kawasaki concepts
In 2014, the Japanese manufacturer unveiled their prototype J-Concept three-wheeler at the Intermot show in Cologne, Germany.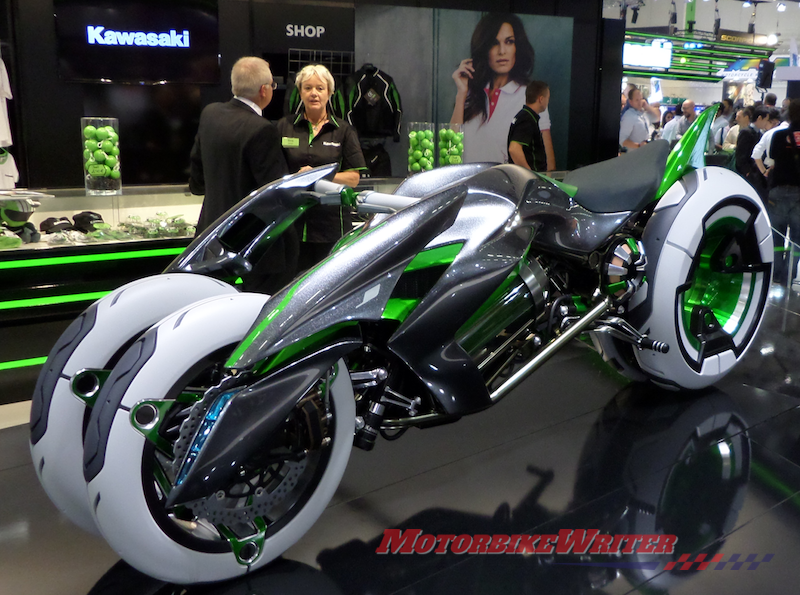 It also began life as a similar computer-generated video the year before at the Tokyo Motor Show.
So the next logical stage for this new model is a similar prototype due at either the Tokyo or Milan shows later this year.
Manufacturers such as Kawasaki and Yamaha see many advantages of leaning three-wheelers. They provide the feel of a motorcycle plus the safety of extra road grip.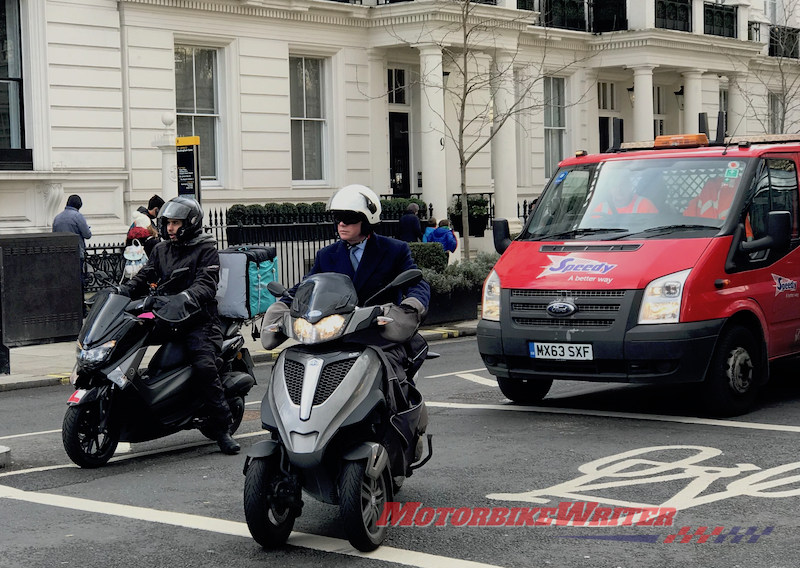 The Piaggio MP3 also includes a lock system that keeps the scooter upright when stopped so riders don't have to put a foot down. It attracts novices as well as ageing riders who can no longer support a big bike.
Yamaha doesn't have that feature and we're not sure if Kawasaki will include it in their three-wheelers.
Whatever the fine details, it seems the future of motorcycling is not only electric, but leaning multi-wheelers.
What do you think of an electric, three-wheeled Transformers future? Leave your comments below.