Whether the Kawasaki Z900RS tribute bike to the legendary Z1 is worth the money is the question that has been on everyone's lips since the price was announced.
At about $18,000 ride away (depending on where you live) it's about $4000 than the Z900 on which it is based.
But the RS is worth much more than the Z900 with better suspension, a more tractable engine, better brakes, full LED lighting and the intrinsic value of its timeless styling.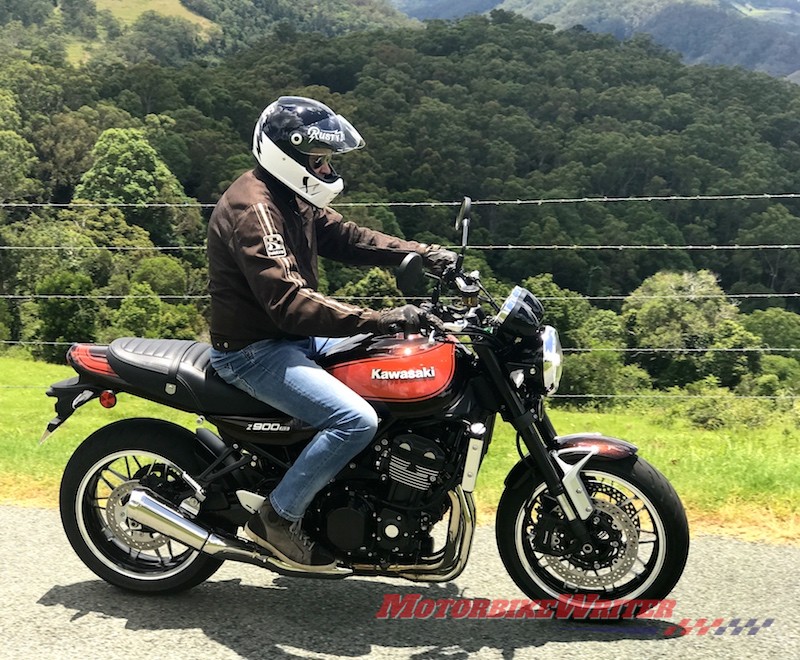 Even though it has been "retuned" with 9kW and 3Nm less, I reckon it's worth more than the Z900, just not so sure about a $4000 premium.
Although who can put a figure on the intrinsic worth of the admiration of your peers when they see you pull up at your fave biker cafe?
They will tear up and start talking romantically about the original Z1 of 1972-75 which starred in the cult 1974 Aussie biker film, Stone, and has forever been their poster bike.
I rode a Z1 back in the 1970s and have worn rose-coloured glasses for the bike ever since. That is until a couple of years ago when I rode a well-restored model.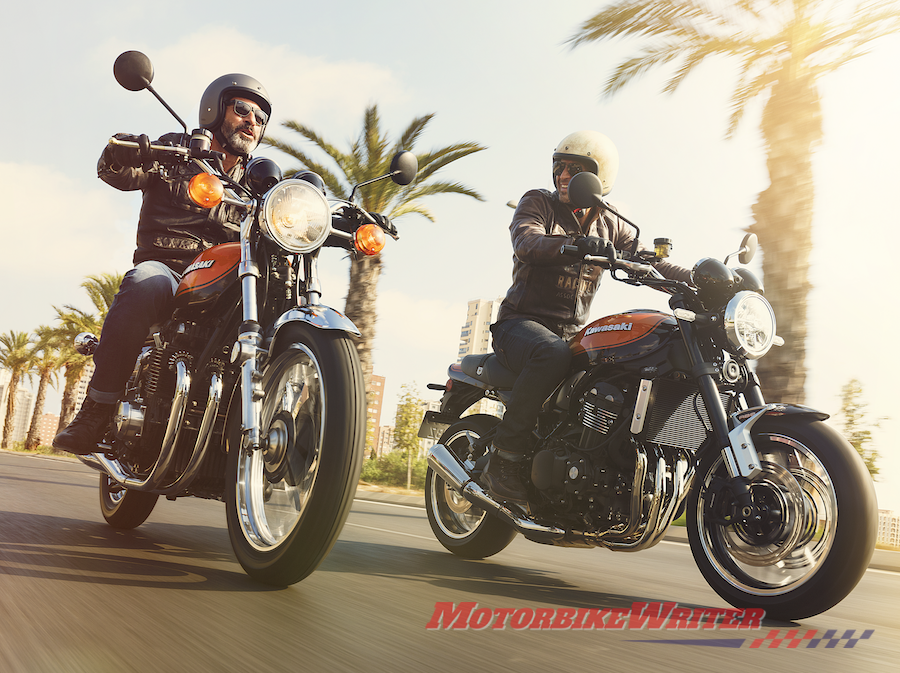 It felt lifeless, steered like a ship and the brakes were wooden.
Not so the modern Z900RS.
Perfect balance
This is the perfect balance of modern and retro with a light feel, responsive engine with 30% more power and almost twice the torque of the original, strong brakes, plus Kawasaki's deserved reputation for reliability and quality fit and finish.
While everyone seems to love the look of the bike and its traditional "Jaffa" paintwork, some "old codgers" said it should have had four pipes and steel spoked wheels like the original.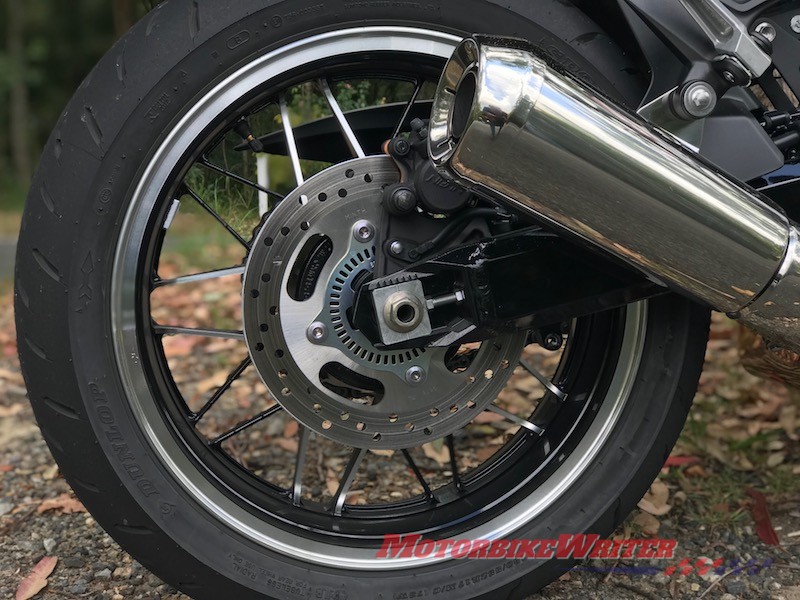 Four pipes would have added extra weight, but no doubt an aftermarket company will do a good trade in four pots.
Likewise, a wide 180mm three on a steel spoked wheel would have weighed a tonne.
Kawasaki has cleverly overcome these "unfaithful" styling issues by providing a discrete short pipe, albeit with a rather large collector box tucked underneath, and they have polished the edges of the mag wheel "spokes" to give the impression of wire spokes.
Kawasaki has also been very clever with its twin retro instrument pods that have a discrete modern digital screen in between them.
The screen features a wide range of information including range, two trip meters, odometer, instant and average fuel economy and ambient temperature. You can conveniently toggle through the information via a selector control on the left switchgear.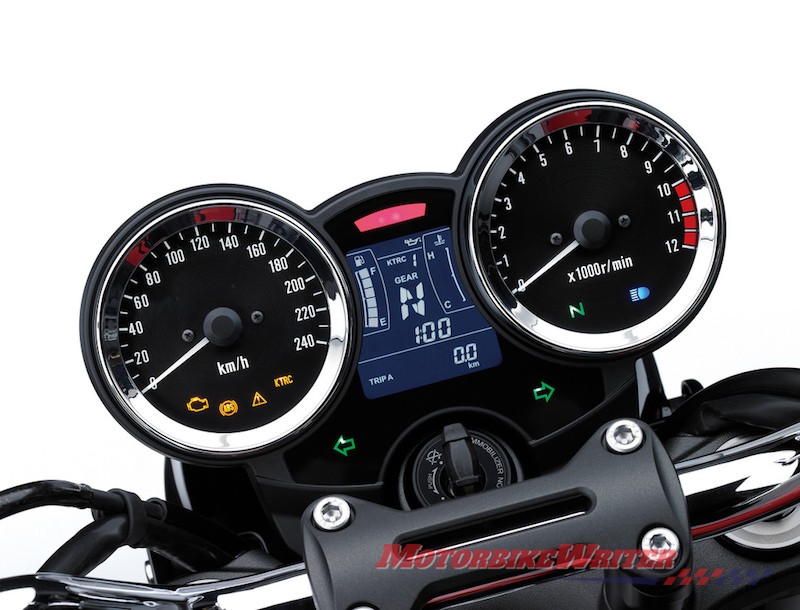 It also operates the two-stage traction control which can only be changed or switched off while stopped.
Stage 1 traction control is a bit interventionist, cutting engine power even if the front wheel accidentally skips off the ground over a bump while accelerating.
It's more of a wheelie control because it does allow some sideways rear-wheel slip.
Stage 2 traction control cuts all wheel spin so it is a great wet-weather aid.
Styling concerns
While I love the look of the bike and its combination of retro and modern, there are a few concerns.
Thanks to Australian design rules that require side reflectors, they have attached them at the rear where they stick out. Why not attach them to the forks like most other bikes?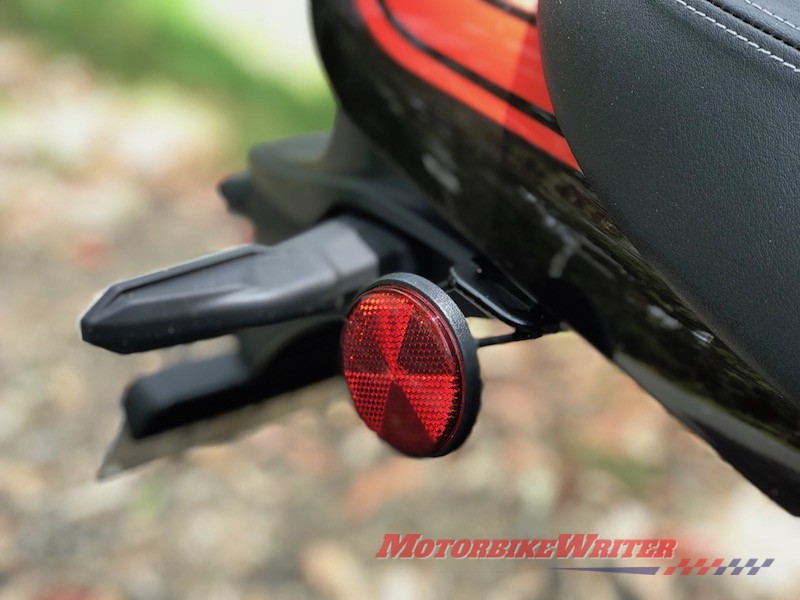 Modern emissions rules also dictate the bike requires water cooling so the radiator is a necessary but ugly addition. What makes it worse is the size of the radiator cap which sticks out a mile.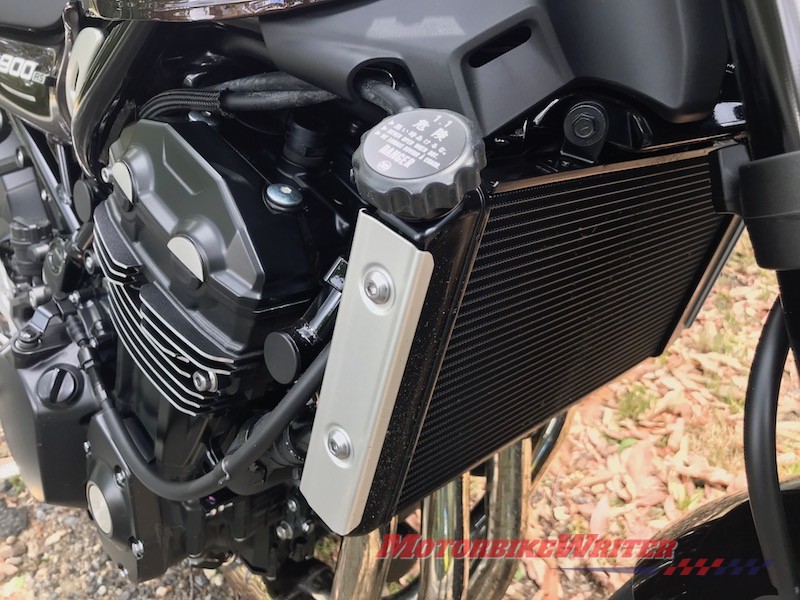 Kawasaki has also run the engine quite lean to reach emissions targets, so even though it's liquid cooled, it still runs hot and creates a lot of heat on your shins. Take my advice and wear long boots, even in summer.
Also, the four header pipes may look great, but they attract a lot of road grime and gravel pitting.
While the seat has faithful retro styling and appears thick and comfortable, it's actually quite hard and slightly slopes forward pushing you into the tank.
I don't mind a firm seat, but the retro ribbed vinyl seat with faux stitching digs into your backside after a while.
How does it ride?
Of course the most important thing is how this retro model rides on the road.
Even riding away from the shop it was a delight with a beautiful raspy induction roar and exhaust note that won't offend passersby but will delight the rider.
The fuelling is perfect for heavy traffic with a very smooth throttle.
Together with the shift in tuning to more torque at low and medium revs, this is such an easy bike to ride in all conditions.
You can ride smoothly and responsibly around town or country at a comfortable 4000 revs at 60km/h in fourth gear, 80km/h in fifth gear or sixth gear at 100km/h.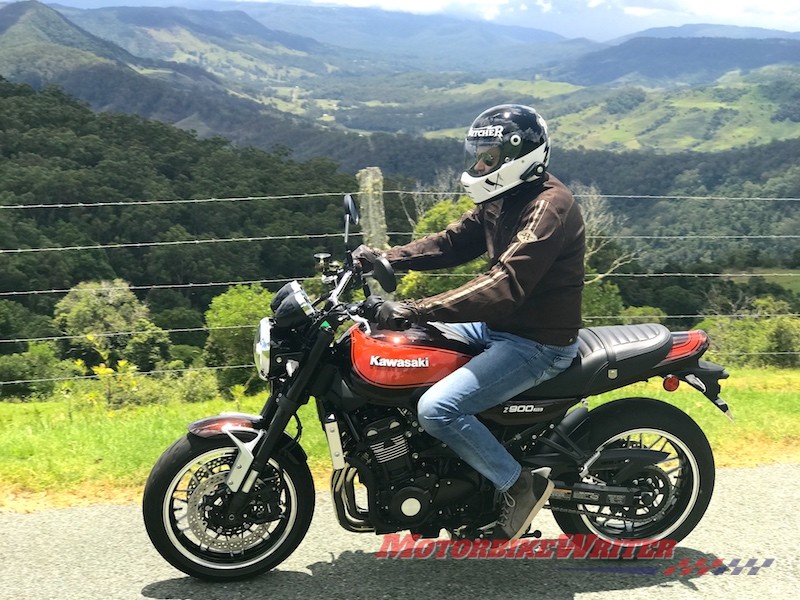 Even from as low as 3000 revs, it pulls smoothly, strongly and in a linear fashion all the way to the dizzying limiter at 10,000 revs.
And thanks to the hefty torque curve, there is no need to work the gearbox hard.
But if you feel like it, you can quickly slip through the gears with the super-slick and faultless transmission, and the ultra-lightweight cable clutch.
This makes it ideal for commuting.
On a technical piece of road you can also run up and down the gears with ease thanks to the assist and slipper clutch that prevents rear wheel lock-ups from hamfisted clutchwork.
With its suspension set in the middle, the bike feels firm for my 80kg weight but with plenty of absorption for the sharper bumps.
The Z900RS forks add compression adjustment over the Z900 that takes the jackhammer effect out of the bars and makes it steer better on corrugated corners.
Change of direction is quick and light yet it feels stable. This is a result of the combination of light mag wheels, quality suspension and wide handlebars.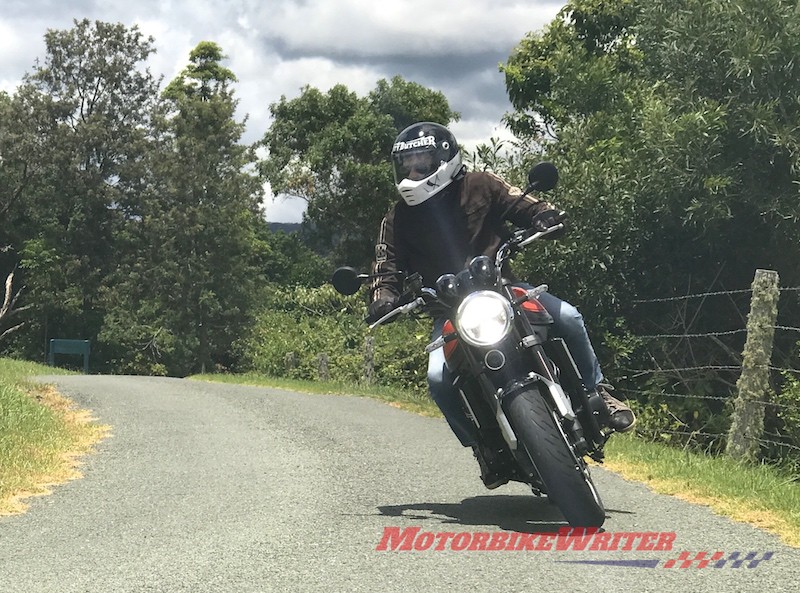 It has the same big 300mm semi-floating petal discs as the Z900, but has dual radial monobloc callipers which provide better feel.
Stopping power is strong with moderate initial bite and plenty of progressive feel.
I never activated the front ABS, but rear ABS came on a few times as there is a bit of fork dive. However, dive can be dialled out with the multiple fork adjustments.
Kawasaki hasn't cut any corners with the tyres, either. It is fitted with quality Dunlop Sportmax rubber that heats up quickly, has great grip in all conditions and provides plenty of rider confidence, particularly in the front tyre.
Day and night riding is safe with the full LED lighting providing plenty of visibility to other traffic and a wide and even spread of beam from the headlights.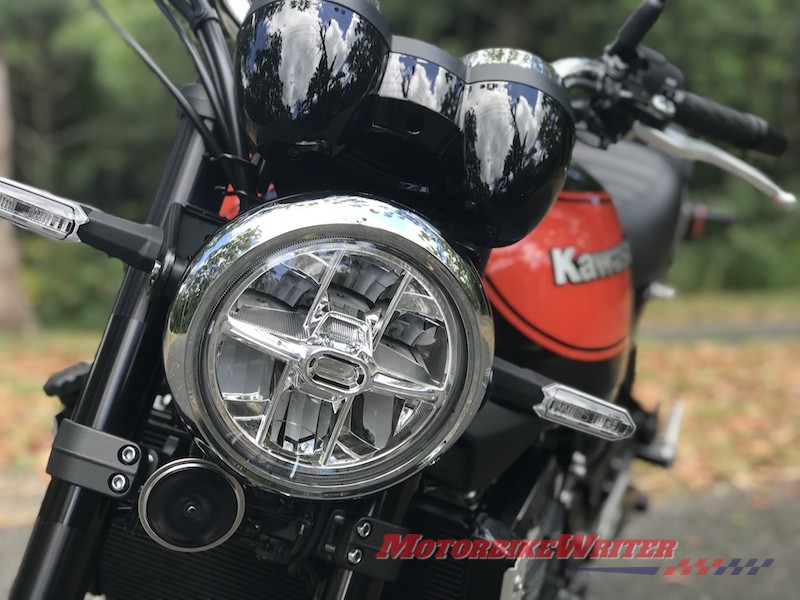 Pillions will like the ample and flat rear seat, but there are no grab rails provided and no dedicated anchor points for luggage.
Your pillion could hold on to the side reflectors which are held in place firmly enough to also use as luggage anchor points.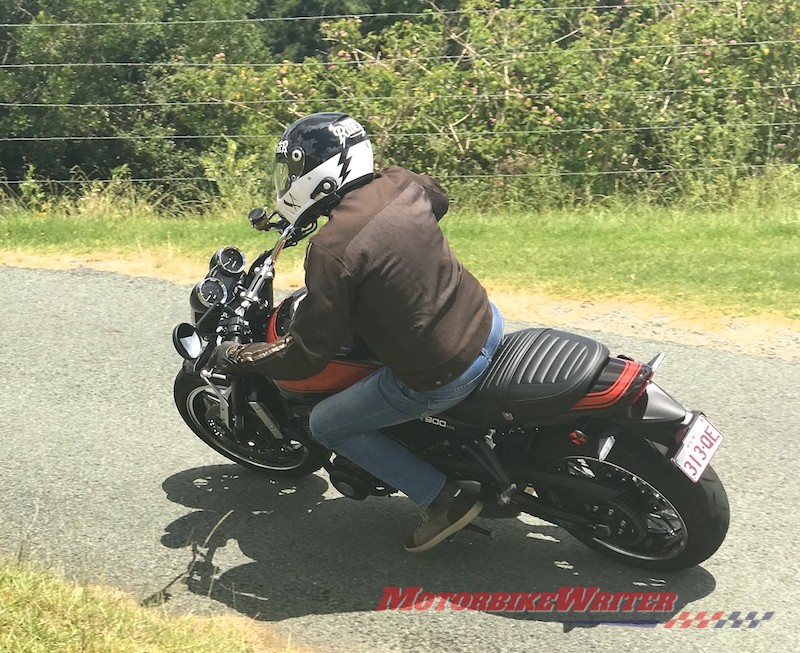 However, Kawasaki has a range of accessories available that including a traditional chromed grab rail.
Underseat storage is limited to just the owner's manual. You couldn't even squeeze in a spare pair of gloves.
Since the fuel tank is metal, you can throw a magnetic tank bag on the front and go touring.
The 17-litre tank will give you an excellent 350km of range, although your backside might be demanding a pit stop sooner.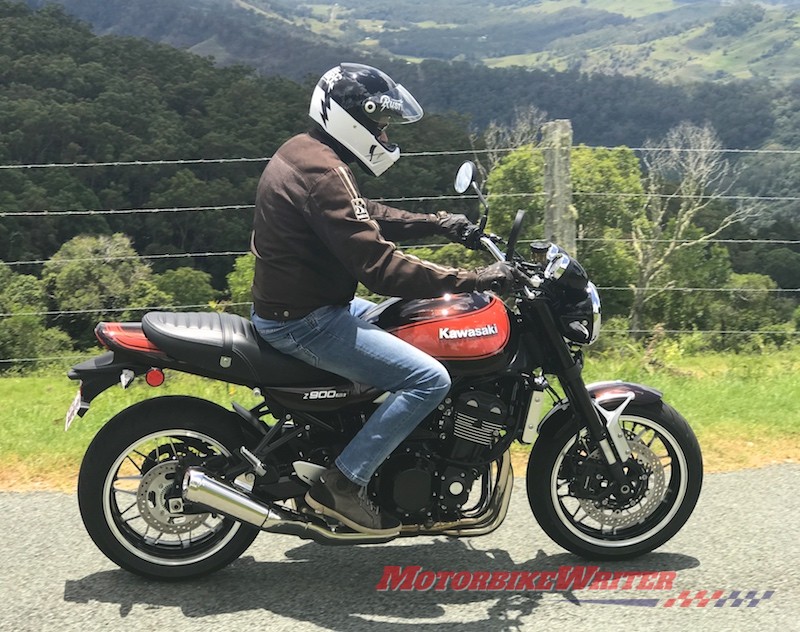 Worth the money?
The rideability and eye-catching timeless appeal of this bike together with all the mod cons makes this a very appealing bike.
I'm still not sure it's worth $4000 more than the Z900, but that's a stick-insect Transformer-style bike that just does not appeal to me at all.
The Z900RS fires me up at all levels and I simply want one.
Kawasaki Z900RS tech specs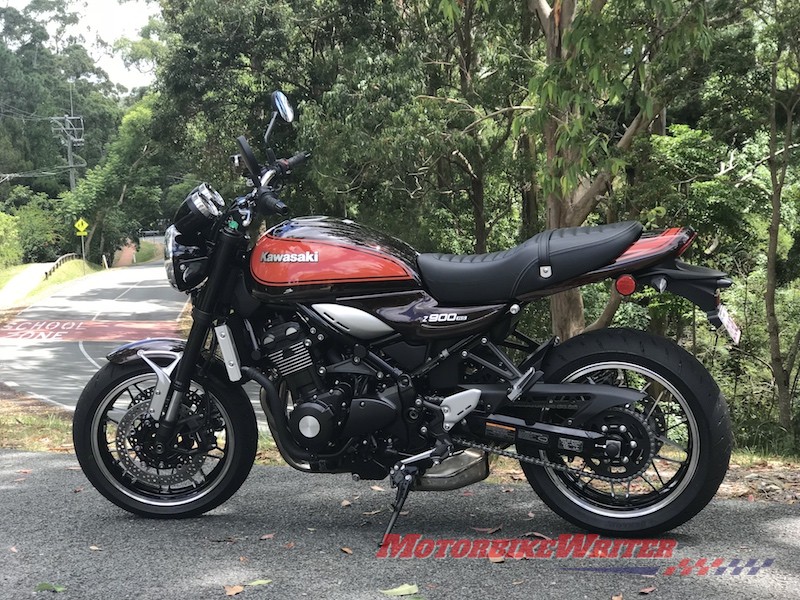 Model
Z900RS                                                              ZR900CJFB
Engine Type
Liquid-cooled, 4-stroke In-Line Four
Displacement
948 cm³
Bore x Stroke
73.4 x 56.0 mm
Compression Ratio
10.8:1
Valve System
DOHC 16 valves
Fuel System
Fuel Injection, 36 mm x 4 with sub throttles valves
Ignition
Digital
Starting
Electric
Transmission
6-speed with Positive Neutral finder and Assist & Slipper Clutch
Frame
Trellis high tensile steel
Suspension – front
41 mm cartridge fork with compression and rebound damping and spring preload adjustability
Suspension – rear
Horizontal Back-link with rebound damping and spring preload adjustability
Wheel travel – front
120mm
Wheel travel – rear
140mm
Brakes – front

Dual 300 mm semi-floating petal discs. Dual radial-mount monobloc opposed 4-piston calipers, ABS

Brakes – rear
Single 250 mm petal disc with single piston caliper, ABS
Tyre Size- front
120/70-ZR17 (58W)
Tyre Size- rear
180/55-ZR17 (73W)
L x W x H
2,100 x 865 x 1,050 mm
Wheelbase
1,470mm
Ground Clearance
130mm
Seat height
835mm
Fuel capacity
17 litres
Curb Mass
214 kg (includes full fuel tank and all fluids at optimum levels)
Max Power
82kW @ 8,500 rpm
Max Torque
98.5Nm @ 6,500 rpm
Colour/s
Candytone Brown with Candytone Orange
Warranty
24 Months Unlimited Kilometres