Kawasaki Motorcycles Australia has issued its third recall of its retro W800, this time for an issue with the horn.
The previous two recalls were for issues of engine stalling.
In the latest recall notice, the official notice says the wiring harness leading to the horn "may not be durable enough and could break due to vibration at a certain engine speed range, preventing the horn from operating".
"If the horn does not operate as intended, this could increase the risk of an accident causing serious injury or death to the rider and other road users," the notice says.
Owners of the 138 affected 2019 – 2021 models can contact their authorised Kawasaki motorcycle dealer to schedule an appointment to have the work carried out free of charge.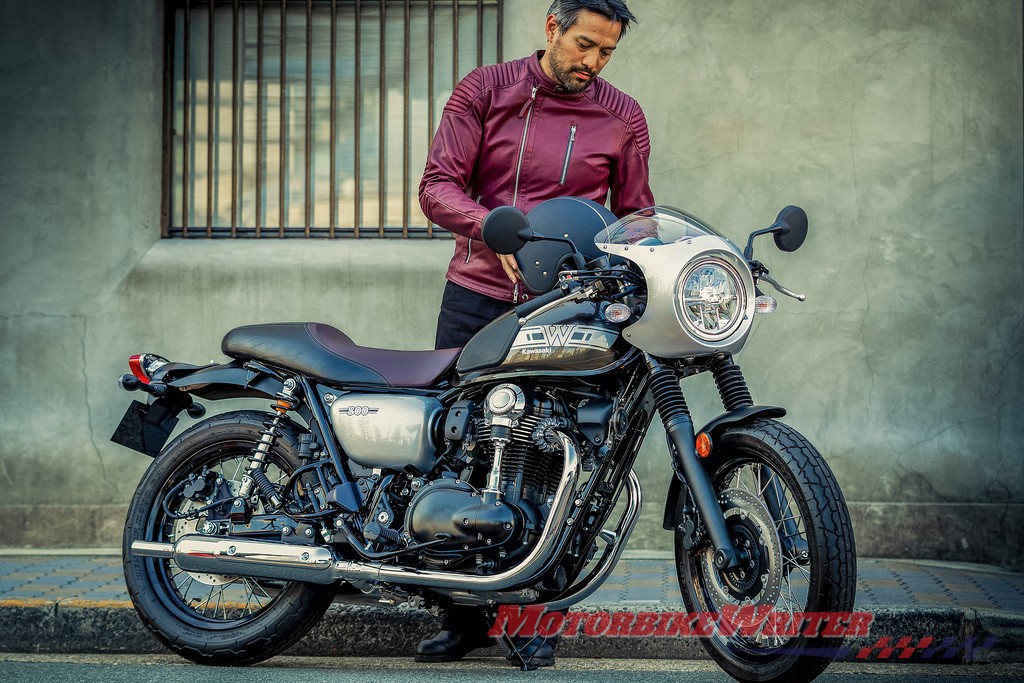 VINs of the affected bikes are listed at the end lf tbhis artucloe.
This is the first recall for Kawasaki this year after last year having the ignominious honour of issuing the most vehicle safety recalls with eight.
VINs of the affected bikes are listed at the end of this article.
There were official 46 safety recalls of motorcycles in Australia in 2021, the highest number monitored since 2009 and significantly more than the previous high of 37 in 2018.
Even though manufacturers and importers usually contact owners when a recall is issued, the bike may have been sold privately to a rider unknown to the company.
Therefore, Motorbike Writer publishes all motorcycle and scooter recalls as a service to all riders.
If you believe there is an endemic problem with your bike that should be recalled, contact the ACCC on 1300 302 502.
To check whether your motorcycle has been recalled, click on these sites:
VINs of affected bikes
| | | | |
| --- | --- | --- | --- |
| JKBEJCB16NA026037 | JKBEJCB15MA024312 | JKBEJCC11KA001010 | JKBEJCC19KA000462 |
| JKBEJCB10NA026034 | JKBEJCB13MA024311 | JKBEJCC15KA001009 | JKBEJCC19KA000461 |
| JKBEJCB19NA026033 | JKBEJCB11MA024310 | JKBEJCC13KA001008 | JKBEJCC15KA000460 |
| JKBEJCB13NA026030 | JKBEJCB15MA024309 | JKBEJCC11KA001007 | JKBEJCC19KA000459 |
| JKBEJCB17NA026029 | JKBEJCB11MA024307 | JKBEJCC1XKA001006 | JKBEJCC17KA000458 |
| JKBEJCB1XNA026025 | JKBEJCB1XMA024306 | JKBEJCC18KA001005 | JKBEJCC18KA000405 |
| JKBEJCB18NA026024 | JKBEJCB18MA024305 | JKBEJCC19KA000994 | JKBEJCC16KA000404 |
| JKBEJCB16NA026023 | JKBEJCB15MA024102 | JKBEJCC17KA000993 | JKBEJCC14KA000403 |
| JKBEJCB12NA026021 | JKBEJCB13MA024101 | JKBEJCC15KA000992 | JKBEJCC12KA000402 |
| JKBEJCB10NA026020 | JKBEJCB16MA024089 | JKBEJCC13KA000991 | JKBEJCC10KA000401 |
| JKBEJCB14NA026019 | JKBEJCB14MA024088 | JKBEJCC11KA000990 | JKBEJCC18KA000355 |
| JKBEJCB12NA026018 | JKBEJCB12MA024087 | JKBEJCC16KA000872 | JKBEJCC16KA000354 |
| JKBEJCB10NA026017 | JKBEJCB17MA024019 | JKBEJCC14KA000871 | JKBEJCC14KA000353 |
| JKBEJCB17NA026015 | JKBEJCB15MA024018 | JKBEJCC12KA000870 | JKBEJCC12KA000352 |
| JKBEJCB15NA026014 | JKBEJCB13MA024017 | JKBEJCC16KA000869 | JKBEJCC10KA000351 |
| JKBEJCB13NA026013 | JKBEJCB11MA024016 | JKBEJCC14KA000868 | JKBEJCC15KA000300 |
| JKBEJCB11NA026012 | JKBEJCB1XMA024015 | JKBEJCC10KA000737 | JKBEJCC12KA000299 |
| JKBEJCB1XNA026011 | JKBEJCB14LA020945 | JKBEJCC19KA000736 | JKBEJCC10KA000298 |
| JKBEJCB18NA026010 | JKBEJCB12LA020944 | JKBEJCC17KA000735 | JKBEJCC19KA000297 |
| JKBEJCB11NA026009 | JKBEJCB10LA020943 | JKBEJCC15KA000734 | JKBEJCC17KA000296 |
| JKBEJCB1XNA026008 | JKBEJCB19LA020942 | JKBEJCC13KA000733 | JKBEJCC15KA000250 |
| JKBEJCB18NA026007 | JKBEJCB17LA020941 | JKBEJCC11KA000682 | JKBEJCC19KA000249 |
| JKBEJCB16NA026006 | JKBEJCB12LA020247 | JKBEJCC1XKA000681 | JKBEJCC17KA000248 |
| JKBEJCB16MA024528 | JKBEJCB10LA020246 | JKBEJCC18KA000680 | JKBEJCC15KA000247 |
| JKBEJCB15MA024519 | JKBEJCB19LA020245 | JKBEJCC11KA000679 | JKBEJCC13KA000246 |
| JKBEJCB13MA024518 | JKBEJCB17LA020244 | JKBEJCC1XKA000678 | JKBEJCC11KA000200 |
| JKBEJCB16MA024514 | JKBEJCB15LA020243 | JKBEJCC14KA000627 | JKBEJCC19KA000199 |
| JKBEJCB14MA024513 | JKBEJCB15LA020131 | JKBEJCC12KA000626 | JKBEJCC17KA000198 |
| JKBEJCB14MA024320 | JKBEJCB13LA020130 | JKBEJCC10KA000625 | JKBEJCC15KA000197 |
| JKBEJCB18MA024319 | JKBEJCB17LA020129 | JKBEJCC19KA000624 | JKBEJCC13KA000196 |
| JKBEJCB16MA024318 | JKBEJCB15LA020128 | JKBEJCC17KA000623 | |
| JKBEJCB14MA024317 | JKBEJCB13LA020127 | JKBEJCC18KA000517 | |
| JKBEJCB12MA024316 | JKBEJCC19KA001014 | JKBEJCC16KA000516 | |
| JKBEJCB10MA024315 | JKBEJCC17KA001013 | JKBEJCC14KA000515 | |
| JKBEJCB19MA024314 | JKBEJCC15KA001012 | JKBEJCC12KA000514 | |
| JKBEJCB17MA024313 | JKBEJCC13KA001011 | JKBEJCC10KA000513 | |