Kawasaki does the new Z650L a disservice by referring to it as a learner motorcycle.
This is a bike that will not only suit learners, but also novices, returned riders, commuters, weekend warriors and people who are honestly not all that fussed with tech specs, but just want to ride a fun bike!
For just $9699 (plus on-road costs), these mature and discerning riders will receive a stylish naked bike that handles, rides and performs well for the money.
In fact, you get a lot of standard stuff for your cash: twin petal-shaped front discs, ABS, multi-function instruments with a host of information, a stubby underbelly muffler, adjustable levers, gear-position indicator, X-shaped LED taillights and an assist and slipper clutch to avoid embarrassing and dangerous rear-wheel lock-ups.
LAMS qualifier
To qualify as a Learner-Approved Motorcycle Scheme (LAMS) machine, it has to be under 659cc and less than 150kW per tonne.
The Z650L weighs just 186kg fully fuelled and has 37.8kW of power at 8000 revs and meaty 59Nm of torque at 6500 revs.
Kawasaki marketing guru Milo Dokmanovic refers to it as an "arm-tearing 649cc parallel twin" that is quick revving with "exceptional" corner pick-up and "so torquey it will slap you in the face".
At the launch from Sydney to Wiseman's Ferry and back, we were slapped in the face several times by the torque. It doesn't have high-revving power, but it feels almost too grunty for a learner-approved bike.
It sprints off the line smartly at traffic lights and revs out quickly and smoothly with a muted baritone exhaust and farting induction roar.
The Z6540L is low geared which helps acceleration and you will be quickly flicking through the gears and into sixth by 80km/h.
At that speed, novices can perform safe overtaking duties without even having to drop it down a cog or two.
Silky smooth
Not that you would mind playing with the gearbox. This is one of the sweetest and most satisfying transmissions of any motorcycle.
The clutch is light for traffic duties, while the gearbox is quiet, slick and faultless with no "angel gears" and neutral easy to find.
The assist and slipper clutch works well, but if novices really muck it up and drop the clutch in too-low a gear, they will experience a short lock-up.
But most novices will be hard-pressed to get their gearshifts wrong.
The engine is flexible and torquey enough to accommodate bad gear selections but there is a handy gear-position indicator and an upshift reminder light on the instruments, anyway.
I even tried up and down shifts without using the clutch and it worked faultlessly every time.
Novices simply can't get it wrong!
Feel the vibe
While it feels strong at low and mid revs, the Z650L starts to feel breathless and tingly at high revs.
After about half an hour on the highway it becomes a bit tiring and you may have numb fingertips by the end of a day's touring.
The parallel twin engine features a 180-degree crankshaft and counter-balance shaft to take out most of the low to mid vibration, but it does still have a high-rev tingling.
That vibration makes the mirrors blurry at high revs. Otherwise, rearward vision is great as the mirrors aren't just stylish, but practical since they sit out wider than your elbows.
Stylish Z
The multi-pointed mirrors and body shape are similar to other Kawasaki Z models which feature Japanese "Sugomi" styling.
The Z650L comes in "pearl stardust white" and "metallic spark black" with a beautiful anodised lime-green trellis frame or in all-black with a dark-grey frame.
Both look very attractive, but we'd love to see a black version with the gorgeous green frame.
The Z650L is a totally new motorcycle that stylishly replaces the obscenely named and equally ugly ER-6nL.
It looks aggressive from any angle. We even love it from behind with the tidy trail and that "X"-shaped LED taillight.
The only angle that is a little ugly is underneath where there is a large catalytic convertor.
Rider comfort
The rider's seat is 790mm high, but very narrow, so it should suit a range of rider sizes.
While the seat-to-footpeg distance is a bit cramped, the rest of the ergonomics are very comfortable with only a slight lean toward the high and wide flat bars.
The seat, itself, is flat and firm with a grippy surface. It feels comfortable for a while, but by the end of the day I was quite sore in the saddle.
Pillions also have a small perch with only a seat sash to hang on, although there is a decent length to the foot pegs.
Controls are all standard and good quality.
The single instrument dial features an analogue tacho and a big digital screen with a host of information (speed, fuel gauge, range, average consumption, two trips, odo, clock, etc).
However, you have to lean forward and press the buttons on the instrument panel to scroll through some of the options.
Z650L handling
Our launch ride included a transport stage through Sydney traffic and some highway riding.
It was easy to lane-filtering through the traffic with the Z650L's slim frame and high riding position providing good vision.
Queensland riders will like the fact that the water-cooled engine has a radiator fan that forces hot air straight down on to the ground, rather than on to your legs. This makes it a really cool bike to ride in slow-moving traffic.
Acceleration at commuter traffic speeds is very nippy and will get you out of any troubling situation.
As we speared off from the busy urban roads on to the twisting and sometimes bumpy country tar towards Wiseman's Ferry we found the softish suspension actually soaks up the bumps fairly well.
Both front and rear suspension seem well matched to each other so there aren't awkward "seesaw" moments if you hit a mid-corner bump.
I found the largely non-adjustable suspension suited my 75kg frame. The rear shock is adjustable only for preload which is handy for hefty riders, or for carrying a pillion or luggage.
At just 186kg, the Z650L is a very light and lithe bike that is flickable through traffic and a series of tight S bends. It changes direction quickly and gives good response through the handlebars.
The bars also turn wide without hitting the tank so you can do tight feet-up u-turns without a hitch.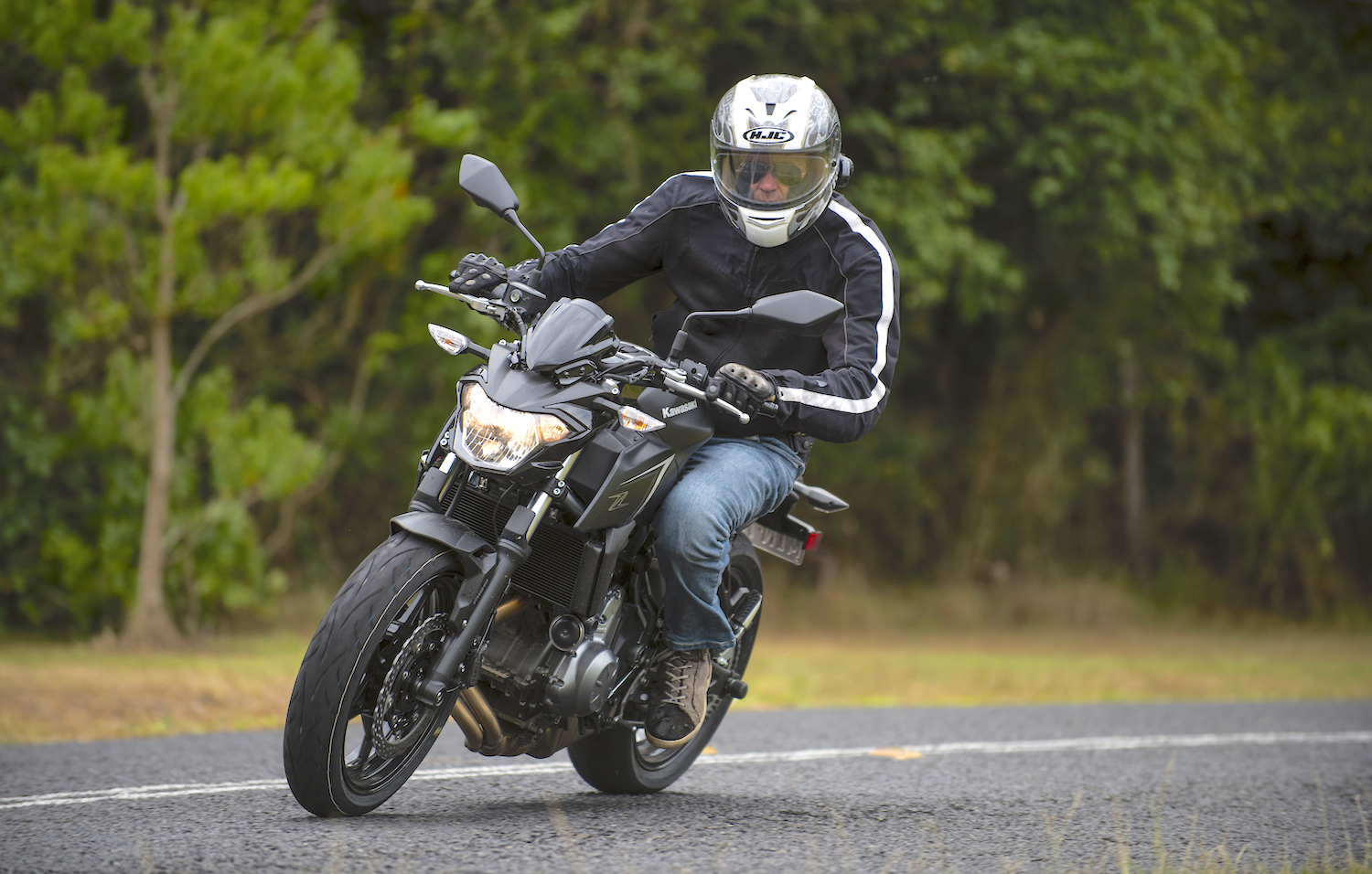 Brake expectations
One of the greatest performance features of this bike is the brakes.
It's almost over-braked for novices with twin 300mm petal discs on the front of such a light bike.
However, lever touch is progressive and sensitive enough for even single-finger operation. However, if you give it a firm pull, there is plenty of initial bite and feel.
Even rear brake touch is also sensitive and effective.
We invoked ABS a few times after a heavy shower made the roads very slippery and found it worked well without being jerky or abrupt.
Novices can brake hard and late for a corner, wash off the speed, lean it over and power out quickly using the engine's meaty torque.
That makes it a very handy bike for weekend rides through twisting mountain roads where you will easily be able to keep pace with riders on more powerful machines.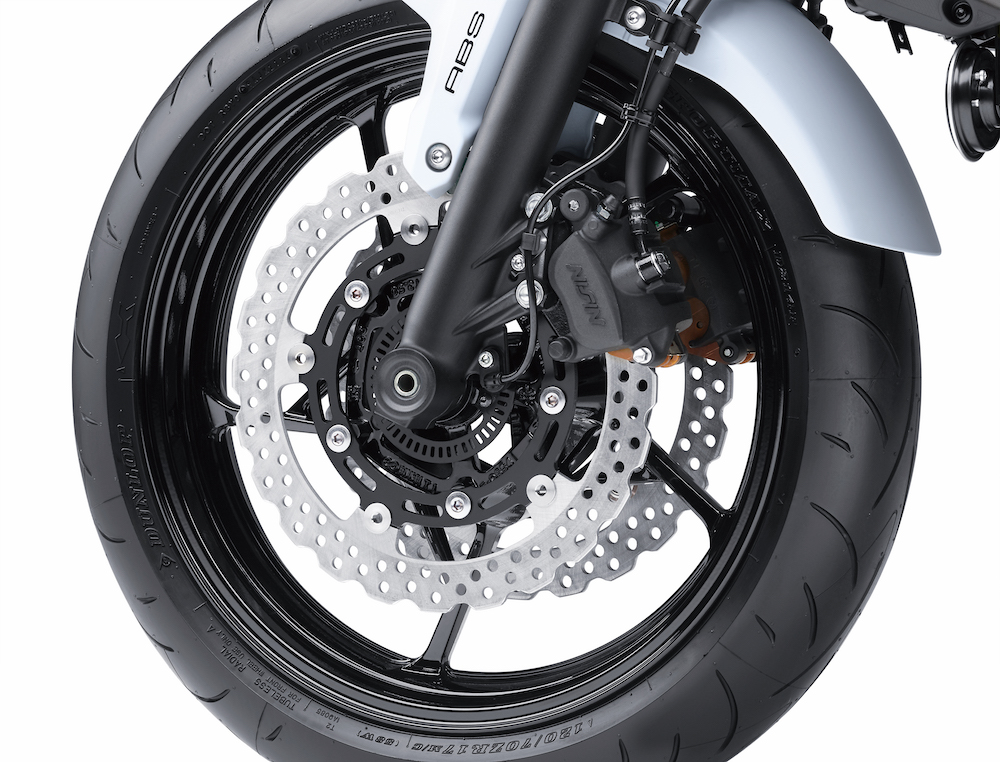 Full power
A full-power Z650 will be coming at some stage and we suspect it will be the same price.
Novices who think they can simply grind off the throttle stop and turn this into a full-powered version may be in for a shock, though.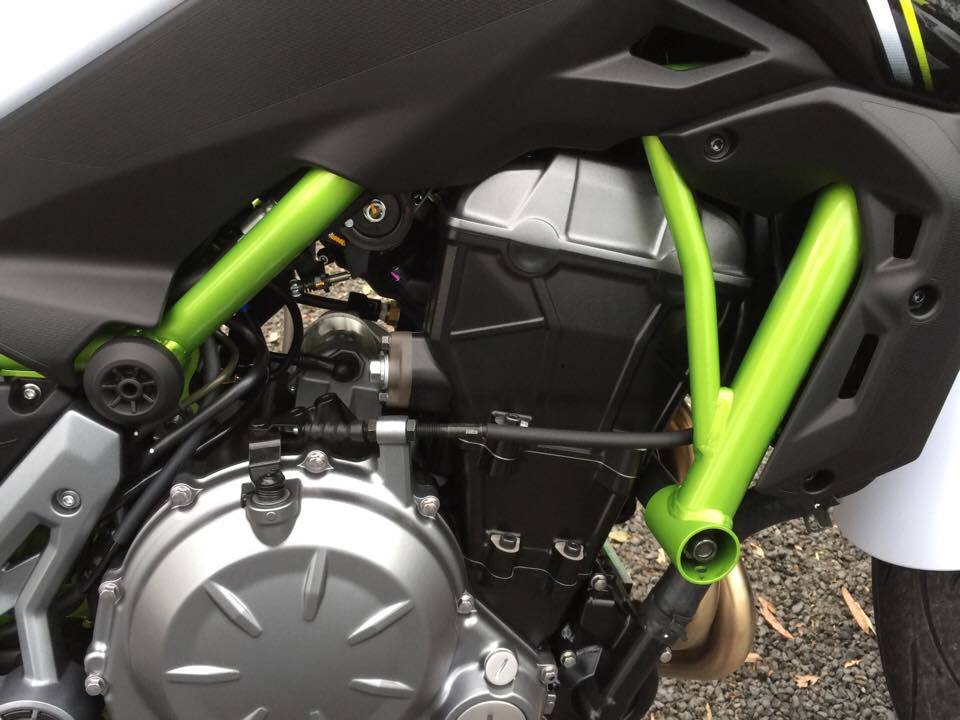 The engine also has a special map and if you grind off the throttle stop, you not only void your warranty and make the bike illegal, but could also blow a hole in the piston!
Kawasaki Motors Australia national sales and marketing manager Robert Walker says this is a "very important model".
Since the Kawasaki Ninja 300 was the top-selling motorcycle in 2013 and 2014 and still sells well, you can understand his belief that this will also be a sales success.
Verdict
The Z650L is a full-sized naked bike that will perform most duties and last a novice rider long into their riding career.
It also comes with a wide range of accessories that includes an instrument cover, soft panniers, frame sliders, tank bag etc.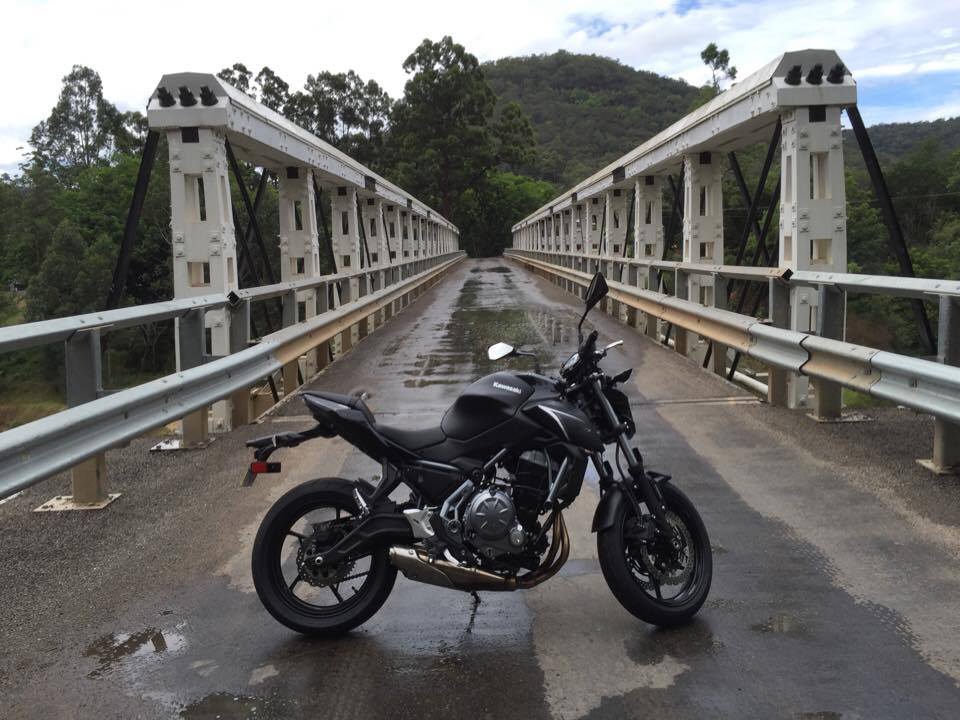 Kawasaki Z650L
Price: $9699 (plus on-road costs)

Engine: 649cc liquid-cooled, 8-valve, DOHC parallel twin

Power: 37.8kW @ 8000rpm

Torque: 59Nm @ 6500rpm

Bore x stroke: 83 x 60mm

Compression: 10.8:1

Transmission: 6-speed, chain drive, wet multi-disc clutch

Tyres: 120/70ZR17M/C (58W); 160/60ZR17M/C (69W) Dunlop Sportmax

Rake/trail: 24.0°/100mm

Suspension: 41mm telescopic forks, 125mm travel; offset laydown single-shock with adjustable preload, 130mm travel

Brakes: twin semi-floating 300mm petal discs with dual-piston callipers (front), 220mm petal disc with single-piston caliber (rear), ABS

Length: 2065mm

Width: 775mm

Height: 1080mm

Wheelbase: 1410mm

Clearance: 130mm

Seat: 790mm

Wet weight: 186kg

Fuel tank: 15 litres

Colours: Pearl Flat Stardust White and Metallic Spark Black with lime green frame; Metallic Flat Spark Black