The Kawasaki Versys
The Kawasaki Versys Story
Living With Versys-tility
Not wanting to taunt anyone who lives south of the border…
But for 2007 Canadian motorcyclists have had ready access to one of the most versatile and smile-generating motorcycles to come along in a long while, the Kawasaki KLE650A7F, aptly named the Versys (for Versatile System).
Initially released in Europe to great acclaim, in 2007 the model was brought into Canada only, likely for a variety of reasons.
One being to test the North American market. Judging by overall sales, it was a good move — most units have been sold and many dealers would like to get more of these unique motorcycles.
Editor's Note: Kawasaki just announced the 2008 Versys for the U.S.A. see our Kawasaki Versys Information and Specifications page for more information, including photos.
As way of background, we had been looking at the Versys ever since our local Kawasaki dealer,Ottawa Goodtime Centre (or OGC) put them on the showroom floor over the winter.
Most reports and informal postings, especially from the UK, tended to identify the Versys as an extremely competent motorcycle with a big fun factor.
So when offered the chance to go on an extended test ride on a unit hidden away in the dealer's basement for pending demo purposes we jumped at the chance.
After 30 minutes of tearing along on a multitude of road surfaces, the die was cast and the deal was done. Consequently the last unit on the floor, in Candy Burnt Orange was prepared and delivered the next day into eager arms.
w

BW

 Lightbox

: Click Photos to Open.
Kawasaki originally introduced the liquid cooled KLR 650 parallel twin to North America for 2005 as the powerplant for the Ninja 650R, part of the Street/Touring line.
In Europe, the engine has been used since 2005 for the ER-6n and the ER-6f as part of the Sport/Naked category, then with the Versys, which is slotted into the Dual Purpose category (this is a clue).
Here at home, the 650R was intended to provide a mid-stream, well-priced and insurable alternative that would satisfy new riders; those who wanted to move up or those who wanted a smaller sporting motorcycle.
Most 'R' owners remain happy with their purchase and one of the best features identified is typically the motor, followed by its styling, which closely emulates other popular Kawasaki Ninja and ZX models.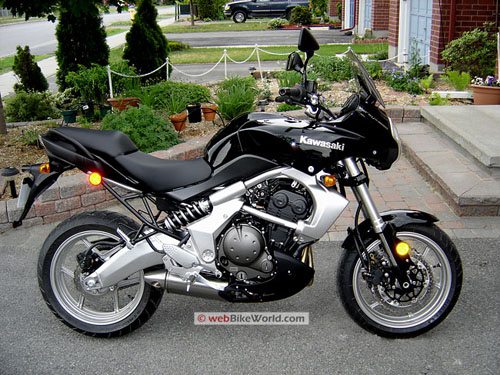 The Stage Is Set
Kawasaki has never been afraid of maintaining popular products: to wit, the original KLR single has been around for 30 years and the venerable and much loved Concours has finally been retired after a 21 year run.
The KLR gets a complete makeover for 2008 and the 2008 Concours is all new, now based on the ZX-14 platform.
By the same token, they are not afraid to move on, and it is safe to say that Kawasaki is making the investment needed to bring themselves into the ever evolving middle displacement market, in which the 650 in-line twin sits smack dab in the middle.
Smaller, lighter engines that can be used as a powerplant baseline for multiple models is a good approach, and in some market areas, seen as an innovative move that attracts a lot of attention, and potentially, market share.
Virtually every motorcycle manufacturer is, or will be in this space for a variety of reasons and Kawasaki, as so successfully done in the past, appears to have fielded an engine that will form another dynasty, like the original KLR and Concours did before.
Technical Overview
Acknowledging that there are other high performance inline twins in production, this engine has features that make it unique in its own right, like the BMW F800s (Blog).
As with the BMW, the Kawasaki approach has been to merge proven technologies and processes together to produce a high output in-line twin with the ability to generate impressive performance figures, and be evolved.
The engine is a 4-stroke parallel twin of 659cc capacity. Bore and stroke is 83 x 60mm, with compression a relatively modest 10.6:1. Fuel injection is provided by two 38mm throttle bodies and the DOHC engine contains eight valves.
Other features are digital ignition and an anti-hotwire circuitry.
The overall engine package is ultra-light and compact, allowing the whole frame and engine package to be "waist" thin. Pictures do not accurately reflect just how trim this package is.
While the package might be trim and lean, power output is quite the opposite. Horsepower is listed at 64PS at 8,000rpm with torque at 64N-m at 7,000 rpm.
Roughly translated, claims of around 60 horsepower at the back wheel have been circulating; not unreasonable judging by overall performance.
These ponies are delivered to the rear wheel via a 6-speed transmission (which has the usual Kawasaki positive neutral finder) operated by a wet-multi disc cable operated clutch, to a final drive chain.
The drive system is simple, cost effective and should be easy to maintain.
Adding to its compact and narrow is the fact that the Versys is also tall. Overall height is 51.8 inches (1,315mm) while total length is 83.6 inches in length. Wheelbase is relatively short at 55.1 inches (1,415mm).
The height is due to the tall diamond high-tensile steel frame, longish suspension and generous ground clearance of 7.09 inches (180mm).
Accordingly, the standard seat height is a somewhat lofty 33 inches (840mm), although a Kawasaki Accessory Gel seat provides a lower seating position, reducing height by about two inches (50mm).
For a multi-purpose oriented motorcycle, the seat height is not unexpected. However, even with the accessory seat installed, it will likely still be a bit tall for many aspiring owners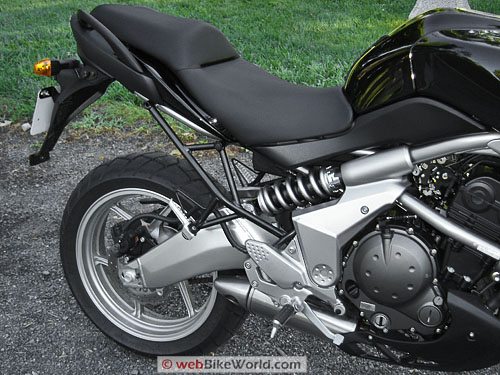 Suspension Traits
As noted, the suspension system is quite long, and stiff. Front suspension is provided by a 41mm telescopic fork with step-less rebound damping on the right fork and spring preload adjustability on both and total travel is just short of 6 inches (150mm).
In the rear, a unique gull-wing swingarm is mated to a Showa shock configured in an offset and lay-down position.
This shock provides 13-way rebound damping adjustment and 7-way adjustable spring preload with 5.7 inches (145mm) of travel. On delivery, the rear shock was set in the number five detent on the spring preload and the damping was set to the middle setting.
Fuel capacity is 5.0 US gallons (4.2 Imperial gallons or 19 litres).
Kawasaki recommends that an RON minimum of 91 grade fuel be used. We have tested the Versys with everything from 89 to 94 octane unleaded, without any problems.
Longer testing will allow us to see if running any particular octane or brand brings about significant differences.
The gas tank is steel, although the side trim or fairing panels are plastic, so magnetic tank bags will be fine, as long as the primary magnets are directly under the bottom of the bag. A suction-type mount or strap-on system would provide more mounting options as well.
Braking is provided at the front by two 300mm dual-piston drilled petal style semi-floating front discs and once bedded in, they provide consistent and fade-free braking. A single piston 220mm drilled petal style disc brings up the rear and as expected, it does not provide a lot of stopping power on its own, but in combination with the front pair, the manual setup works well.
Wheels are 17-inch units, with the front rim carrying a 120/70-ZR17 M/C or 58W tire and the rear a 160/60-ZR17 M/C or 69W tire. For the Canadian market, Dunlop SportMax D221 rubber is fitted.
Instrumentation and information is provided by a simple integrated module fitted into the front fairing portion. The module provides both analog and digital displays.
Engine speed is presented in analog sweep form, while the road speed is a digital LED readout, as are the trip-meter and graduated fuel displays.
The dual trip meter, along with other settings, is controlled by two separate buttons on the left face of the module.
A standard set of warning lights is provided under an opaque face on the left side, while other status check lights are found on the right side of the module.
The Versys, despite its height appears to be a lightweight of sorts and it is.
Claimed dry weight is 399 lbs (181kg) and we have no reason to doubt that.
Sitting on the motorcycle and balancing it from side to side reveals a bit of top weight, but at the same time its overall trim weight and feel becomes evident, all of which is borne out when it is on the move.
With a full load of fluids, actual weight is probably close to 450 lbs.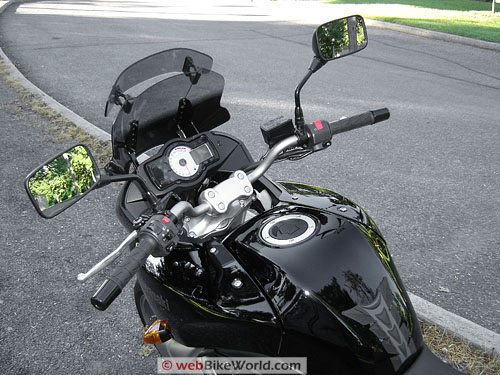 Upon Reflection
While the smooth, strong and economic engine is common to both the 650R and the Versys, fit, form and function of the Versys establishes it as something unique and its appearance does little to change this.
Its initial appearance is what typically draws people over in the showroom and on the road, it always attracts a lot of attention, moving and stopped.
Based on an informal survey, it seems that the Versys invokes much of the same comments heard from purveyors of the new styled Ducati of some years ago or, the BMW GS models, which still invoke styling arguments anywhere one goes.
However it seems that many of those who first questioned the styling of the Versys have now realized that the motorcycle is indeed a well-balanced blending of function along with fit and form.
As way of comparison, the Versys is no more radical than the original Kawasaki Z1000, one of the best looking, best performing and best bargains ever produced, but which languished on most showroom floors for the first three model years.
So for 2007 Kawasaki undertook a total makeover of the Z1000, addressed what few shortfalls existed and created a standout motorcycle in virtually every aspect.
By the same token, if current sales and interest levels are any indication, the Versys is already well on its way to making an impression on the motorcycling world, in its first iteration.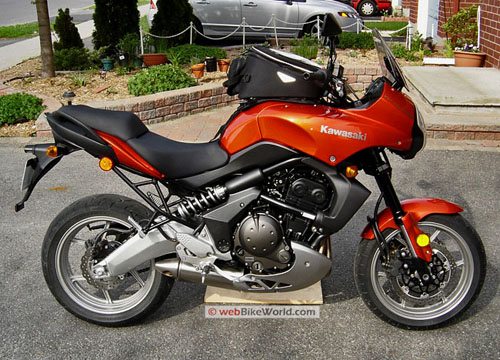 One Sweet Ride
While the compact twin engine is outstanding in its own right, the sum of the parts truly does make the whole.
Having spent many hours aboard singles, twins, triples, fours, and six cylinder motorcycles, we can honestly say that this twin is one of the strongest 650cc motors we have ever ridden.
Turning on the key, the onboard system goes through a quick check and once the oil light flashes, pushing the starter button instantly fires up the motor (warm or cold).
After about two minutes on a high idle, it revs down, sounding like a KLR on steroids. Putting the motorcycle in gear and moving off begins to reveal just what this motorcycle is all about.
The performance of this twin will surprise many, for others, it will astound. It pulls like a large single or V-twin right off the throttle and this feeling never quits until the rev limiter kicks in, somewhere around 10,500 rpm.
Forward motion is achieved quickly and smoothly, both by design and thanks in part to the counter-balancing setup that keeps most vibration dampened out.
Revving quickly to 3000, you can feel the momentum building, and from 3500 to 6000, where torque and horsepower is optimized, you really start to realize that this thing is no slouch. It loves to spin up, quickly.
Stirring the gearbox and keeping the engine between 5 and 8 thousand rpm is guaranteed to bring on a big smile, and a rapid increase in speed.
Kawasaki states that the chassis was, "designed for the discerning enthusiast, the Versys's riding position, engine characteristics, chassis balance and suspension settings were all selected to maximize rider exhilaration on the street…"
With the exception of one or two reservations, we fully agree with this statement.
Repeating the fact that in Europe the Versys is slotted into the Dual Purpose category, you are likely beginning to understand where this evaluation is headed.
The height of the Versys, combined with its standard seating position and comfortable seat, makes the cockpit a good place to be for extended periods of time.
The stretch between the stock seat and the foot pegs is 19.5 inches, providing adequate leg room for most riders of varying shape and height.
The seat is a one piece affair that is easily removed by the seat lock which is accessed by inserting the key into a small round opening located on the left hand side, just below the passenger portion of the seat.
The lock access is very discreet and unless one knows that Kawasaki uses this position for many of their models, it can take a couple of minutes to find.
A flat front section makes for a comfortable perch with some room for movement to suit riding styles and facilitating weight transfer.
The front edges are cut-down slightly, making the stretch to the ground a bit easier and taking pressure off the inner thighs.
While not yet tested on an extended trip, no discomfort zones were felt over the course of a day ride. Back and forth movement is limited however as the rear section is stepped up; the differential is quite noticeable.
We have not yet tested passenger comfort, so cannot comment on its ability to cushion.
The 33 inch wide tubular handlebars fall easily to hand. The bars can be rotated forward or back slightly as needed, with the other controls adjusted to suit.
While some feel the bars are a bit wide, they are well matched to the rest of the motorcycle, providing good control, leverage and consistent feedback from the suspension.
Both the clutch and brake controls feature the standard Kawasaki 5-position rotating bezel adjuster to allow tuning of the individual levers for differing hand sizes or to provide better control. The manual clutch also has a cable adjustment point at the lever.
The counterbalancing systems works well and except for one or two zones, lower down in the rpm range, the twin is very smooth, especially up and beyond 6000 rpm.
We have noticed that the engine is getting smoother across its range as we put more time on the motor. Even the mirror stay useful at all speeds.
Speaking of mirrors, compared to many other motorcycles, the Versys mirrors are actually functional, providing a good view of the left and right arcs.
Larger riders may want a bit more depth or width in their field of vision, which could be addressed with a longer stalk mirror or offset brackets.
For now, we have installed the "dollar" mirrors available at most dealers; they work well and are an expedient solution to what seems to be an ongoing issue with most motorcycles today, but don't forget those shoulder checks!
Taking into account its dual purpose orientation, we have found that the stock settings are adequate for riding on a wide variety of surfaces, paved or gravel and dirt roads with potholes and washboards.
During its short break in cycle, the Versys was subjected to all types of road surface, more off road than on, at high and low speeds, all of which quickly revealed its handling characteristics.
All in all, the Versys is one agile and stable platform and it has the same lightweight, flickable feel presented by the Ducati Multistrada 620 (Blog).
The front suspension is especially noteworthy – it tracks well under virtually all conditions and the only real shortcoming, depending on the surface, is the tire itself.
While not up to, say, an Öhlins standard, the stock front suspension seems to have been carefully considered and engineered.
While the front suspension brings a big checkmark, the rear setup is not in the same league and the jury is still out on the components and configuration used.
Providing good travel and coping well with rapid changes in road surfaces at higher speeds, its shortfalls become most evident when trolling along in town or trailing slowly along fire-roads.
Admittedly we are still experimenting with various settings, but we suspect that an aftermarket rear shock (which we are trying to source), would really put some extra icing on this very attractive cake.
We knew the engine would be efficient but real world fuel economy has exceeded our expectations, even when a heavy hand is applied (often).
We keep usage records on all the motorcycles: the Versys typically returns an average of 59 miles per (Imperial) gallon.
A tank of gas should be good for about 225 miles (365 km). No matter the type of riding, the mileage never varies by more than 4 – 5 mpg. Although we have used 89 and 91 octane gas, the Versys seems to thrive on our usual fill of Sunoco 94.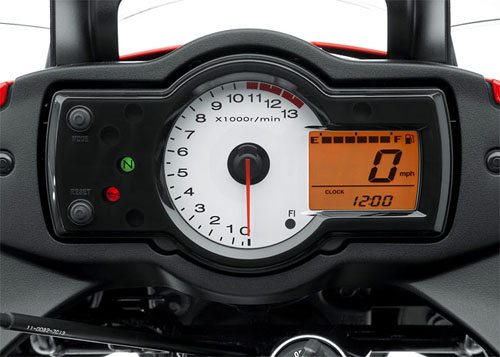 Sharing is Good, Right?
After two weeks of virtually living on the Candy Burnt Orange Versys, it became evident to both of us that the only way to keep motorcycling harmony was to plead with the dealer for another one.
They had quickly gone through their original allotment by early spring and were trying to get additional units.
The stars aligned themselves and within the week, another of each colour was received by the dealer.
Given the two colour choices for the Canadian market, it was only right that the Ebony unit be selected, prepped and delivered the same day — patience is not always a virtue.
We had already mentally made room in the garage for one more motorcycle this year, so the second Versys has now joined its Candy Burnt Orange mate.
They joined the two BMW R1200GS Adventure motorcycles (2006 and 2007 models), a 2006 BMW K1200R, a 2007 Kawasaki Z1000.
And soon to be squeezed in (out goes the trailer), a project machine, a 1976 Suzuki GT750A, otherwise known as the Water Buffalo or Kettle, which is slowly getting refurbished — a true work in progress.
With Experience Comes Wisdom
Riding the Versys is pretty much a fun exercise anytime, anywhere.
So having come to appreciate the versatility of the Versys and wanting to expand its riding horizons even further, the Ebony unit got fitted with a set of Pirelli Scorpion Sync tires before it left the dealer.
Having used these tires on a since-departed Multistrada 1000 DS (another story), we knew they provided desired features to mixed surface riding.
These tires work as well on the Versys as they did on the Ducati. Once scrubbed in, they are superb road tires with tenacious grip, wet or dry.
They provide excellent control and feedback on gravel and dirt roads as well, which is where the second Versys has been spending most of its time.
The OEM Dunlop SportMax D221 tires are very good in their own right, but using them on some of the road surfaces seen by the Pirelli shod unit would be just plain abuse. A hybrid tire in a 17-inch rim would be just about perfect — any takers?
Other upgrades and accessories are ongoing or planned and they will be detailed in a possible follow-on to this article.
The planned additions will even further expand the explorable horizons for this versatile motorcycle.
Nits 'n' Picks
Gearbox: The positive neutral finder is both a blessing and (somewhat) of a curse; when it works well, its slick, when it doesn't, it makes for a lot of work in moving down through the gearbox.
We have had many Kawasaki motorcycles, most with this feature and had the same observations then as we do now. Hopefully time, and possibly running semi-synthetic oil, will aid the situation.
Rear Shock: It needs to be made more responsive and we feel, beefed up somewhat.
Even though the Versys is a relative lightweight, it was obviously intended for and lends itself to adventure touring, which typically means increased loads, one or two up.
Centre Stand: We know it is only natural that many will want this accessory for maintenance and cleaning, home or away. Acknowledging typical issues involved, especially with a new model, we feel that this should be the next accessory offered for the Versys. Overseas inquiries have been pretty positive, so we remain hopeful.
Picks
Design to function, a roomy and comfortable riding position, its light weight and an agile chassis with suspension tuned to facilitate a wide range of road surfaces.
Also, a basic but adjustable windscreen that provides good protection, braking power that matches the performance of the motorcycle, its fuel economy and anticipated low maintenance, ability to be accessorized, its price point value and last but not least, its overall fun factor.
Conclusion
For commuting, exhilarating street riding, swooping through the twisties, raising dust along a gravel or dirt road, or disappearing off into the sunset, we have found that the Versys handles everything in stride. You can pay far more and not get as much motorcycle for your money.
The Kawasaki Canada webpage for the Versys claims that the, "2007 Versys is a motorcycle that empowers riders to explore fully their individual riding style and find true inspiration on all types of roads."  We could not agree more.
On the futures side, it appears that the Versys will be available in the US, possibly later this summer as an early 2008 model. All we can say to that is – ENJOY!
Also: 2015 Kawasaki Versys 650 LT Review
Master Listing of All wBW Motorcycle Product Reviews
w

BW

 Review: Kawasaki Versys
List Price (20XX): $8,999.00 CAD
Made In: Japan
Colors: (Canada) Candy Burnt Orange and Ebony.
Sizes: 650cc
Review Date: August 2007
Note:
 For informational use only. All material and photographs are Copyright © webWorld International, LLC since 2000. All rights reserved. See the webBikeWorld® 
Site Info page
. Product specifications, features and details may change or differ from our descriptions. Always check before purchasing. Read the
Terms and Conditions
!
Owner Comments and Feedback
---
From "J" (9/09): "I must say that I really enjoy your reviews and articles. There is some great and helpful information there.
I am interested in a Kawasaki Versys but am wondering how limited it is in off-road capabilities after the tire changes?
Since you have also reviewed the GS800 I thought you could provide a comparison with it and a 2001 BMW GS 650 Dakar I am considering.
I understand that the front tire size difference is a factor but am not sure how much so after the tire change. On a scale of 1-10 how would you rate the Versys' performance off-road after the change to the MT60's versus the GS800?"
HBC's Reply: 
a. Versys off-road capability, with tire change: The Versys is much more capable of traversing harder gravel and dirt roads with a good dual-purpose tire like the MT60 units or at the minimum, the Pirelli Scorpion (or something similar).
But there will still be limitations when the surface gets very rough or soft – sand, rocks, gravel, etc.
Even the MT60s have their limitations – this type of tire is oriented mainly for road use and occasional off-road duties and not the other way around.
Its tire and wheels sizes will work against you as well. The suspension, while good overall, especially the front, has limitations for very rough terrain.
There are some pretty aggressive tires out there in sizes that can be put on to the Versys rims, as many have done, that make the Versys even more capable of handling the rough stuff.
A big factor that many tend to minimize is rider experience and skill.
For gravel, good dirt and relatively smooth trails, the Versys, with the right tires and preparation, can work really well – its relatively light weight and tractable motor makes it easy to traverse a lot of surfaces (second gear vice first).
b. Versys VS 2001 GS 650 Dakar: It has been some time since I have ridden a 650 Dakar. In general the older Dakar has a softer feel from the motor and will likely handle a wider range of surfaces (of and off-road) than the Versys.
But again, much will depend on how each is set up and rider skill.
The Dakar's 21 inch front wheel, similar to those used on full out dirt machines, gives it better tractability and stability in the rough stuff, especially the really soft stuff.
The Versys has more useable power overall but at low speeds both machines are probably pretty close as both engines are extremely smooth and easy to modulate. However, fast hard-pack roads will reveal the differences between the 650 single and the very powerful 650 twin.
I having spent a fair amount of time off-road with the Versys, I would rate its frame and engine combination better than the Dakar, but my suspension vote and thus overall off-road handling, would have to go to the Dakar, but this is very subjective.
Off the floor the Dakar handles the rough stuff easier than the Versys can in stock form.
Personally I think the Dakar would still have an edge even if the Versys was equipped with more aggressive tires on the standard rims. Just don't forget the rider thing.
This next statement is a bit of a digression…if I had my way, the Versys, the new KLR and some suspension enhancements would be forged together to provide a really good multi-purpose and efficient motorcycle, with an attractive price point.
Kawasaki could have done that in 07 or 08 and beaten BMW to market, especially given the resultant delay in producing the new F650 and F800 twins until late in 08. This hybrid machine could and would have gone head to head against the subsequent BMW release.
c. Versys with tire change vs. F800GS: Despite my last statement about what could have been, both our Versys units have been replaced for new F800GS units, but not without some reluctance and the odd twinge of remorse.
I had the first F800GS and a Versys on hand last fall and objectively and subjectively, the F800GS wins.
Even with the right tire or tires on the Versys, it is not going to catch the little GS whether it has dual-purpose rubber or something more aggressive, like its current TKC-80 tires.
While I had some reservations about the decision to put a 21 inch wheel on the 800, most of my concerns have been laid to rest and after three different types of tires on the 800 over the last year, the 21 inch wheel, although still not optimum for on-road high speed use, was a good choice.
A rating comparison is really difficult between the two machines, not really apples to apples here.
Dealing strictly with the Versys for off-road use and using a scale of one to ten, the stock Dunlops would get a two or possibly a three, whereas the MT60s would rate a seven or possibly an eight.
For the F800GS, the stock 'dual-purpose' tires would get a three or four, while the TKC-80 tires would get an eight or nine. In considering the scoring, some consideration of a tire's ability to transition between smooth high speed pavement or hard packed surfaces to the soft and rough stuff must be done.
On a final subjective point related to tires, the MT60 tires on the Versys, with extended high speed road use and rough off-road duties seemed to wear a bit faster than expected, but they sure do stick.
The TKC-80 tires on the 8GS don't really seem to care – they will wear faster with sustained high speed pavement use (especially if pressures are too low) and by the same token, some riders seem to tear them up with regularity off road.
But on a day to day basis, when any surface can or could beckon, they are an outstanding tire.
The Versys and the F800GS (and its F650 sibling) are outstanding motorcycles, with similar technology approaches, but different objectives overall."
---
From "V.P." (5/09):  "I have a question for the author of the Versys article… I very much like their Givi hard case setup and I'm thinking of getting a Versys and setting up something like that for myself.
I would just like to know whether it's practical to be riding with a passenger if I have that kit installed or if the side cases/trunk are likely to interfere with my passenger.
P.S. thank you for a great website!"
HBC's Reply:  The GIVI PLX bracketry and V35 bag combination sits far enough back that there should be sufficient room for a passenger.
But you have to remember the Versys is a relatively small and short wheelbase machine, so it doesn't have the same stretch that some other machines in the engine class have, so space might be limited.
A properly fitted trunk, with or without a back pad, should not intrude, although many installations do not consider the addition of a passenger back pad, so that needs to be factored in as well, as applicable.
It is possible to do a basic assessment or fitment exercises even without the luggage.
Taking some pictures with the rider and passenger on the machine helps to visual it all and helps in comparing systems. Even some basic measurements about where the legs and thighs are positioned, etc, can be useful.
There are a fair number of luggage options for the Versys, some provide capacity by being longer, while others take the wide and deep approach, or like the V35 bag, oval and wider, with good capacity.
There is a wealth of information on most of the available systems or variants of, so some browsing through Versys forums or threads is a good option for fact finding.
On a final note, related to an observation I made earlier, and have made before in other articles, the Versys is quite light, so the combined weight of the rider, passenger and any luggage system must be considered — quite often the load factor gets overlooked in the search for the right luggage system.
Let us know how you make out, Cheers, HBC"
---
From "CMP":  "I have to say that this is one of the most comprehensive reviews I've ever seen, coming from someone seriously thinking about buying this bike I can't tell you how nice it is to have this much info available. Thanks a lot.
On to my question: after more time with the bike how is the off-road capabilities?
I'm not looking for a bike that can go anywhere, but I also don't want to break it if the trail gets a little bit hairy. What's your opinion now?
HBC's Reply:  "Chris, my first response back to you is, "just get one". Pound for pound, dollar for dollar, the Versys is pretty much unbeatable.
After well over a year of living with two of them, nothing serious has cropped up and frankly, I don't expect anything will.
The MT-60 tires on the Ebony unit are coming up to 5000km (3100mi) and are likely to survive another 1000 to 1500miles, a bit more than I figured initially.
I bring up the tire issue because this rubber was specifically put on to give the Versys some off-road boots, or at least an alternative to the Scorpion Syncs that reside on the Orange one.
Both sets of tires work well on pavement, gravel and dirt, but the MT-60 tires are far better off-road than the Scorpions. However, where off road use is likely to be the higher percentage of use, a slightly narrower tire on each end would be better.
So, speaking of off road, both machines spend considerable time off road, the Ebony one in particular.
So far, it is still coping quite nicely with most of the roads and trails that it has been pointed onto. It does not have KTM or BMW class suspension, but the stock front end and rear shock, with some careful setup, work well, even over some pretty rough stuff.
Another big plus is the nimble handling and relatively light weight of the machine – it is easily 100 to 150 lbs lighter than either of the two GS Adventures we use as well. I have only done one 'big boulder' trail on the Versys and it coped well.
With a relatively or well-experienced off road rider, the Versys can do a lot more than just shuffle down the pavement fast or commute peacefully…we haven't hesitated to take the Versys anywhere we would (usually) take the GSAs.
This is not to say the Versys is the smaller equal of the GS/GSA, but its darn close.
With the right tires, hand guards, a skid plate and engine/side-guards (stay tuned for next installment), the Versys becomes an even more well-rounded and multi-disciplined ride."
---
From: "J.P.":  "Was reading your great review and articles concerning the Versys.
Quick question: I currently have a 2004 KLR650 and perform all of my own maintenance on it. Do you know anything about the Versys maintenance schedule?
It's fuel injected so that's one less thing to worry about – what type of valves are used??  Shim under bucket??  Looking forward to checking out one of these in person!"
H.B.C.'s Reply:   Kawasaki confirmed that the (valves use the) standard Kawasaki shim-under-bucket arrangement…the Owner's Manual identifies the inspection interval for the valve train is 24,000 km or 15,000mi (usually a good indicator of the system used).
Agree fully re the fuel injection. This, along with other technologies used will keep maintenance low and simple on this model.
So far, outside of lubing the rear chain and doing some minor accessory work, neither VERSYS has required anything – not even a chain adjustment yet (one is approaching the 4k mark).
The initial 1k (600mi) check was basically an oil and filter change and a good inspection, that was it – a welcome change from many initial inspections.
Again, based on the Owner's Manual, most items, other than the valve train, are on a 12,000km or 7,500 mile inspection rotation, which is pretty good.
Working on the VERSYS is pretty simple – pieces are removed readily, resulting in ready access to all critical components (our experience to date).
The VERSYS is definitely worth a good look…especially for KLR owners…there are days when we still miss having our KLRs sitting out in the garage, but the 650 in-line twins now residing out there now are so much better in so many ways."
---
From "G.A.":  "Hi Guys. Read you article on the Kawasaki Versys.
This bike is at the top of my list of which bike to buy. Your report put it up there. I am curious to know how the Orange Versys did on its "expanded riding horizons" off the paved roads.
Any mild trail riding thrown in?  I'm taking notes on the bags and tires. Does Versys Canada have an ABS version?  Europe does.
One more question. How do you think the Versys stands up to the 650 V-Strom, my second choice?"
H.B.C.'s Reply:  Gary, although I am currently working on a possible Part III to the submission, I hope the following information will address your questions in whole or in part:
Expanded Horizons – we only managed a partial "over the horizon" trip so far, just under 1000km (620mi) over the weekend (the Orange Versys and my new F800ST) – both machines ran perfectly.
The VERSYS had the GIVI bags and trunk on and it was fairly well loaded.
Outside of feeling the extra weight, the luggage and load has virtually no impact on the handling and performance of the motorcycle.
The engine remains very responsive at running speeds of 50 to 80 mph, which is around 5 to 8k rpm, depending on the gear, with some higher run-ups for passing, etc. Vibration is not a problem.
The Orange Versys still has the OE Dunlop 221 tires, which handle dirt and gravel roads without any real problems.
They track well, but as reported previously, not as well as the Pirelli Scorpion Sync tires mounted on the Black Versys, which loves to burn down the dirt and gravel roads (slides are fun and controllable once you get used to the light weight and feel of the motorcycle).
This type of running is not for everyone, but our opinion is that the Versys will handle most conditions, including "mild trail riding", less the most rocky and treacherous, in its stride.
ABS: The 650 Versys bikes in the European markets all have ABS variants available and appreciating the market, its likely that the ABS option/model will be available next year.
The 2007 Canadian model was just the base model (normal marketing approach, partly based on some points made below). I have this exact (ABS) question out to the Canadian Kawsaki rep already.
Nothing adverse about it has been noted so far (from the European consumer market) and based on long-term use of ABS on other brands, it is worth the investment on purchase — take it from a long-term rider who has seen, and been saved by the benefits of ABS.
You will always see questions raised about whether the ABS should or can be disabled or turned-off, especially given mixed surface riding; that is about the only issue I would hope Kawasaki might address.
BMW provides the option on some models and this seems to be an agreeable approach: in general, the North American market has been somewhat reluctant to jump on the ABS (and integrated braking system) bandwagons.
Versys vsx V-Strom – this is a tougher question. On first response, having owned two DL1000 motorcycles and spent time on the 650 model, I would say the Versys stands up to, and surpasses, the V-Strom.
Having said that, the DL650 is a larger platform and more prone to being loaded up with accessories, and a passenger, and ridden off (into the sunset).
In this instance, I think the Versys would more feel the impact of all the luggage and a passenger.
But, appreciating that the Versys is built around a lighter chassis and has (obviously) been designed to allow dual-purpose or multi-surface road use, its flexibility and versatility far exceeds that of the V-Strom.
Not having had a chance to do a real-world comparison (yet), I would say that the two of them would be close overall, albeit with differing 'sweet-spots' regarding torque and performance.
My bottom line – if you want the ability to do other than hard surface travel and want minimal weight and nimble handling, the VERSYS wins hands down.
On a related note, common accessories are available for the Versys and the list should get pretty long over the next few months.
Our short (wish) list includes a centre stand, possibly a stronger side stand (hopefully from Kawasaki), hand guards (we are working on addressing this) and, hand-warmers (available in the UK and probably here by now).
A couple more nits-n-picks are getting documented now (no show-stoppers), but will have to wait for a pending update.
As on a final note, especially for Rick, the "extended" trip is planned for this week, allowing us to show off both Versys to our southern neighbours.
The interest in the VERSYS at the BMW Rally we attended this weekend was far beyond our expectations (one reason for taking one of them to it).
It would be an understatement to say that many in the BMW community anxiously await the (anticipated) announcement of an F800GS (dual-purpose/adventure-touring) model for 2008.
The Versys in its current form and available livery is a very physical reminder that Kawasaki, not BMW, has already fielded a mid-displacement, in-line twin, fuel-injected, multi-purpose motorcycle — this fact is not lost on current or possible BMW owners.
Probably the most curious attendees were those from south of the border.