Kawasaki is the latest manufacturer to indicate they will add radar systems to their bikes to detect imminent collisions and either warn riders or intervene with automatic braking.
The Japanese manufacturer has filed patents for their system which uses front and rear radars and controls the brakes and throttle.
Kawasaki's patent drawings of what looks like a Versys, show the front radar will detect the distance to vehicles and hazards and apply brakes and throttle.
The rear radar will sense fast-approaching vehicles and supply the rider with an alert, probably with a light, alarm or vibration, so the rider can take evasive action.
Radar systems
Kawasaki is not alone in developing these radar-activated automatic braking safety systems.
It is believe the tech will be in the next-generation Honda Goldwing, Ducati will add its front and rear radar and cornering ABS to its entire range in 2020 and KTM will add adaptive cruise control and blind spot alert systems to their range in 2021.
Suzuki is taking a different and more proactive stance on radar technology with a deflector to make motorcycles easier for hi-tech automated cars to detect them.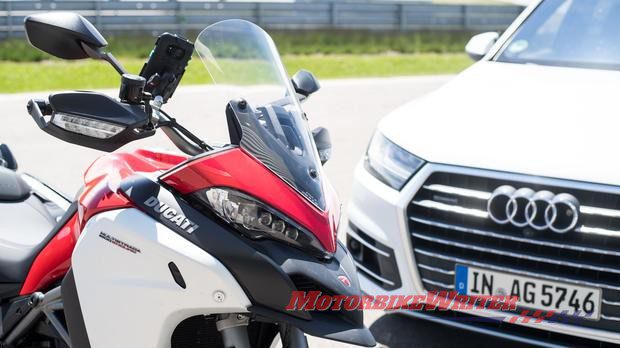 Auto safety systems
These automatic or emergency braking systems have been endorsed in all new cars made in Europe from 2020. There is no word yet on mandatory introduction to motorcycles.
The decision is based on a joint study by Euro NCAP and Australasian NCAP which concluded that automatic emergency brakes would lead to a 38% reduction in real-world rear-end crashes at low speeds.
European politicians have also voted on a raft of other mandatory safety technology in all new vehicles including "black box" recorders and even automated speed limiters.
The technology will only apply to new vehicles and there is no talk yet of applying them to motorcycles.
However, as more and more motorcycle companies join the push toward this automated technology, we have to wonder how soon it will be made mandatory in motorcycles.
Don't think it won't happen. ABS was mandated in cars years ago and it is now mandated in motorcycles in Australia, Europe, Japan, India, Brazil and Taiwan.