UPDATE: The world's fastest production bike will be in Sydney next weekend. For details on how to see the bike, go to the end of this story.
Kawasaki has tricked us all by releasing the supercharged Ninja H2R closed-course model at Intermot in Cologne and holding back the road-legal Ninja H2 for the EICMA show in Milan in November.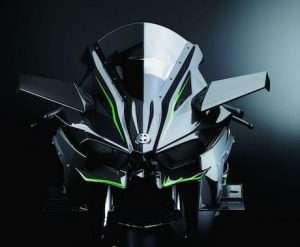 The much-hyped H2 was expected to be unveiled today as the world's fastest road-going motorcycle, exceeding the 300km/h self-imposed restriction. However, the Japanese manufacturer instead unveiled the H2R race bike. 
While they confirmed that the H2 will have a supercharged 998cc liquid-cooled inline four-cylinder engine, they have not revealed any performance figures such as power, torque, top speed or acceleration. Instead, they have used phrases such as "never-before-experienced acceleration".
Meanwhile, Kawasaki says the H2R produces "roughly" 300ps (220kW) and will be shod with 120/600R17 front and 190/650R17 rear Bridgestone V01 slicks.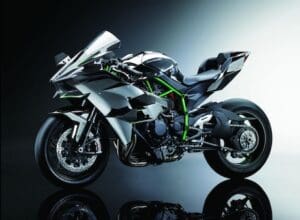 Kawasaki developed the scroll-type supercharger in-house. The H2R also signals the return of an old kawasaki logo which may flow through to other high-performance models.
The H2R no doubt has the same shape as the H2 which is very angular and bitsy like a Formula 1 car, although the aero bodywork on the H2R is mainly carbonfibre, made by Kawasaki's Aerospace Company. It comes in a spectacular mirrored-finished black chrome paint.
The unveiling of the H2R instead of the H2 only serves to increase the level of expectation as the hype continues with the 11th H2 teaser video to be released on October 6.
Meanwhile, Kawasaki Australia will open its Sydney HQ on October 11 for one hour for lucky fans to view the H2R for one hour only form 10am. Tickets are limited to one each and you can apply HERE and enter this password: Ninja H2R Member. The event is free, but you must have a ticket to attend. Test rides will not be available and there will be no sales or deposits taken on the day.