Kawasaki Australia have recalled their supercharged Ninja H2 SX motorcycles over an issue that could cause abnromal wear on the gears.
Models recalled are the 2018 H2 SX and the 2019 and 2020 H2 SX SE+. Vehicle identification numbers of the 103 affected vehicles are included at the end of this article.
The official recall notice issued through Australian Competition and Consumer Commission blames the Engine Control Unit (ECU) programming for the issue.
It says the ECU may not control the gear shifting process properly when the transmission gears are not properly engaged.
"This may result in abnormal wear or damage to the gears, resulting in difficulty or failure to change gears," it says.
"If there is a failure to change gears while riding, this could increase the risk of an accident and injury or death to rider(s) and other road users."
Owners of affected motorcycles are asked to contact their nearest Kawasaki dealer to arrange an inspection and free repair of the vehicle.
It is the second recall for the H2 SX after a centre stand issue in 2018 and it is the third Australian recall for the Japanese manufacturer this year.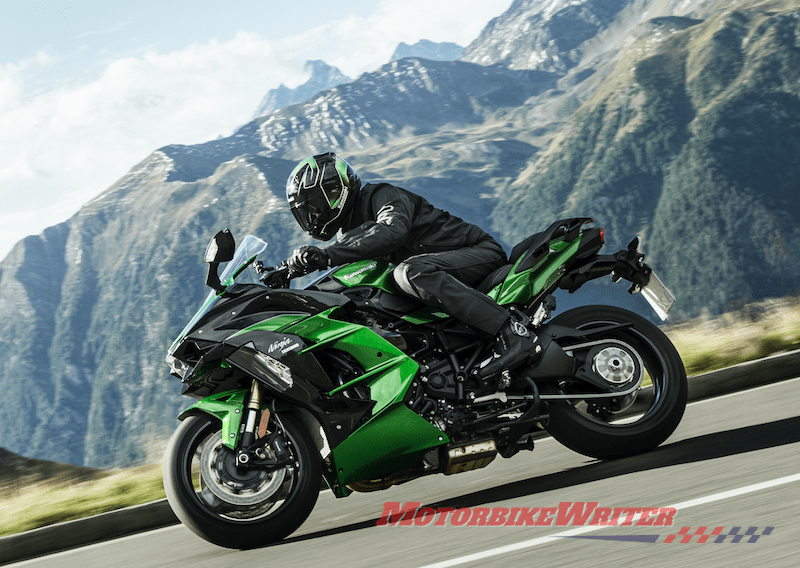 Even though manufacturers and importers usually contact owners when a recall is issued, the bike may have been sold privately to a rider unknown to the company.
Therefore, Motorbike Writer publishes all motorcycle and scooter recalls as a service to all riders.
If you believe there is an endemic problem with your bike that should be recalled, contact the ACCC on 1300 302 502.
To check whether your motorcycle has been recalled, click on these sites:
VINs of affected bikes
| | | |
| --- | --- | --- |
| ZX1002B | 2018 | JKBZXVB18JA000089 |
| ZX1002B | 2018 | JKBZXVB14JA000090 |
| ZX1002B | 2018 | JKBZXVB16JA000091 |
| ZX1002B | 2018 | JKBZXVB18JA000092 |
| ZX1002B | 2018 | JKBZXVB1XJA000093 |
| ZX1002B | 2018 | JKBZXVB11JA000094 |
| ZX1002B | 2018 | JKBZXVB13JA000095 |
| ZX1002B | 2018 | JKBZXVB15JA000096 |
| ZX1002B | 2018 | JKBZXVB17JA000097 |
| ZX1002B | 2018 | JKBZXVB19JA000098 |
| ZX1002B | 2018 | JKBZXVB10JA000099 |
| ZX1002B | 2018 | JKBZXVB13JA000100 |
| ZX1002B | 2018 | JKBZXVB15JA000101 |
| ZX1002B | 2018 | JKBZXVB17JA000102 |
| ZX1002B | 2018 | JKBZXVB19JA000103 |
| ZX1002B | 2018 | JKBZXVB10JA000104 |
| ZX1002B | 2018 | JKBZXVB12JA000105 |
| ZX1002B | 2018 | JKBZXVB14JA000106 |
| ZX1002B | 2018 | JKBZXVB16JA000107 |
| ZX1002B | 2018 | JKBZXVB18JA000108 |
| ZX1002B | 2018 | JKBZXVB1XJA000109 |
| ZX1002B | 2018 | JKBZXVB16JA000110 |
| ZX1002B | 2018 | JKBZXVB18JA000111 |
| ZX1002B | 2018 | JKBZXVB1XJA000112 |
| ZX1002B | 2018 | JKBZXVB11JA000113 |
| ZX1002B | 2018 | JKBZXVB19JA000134 |
| ZX1002B | 2018 | JKBZXVB10JA000135 |
| ZX1002B | 2018 | JKBZXVB12JA000136 |
| ZX1002B | 2018 | JKBZXVB14JA000137 |
| ZX1002B | 2018 | JKBZXVB16JA000138 |
| ZX1002B | 2018 | JKBZXVB13JA000159 |
| ZX1002B | 2018 | JKBZXVB1XJA000160 |
| ZX1002B | 2018 | JKBZXVB11JA000161 |
| ZX1002B | 2018 | JKBZXVB13JA000162 |
| ZX1002B | 2018 | JKBZXVB15JA000163 |
| ZX1002B | 2018 | JKBZXVB19JA000179 |
| ZX1002B | 2018 | JKBZXVB15JA000180 |
| ZX1002B | 2018 | JKBZXVB17JA000181 |
| ZX1002B | 2018 | JKBZXVB19JA000182 |
| ZX1002B | 2018 | JKBZXVB10JA000183 |
| ZX1002B | 2018 | JKBZXVB15JA000194 |
| ZX1002B | 2018 | JKBZXVB17JA000195 |
| ZX1002B | 2018 | JKBZXVB19JA000196 |
| ZX1002B | 2018 | JKBZXVB10JA000197 |
| ZX1002B | 2018 | JKBZXVB12JA000198 |
| ZX1002B | 2018 | JKBZXVB17JA000214 |
| ZX1002B | 2018 | JKBZXVB19JA000215 |
| ZX1002B | 2018 | JKBZXVB10JA000216 |
| ZX1002B | 2018 | JKBZXVB12JA000217 |
| ZX1002B | 2018 | JKBZXVB14JA000218 |
| ZX1002B | 2018 | JKBZXVB1XJA000398 |
| ZX1002B | 2018 | JKBZXVB11JA000399 |
| ZX1002B | 2018 | JKBZXVB14JA000400 |
| ZX1002B | 2018 | JKBZXVB16JA000401 |
| ZX1002B | 2018 | JKBZXVB18JA000402 |
| ZX1002B | 2018 | JKBZXVB15JA000437 |
| ZX1002B | 2018 | JKBZXVB17JA000438 |
| ZX1002B | 2018 | JKBZXVB19JA000439 |
| ZX1002B | 2018 | JKBZXVB15JA000440 |
| ZX1002B | 2018 | JKBZXVB17JA000441 |
| ZX1002B | 2018 | JKBZXVB10JA000457 |
| ZX1002B | 2018 | JKBZXVB12JA000458 |
| ZX1002B | 2018 | JKBZXVB14JA000459 |
| ZX1002B | 2018 | JKBZXVB10JA000460 |
| ZX1002B | 2018 | JKBZXVB12JA000461 |
| ZX1002D | 2019 | JKBZXVD1XKA000013 |
| ZX1002D | 2019 | JKBZXVD11KA000014 |
| ZX1002D | 2019 | JKBZXVD13KA000015 |
| ZX1002D | 2019 | JKBZXVD15KA000016 |
| ZX1002D | 2019 | JKBZXVD17KA000017 |
| ZX1002D | 2019 | JKBZXVD19KA000018 |
| ZX1002D | 2019 | JKBZXVD10KA000019 |
| ZX1002D | 2019 | JKBZXVD17KA000020 |
| ZX1002D | 2019 | JKBZXVD12KA000023 |
| ZX1002D | 2019 | JKBZXVD14KA000024 |
| ZX1002D | 2019 | JKBZXVD16KA000025 |
| ZX1002D | 2019 | JKBZXVD18KA000026 |
| ZX1002D | 2019 | JKBZXVD1XKA000075 |
| ZX1002D | 2019 | JKBZXVD11KA000076 |
| ZX1002D | 2019 | JKBZXVD16KA000087 |
| ZX1002D | 2019 | JKBZXVD18KA000088 |
| ZX1002D | 2019 | JKBZXVD12KA000099 |
| ZX1002D | 2019 | JKBZXVD13KA000158 |
| ZX1002D | 2019 | JKBZXVD15KA000159 |
| ZX1002D | 2019 | JKBZXVD11KA000160 |
| ZX1002D | 2020 | JKBZXVD14LA003006 |
| ZX1002D | 2020 | JKBZXVD16LA003007 |
| ZX1002D | 2020 | JKBZXVD18LA003008 |
| ZX1002D | 2020 | JKBZXVD1XLA003009 |
| ZX1002D | 2020 | JKBZXVD16LA003010 |
| ZX1002D | 2020 | JKBZXVD1XLA003012 |
| ZX1002D | 2020 | JKBZXVD11LA003013 |
| ZX1002D | 2020 | JKBZXVD13LA003014 |
| ZX1002D | 2020 | JKBZXVD15LA003015 |
| ZX1002D | 2020 | JKBZXVD17LA003016 |
| ZX1002D | 2020 | JKBZXVD19LA003017 |
| ZX1002D | 2020 | JKBZXVD10LA003018 |
| ZX1002D | 2020 | JKBZXVD12LA003019 |
| ZX1002D | 2020 | JKBZXVD16LA003069 |
| ZX1002D | 2020 | JKBZXVD12LA003070 |
| ZX1002D | 2020 | JKBZXVD14LA003071 |
| ZX1002D | 2020 | JKBZXVD16LA003072 |
| ZX1002D | 2020 | JKBZXVD18LA003073 |