Fresh from its world launch at the Intermot motorcycle show in Cologne, Kawasaki Motors Australia has opened the doors of its Australian HQ for fans to see the new supercharged Ninja H2R. However, it will not be on show this weekend at the Australian MotoGP at Phillip Island nor at the Moto expo in Melbourne in November.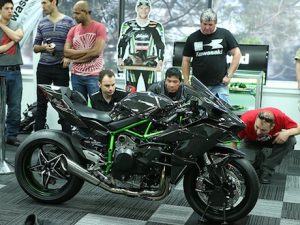 The racetrack-only super-machine was one of the highlights of the Cologne show and it is expected that the road-legal H2 version will be the star of the EICMA motorcycle show in Milan next month.
More than 100 enthusiasts turned out to see the bike when it was unveiled in Australia on Saturday (October 11) at Kawasaki's head office in Sydney. Members of Kawasaki Team Green Australia were joined by a lucky few members of the general public and motorcycle media to see the new motorcycle alongside Warren Willing's restored 1972 Kawasaki 750 Mach IV, Model H2 race bike. The 2015 Versys 1000 and Versys 650 models, unveiled at Intermot, were also on show.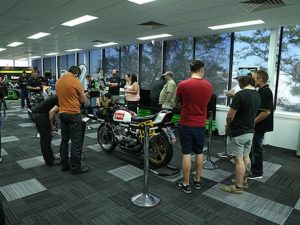 However, all eyes were on the much-hyped superbike which has been the talk of the motorcycle world since the teaser video campaign began last month in the run-up to Intermot. There have now been 15 teaser ads released. You can see them all here, with the next instalment tomorrow afternoon.
While there are few technical details available, those present were able to hear the bike fired into life with its full custom race exhaust. What we do know is that the H2 and limited-edition H2R are powered by a 998cc, in-line four with a red-line at 14,000rpm. The road-going Ninja H2 is believe to make 200hp (150kW) while the H2R makes 296hp (220kW.)