The supercharged Kawasaki Ninja H2 will not only be the most powerful road bike in the world, but will also come with a host of hi-tech rider controls and safety devices.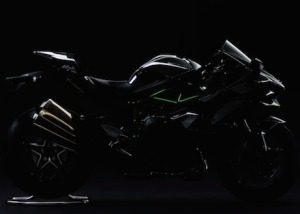 It will be revealed on November 4 at the EICMA motorcycle show in Milan with a huge fanfare after a prolonged video teaser campaign.
The 17th video in the Ninja H2 teaser series shows the Kawasaki's full-colour instruments with a series of acronyms on the display such as KTRC, KEBC, KQS, KLCM, KIBC and ESD.
KTRC stands for Kawasaki TRaction Control and we're guessing it's at least the three-mode system from the Ninja ZX-14R and ZZR1400, if not something even more technologically advanced.

KEBC stands for Kawasaki Engine Brake Control which may be similar to that on the Ducati Panigale and prevents rear-wheel lockups on downshifts.

KQS stands for Kawasaki Quick Shifter for clutches gear changes.

KLCM is Kawasaki Launch Control.

KIBC stands for Kawasaki Intelligent ABS but we're not sure what it is that makes it "intelligent". Maybe it can also be adjusted for track and road use.
All of these have a K for Kawasaki, so they are probably engineered in-house and may differ from other systems in the market.
ESD is an electronic steering damper and there also appear to be engine modes.
Probably most of these devices can be turned off and/or adjusted to various levels.
Of course, the most interesting display is the word "boost" which may indicate that the boost on the supercharger can be adjusted as well.
The track-only version, the Ninja H2R, was revealed at the Intermot show in Cologne and was flown straight out to Australia for a sneak preview at Kawasaki HQ in Sydney recently.