Australia's top-selling motorcycle, the Kawasaki Ninja 300, has just become $500 cheaper and the Ninja 1000 $1000 cheaper, while all other models stay the same, despite the falling Australian dollar.
The price drop is for the ABS models ($6399 +ORC) and non-ABS model ($5699) in all colours of the Ninja 300.
It follows the recent introduction of competitor models such as the new Yamaha YZF-R3 ($6999) and the much-cheaper Honda CBR300 ($4999 and $5488 ABS model).
This 250-300cc sector of the LAMS market is becoming very busy with models from all the Japanese, plus Benelli, KTM and Hyosung.
There are also tips that Royal Enfield, Triumph and even BMW will introduce commuter bikes less than 500cc.
The only other price reduction is the updated 2016 model Kawasaki Ninja 1000 ABS which is $1000 cheaper at $15,999.
All other Kawasaki models remain the same price, despite the falling Australian dollar.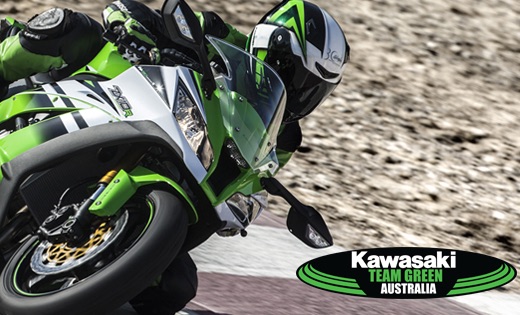 Meanwhile, Kawasaki is hosting its first track ride day in Queensland for Team Green Australia members.
It will be held at Queensland Raceway on Tuesday, August 18, 2015, for just $50, which includes 6 x 15 minute sessions if you are riding a Kwaka. They also get a $25 food and drink voucher.
Kawasaki technicians will be on hand to assist with Kawasaki bike set-up and adjustments.
Non-Kawasaki riders will be charged $145 to participate in the event, but It is free to join Kawasaki Team Green Australia, so get cracking.
Riders will have a choice between novice/intermediate (slow/medium pace) or advanced (medium/fast). An additional fee for a day licence may apply.
Kawasaki Australian prices
Vulcan 1700 Classic ABS (K-ACT) VN1700FDF 2013 Grey $19,999

Vulcan 1700 Nomad ABS (K-ACT) VN1700DDF 2013 Silver $22,999

Vulcan 1700 Voyager ABS (K-ACT) VN1700BDF 2013 Black $25,999

Vulcan 1700 Vaquero ABS (K-ACT) VN1700KDF 2013 Black $24,499

Vulcan S ABS (LAMS) EN650BFFW 2015 PUR/White $9,999

Kawasaki Vulcan S

1400GTR ABS (K-ACT) ZG1400CEF 2014 Grey $24,999

Ninja ZX-14R ABS SE ZX1400FEFA 2014 Black / Green $20,299

Ninja ZX-14R ABS SE (Ohlins) ZX1400FEFB 2014 White $21,999

Ninja ZX-14R ABS SE ZX1400FFFA 2015 Green $20,299

Ninja ZX-14R ABS SE (Ohlins) ZX1400FEFB 2015 Black $21,799

Ninja ZX-10R ABS SE ZX1000KFFA 2015 Black $19,999

Ninja ZX-10R ABS 30th Anniversary ZX1000KFFA 2015 Lime $20,699

Ninja ZX-10R 30th Anniversary (non ABS) ZX1000JFFA 2015 Lime $18,999

Ninja 1000 ABS ZX1000MFF 2015 Green/Red $15,999

Ninja H2 ZX1000NFF 2015 Grey $33,000

Z1000 ABS SE ZR1000GFF 2015 Grey $16,799

Vulcan 900 Classic VN900BFF 2015 Grey $12,499

Vulcan 900 Custom VN900CFF 2015 Black $12,699

Z800 ABS ZR800BFF 2015 Black $12,999

ZX636FFF ZX636FFF 2015 White $16,499

Ninja ZX-6R ABS (636) SE ZX636FFFA 2015 Lime $16,649

Ninja ZX-6R (599) ZX600REF 2014 Lime $14,999

Versys 1000 KLZ1000BFF 2015 Orange $15,999

Kawasaki Versys 650

Versys 650 ABS KLE650FFF 2015 Black $9,999

Versys 650L (LAMS) ABS KLE650FFFW 2015 Black $9,999

W800 SE Black Edition EJ800AFFA 2015 Black $12,499

ER-6nL (LAMS) ABS ER650FFFW 2015 Green $9,999

ER-6nL (LAMS) ABS ER650FFFAW 2015 Black $9,999

Ninja 650 ABS EX650FEF 2014 Green/Orange $10,499

Ninja 650L (LAMS) ABS EX650FFFW 2015 Green/Black $10,499

Z250SL (LAMS) BR250EFF 2015 Orange $5,299

Z250SL (LAMS) ABS BR250FFF 2015 Orange $5,599

Z300 ABS ER300BFF 2015 Green/Grey $5,999

Ninja 300 EX300AFF 2015 Black/White $5,699

Ninja 300SE ABS EX300BESA 2014 Orange $6,399

Ninja 300SE ABS EX300BFFA 2015 Blue $6,399

Ninja 300SE ABS EX300BFFA 2015 Grey $6,399

Ninja 300SE ABS 30th Anniversary EX300BFFA 2015 Lime $6,399

KLR650 KL650EFF 2015 Green / Grey $8,099
(Prices correct at June 2015, but can change without notice)