Kawasaki Lakota 300 Specs, Top Speed and Information
The Kawasaki Lakota 300 is a 21 horsepower sport utility all-terrain vehicle(ATV) produced by Kawasaki Motors Corp from 1995 to 2004. It merged Kawasaki's proven Bayou series engine with their sporty Mojave frame resulting in a well-rounded dual use four wheeler. A main selling point of the 458 LB Kawasaki Lakota 300 is it's exceptional value at an affordable price. The Lakota 300 has a comfortable seat height of 30.6 inches.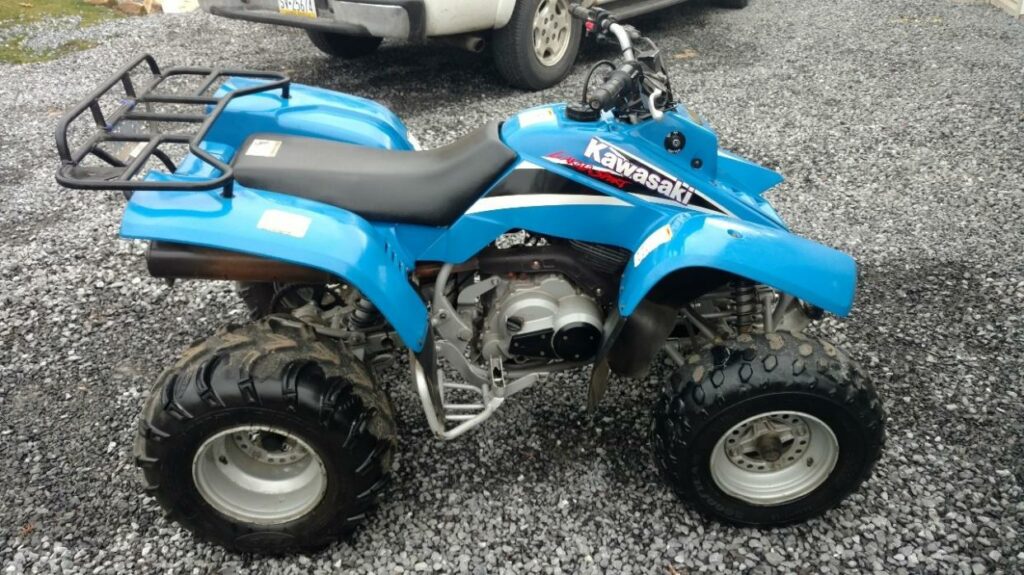 The Kawasaki Lakota 300 was among the first ATVs to be given the sport utility designation when Kawasaki sought to give it the best of both worlds. Stock rear suspension travel was kept the same as Kawasaki's utility line of ATVs however the rear swing-arm was lengthened for a more sporty performance.
Kawasaki Lakota 300 Specs
Engine : 290cc four stroke, SOHC Air cooled
Kawasaki Lakota 300 Oil Type : 10w40
Oil capacity : 1.7 Liters(2 liters if changing filter)
Bore & Stroke : 76mm x 64mm
Carburetion: CVK32 Keihin
Number of cylinders : One
Kawasaki Lakota 300 Horsepower : 21HP
Clutch: Auto clutch w/manual shift
Ignition : TCBI w/electronic advance
Spark Plug : NGK DR7EA w/0.6 to 0.7mm gap
Starter : Electric w/recoil backup
Kawasaki Lakota 300 Clutch : Automatic
Transmission : Five speed w/reverse
Suspension Front : Independent wishbone w/dual shocks, Travel 6.9″
Suspension Rear : Swing-arm w/single shock, Travel 8.5″
Brakes : Disc front and rear
Tires Front : 22×8-10
Tires Rear : 22×11-10
Overall Length : 68.7″
Overall Width : 42.5″
Kawasaki Lakota 300 Seat Height: 30.6 inches
Ground Clearance : 7.7″
Turning Radius : 10.2′
Dry Weight : 458.6 lbs
Lakota 300 Fuel Capacity : 2.2 gal
Avg MSRP New: $4,549
Note: emanualonline offers a downloadable Lakota 300 owners manual with bolt torque specs, maintenance tips and more. I recommend it if you will be working on a Lakota ATV frequently.
Kawasaki Lakota 300 Top Speed
Dubbed as a 'playful workhorse' and with a frame taken from the Kawasaki Mojave 250 it's not the fastest ATV but it's no slouch. Kawasaki Lakota 300 top speed is 55mph in stock condition. Your mileage will vary depending on condition, altitude, your weight and performance modifications, if any, but 55mph is the overall consensus on how fast this model is stock.
Do they still make the Kawasaki Lakota 300?
No, production of the Kawasaki Lakota 300 ended in 2004. It began production in 1995 to fill a gap in the market, it was designed to bridge the divide between pure workhorse and pure sports model which was common at the time. It was a bold move by Kawasaki and it worked, for a time, at least until the rest of the industry caught up and offered similar models.
Kawasaki Lakota 300 Value
ATV values vary depending on condition, age, popularity and other factors. That being said, the market for Kawasaki Lakota 300 ATVs suggests that a price range of between $600 US and $1600 US is common. My advice is to have a mechanic inspect your ATV before you buy and offer an amount accordingly. I also recommend you avoid purchasing any ATV unless it comes with the proper paperwork.
Can I race a Kawasaki Lakota 300?
While the Lakota 300 was fun to ride it did suffer from some annoyances on the performance side. For example, tall riders found the distance between the seat and foot pegs to be too short. Others had trouble with the reverse starter. The rear rack was too close to the seat for other riders, and still others found the shift lever too short. All of those complaints aside, overall, the Lakota 300 was, and still is, a very enjoyable ride. Dual use ATVs like the Lakota 300 compromise on handling ability enough that if you are wanting a racer there are better options. Remember, the Lakota 300 is heavier than your average sports ATV of the same class.
Does it perform well on the farm?
Yes, Kawasaki made sure to retain all of the utility functionality in their Lakota 300 model and it handles light to moderate chores well. The Lakota 300 is officially a mid-sized SUV according to Kawasaki. Racks, gearing and tire size are very suitable for carrying loads and ground clearance is not an issue for yard work on the Lakota 300. Personally I enjoy tossing a fishing rod on the back and going down the winding path to the stream every once in a while. It's short wheelbase makes cornering on tight trails a breeze.
Overall the Lakota 300 by Kawasaki is a reliable ATV when properly maintained, I wouldn't hesitate to pick up another one if a good offer comes along. Parts are relatively cheap and available online still and the engine runs smoothly through all kinds of tough situations. If I was to compare it to another ATV I think the Yamaha Blaster is a close competitor. If you've owned a Blaster you already know how fun those are!