Kawasaki Australia is giving away $700 worth of luggage with their 2016 learner-approved KLR650 which now comes in a camp grey as well as lime green.
The bike has been a top-selling adventure bike for several years now and in 2016 it gets a new camo grey colour for just an extra $100 at $8199 plus on-road costs.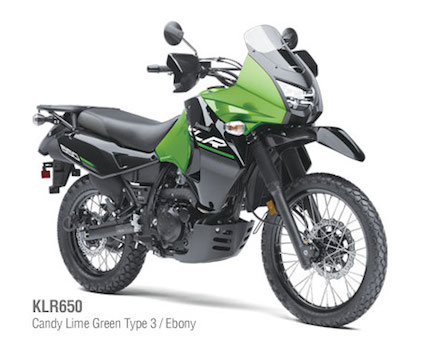 The 2016 model also features a new multi-contoured seat with a dimpled cover that is narrow at the front and wide at the rear.
That should make it more comfortable, but also allow shorter riders to more easily get their feet on the ground when stopped.
Last year the bike received several upgrades to the suspension which also make it ride better over rough roads.
It includes stiffer fork springs and a revised Uni-Trak single-shock rear suspension also with stiffer springs and stronger rebound damping so it doesn't pogo over bumps.
The new suspension will also help support bigger loads. And that's where the addition of free luggage really sells this bike.
The luggage offer runs until the end of October 2015 and includes a tank bag, tail bag and saddles bags, but doesn't include the cost of fitting to the bike. However, we're sure you can negotiate that into your deal!