Few riders think of Kangaroo Island when it comes to great rides, but I was reminded of its virtues after talking with Indian photoblogger Sundeep "Sunny" Gajjar following his round-Australia trip this year. He said Kangaroo Island was a highlight: "When you get off the ferry at Kangaroo Island there is this road that snakes around with the sea on the right side. Magic. And then there is this one road that goes almost vertical."
He's talking about the North Coast Rd that follows the northern coastline down to the dramatic western end of the island with its untamed Flinders Chase National Park wilderness. The steep section is near Western River Cove.
To get to the island you ride about 100km south from Adelaide to Cape Jervis. The last 60km through Fleurieu Peninsula is a quiet road filled with bounteous corners and lots of elevation changes. At Cape Jervis, you catch the short Sealink ferry ride to Penneshaw. It costs $64 return for a motorbike and $98 for each passenger.
Even though it's a small island, there is much to see and do and plenty of interesting roads to ride, so it's not a day trip. Besides, after paying that much for the ferry, you will want to stay at least one night. Riders will be rewarded with lonely roads, stunning coastal views at almost every corner, land and sea wildlife attractions, plentiful restaurants with beautiful fresh produce and a range of trendy pubs and cafes for refreshments. Some of the roads are unsealed and can be quite corrugated, however summer is dry and they are at least all passable.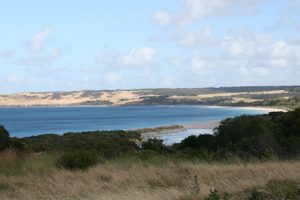 But be careful if there have been passing showers.
The weather is mild and sometimes can even be chilly in summer, so dress appropriately. There are many roads, but the most obvious is a northern loop out to the West End Highway to Flinders Chase, then backtrack along the South Coast Rd, stopping off at the lighthouse, the produce outlets and the many beaches along the way, including Bibonne Bay. It was voted one of the most beautiful beaches in Australia with its pristine sands and baby blue waters. Although, if you want a dip, it will be quite cold, even in summer.