Johnny Reb boots and gear have been a staple in the Australian motorcycle fraternity for more than 30 years.
Over the past two years they have expanded their range into clothing and leatherwear with the addition of vests, jackets and socks for men, women and kids, with even more to come this spring.
Spokeswoman Samantha Lombardi says they also have "an exciting new range of footwear, , a Johnny Reb vintage collection of vests and jackets coming in, as well as some gloves and helmets. They are expected to arrive in September/October.
"Unfortunately, we are in final stages of sampling still, so I don't have any images at this stage," she says.
At the moment they are also offering a deal where you get a free twin pack of socks worth $19.95 with every online order.
Classic Johnny Reb boots
I've never owned nor tested any Johnny Reb gear in my 40+ years of riding, so Samantha sent me a pair of their Classic Short Boots ($199.95) to experience the legend first hand — or first foot!
They are branded as "born tough" and even taking them out of the packaging I could tell these were robust boots with heavy duty stitching all round.
They seemed to weigh a tonne — well, 2.3kg which feels like a tonne when you've got them on your feet.
They also felt tough and very stiff.
In fact, so stiff they were very difficult to pull on and together with the high 60mm heel they were also quite difficult to walk in.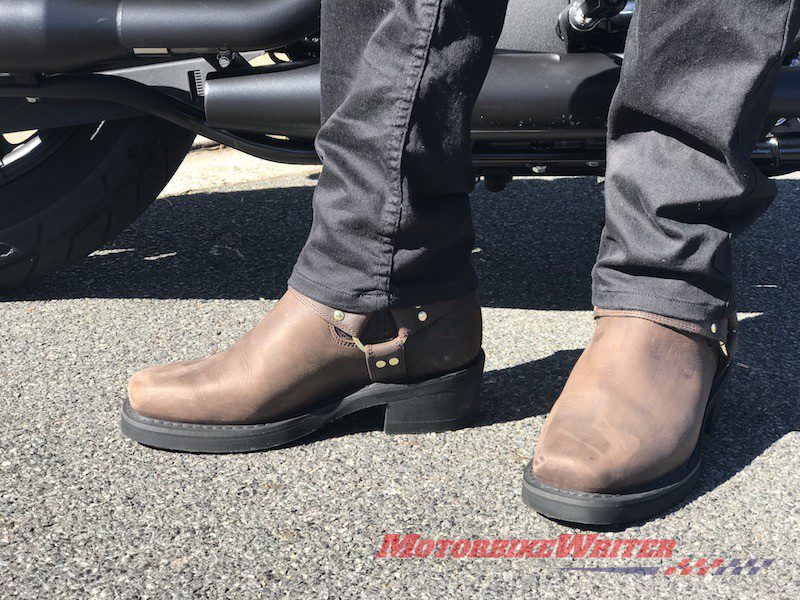 However, the heel has already started rubbing away on the tarmac in corners and the boots are gradually becoming more supple with use to become more comfortable.
They are still heavy and cumbersome and certainly aren't made for walking long distances, but they are great for long-distance riding.
Elasticised sides
The safety nannies will tell you not to ride with elasticised boots as they can easily come off in a crash.
However, they have probably not tried to pull off a pair of these Johnny Reb boots with their heavy duty "gussets", They are covered in leather for extra protection and to prevent stretching with age.
I had to use the toe of my other foot to take them off or hook them over a step and pull hard.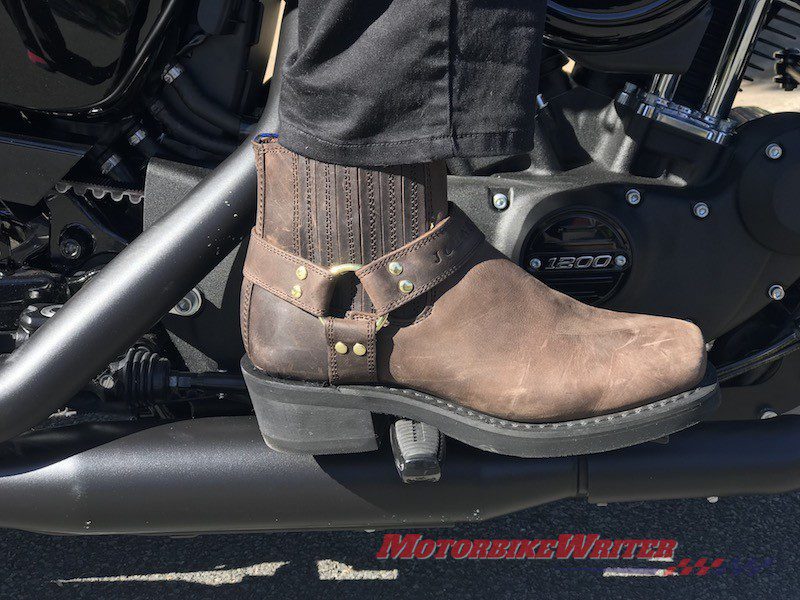 However, I then read their product care page and they warn against that.
So now I have to get my wife to help me remove them or use a shoe horn.
While the boots are becoming more supple with wear, the elasticised sides have not stretched at all!
And the iconic "belt and buckle" should help keep the boot in shape over the years.
Rubber sole
Like most of their boots, these feature a 20mm thick non-slip oil-resistant rubber sole which works well.
However, the instep is quite slippery.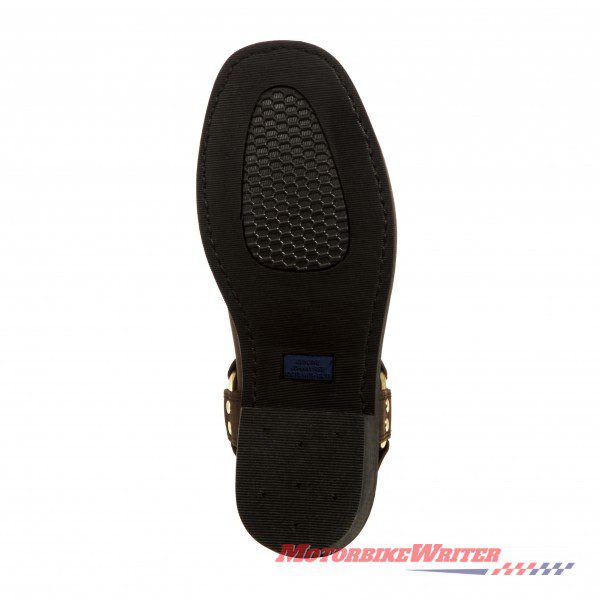 If you ride with this part of your foot hooked over the footpegs rather than your toes, your foot can easily slip off, even with rubber pegs.
While they are not totally waterproof, I've ridden in the rain with them and if you keep water from running down your leg into the top of the boots, they seem to do a great job of keeping your feet dry.
They come in back or brown full grain oily leather. I love the look of the brown which is gradually gaining a lovely patina of age.
The left foot is also getting quite a nice scuff from the gear lever to prove that I actually ride and am not just a wannabe biker!
I have a very wide foot and the EEE fit suits me just fine. They come in sizes 6-13 in black as well as brown.