Manta Tank Bag Review Summary
A compact, durable tank bag for everyday use.
The magnetic base holds tight when riding and doesn't require much effort to attach or detach from the fuel tank.
Large enough to hold a couple drinks and other necessities, this bag is a must-have for motorcycle enthusiasts.
Tank Bag Selection
I am the type that tends to over-analyze, over-research, and over-plan.
Basically, I'm horrible at making decisions; I'm even the last one to order in a restaurant.
Last winter, I easily spent dozens of hours researching motorcycles, looking for my "perfect" first bike. And when it came to riding gear, it took me forever to make a decision based on protection, price, and aesthetics.
Selecting a tank bag should have been a no-brainer, but it wasn't. Again, I'm not great with decisions. I always think, "What if I buy this one and then find another one I like better"?  If I had an unlimited budget it wouldn't be an issue…but who has an unlimited budget?
So how and why did I decide to buy a tank bag?
In May of this year, I bought my 2006 Ninja 500 and for the next four months, every time I went on a ride, I had to transfer my driver's license, credit card, and cash from my wallet to my jacket and back.
Add to that list a pair of sunglasses, lip balm, eye drops, and sometimes a bandanna. And, of course, no one with a cell phone leaves home without it. The amount of stuff I shoved into pockets was getting absurd; and, of course, I couldn't take my digital camera because it was too bulky.
So I thought, "There has to be an easier way to do this."  Then one afternoon I was leaning on my bike waiting for a friend to go riding and a guy pulled up next to me on his motorcycle, yanked off his tank bag, and walked into the store.
Oh, yeah…a tank bag!  I'd completely forgotten I wanted one.
The next time I was in a motorcycle shop I looked at all of the options available. But the funny thing is, I ended up with the tank bag I had considered buying months ago. I really need to learn to go with my first impression!
I chose the Joe Rocket Manta Tank Bag and now that I've been using it, I don't know how I lived without it. Ladies, it's like a purse for your bike; men, it in no way resembles a purse and you can carry whatever it is that men want to carry. In fact, it looks like a small backpack.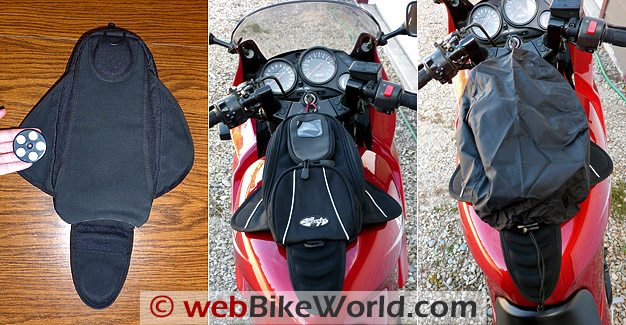 Construction
The Joe Rocket Manta Tank Bag is magnetic, so installation is a snap. Wait, installation, really?  Just stick the bag on the tank — it takes about ten seconds. Presto!
Each side of the bag has a lateral "fin" (hence the "Manta" name) that encloses a two inch (5.1 cm) disc which houses five small magnets; these four discs provide a solid fix on the bike. Once in place, it takes a lot of coaxing to move them. The top of the lower fin is also padded and serves as a belt buckle guard.
Joe Rocket's "Rock Tex" water-resistant material in 680 denier makes the Manta quite durable. Available in six colors, the bag also comes with a rain cover and a removable, adjustable shoulder strap. A reflective Joe Rocket logo and reflective piping are incorporated for nighttime visibility.
The bottom of the Joe Rocket Manta Tank Bag has a soft, textured material that feels like it has a little grip to help it stay in place on a tank better than a regular nylon fabric.
The bag is relatively compact at 13 inches (33 cm) long, 7.5 inches (19.1 cm) wide, and 4.5 inches (11.4 cm) deep. The Joe Rocket Manta Tank Bag is not an exact rectangle, and it should be noted that it tapers towards the top to 4.5 inches (11.4 cm) wide.
The bag keeps its shape with the help of foam inserts in the side walls and stiff piping sewn along zippered areas, and the base of the bag also has a foam insert to offer some cushion to items.
An exterior cell phone pocket, 3 inches (7.6 cm) wide by 6 inches (15.2 cm) long, has a 2 inch (5.1 cm) square clear plastic window.
At the base of the bag, another zippered exterior pocket, 6 inches (15.2 cm) wide by 5.5 inches (14 cm) long, is large enough for sunglasses, an average-sized digital camera, or a bi-fold wallet. This pocket gradates from 1.5 inches (3.8 cm) deep at the top to 2 inches (5.1 cm) deep at the bottom.
The main compartment and both pockets each have two zippers for easy access. The YKK zippers also have long zipper pulls for ease of use when wearing gloves.
There are no pockets or sleeves on the interior of the Joe Rocket Manta Tank Bag; but the bag is small enough that items won't get lost in it. A small sleeve on the inside of the main flap to store the rain cover in would have been nice, but this is just a minor preference.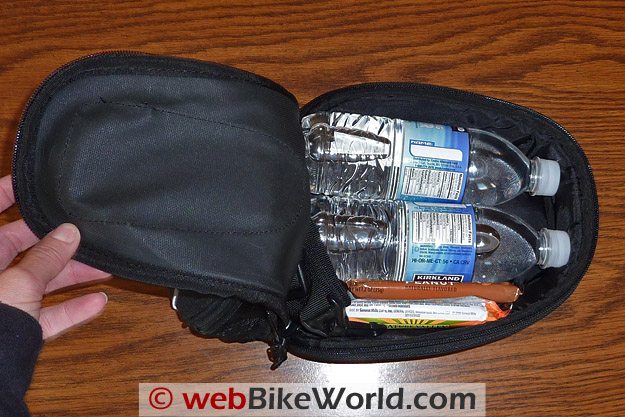 Form and function
Besides the size and shape of the Joe Rocket Manta Tank Bag, what sold me was the strength of the magnets. In the motorcycle shop, when I pulled several bags off the steel rack to look at them, the Manta really had staying power and took some effort to remove.
Two other bags had been in the running; one had a very narrow, deep main compartment which didn't seem as versatile as the Manta's shallower, wider compartment. The other bag had a similar shape to the Manta but had significantly weaker magnets.
Translation: the Joe Rocket Manta Tank Bag is bag isn't going anywhere; at freeway speeds, it didn't even budge. The main compartment doesn't look like it would hold much, but I was surprised; it has enough room for two bottled drinks and snacks.
The outer pockets hold a cell phone, a wallet, sunglasses, etc. Even with gloves on, the zippers are easy to operate and can be opened and closed with one hand.
Obviously the amount of items that fit in these pockets depends on the size of the items being carried, i.e. some wallets and sunglasses are bulkier than others.
Danger: Magnets in Use!
Now there are a couple of things to note. First of all, remember that any tank bag that uses magnets requires a steel fuel tank!
Also, Joe Rocket lists a few warnings about the magnets used in the Manta tank bag. They say that "Magnets have been known to damage paint in instances of prolonged use". They also warn owners that it's probably best to remove the tank bag from the fuel tank when not in use; that you shouldn't use the magnets in "extremely hot conditions" and that "magnets have been known to discolor some metallic paint".
Also, as with any tank bag, remember to keep the surfaces clean to help prevent scratching and wear. You might want to try either adding something like the 3M Scotchcal paint protection film (review and installation) on the tank and/or using one ofthese inexpensive padded drawer liners (review) between the tank bag and the paint.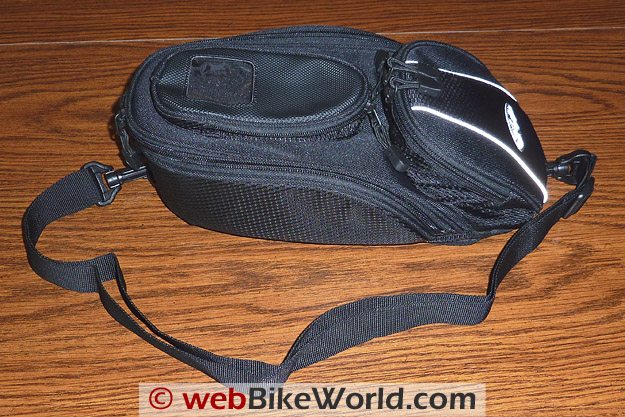 Using the Manta Tank Bag
The Manta is also great for errands such as running to the post office or to pick up some movies – four DVDs fit in the main compartment, by the way.
To use the rain cover, I suggest slipping its drawstring and tightener through the plastic D-ring at the bottom of the tank bag before cinching the cover over the tank bag. This helps to hold the rain cover in place so that it won't slide up above the bottom of the bag or come off during riding.
When not in use, the bottom and side fins easily slide under a panel on the back of the bag to keep them out of the way. The adjustable shoulder strap attaches quickly to keep your hands free.
Note: If you like the style and function of the Manta, but need a little more room, check out the Joe Rocket XL Manta Tank Bag. The XL Manta is 1 inch (2.5 cm) longer, 2.5 inches (6.4 cm) wider, and three inches (7.6 cm) deeper than the Manta and retails for just $10 more.
Conclusion
Take small items on your motorcycle with the help of the Joe Rocket Manta Tank Bag. The sleek, compact design and variety of colors will compliment many motorcycles.
At your destination, convert the Manta from a tank bag to a small backpack in less than one minute and you're on your way. It doesn't get much easier than that.
Note:
 For informational use only. All material and photographs are Copyright © webWorld International, LLC since 2000. All rights reserved. See the webBikeWorld® 
Site Info page
. Product specifications, features and details may change or differ from our descriptions. Always check before purchasing. Read the
Terms and Conditions
!
Owner Comments and Feedback
---
From "M.S." (3/10):  "I'd like to submit this comment to your Joe Rocket "Manta" Tank Bag review. I got this bag as a Christmas gift, and I'm just getting setup for the riding season. From all the reviews, I think this bag is going to be a winner, but I'm concerned about 2 things:
1) The magnets picking up metal bits that will scratch the tank; and 2) The magnets affecting credit cards.
My solution to avoiding these problems is to put 4 large flat washers inside the "pocket" on the outside base of the bag. The pocket is originally intended to tuck 3 of the magnet flaps inside, to keep them from attaching to any metal they get close to.
When I'm using the bag off the bike, I fold the magnet flaps over the base of the bag, and the magnets attach themselves through the base pocket material to the washers and hold the flaps securely against the base. The washers act like "keepers" that constrain the magnetic fields, and hopefully avoid affecting any credit cards inside the bag.
Also, because the magnet flaps are covered, they are less likely to attract any stray metallic bits that can scratch your paint. Lastly, because there are 2 layers of material between the magnets and the washers, the flaps are easy to fold out when reattaching the bag to your bike.
The washers are 2″ diameter flat washers with 3/4″ hole – nothing special, other than being metal, and available at most hardware / building supply stores.
Take note that these washers are usually manufactured using a stamping process, and one side will have slightly rounded edges, and the other side will have slightly sharper edges. I used thin double-sided tape to hold the washers in place on the inside of the pocket.
Make sure the rounded edges are facing down towards the bottom of the bag, otherwise, they could wear through the base material. Put the double-sided tape on a washer, then with one of the magnet flaps folder against the base, use your fingers to position the washer inside the pocket and let the magnet guide it home. Repeat for the other 3 magnets.
Maybe this idea will work for other bags, too, but it seems to be a natural for the Manta!  Happy cycling!"
---
From "G.M." (10/09):  "I have to say these magnetic tank bags are great. I had a strap mounted bag "back in the day" and there is no comparison convenience wise to magnet bags.
I have a Joe Rocket Manta I picked up from New Enough a couple of years ago. The style is slightly different, no exterior pockets, more interior room, and nice yellow flames that match my bike. The flames "blow" backwards with the bag on straight, and may have contributed to my purchase of the bag for $15!
A few suggestions on use. The magnets are STRONG. I initially "stored" the bag in my garage by sticking the magnets to the metal exterior door. After it was there a couple of weeks during bad riding weather, I pulled it off and found the paint from the door had come off onto the magnets. I carefully removed the paint so it would not affect the paint on the bike.
I say this to underscore the danger of leaving the magnets attached to painted surfaces (like the tank) for long periods of time. Nonetheless, it is still easy to store the bag simply by sticking it to something ferrous, and chrome (luggage rack) seems impervious to the magnets.
I deployed the rain cover a month or so ago, I tried to be sure to fasten it carefully, but it lasted about 45 seconds at speed. Something smacked me in the face, and when I recovered from the surprise, I noticed the rain cover was a goner. Hopefully some deserving expressway nomad needs a rain hat with a draw string, or a nice black shower cap. I am trying to order a replacement, and I am asking Joe Rocket for suggestions on how to attach it without a repeat performance.
Finally, be sure to avoid letting anything get under the magnets, nor to drag them over that great paint job on your tank. I always use both hands to reposition the bag. Unless you pick up the magnets, they may drag over the paint.
All this being said, I am very pleased with my Joe Rocket Manta tank bag, and the one in the article is a temptation since it has the nice cell phone pocket."
---
From "B.J." (10/09):  "I've had this same bag for over two years and she has indeed found a versatile and well made small tank bag for the afternoon trek or even everyday commuting. It is perfect for your wallet, a bottle of water, your keys, etc and its shape and size lend it very well to sportbikes.
She is also correct about the strength of the magnets which hold very securely to steel tanks. This is the only weakness too, as the magnets can easily scratch the tank if one accidentally secures them over dirt or other debris on the tank and it slides at all.
This is a very good candidate (as she pointed out) for the drawer liner material you reviewed in the past. I have even accidentally had a screw find its way to my paint once as one of the magnets picked it up without my noticing until I heard the "clink" when I put it on the tank. As long as you're careful though, this bag is excellent and after the two years I've had mine it still looks new."
---
From "P.V." (10/09):  "I use a very similar shaped Givi bag. Easy on/off and much less fuss then using a backpack while on the bike. A warning when using bags with strong magnets, don't put wallets containing credit cards to close to the magnets, they will wipe off the magnetic data rendering your cards useless."
---
From "M.S." (10/09):  "I have this awesome bag, it is the most practical bag for its size. I specially make use of the see thru pocket to put my phone in or my radar detector. I am buying a red one (if available). It holds all I need for a short ride and can be taken off the bike with no problem.
Again great reviews!"